Discover more from ⚡️Memo from a News Hound
Weekly news in context with focus on the pandemic, misinformation, trends.
COVID-19 day 206: 📈 51,736 new cases, 1,084 new deaths (US): 13 August 2020
The president wants to hold the Post Office hostage to make it impossible for it to process millions of absentee ballots in October and November. Is voting in person worth your health, maybe life?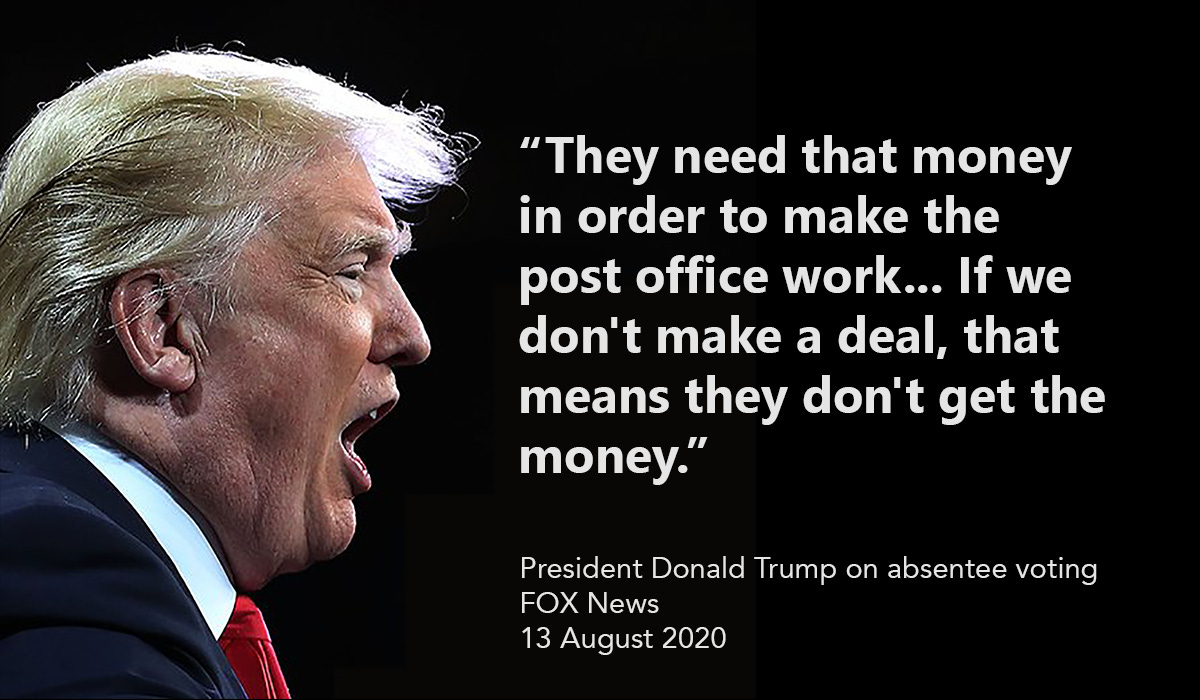 It's day 206 since the first case of coronavirus disease was announced in the United States. On Wednesday, we reported the most COVID-19 deaths (1,489) since mid-May. Globally, deaths have passed 750,000.
Sections (no jump links, sorry!)
1, One big thing; 2, Key metrics; 3, Recommendations; 4, Politics, economics & COVID;
5, Resources
⓵ One big thing - USPS and the election
The president of the United States wants to hold the Post Office hostage to make it impossible for it to process expected additional absentee ballots come October and November.
First, being able to vote absentee will be critical to voter risk management this fall. Public health experts are advising us to get our flu shots early this year, to minimize the risk of being hit by both viruses in succession. Or at the same time.
In 2016, almost 1-in-4 presidential ballots were returned by mail (that includes ballot drop boxes). In 2016, there were 158 million registered voters and 136 million presidential ballots cast. The number returned by mail could double this year. Just one Arizona company will possibly print 50 million ballots.
Second, President Trump has spread lies about vote by mail and his administration has hamstrung USPS.
States contract with certified printing companies for their absentee or vote-by-mail ballots.
Congress authorized USPS to borrow $10 billion as part of a coronavirus relief package, but Treasury Secretary Steven Mnuchin [refused] to hand over the money until it turns over much of its operations to him.
Third, the new Postmaster General, a major political donor and the first non-career employee in two decades, has implemented policies that are already slowing the mail: "if we cannot deliver all the mail due to call offs or shortage of people and you have no other help, the mail will not go out."
Finally, on Thursday, Trump told FOX News that he doesn't plan to negotiate with Democrats who he said want money for USPS so that it can process mail-in ballots.
In an interview Thursday with Fox Business Network's Maria Bartiromo, Trump said he opposes a $25 billion emergency injection sought by the U.S. Postal Service, as well as a Democratic proposal to provide $3.6 billion in additional election funding to the states…

"They need that money in order to make the post office work, so it can take all of these millions and millions of ballots," said the president, claiming again that mail ballots would be "fraudulent," one of more than 80 attacks he has made against the election's integrity since March, according to a tally by The Washington Post. Many of his assertions have been misleading or unfounded…

Later Thursday, Trump told reporters at the White House that he would not veto legislation that has funding for the Postal Service but added that "the reason the post office needs that much money is they have all of these millions of ballots coming in from nowhere and nobody knows from where and where they're going."
NOTE: the United States does not have "universal mail-in voting" despite repeated claims by President Trump that we do.
Five states vote-by-mail: Colorado, Hawaii, Oregon, Utah and Washington. Yes they are all western states. This means that all registered voters get a ballot in the mail, and there are in-person voting centers for those who need assistance. But there are no traditional polling places.

Because of COVID-19, another four states are mailing ballots to registered voters: California, Montana, Nevada and Vermont.

No-excuse absentee voting is the norm in 25 states and the District of Columbia: Alaska, Arizona, Florida, Georgia, Illinois, Iowa, Idaho, Kansas, Maine, Maryland, Minnesota, Nebraska, New Jersey, North Carolina, North Dakota, New Mexico, Ohio, Oklahoma, Rhode Island, South Dakota, Virginia, Wisconsin and Wyoming.

Because of COVID-19, another eight states are allowing no-excuse absentee voting: Alabama, Arkansas, Connecticut, Delaware, Massachusetts, Missouri, New Hampshire, West Virginia.

Eight states have not changed their excuse-required-to-vote-absentee rules: Indiana, Kentucky, Louisiana, New York, Mississippi, South Carolina, Tennessee, Texas. Yes they are mostly in the south.
If you live in a state where you can cast a ballot "absentee", please prioritize your health and do so. Request your ballot early; return it quickly. In many places, you can return your ballot via a dropbox located near city hall rather than rely on the USPS.
⓶ Key metrics
‼️Case numbers are down, but so are the number of tests being conducted, although at a slightly lower rate.
🦠 Thursday, Johns Hopkins reported 5,248,854 (51,736 new🔻) cases and 167,110 (1,084 new🔻) deaths, an increase of 1.00% and 0.65%, respectively, since Wednesday. A week ago, the daily numbers increased by 1.24% and 1.17%, respectively.
Today
- seven-day average: 53,121 cases and 1,108 deaths 
- 3.18% cases leading to death
- case rate, 158.6 per 10,000; death rate, 5.0 per 10,000

One week ago
- seven-day average: 57,075 cases and 1,174 deaths 
- 3.28% cases leading to death
- case rate, 148.0 per 10,000; death rate, 4.8 per 10,000
Note: the seven-day average is important because dailies vary due to factors other than actual case numbers, particularly over a weekend.
🇺🇸 13 August 
CDC: 5,176,018 (56,307 new) cases & 165,148 (1,497 new) deaths
- One week ago: 4,802,491 (53,685 new) cases & 157,631 (1,320 new) deaths

State data*:  5,224,214 (51,705 new) cases & 158,939 (1,163 new) deaths
- One week ago: 4,852,143 (54,184 new) cases & 151,483 (1,251 new) deaths
KS reports only M-W-F; CT and RI report only M-F

WHO Situation report, 206
5 094 500 (54 791 new) cases and & 163 340 (1 236 new) deaths
- One week ago: 4 728 239 (49 629 new) cases and & 156 050 (1 098 new) deaths
🌎 
13 August 
Johns Hopkins interactive dashboard (11.00 pm Pacific)
Global: 20,905,891 (285,044 new) cases & 755,589 (6,231 new) deaths
- One week ago: 19,089,364 (278,972 new) cases & 714,744 (7,078 new) deaths
* Johns Hopkins data, ~11.00 pm Pacific.
State data include DC, Guam, the Northern Mariana Islands, Puerto Rico and the US Virgin Islands
The virus was not created in a lab and the weight of evidence is that it was not released intentionally. Although early reports tied the outbreak to a market in Wuhan, China, analyses of genomic data have suggested that the virusdeveloped elsewhere.
⓷ Recommendations
🤓 Recommended reading
Last month, the Trump Administration directed hospitals to bypass the CDC and report COVID-19 data to a private vendor.
Nearly three dozen current and former members of a federal health advisory committee, including nine appointed or reappointed by the health secretary, Alex M. Azar II, are warning that the Trump administration's new coronavirus database is placing an undue burden on hospitals and will have "serious consequences on data integrity."
Health Experts Warn About Perils of New Virus Data Collection System. NY Times, 12 August 2020.
🔬 Research and medical news
Multisystem inflammatory syndrome in children (MIS-C) is a rare but severe condition that has been reported approximately 2–4 weeks after the onset of COVID-19 in children and adolescents. At the end of July, 570 MIS-C cases had been reported in 40 states. In this analysis, the illness involved four or more organ systems in almost 9-in-10 children.
COVID-19–Associated Multisystem Inflammatory Syndrome in Children — United States, March–July 2020. CDC MMWR, 14 August 2020.
If you aren't hospitalized, it's considered a mild infection. But public health experts worry that as many as 1-in-3 patients could have ongoing neurological or psychological after-effects.
Beyond the fatigue felt by "long haulers" as they heal post-Covid, these neuropsychological problems range from headache, dizziness, and lingering loss of smell or taste to mood disorders and deeper cognitive impairment. Dating to early reports from China and Europe, clinicians have seen people suffer from depression and anxiety. Muscle weakness and nerve damage sometimes mean they can't walk.
Long after the fire of a Covid-19 infection, mental and neurological effects can still smolder. STAT News, 12 August 2020.
🎦 Recommended viewing
Kaydee Asher filmed her experience with COVID-19. She said if it happened to her, it could happen to you.
I'm 16 and went to the hospital twice for COVID-19. This is what it's like. GMA, 29 July 2020.
🎧 Recommended listening
"Whether or not this comes down to a fundamental change in the way patients continue to get medical care is whether doctors continue to be paid for it." — Julie Rovner, Kaiser Health News
Is Telemedicine the New Normal?WDET (Detroit), 11 August 2020.
⓸ Politics, economics and COVID-19
🎃 The #2 holiday for consumer spending is Halloween. What kind of hit might that sector take this fall?
🍊In Georgia (the state), Gov. Brian Kemp is withdrawing a lawsuit challenging Atlanta's implementation of a mandatory masks and other restrictions.
🏥 Spikes in Europe. In the Aragon region of Spain, there's a new field hospital as cases are spiking; 4,088 new cases were reported Thursday. Germany recorded its biggest daily increase in coronavirus cases in more than three months on Thursday (1,422 cases). And France reported 4,733 new cases on Wednesday.
🦠 China's state media has reported that a 68-year-old woman was recently hospitalized and diagnosed with COVID-19, about six months after she had been diagnosed with the illness in February.
🇬🇧England is re-opening retail outlets, accompanied by a hammer: fines of £3,200 (~$4,200) for failure to wear a mask in public.
🦠 In New Zealand, a cluster of new cases illustrates what transmission looks like with no guards in place and what concerted government action looks like.
To date, 38 people linked to the cluster have now been moved into quarantine facility, including 18 who have tested positive and close contacts… Our national tracing service has 771 close contacts identified; they have contacted 514 as at 10am this morning.  The Ministry strongly encourages anyone who is called by our contact tracers to please take the call.
Until 11 August, all known active infections were among returning travelers in isolation facilities. The government returned Auckland to Alert Level 3 at noon on 12 August (stay home except for essential trips).
The population of New Zealand is 4.8 million. In contrast, Marion County, Florida (Ocala) has a population of 365,579; 100 news cases and 13 deaths on 11 August; a mayor who overruled a city council ordinance requiring masks; and a sheriff who won't let deputies wear masks on the job. In a state where the governor demands that all schools reopen as though there were no pandemic.
⓹ Resources
👓 See COVID-19 resource collection at WiredPen.
📝 Subscribe to Kathy's COVID-19 Memo :: COVID-19 Memo archives
🦠 COVID-19 @ WiredPen.com
📊 Visualizations: US, World
🌐 Global news(at WiredPen)
👏🏻 Thank you
 for your time!