COVID-19 day 179: 📈 71,558 new cases, 908 new deaths (US): 17 July 2020
Global cases have reached 14 million with 600,000 deaths; Texas set a new record with 14,916 cases and 147 deaths reported; how Georgia disguises the extent of outbreak with infographics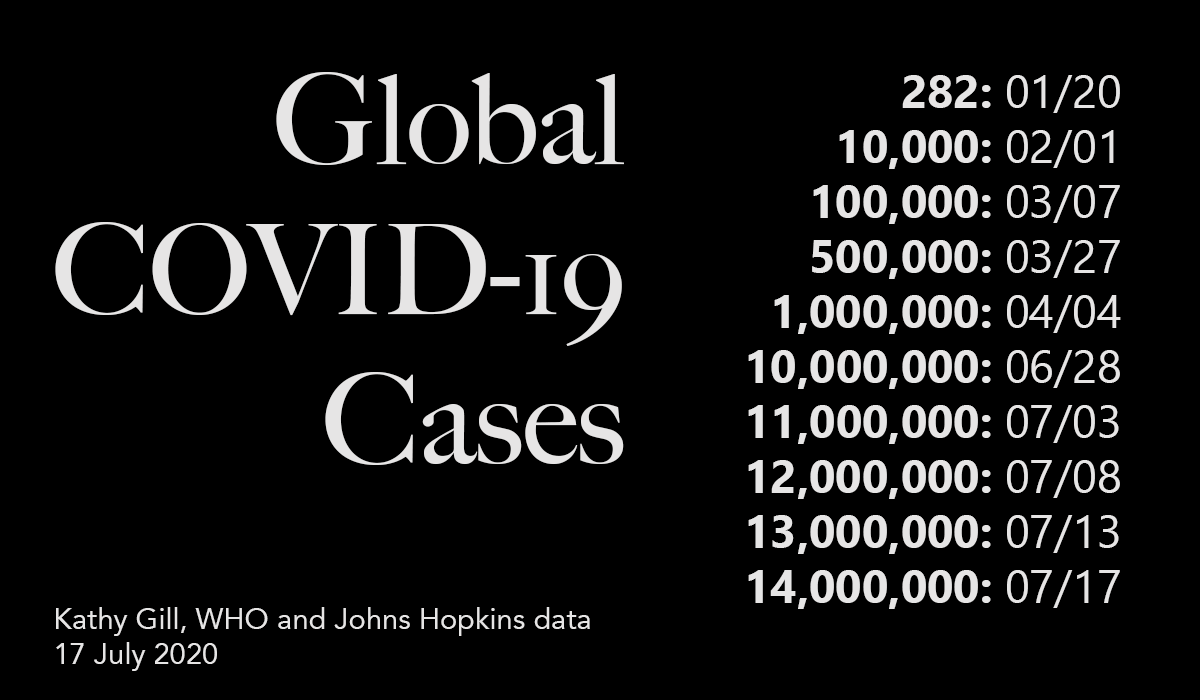 It's day 179 since the first case of coronavirus disease was announced in the United States. Texas set a record on Friday for both cases reported and deaths. Johns Hopkins reported 14,106,753 global cases and a daily case record, 301,457.
Sections (no jump links, sorry!)
1, One big thing; 2, Key metrics; 3, Recommendations; 4, Politics, economics & COVID; 5, Case counts and resources
⓵ One big thing: official disinformation
Case study: Georgia
It's not clear if the performance of the Georgia Department of Health is incompetence or malice, and the rule of thumb is to assume incompetence. But this latest information graphics travesty looks deliberate.
Friday, a Georgia Person showed us how this illustration of the state changed almost not-at-all even though there had been a 50% increase in the number of cases between the two images. He points out that the SCALE changed, thus keeping the "edge cases" a small percentage of the total.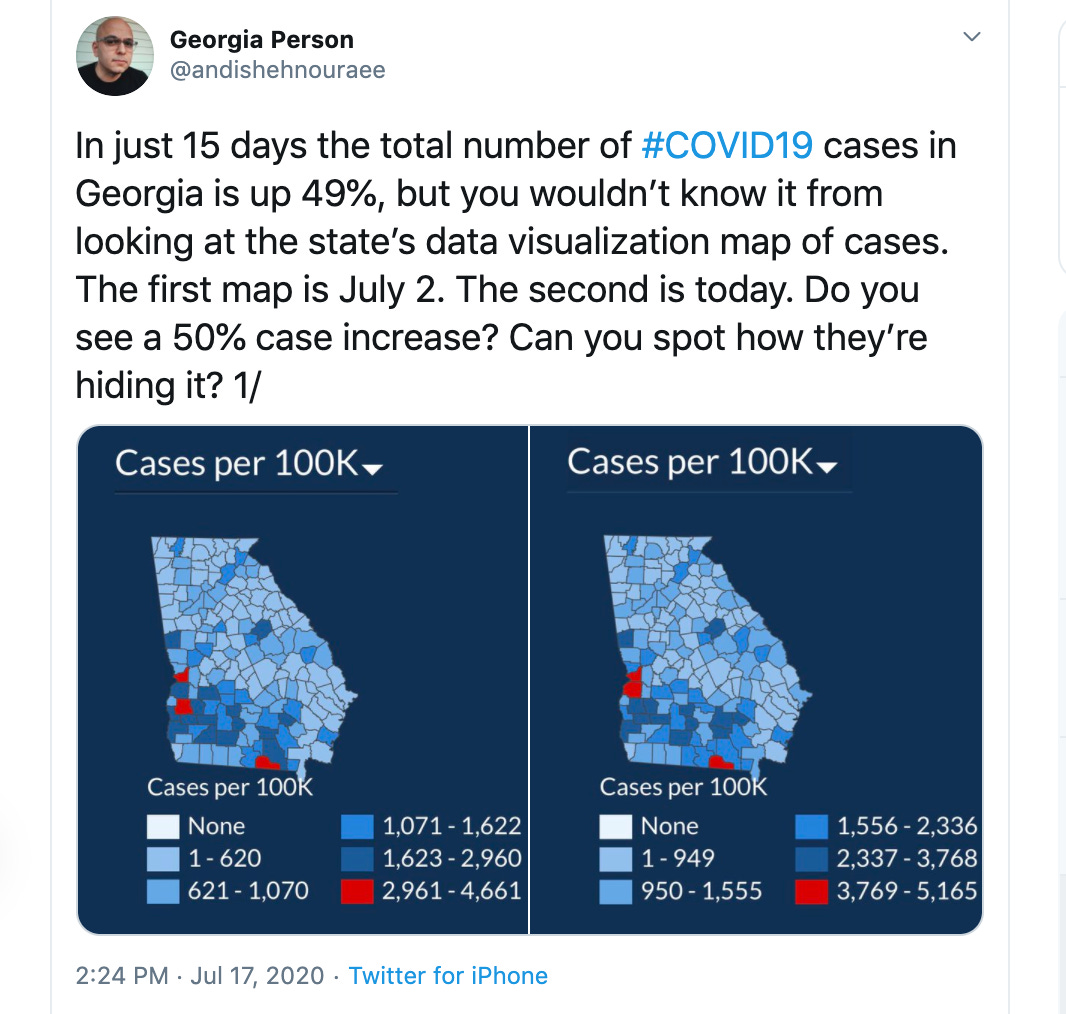 Although that might be some kind of auto-processing on the part of the software, the color choices here were made by humans.
You cannot use that chart for its stated purpose:
This chart is meant to aid understanding whether the outbreak is growing, leveling off, or declining and can help to guide the COVID-19 response.
LOOK: you don't change the legend if the goal is to provide information over time.
Moreover, you cannot tell from this chart just how many Georgia counties have a per capita case rate that is greater than the national average.
That would be THIS chart.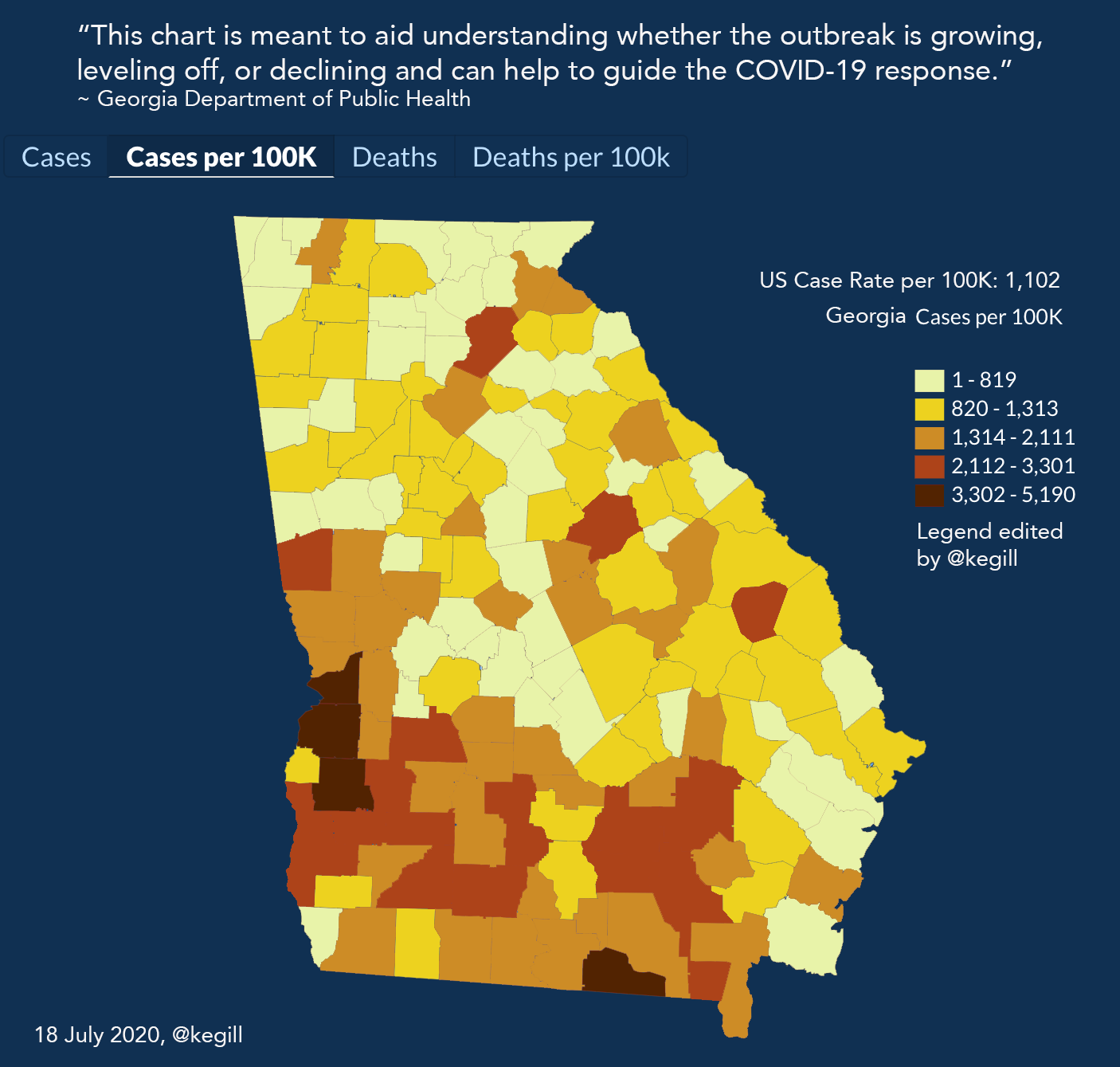 Kinda sorta. Because as many as half of those "yellow" counties are possibly in worse shape than the national average.
Moreover, what's hidden in this chart is that the hardest hit counties in the state are not metro areas. They are RURAL. They are my home.
Here's why I think it's deliberate, that is, malice, and not incompetence:
⓶ Key metrics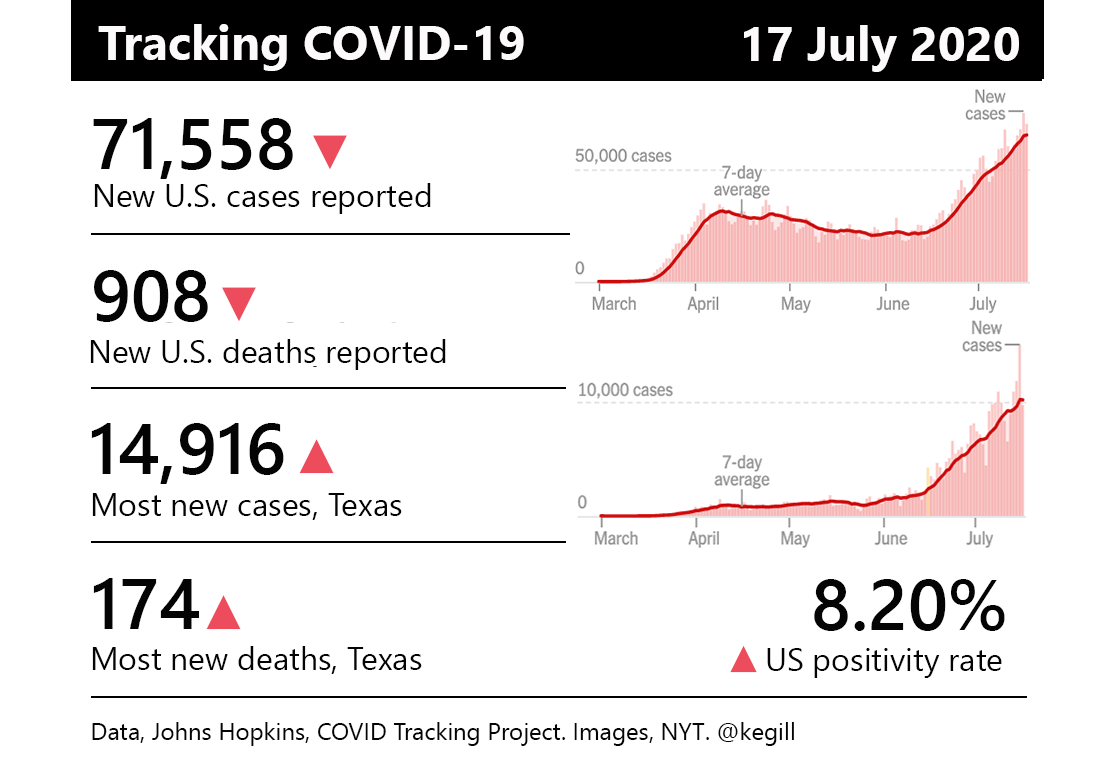 🦠 Friday, Johns Hopkins reported 3,647,715 (71,558 new) cases and 139,266 (908 new) deaths, an increase of 2.00% and 0.66%, respectively, since Thursday. A week ago, the daily numbers increased by 2.14% and 0.60%, respectively.
Today
- seven-day average: 66,221 cases and 747 deaths 
- 3.82% cases leading to death
- case rate, 1,102.02 per 100,000; death rate, 42.07 per 100,000

One week ago
- seven-day average: 55,587 cases and 669 deaths 
- 4.21% cases leading to death
- case rate, 962.1 per 100,000; death rate, 40.51 per 100,000
Note: the seven-day average is important because dailies vary due to factors other than actual case numbers, particularly over a weekend.
⓷ Recommendations
🔬 Research and medical news
✅ A large randomized controlled trial in the United Kingdom suggests the steroid dexamethasone may be slightly helpful for severely ill patients hospitalized with COVID-19.
Overall, 482 patients (22.9%) in the dexamethasone group and 1110 patients (25.7%) in the usual care group died within 28 days after randomization…

In patients hospitalized with Covid-19, the use of dexamethasone resulted in lower 28-day mortality among those who were receiving either invasive mechanical ventilation or oxygen alone at randomization but not among those receiving no respiratory support.
This is a minor but significantly different mortality rate; that is, the difference is statistically valid.
Dexamethasone in Hospitalized Patients with Covid-19 — Preliminary Report. New England Journal of Medicine, 17 July 2020.
❌ A small study from the University of Minnesota, the University of Manitoba, and McGill University found hydroxychloroquine provided no "substantial" benefit for patients with "early, mild COVID-19."
I wish that hydroxychloroquine had been successful, but it has been conclusively found to be ineffective. All of the well-designed, randomized, controlled trials have found the same thing—it does not work.
~Jason Gallagher, PharmD, a clinical professor and specialist in infectious diseases at Temple University School of Pharmacy, quoted in CIDRAP
Hydroxychloroquine in Nonhospitalized Adults With Early COVID-19. Annals of Internal Medicine, 16 July 2020.
🎧 Recommended listening
Wisconsin Public Radio featured Julie Rovner, Kaiser Health News chief Washington correspondent, discussing the Trump administration announcement that hospital data on coronavirus cases would bypass to the CDC and instead go straight to the Department of Health and Human Services.
Trump Administration Orders Hospitals To Bypass CDC When Reporting COVID-19 Data. Wisconsin Public Radio, 15 July 2020.
⓸ Politics, economics and COVID-19
New Bedford, MA, "should be a model for workplaces across the U.S."
The first measure requires companies to report workers who have, or may have, the coronavirus to the local health department. The second requires industrial facilities such as fish houses to provide personal protective equipment, disinfect work areas and abide by social distancing rules. Every facility is mandated to have a health and safety officer who takes workers' temperatures at the start of every shift.
⓹ Case counts and resources
CDC, Johns Hopkins, states, WHO
🇺🇸 17 July 
🌎 17
 July 
Johns Hopkins interactive dashboard (11.00 pm Pacific)
Global cases: 14,106,753 (301,457 new)

Total deaths: 602,656 (12,745 new)
Global: 13 616 593 cases (237 743 new) with 585 727 deaths (5 682 new)

The Americas: 7 154 840 cases (137 989 new) with 297 855 deaths (3 554 new)
* Johns Hopkins data, ~11.00 pm Pacific.
State data include DC, Guam, the Northern Mariana Islands, Puerto Rico and the US Virgin Islands
The virus was not created in a lab and the weight of evidence is it was not released intentionally. Although early reports tied the outbreak to a market in Wuhan, China, analyses of genomic data in January suggested that the virus might have developed elsewhere.
Resources
👓 See COVID-19 resource collection at WiredPen.
📝 Subscribe to Kathy's COVID-19 Memo :: COVID-19 Memo archives
🦠 COVID-19 @ WiredPen.com
📊 Visualizations: US, World
🌐 Global news (at WiredPen)

👏🏻 Thank you
 for your time!