COVID-19 day 76 : 📈 337,637 cases; 9,647 deaths : 05 April 2020
Bronx zoo tiger tests positive, human-to-cat transmission; impact is disproportionate for black communities; putting a patient on a ventilator is not a "risk-free wager"; more on hydroxychloroquine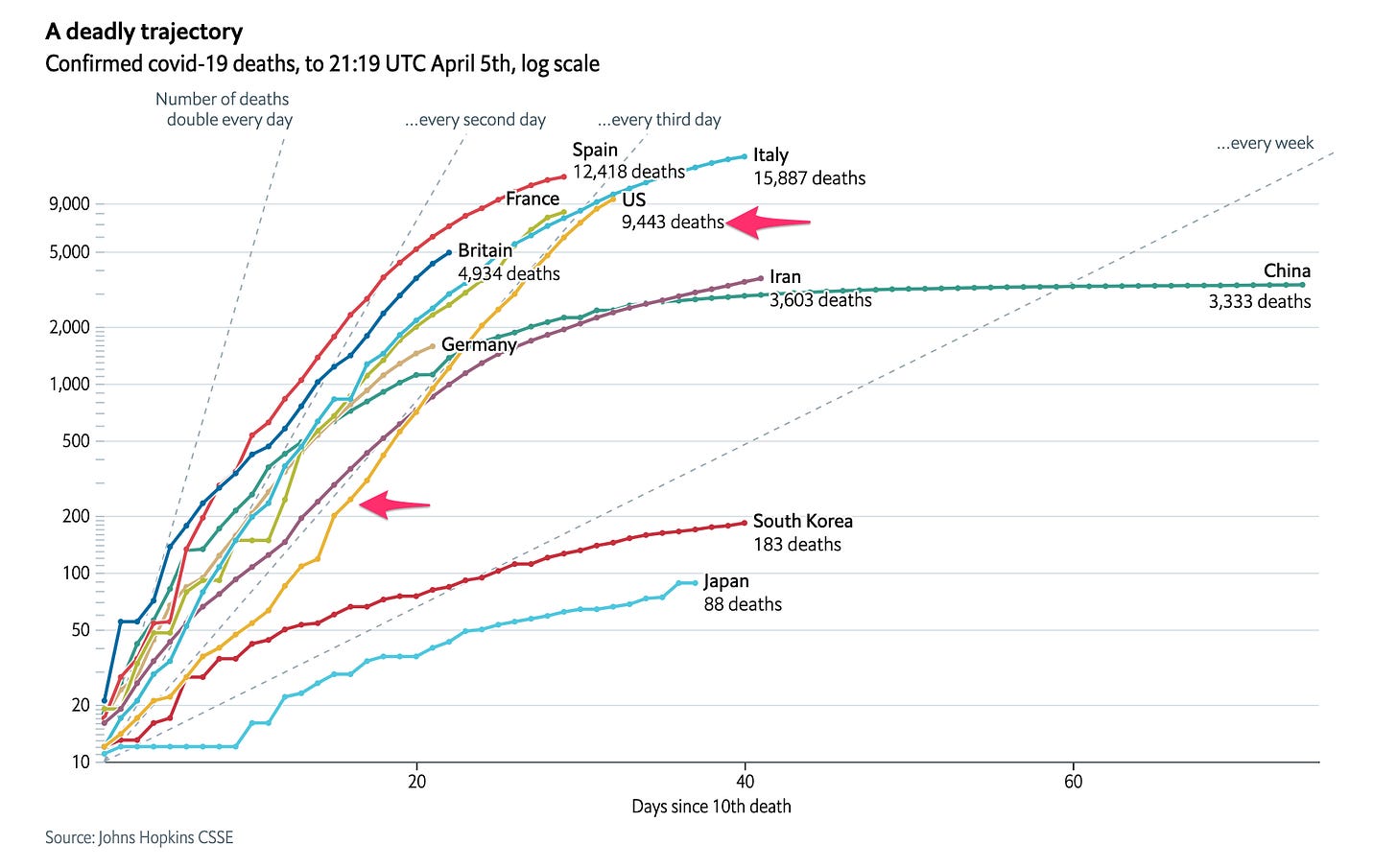 It's day 76 since the first case of coronavirus disease was announced in the United States. The US death rate has doubled approximately every three days since the 10th death, which was on 11 March 2020. The CDC still claimed there was no community spread in that day's press briefing. Yet on the same day, the CDC confirmed the first case of community spread, in California.
On 29 February, Seattle-King County officials announced the first death in the country, a man who had not traveled and was not a resident of a nursing facility, as well as two additional cases of community spread. It's been a long five weeks.
Sunday, Johns Hopkins reported 337,637 (312,237) cases and 9,647 (8,502) deaths in the US, an increase of 8.1 and 13.5 percent, respectively, since Saturday.
That case rate is 102 per 100,000; the death rate is 29.14 per million. 

One week ago, the case rate was 43 per 100,000, and the death rate, 6.62 per million.
🤓Recommended reading
As of Friday morning, African Americans made up almost half of Milwaukee County's 945 cases and 81% of its 27 deaths in a county whose population is 26% black. Milwaukee is one of the few places in the United States that is tracking the racial breakdown of people who have been infected by the novel coronavirus, offering a glimpse at the disproportionate destruction it is inflicting on black communities nationwide.
"By seven o'clock this morning, we had three patients that needed to be admitted, three awaiting transfer," he told me earlier this week. Six hours later, he said, there were twenty patients who needed to be admitted or transferred... Virtually all possible hospital wards at Phoebe Putney have been converted to covid-19 wards with their own doctors, nurses, and medical personnel…. "Nobody envisioned the Spanish flu (emphasis added)." 
I am sorry to say there is no proven treatment for Covid-19 infection. It is therefore at least conceivable that putting patients on ventilators for Covid-19 pneumonia could be a bridge to nowhere. 

Now of course, hope springs eternal. The patient may recover on their own while we keep them alive with our machines. But this is not a risk-free wager. Dr. Paul Mayo, perhaps New York City's most illustrious critical care doctor expressed the risks pithily: 'putting a person on a ventilator creates a disease known as being on a ventilator.'
🎦Recommended viewing (full interview)
Highlights and time markers from GreekWire.
💃🏼Life hack
More on masks from Syracuse, NY. Most excellent video.
🌐Global news
Financial Times /New Straits Times / New York Times / South China Morning Post / The Age / The Globe and Mail / The Guardian / Wall Street Journal / Washington Post  // CIDRAP / STAT News // ProPublica / The Atlantic / The Conversation / The Economist // ABC News (Australia) / ABC News (US) / BBC News / CBC / CBS News / CNBC / CNN / C-SPAN /  NBC News
⓵ Around the country
All 50 states, the District of Columbia, Guam, the Northern Mariana Islands, Puerto Rico and the US Virgin Islands have identified COVID-19 cases. The only state with no reported deaths is Wyoming.
The US Department of Agriculture has confirmed SARS-CoV-2 in a tiger at a Bronx zoo. This is the first instance of a tiger being infected with COVID-19. "Nadia, a four-year-old Malayan tiger, was tested after her sister Azul, two Amur tigers and three African lions developed a dry cough." More:

SARS-CoV-2 replicates poorly in dogs, pigs, chickens, and ducks, but efficiently in ferrets and cats.

Tony Fauci, director of the National Institute of Allergy and Infectious Diseases, said on CBS Face the Nation that he hopes to see some flattening of the infection and hospitalizations in 7-9 days.

New York may be nearing disease apex, for now.

Kentucky Governor Andy Beshear (D) is building a field hospital at the state fairgrounds in Louisville. He told radio station WFPL that the state is having trouble buying personal protective equipment and that often the competing buyer is the federal government.

Texas has begun a 14-day quarantine for drivers coming in from Louisiana.

The limited number of tests for COVID-19 means that patients are often treated based solely on symptoms. These patients, should they die, are not counted in official statistics. Consequently, official data underestimate the extent of US casualties. Moreover, we know that the tests throw false negatives.

[Also] some officials say testing the dead is a misuse of scarce resources that could be used on the living.
🏠 Shelter in place
Eight states have not yet implemented stay-at-home orders: Arkansas, Iowa, Nebraska, North Dakota, South Carolina, South Dakota, Utah and Wyoming.
⓶ Around the world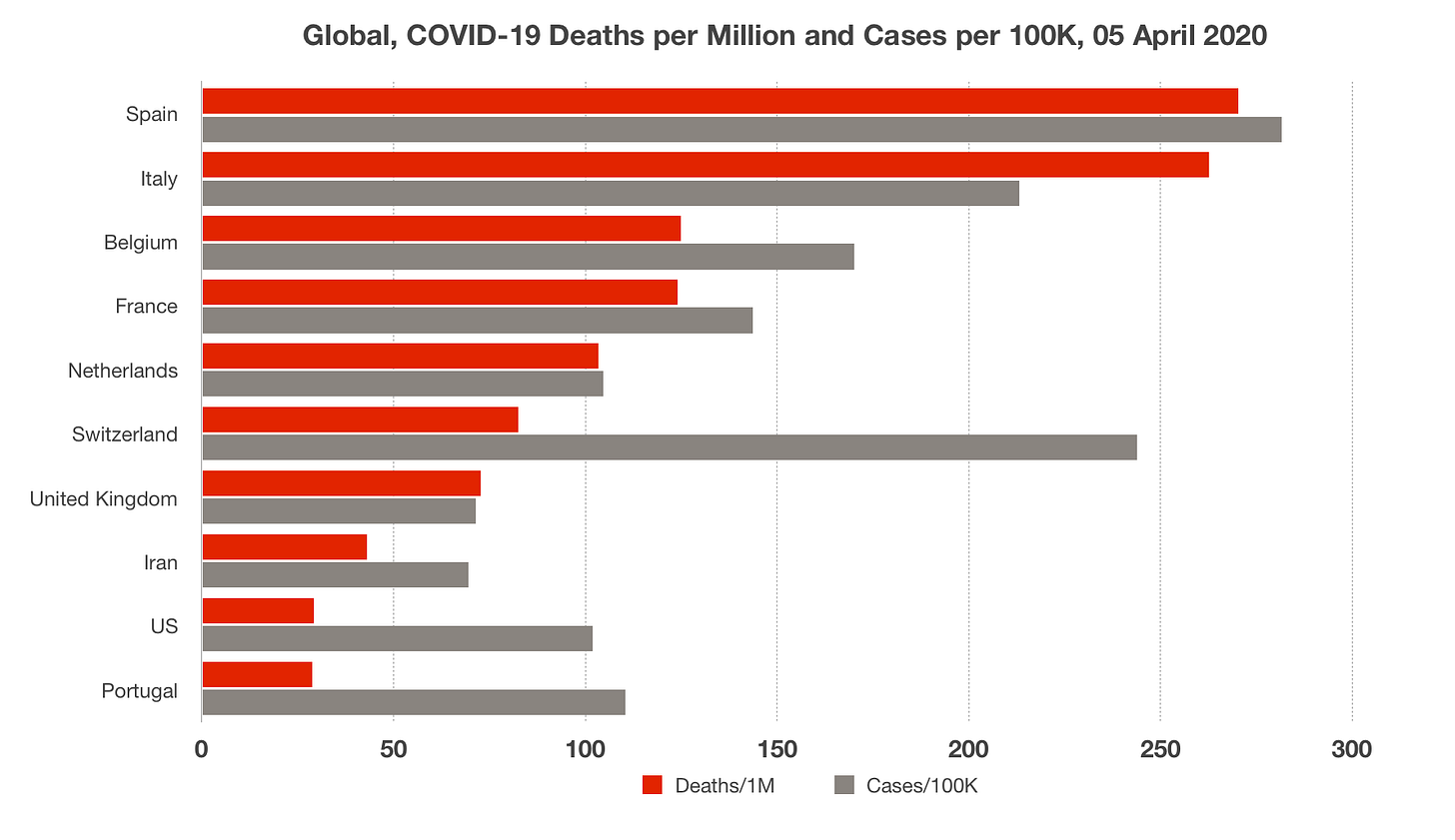 The number of affected countries/territories/areas jumped from 29 at the end of February to 204 today (added the Falklands). Although early reports tied the outbreak to a seafood ("wet") market in Wuhan, China, analyses of genomic data suggest that the virus may have developed elsewhere.
⓷ Politics, economics and COVID-19
On March 13, President Donald Trump promised Americans they would soon be able to access a new website that would ask them about their symptoms and direct them to nearby coronavirus testing sites. He said Google was helping.
There is still no national network of drive-through test sites for COVID-19. However, Oscare, a health-insurance company "closely connected to Trump's son-in-law, Jared Kushner," built a website like Trump had described, but it is not live. There are ethics issues, which are not new when discussing Kushner's actions. Supposedly this was built at the direction of Department of Health and Human Services (HHS).
Google's parent company is a major investor in Oscar. And Oscar, which has roughly 1,500 employees, did build a site like the one Trump described.
The the head of the Food and Drug Administration (FDA), an agency of HHS, is called Commissioner. In a three-year period, President Trump's administration has had five individuals serving in this capacity, four of them in calendar 2019.
Stephen Ostroff, MD, acting head, January 20, 2017 - May 11, 2017 who also served as acting head April 1, 2015 - February 22, 2016 during the Obama Administration

Scott Gottlieb, MD, head, May 11, 2017 - April 5, 2019 (confirmed 57-42 )

Norman Sharpless, MD, acting head, April 5, 2019 - November 1, 2019

Admiral Brett Giroir, MD, acting head, November 6, 2019 - December 17, 2019

Stephen Hahn, MD, head, December 17, 2019 - present (confirmed 72-18)
Trump is the only president to have four commissioners in one year. Both the Bush and Obama Administration each had three FDA commissioners over eight years; Bill Clinton had two over eight years (one commissioner also served under George H.W. Bush); Bush had one over four years; and Reagan had two over eight years.
On 28 March, FDA issued an emergency order allowing physicians to prescribe chloroquine and hydroxychloroquine, a "highly unusual guidance."
The Emergency Use Authorization (EUA) "allow[s] hydroxychloroquine sulfate and chloroquine phosphate products donated to the Strategic National Stockpile to be distributed and prescribed by doctors to hospitalized teen and adult patients with COVID-19, as appropriate, when a clinical trial is not available or feasible [emphasis added]."
Trump announced Saturday that there are 29 million doses of hydroxychloroquine in the Strategic National Stockpile. Economic adviser Peter Navarro "is convinced based on his reading that the drug works against the coronavirus and speaks about it enthusiastically." Yet "[m]ost members of the task force support a cautious approach to discussing the drug until it's proven."
Another proponent: former NY City mayor Rudy Guiliani.
On Friday, HHS changed the language on its website to match Kushner's reframing of the mission of the Strategic National Stockpile.
[T]he notion of the federal stockpile was it's supposed to be our stockpile… It's not supposed to be states' stockpiles that they then use.
Website before:
Strategic National Stockpile is the nation's largest supply of life-saving pharmaceuticals and medical supplies for use in a public health emergency severe enough to cause local supplies to run out….When state, local, tribal, and territorial responders request federal assistance to support their response efforts, the stockpile ensures that the right medicines and supplies get to those who need them most during an emergency.
The Strategic National Stockpile's role is to supplement state and local supplies during public health emergencies. Many states have products stockpiled, as well. The supplies, medicines, and devices for life-saving care contained in the stockpile can be used as a short-term stopgap buffer when the immediate supply of adequate amounts of these materials may not be immediately available.
⓸ Case count
There is a lag between being contagious and showing symptoms, between having a test and getting its results. The virus was not created in a lab.
🌎 
05 April 
Globally: 1 133 758 confirmed (82061 new) with 62 784 deaths (5798 new)

The Americas: 315 714 confirmed (36171 new) with 8187 deaths (1385 new)
Johns Hopkins interactive dashboard (11.00 pm Pacific)
Global confirmed: 1,275,542 (1,203,923)

Total deaths: 69,498 (64,795)

Total recovered: 262,985 (247,273)
🇺🇸 05 April 
CDC: 304,826 (277,205) cases and 7,616 (6,593) deaths

Johns Hopkins*: 337,637 (312,237) cases and 9,647 (8,502) deaths

State data*: 333,547 (307,913) identified cases and 9,558 (8,381) deaths
View infographic and data online: total cases, cases/100,000 and deaths/million.
* Johns Hopkins data, 11 pm Pacific.
State data include DC, Guam, the Northern Mariana Islands, Puerto Rico and the US Virgin Islands
See US (state/territory) total cases, cases/100,000 and deaths/million as infographics.

⓹ What you can do
Resources
👓 See COVID-19 resource collection at WiredPen.
📝 Subscribe to Kathy's Daily Memo :: Daily Memo archives
🦠 COVID-19 @ WiredPen.com