Discover more from ⚡️Memo from a News Hound
Weekly news in context with focus on the pandemic, misinformation, trends.
04 March 2020
COVID-19 death toll in the US reaches 11 with first death outside of Washington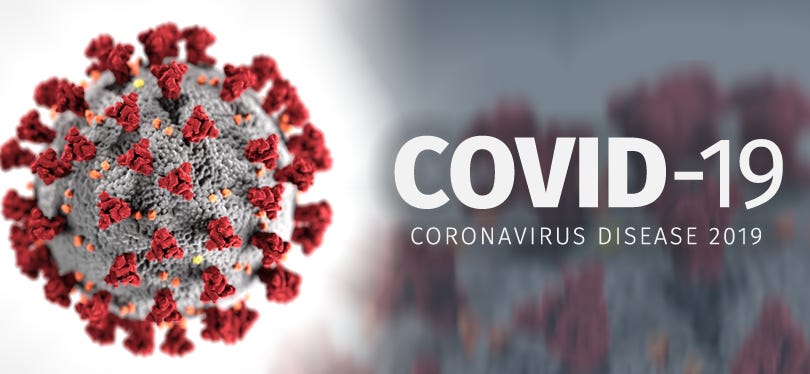 [Updated] California reported its first death from COVID-19; New York's case load jumped from two to 11; and New Hampshire has two presumptive cases. Washington reported 12 more cases and one more death.
At the end of the business day, Microsoft told Puget Sound employees "who are in a job that can be done from home should do so through March 25th." The company employs nearly 54,000 in Washington. Half of Microsoft's facilities in mainland China have limited services. Microsoft employees in Taiwan, Hong Kong and Macao may also work from home. Microsoft recommends that employees in Japan work from home and has directed employees to do so.
Amazon joined Microsoft Wednesday night and asked employees work from home if possible. And the Governor of California declared a state of emergency.
In New York, nine people who are connected to the 50 year old lawyer reported on Tuesday have tested positive. This includes his wife and two children; one of his friends and members of that man's family; as well as a neighbor. This is classic "community spread" which was identified through rapid testing; hundreds have been directed to self-quarantine. The lawyer works in downtown Manhattan and commutes by train from New Rochelle, north of New York City.
Washington is home to patient zero for COVID-19 in the United States, and until today, all US deaths to date have been here. There are now 10 deaths and 39 confirmed cases in King (31) and Snohomish (8) counties. The number of people under supervision in western Washington: 231. Seattle is in King County.
British Columbia, Canada, has tested more than 1,000 people for the virus. They have 13 confirmed cases of COVID-19 as of Wednesday; and four of those patients have fully recovered.
Nationally there are a total of 80 cases according to the CDC and 159 cases according to Johns Hopkins. Thirteen states are reporting cases.
Recommended: first-person account from China
Sections below
Around the country; Trump Administration and COVID-19; Global news; Case count (domestic and global); What you can do; and Resources
Around the country
In California, a Placer County adult with underlying health conditions has died. The patient went on a Princess cruise from San Francisco to Mexico (February 10 - 21) and had been the county's second confirmed case of COVID-19. County officials reported the case Tuesday night; the patient had been hospitalized at Kaiser Permanente Roseville. Los Angeles County has six new cases today (seven total) and has declared a health emergency.
California has 24 cases from repatriation flights. The other 29 confirmed cases include 12 that are travel related ;seven due to person-to-person exposure from family contact; three due to person-to-person exposure in a health care facility; four community acquired; and three from unknown sources.
In New Hampshire, the male patient recently traveled to Italy. Although the New Hampshire hospital employee had been directed to "self-isolate," he attended an event at Dartmouth Business School in White River Junction, Vermont on Friday. A second man is believed to have contracted the virus from him. All attendees at the event to self-quarantine for 14 days.
In New York, the affected lawyer had an underlying respiratory illness that may have made him susceptible to the virus; he is in intensive care at a Manhattan hospital. He had traveled to Miami in early February.
In North Carolina, the Wake County patient who is currently recovering at home had recently traveled to Washington and had visited the LifeCare nursing facility in Kirkland which is where most King County deaths have originated.
In Washington, the Fred Hutchinson Cancer Research Center activated a "mandatory remote work policy" Wednesday. Modeling suggests that 150-1,500 people in western Washington may have already been affected: either infected and recovered or currently infected.
If the analysis is correct, that could mean that Washington is in the position that Wuhan was in January, after the virus was detected but had already been spreading in the community. This would add urgency to the need to step up measures to avoid a skyrocketing infection rate in the state.
King County is investing $4 million into an Econo Lodge in the south end of the county and is placing modular units around the county for a way to isolate patients who do not need to be hospitalized.
Seattle-King County Public Health is recommending that high risk people "stay home and away from large groups of people as much as possible, including public places with lots of people and large gatherings where there will be close contact with others. This includes concert venues, conventions, sporting events, and crowded social gatherings."
People at higher risk:
Anyone over 60 years of age

People underlying health conditions including include heart disease, lung disease, or diabetes

Those with weakened immune systems 

Anyone who is pregnant
Snohomish County, north of Seattle and home to Everett, has issued a health emergency.
Microsoft announced it would not participate ing the health-tech conference HIMSS 2020 in Orlando, Florida. Amazon, Intel, Salesforce and other tech companies have already pulled out. Google has asked employees not to bring external visitors into Washington offices.
Trump Administration and COVID-19
The U.S. House of Representatives passed (415-2) an $8.3 billion measure to fight the outbreak. The Senate is expected to vote on the bill Thursday.
In news conference on Monday, Vice President Pence and HHS Secretary Azar insisted that the US would have 1 million test kits by week's end and that we are a global leader in testing. Washington state's neighbor to the north, British Columbia, Canada, had tests more than 1,000 citizens on Monday. South Korea distributed kits that show results in six hours to testing facilities on 07 February (almost a month ago); their 200 designated health centers can test up to 15,000 people day.
Economic impact: cargo volumes at many U.S. ports are expected to go down by 20 percent or more compared to 2019 in the first quarter.
Global news
The number of affected countries jumped up from 29 last week to 61 on Monday. Although early reports tied the outbreak to a seafood ("wet") market in Wuhan, China, analyses of genomic data suggest that the virus may have developed elsewhere.
Iran: deaths now reported at 92 (second to China) with 2,922 infected.
"We have to cut down on unnecessary interactions. We have to be extra careful in the coming weeks," health ministry spokesman Kianoush Jahanpour said during a televised news conference. He asked the public to "refrain from traveling and gathering at events such as weddings." The Shiite holy city of Qom, south of Tehran, is the epicentre of Iran's coronavirus outbreak, which was announced on 19 February 2020.

Singapore: As of Wednesday, Singapore has confirmed 112 cases of COVID-19. Seventy-nine have been discharged; 33 remain hospitalized. After a passenger arrived in Singapore Tuesday from Istanbul on a Turkish Airlines flight tested positive for COVID-19 on Wednesday, the three pilots and 11 crew members returned to Turkey with no passengers on the plane.

South Korea: about 2,300 patients are waiting for a hospital bed; 5,621 people in South Korea have tested positive for the virus and 32 have died.
Case count
It is important to remember that tests are only now becoming somewhat widely available as states labs implement testing.
04 March, domestic
04 March, global
Globally: 93,090 confirmed (2223 new)

China: 80,422 confirmed (120 new) and 2984 deaths (38 new)

Outside of China: 12,668 confirmed (2103 new) in 76 countries (4 new) with 214 deaths (48 new)
Global confirmed: 95,416

Total deaths: 3,286

Total recovered: 53,297
Johns Hopkins interactive dashboard
What you can do
Do not go to the emergency room unless essential. Emergency rooms need to be able to serve those with the most critical needs. If you have symptoms like cough, fever, or other respiratory problems, contact your regular doctor first. 

Stay home when sick.

Practice excellent personal hygiene habits, including handwashing, coughing into tissue or elbow, and avoiding touching eyes, nose, or mouth. 

Stay away from people who are ill, especially if you are 60 and older or have underlying health conditions such as diabetes, heart disease, lung disease, or a weakened immune system. 

Don't stockpile personal protective equipment (PPE) such as face masks as they are needed by health care staff. When is a mask is needed? When we are unwell and have to go out.
Tips via Seattle-King County Public Health
Resources