Discover more from ⚡️Memo from a News Hound
Weekly news in context with focus on the pandemic, misinformation, trends.
COVID-19 day 279: 📈 White House outbreak continues, now in the VP circle : 25 October 2020
US sets new daily case record of 83K on Friday; workers are being fired for reporting violations, OSHA isn't investigating; in randomized trial, convalescent plasma provides no benefit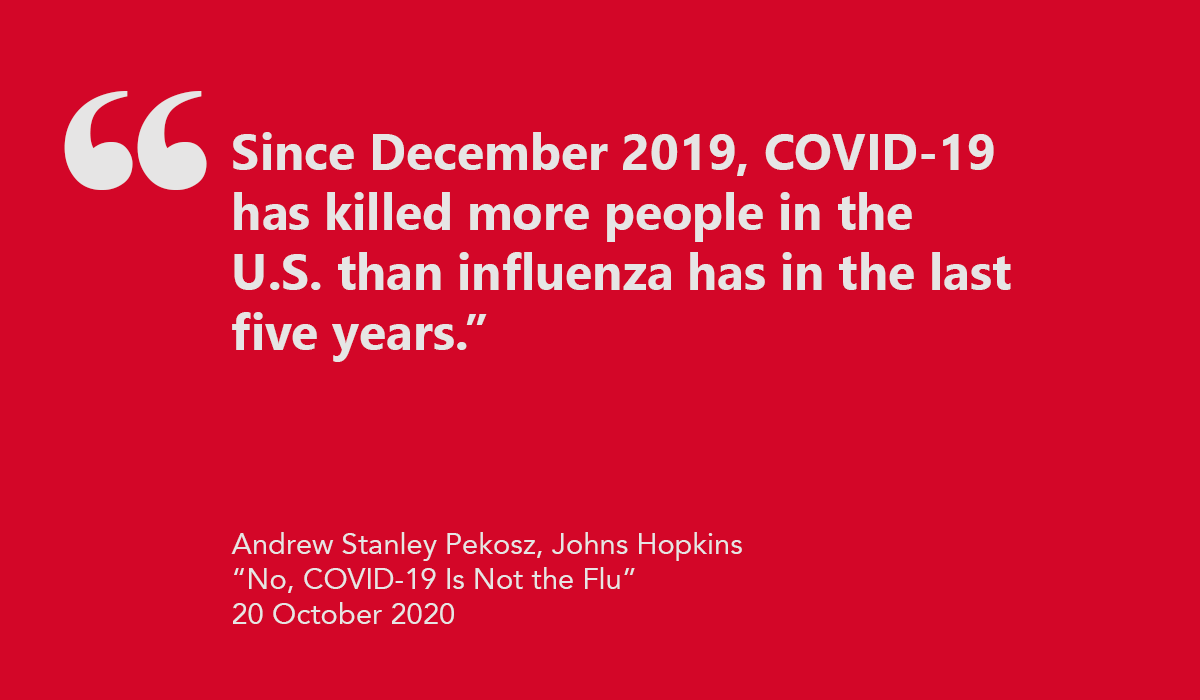 Sunday was day 279 since the first case of coronavirus disease was announced in the United States. On the home front, this third spike just keeps growing.
Friday, the US set a new record for daily reported cases, 83,757, which was 7% greater than July's peak. The COVID Tracking Project reported 42,000 new hospitalizations on Saturday, the most in more than two months. The Washington Post reported that 38 states had an increase in hospitalizations from 15 - 22 October. South Dakota had the greatest seven-day per capita average of hospitalized coronavirus patients on Thursday.
Sunday, there were 472,338 cases reported in the past seven days, a 22% increase since last Sunday.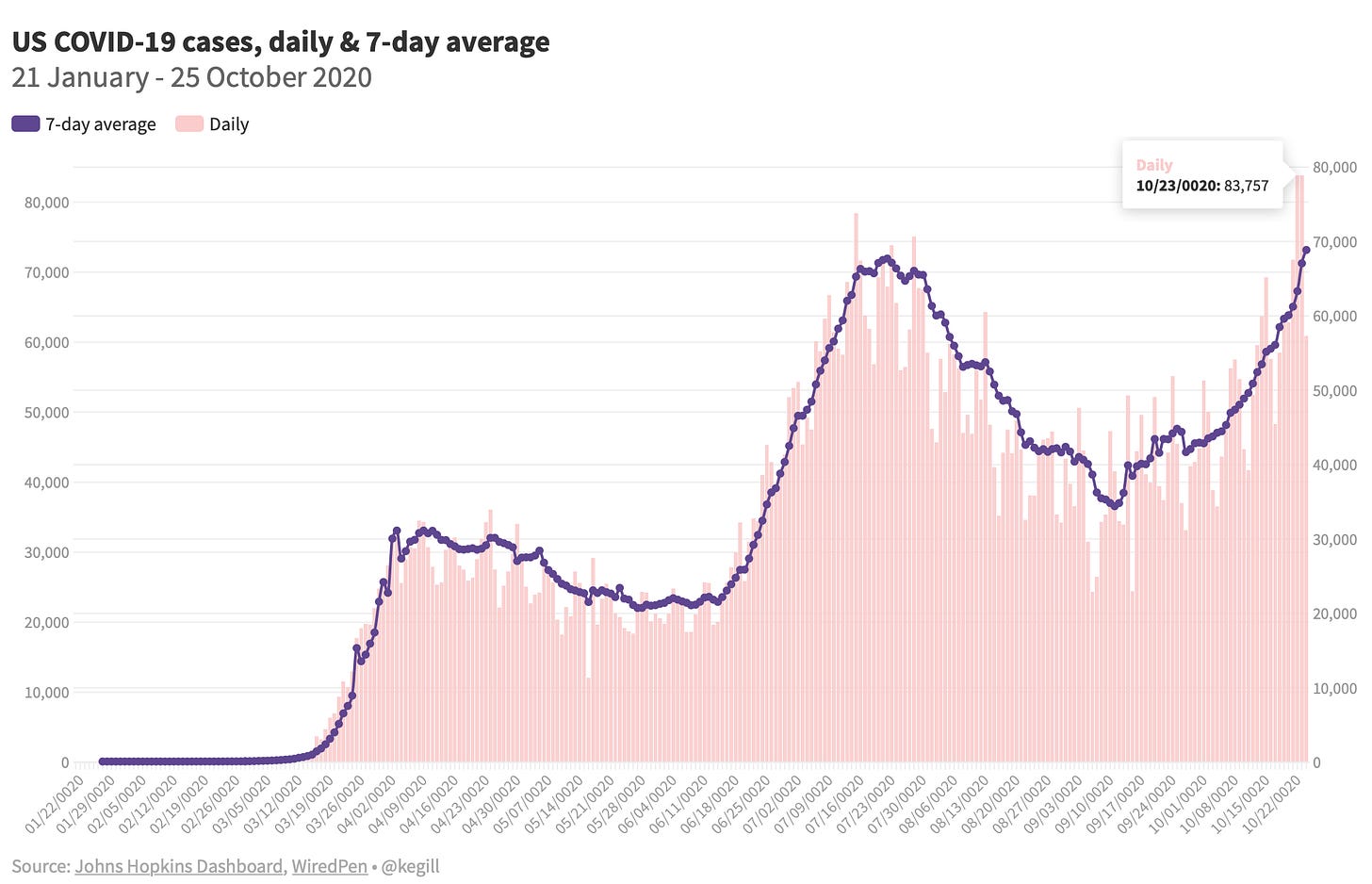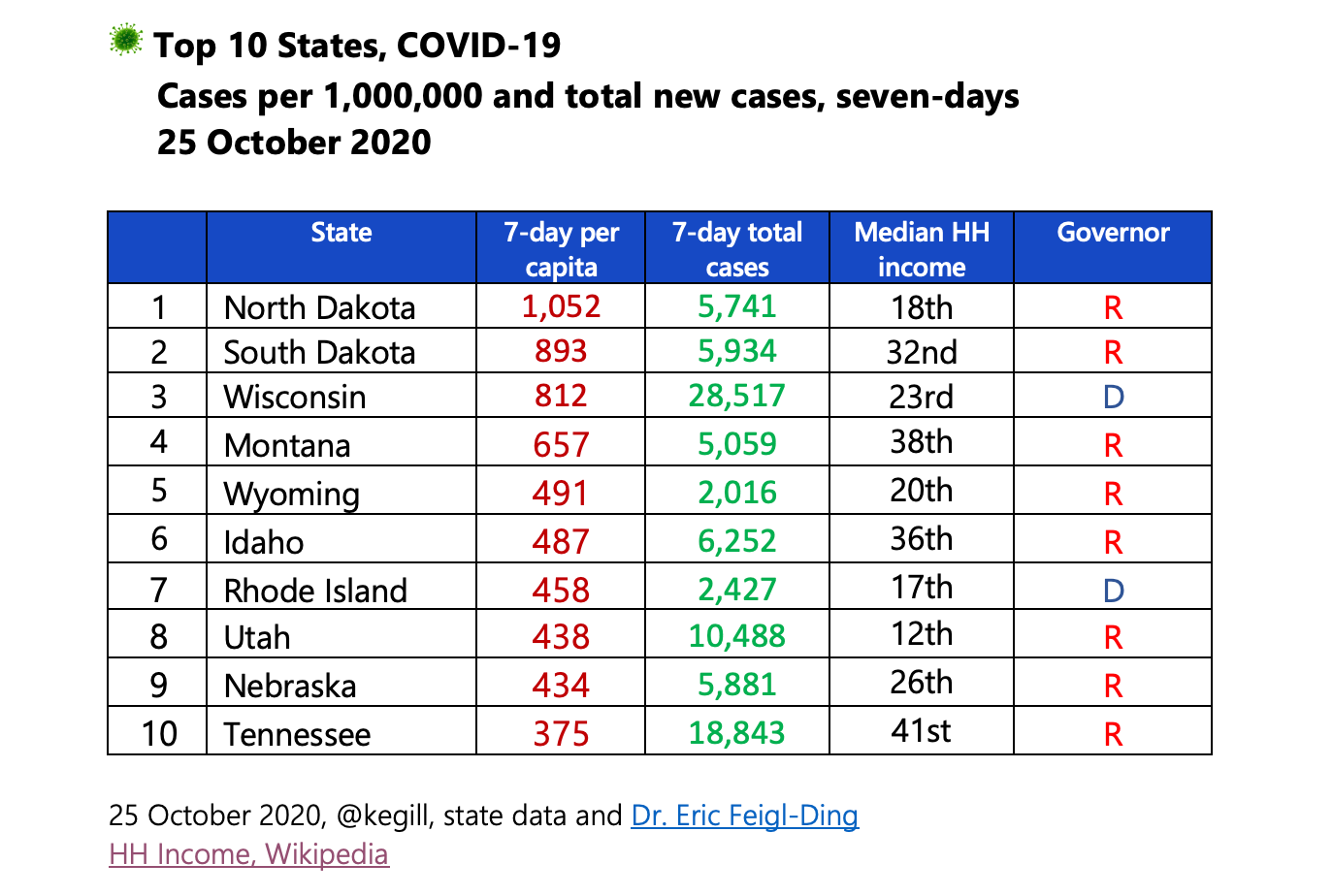 Globally, on Sunday, there were 43 million global cases and 1.2 million deaths. Last Monday Johns Hopkins reported 739,928 new cases; on Thursday, 857,884 new cases.
Sections (no jump links, sorry!)
1, One big thing; 2, Recommendations; 3, Politics, economics & COVID; 4, Key metrics;
5, Resources
⓵ One big thing - the ongoing White House outbreak
We're not going to control the pandemic. We are going to control the fact that we get vaccines.
That was White House Chief of Staff Mark Meadows, Sunday on CNN.
Never mind that only 2.6% of all Americans have been infected. We still don't know how long immunity might last. Nor do we have any idea of the long term effects of SARS-CoV-2.
Although there has been an outbreak in the office of Vice President Mike Pence affecting at least five aides or advisors, including his chief of staff, the chief of the White House coronavirus task force will not quarantine.
Marty Obst, "his top outside political adviser" according to the Washington Post, tested positive on Tuesday after flying aboard Air Force Two with Pence. Zach Bauer tested positive while in quarantine, which he began Tuesday because of close contact with Obst. Chief of staff Marc Short tested positive on Saturday.
Meadows "opposed" releasing any information about the infections to news media.
Pence is claiming he is essential personnel, which the CDC calls "Critical Infrastructure workers" and insists that they wear a mask "at all times" in the workplace. 🤦‍♀️ They should wear a mask when around others, period.
Pence will preside over the Senate vote to confirm Amy Coney Barrett a week before the election and continue his campaign travel until November 3.
[D]octors, Democrats and the former FDA commissioner all said Pence is putting the elderly senators at risk by continuing to campaign and physically attending Monday's vote.
This is in stark contrast to how Kamala Harris responded after she shared a flight with two people who later tested positive. She canceled her travel.
The White House continues to erroneously compare COVID-19 with the flu. Mark Meadows did that on CNN, calling it a "contagious virus, just like the flu."
Since December 2019, COVID-19 has killed more people in the U.S. than influenza has in the last five years. Andrew Stanley Pekosz, Johns Hopkins professor of Molecular Microbiology and Immunology
White House officials are also trying to deflect US cases by noting that other countries are having spikes. Not all (see Japan and South Korea, below). And we're the only country that has never corralled the spread. It's only recently that the UK passed the US in per capita daily cases.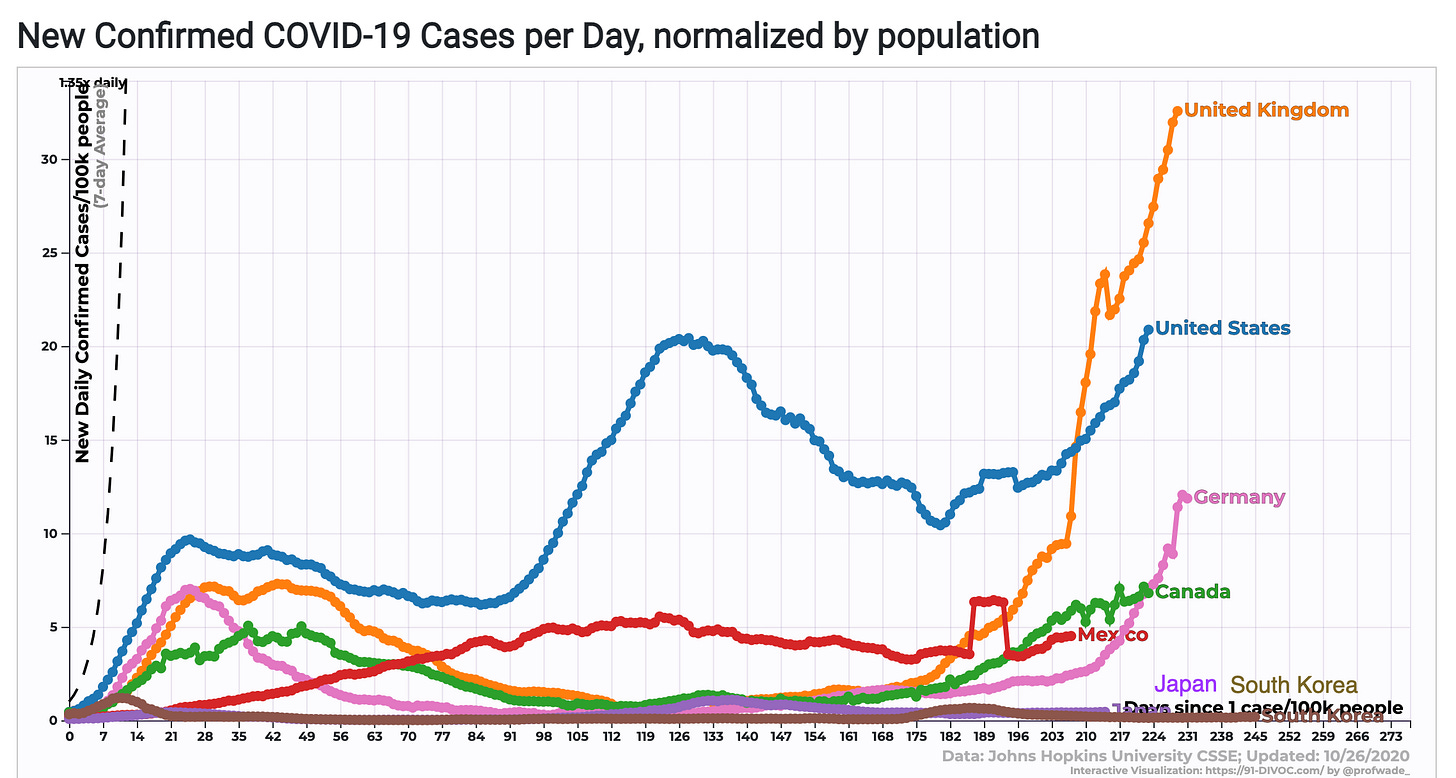 ⓶ Recommendations
🤓 Recommended reading
The National Employment Law Project, a workers' advocacy and research group, found that of 1,744 COVID-related retaliation complaints filed with OSHA between April and mid-August, 20% were docketed for investigation and 2% were resolved. More than half were dismissed or closed without investigation.
Workers Fired, Penalized for Reporting COVID Safety Violations. KHN, 23 October 2020.
Little is known about the impact of COVID-19 on pregnant women. It is not clear how a pregnant woman passes the virus on in the rare cases in which a baby has become infected
🔬 Research and medical news
▪️ If you need responses to claims that COVID-19 is no worse than the flu.
No, COVID-19 Is Not the Flu. Johns Hopkins School of Public Health, Expert Insights, 20 October 2020.
▪️ In the first randomized, control trial of convalescent plasma derived from recovered patients, it "provided no benefit over usual care in 464 COVID-19 adult patients in India."
Study finds no COVID-19 benefit for convalescent plasma. CIDRAP, 23 October 2020.
▪️ In lab conditions (emphasis added) SARS-CoV-2 may remain infectious for as long as 28 days on smooth surfaces at 20C (68F). That's in the dark, undisturbed, steady temperature. Open access journal.
The effect of temperature on persistence of SARS-CoV-2 on common surfaces. Virology Journal, 07 October 2020.
"We don't need a model to tell us that we should all be wearing masks, we don't need a model to tell us that if we continue the way we're going, we're going to see tens of thousands more deaths within the next couple of months," said Etzioni. "But sometimes when a person provides a model and you see these curves and you see these numbers, it helps appropriately freak you out."
Universal mask use could save 130,000 U.S. lives by the end of February, new study estimates. STAT News, 23 October 2020.
▪️ Remember when there were news articles about rationing ICU care back in late March-early April in the northeast? In July in the south? Well, it's on topic now in Utah.
Utah's hospitals prepare to ration care as a record number of coronavirus patients flood their ICUs. Salt Lake Tribune, 25 October 2020.
⓷ Politics, economics and COVID-19
❌ On Monday, President Trump called Dr. Anthony Fauci a "disaster".
‼️ If the Navajo Nation were a state, it would have the worst per capita COVID-19 death rate of any U.S. state. If it were a recognized nation state, it would the the worst rate in the world. As of Sunday, that was 11,217 infections and 574 confirmed deaths for a population 156,000 Diné (the Navajo name for themselves). That's 368 deaths per 100,000, double New Jersey's 183 and five times the US rate of 68.
🦠 In Texas, El Paso is converting its convention center into a field hospital. The city has tripled hospitalizations in less than a month. Officials have asked residents to stay at home for two weeks.
🦘 Most of the remaining restrictions in Melbourne, Australia, will be eased starting Tuesday. It comes after no new cases were reported in 24 hours, the first time in four months. The city has been in lockdown since July.
🍷 France has new a record for daily COVID-19 cases - 52,010.
🆘 In Italy, bars and restaurants will now have to close by 6pm; public gyms, movie theaters and swimming pools are being forced to close.
⓸ Key metrics
🦠 Friday, Johns Hopkins reported 8,491,459 (83,757 new) cases and 223,975 (943 new) deaths, an increase of 1.00% and 0.42%, respectively, since Thursday. A week ago, the daily numbers increased by 0.87% and 0.42%, respectively.
Friday
- cases 🔺32% compared to seven-day average; deaths 🔺22%
- seven-day average: 🔺63,228 cases and 🔺771deaths 
- 2.64% cases leading to death
- 18.5 cases/100K (CDC)
- 428,795 cases last seven days (CDC)

One week ago
- cases 🔺26% compared to seven-day average; deaths 🔺28%
- seven-day average: 🔺55,082 cases and 🔻689 deaths 
- 2.72% cases leading to death
- 16.2 cases/100K (CDC)
- 375,244 cases last seven days (CDC)
Note: the seven-day average is important because dailies vary due to factors other than actual case numbers, particularly over a weekend.
🇺🇸 23 October 
CDC: 8,553,827 (83,851 new) cases & 224,221 (828 new) deaths
- One week ago: 7,958,254 (63,486 new) cases & 216,917 (892 new) deaths

State data*:  8,600,269 (63,846 new) cases & 217,026 (362 new) deaths
- One week ago: 8,011,508 (68,847 new) cases & 210,250 (892 new) deaths
KS reports only M-W-F; CT and RI report only M-F

WHO: 8,403,121 (82,630 new) cases & 222,507 (943 new) deaths
- One week ago: 7,833,851 (59,106 new) cases & 215,199 (830 new) deaths
🌎 
23 October 
Johns Hopkins interactive dashboard (11.00 pm Pacific)
Global: 42,148,875 (507,566 new) cases & 1,143,495 (6,992 new) deaths
- One week ago: 39,266,928 (400,314 new) cases & 1,103,517 (6,269 new) deaths
* Johns Hopkins data, ~11.00 pm Pacific.
State data include DC, Guam, the Northern Mariana Islands, Puerto Rico and the US Virgin Islands
The virus was not created in a lab and the weight of evidence is that it was not released intentionally. Although early reports tied the outbreak to a market in Wuhan, China, analyses of genomic data have suggested that the virusdeveloped elsewhere.
⓹ Resources
👓 See COVID-19 resource collection at WiredPen.
📝 Subscribe to Kathy's COVID-19 Memo :: COVID-19 Memo archives
🦠 COVID-19 @ WiredPen.com
📊 Visualizations: US, World
🌐 Global news (at WiredPen)

👏🏻 Thank you
 for your time!