Discover more from ⚡️Memo from a News Hound
Weekly news in context with focus on the pandemic, misinformation, trends.
COVID-19 day 274: 📈 CDC: We've had 300,000 excessive deaths this year, with the largest increase in ages 25 to 44 : 20 October 2020
Also, Trump talks trash about Fauci, a special edition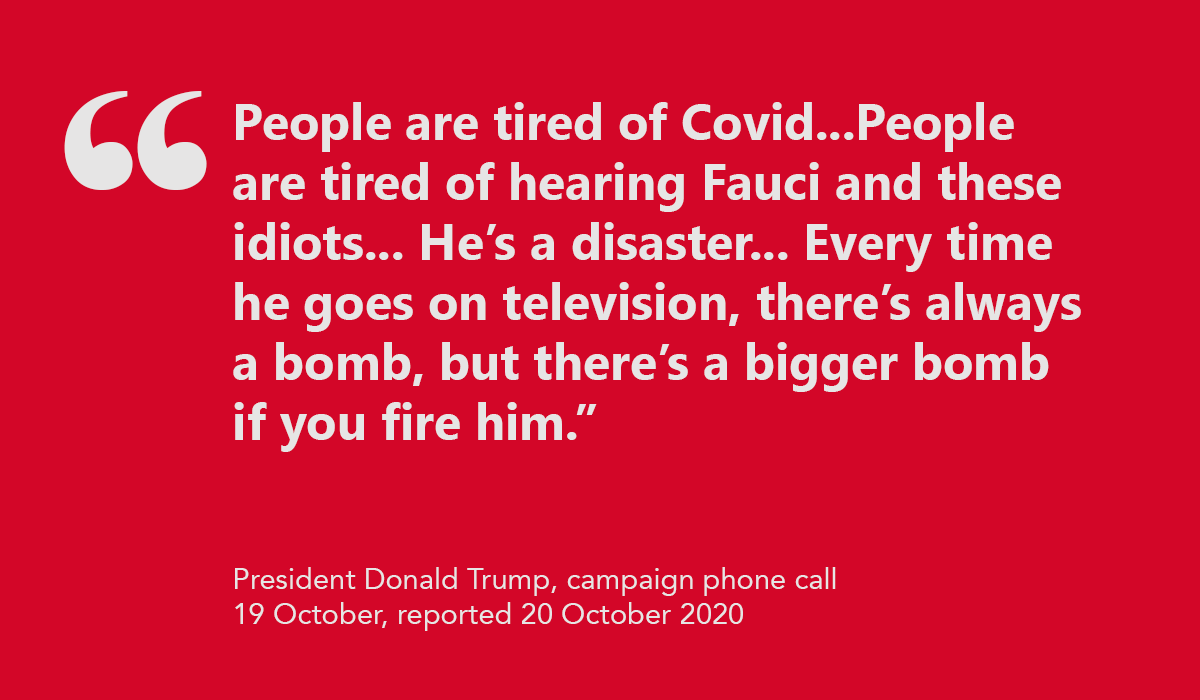 Tuesday was day 274 since the first case of coronavirus disease was announced in the United States.
The CDC released its latest report on excess deaths, the number of deaths reported compared to how many people die during the same period in an average year. The U.S. has had an estimated 299,028 excess deaths from late January through 03 October 2020. On that date, the CDC reported 207,302 deaths associated with COVID-19.
This ratio - deaths from COVID-19 accounting for about one-third of all excess deaths - mirrors analysis of excess deaths from 01 March to 30 May 2020. The study, published in JAMA Internal Medicine in July, noted that US excess deaths increased by 122,000, 28% more than the reported number of COVID-19 related deaths.
As a consequence, the CDC authors note that the reported number of COVID-19 deaths "might underestimate the total impact of the pandemic on mortality."
Although more excess deaths have occurred among older age groups, relative to past years, adults aged 25–44 years have experienced the largest average percentage increase in the number of deaths from all causes from late January through October 3, 2020. 
The impetus for these excess deaths is unclear. In other words, they might be COVID-19 related or they may be due to an unidentified issue.
26.5% more deaths among those 25-44

14.4% more deaths among those 45-64

24.1% more deaths among those 65-74

21.5% more deaths among those 75-84

14.7% more deaths among those 85 and older
For example, from Lenny Bernstein at the Washington Post:
Outside analyses, including some by The Washington Post and researchers at Yale University, have found two main causes for excess deaths. Many probably were the result of covid-19, although they were not recorded that way on death certificates. Others are probably the result of deaths at home or in nursing homes from heart attacks, diabetes, strokes and Alzheimer's disease, among people afraid to seek care in hospitals or unable to get it.
In addition, the CDC report emphasized the variance in the impact that the coronavirus has on ethnic communities. For Americans who identify as White, the excess death rate was 11.9%. For Latinos, it was 53.6%; for Asians, 36.6%; and for Blacks, 32.9%.
Trump trash talk
In a phone call with campaign staff on Monday, President Trump complained about COVID-19 and Dr. Anthony Fauci, despite there being reporters on the call.
"People are tired of COVID… People are tired of hearing Fauci and all these idiots — these people, these people that have gotten it wrong," Trump said. "Fauci's a nice guy. He's been here for 500 years. He's a disaster. If I listened to him, we'd have 500,000 deaths," Trump continued, adding seconds later, "If we listened to him, we'd have 700-800,000 deaths right now."

"Every time he goes on television, there's always a bomb, but there's a bigger bomb if you fire him."
Fauci is trusted by 2-in-3 Americans.
Trump was possibly responding to Fauci's interview on 60 Minutes on Sunday night. Never one to give a saw a rest, on Tuesday Trump continued his lies about Fauci on Fox & Friends by claiming that Fauci is a Democrat. Fauci is steadfastly non-partisan.
Trump cannot fire Fauci, who is a civil servant.
One last bit of trash talk: on Tuesday, Trump said we're "rounding the turn" on the virus, a claim he makes repeatedly at his rallies. Here's our "turn," all wrong.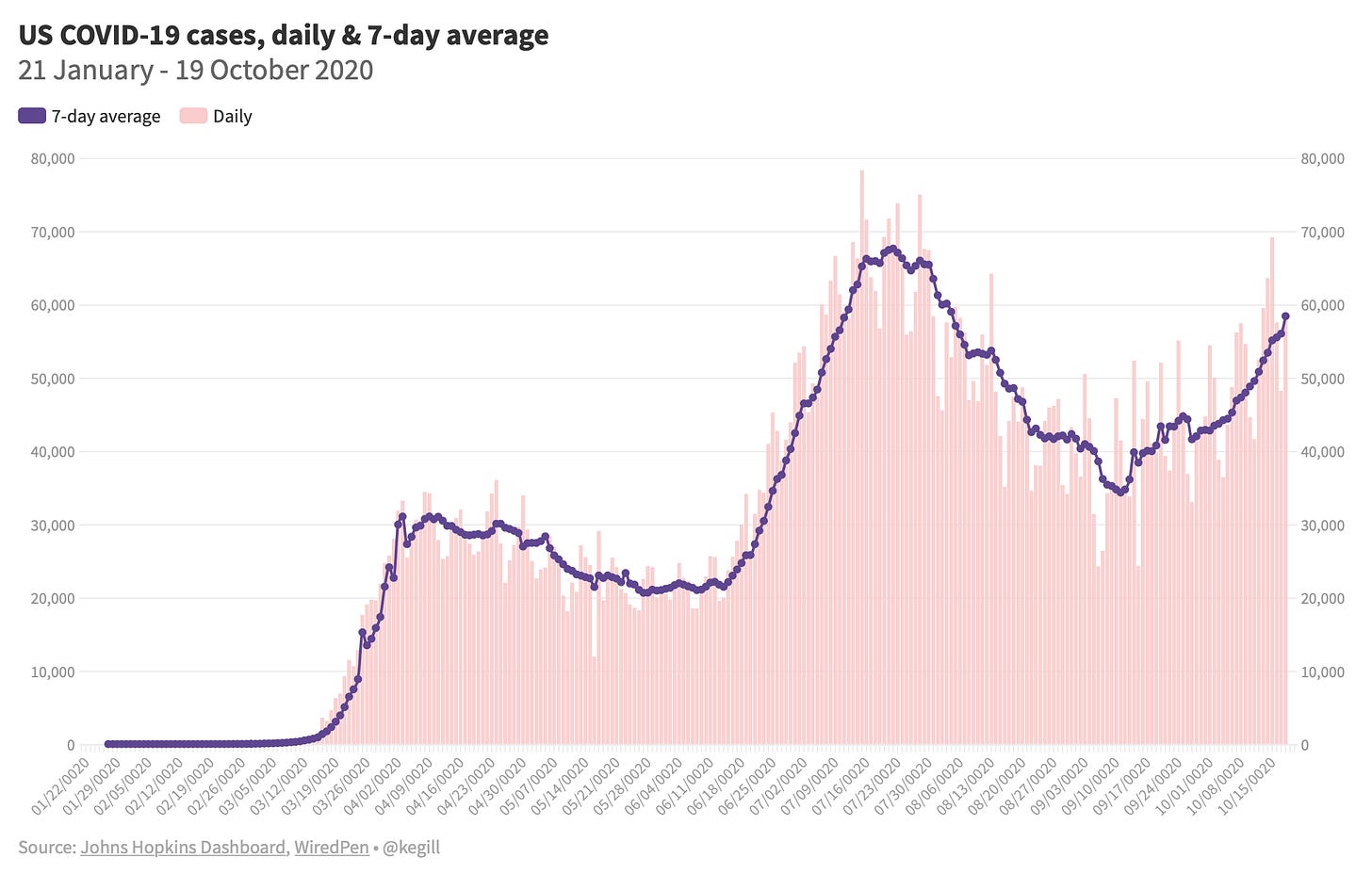 Quick country notes
The CDC reports that the US rate for new COVID-19 infections over the last seven days was 17.3 per 100,000 on Tuesday. For North Dakota, that per capita rate was 101.9.
South Dakota, 79.5

Montana, 57.4

Wisconsin, 56.1

Nebraska was fifth at 44.3
Health care workers in Montana have called on residents to help curb the state outbreak. The 27-bed COVID-19 unit in Great Falls is at capacity.
The Nebraska governor is resisting a mask mandate. However masks are required in Omaha and Lincoln due to local action.
In New Mexico, 81% of all adult hospital beds and 71% of intensive care unit beds have been filled. The rate of spread (1.27%) is among the largest in the country. The governor is imposing new restrictions.
North Dakota reported 1,029 new cases on Tuesday, a single-day record and the first time the state has reported more than 1,000 cases. The mayor of Bismark announced that there are no plans for a mask mandate. Masks are required in Fargo and Minot, with no penalties for failure to comply. Contact tracers are overwhelmed.
The South Dakota Speaker of the House of Representatives spoke out about his COVID-19 illness: "It's been the most devastating stuff I've ever had."
In Wisconsin, the number of hospitalized COVID-19 patients has tripled in the last 30 days. The state recently opened a 530-bed field hospital on Milwaukee fairgrounds.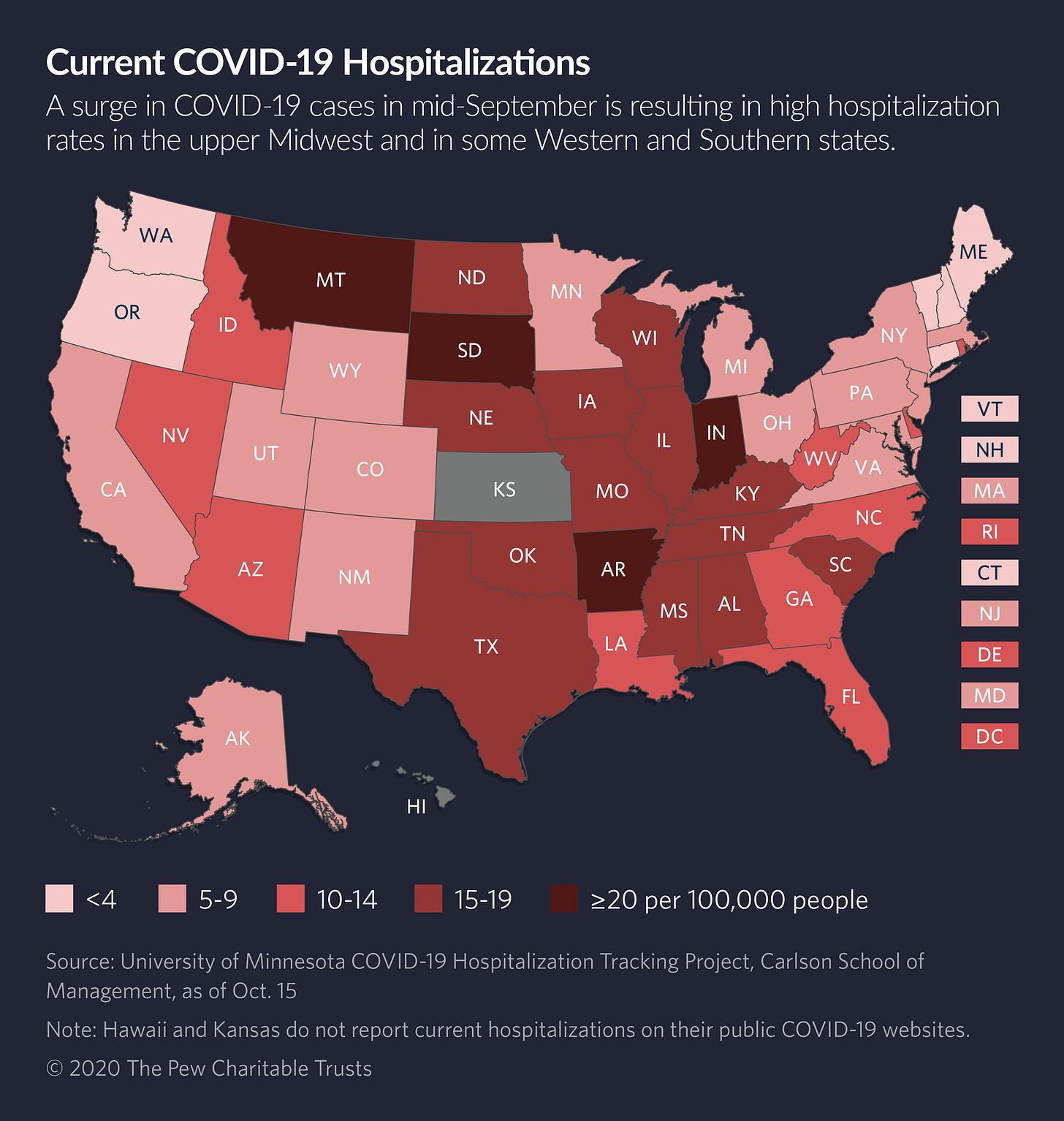 Resources
👓 See COVID-19 resource collection at WiredPen.
📝 Subscribe to Kathy's COVID-19 Memo :: COVID-19 Memo archives
🦠 COVID-19 @ WiredPen.com
📊 Visualizations: US, World
🌐 Global news (at WiredPen)

👏🏻 Thank you
 for your time!