Discover more from ⚡️Memo from a News Hound
Weekly news in context with focus on the pandemic, misinformation, trends.
COVID-19 day 241: 📈 In WA, 14 states have won a preliminary injunction against USPS regarding mail voting during a pandemic : 17 September 2020
Like WA, PA Supreme Court cites "voter disenfranchisement" and extends deadline to receive mailed ballots; global cases cross 30,000,000; more evidence of HHC interfering with CDC reports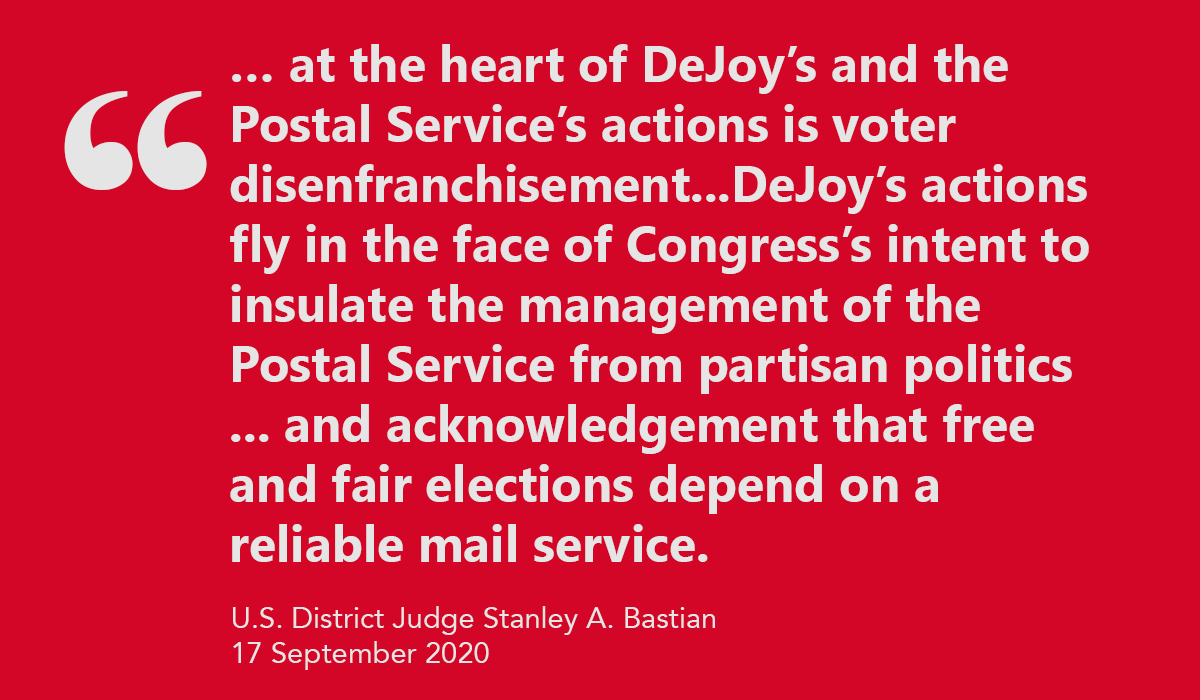 Thursday was day 241 since the first case of coronavirus disease was announced in the United States. Today, I am examining Wednesday's report (Tuesday's data).
Johns Hopkins reported 30,078,889 global cases of COVID-19 on Thursday, with 314,834 new cases. Global deaths stand at 944,887. The United States, with less than 4% of the world's population, still accounts for 1-in-5 global cases (22%) and deaths (21%).
Sections (no jump links, sorry!)
1, One big thing; 2, Recommendations; 3, Politics, economics & COVID; 4, Key metrics;
5, Resources
⓵ One big thing - the unraveling
As the countdown to 03 November moves forward, the more inflammatory the rhetoric from the White House and Trump surrogates. Although big picture "politics" include jobs ("the economy") and the environment (regulatory rollback), COVID-19 is a constant refrain in the daily deluge.
In the continuing saga of how COVID-19 has disrupted a mainstay of civic life, voting, 14 states have won a preliminary injunction against Postmaster General DeJoy.
On Thursday, a federal judge in Washington state directed Postmaster General Louis DeJoy to roll back service changes he implemented in July. The judge described those actions as "voter disenfranchisement."
Judge Bastian, Yakima, WA, directed USPS to treat all election mail as first class mail without requiring additional postage, per historical practice; to abandon its controversial "leave mail behind" policy; and to "replace, reassemble or reconnect any removed mail-sorting machines that are needed to ensure timely processing and delivery of election mail."
Voter disenfranchisement, he wrote:
…is evident in President Trump's highly partisan words and tweets, the actual impact of the changes on primary elections that resulted in uncounted ballots, and recent attempts and lawsuits by the Republican National Committee and President Trump's campaign to stop the States' efforts to bypass the Postal Service by utilizing ballot drop boxes, as well as the timing of the changes…
Aside, my state attorney general, Bob Ferguson, is leading the coalition of 14 states that sued President Trump et al.
✅ Also on Thursday, the Pennsylvania Supreme Court extended the deadline for accepting mailed absentee ballots, allowing those that are postmarked by 03 November to be counted if they are received by 5 pm on Friday. The court will allow voters to return their ballots via county drop boxes.
While [the timeline] may be feasible under normal conditions, it will unquestionably fail under the strain of COVID-19 and the 2020 presidential election, resulting in the disenfranchisement of voters," Justice Max Baer, a Democrat, wrote for the majority.
❌ Health and Human Services continues to be in the spotlight. Two (related) tales ahead:
HHS spokesperson Michael Caputo is taking that leave of absence, 60 days. On Sunday, I told you that he had been accused of interfering with CDC reports. On Tuesday, I reported that STAT News had implicated his podcasts as promoting partisan talking points. Today we learned that Caputo's aide Paul Alexander, "who was at the center of efforts to muzzle the department's career scientists," is leaving the agency.
In August, the CDC made a controversial public statement on its website that said it was unnecessary to test asymptomatic people even if they had been exposed. Now we know its source: HHS.
"That was a doc that came from the top down, from the H.H.S. and the [Pence] task force," said a federal official with knowledge of the matter... "That policy does not reflect what many people at the C.D.C. feel should be the policy."

The document contains "elementary errors" — such as referring to "testing for Covid-19," as opposed to testing for the virus that causes it — and recommendations inconsistent with the C.D.C.'s stance that mark it to anyone in the know as not having been written by agency scientists, according to a senior C.D.C. scientist who spoke on the condition of anonymity because of a fear of repercussions…

Similarly, a document, arguing for "the importance of reopening schools," was also dropped into the C.D.C. website by the Department of Health and Human Services in July and is sharply out of step with the C.D.C.'s usual neutral and scientific tone, the officials said.
❌ In the most bizarre and fatally flawed analogy to see the light of day this year, Attorney General William Barr compared the country's irregular, no-where-near-national-shutdown, COVID-19 public health response to slavery.
📣 Joining a long list Trump administration staff who leave-and-tell: Olivia Troye worked as homeland security, counterterrorism and coronavirus adviser to Vice President Pence for two years. She "is the first Trump administration official who worked extensively on the coronavirus response to forcefully speak out against Trump and his handling of the pandemic." 

⓶ Recommendations
🤓 Recommended reading
▪️For the first time in its 175-year history, the Scientific American editorial board has endorsed a presidential candidate. The op-ed compares and contrasts Trump's statements and performance with Biden's policy proposals, historical performance and trusted advisers. Although the history recited may be familiar, the presentation is damning.
The evidence and the science show that Donald Trump has badly damaged the U.S. and its people—because he rejects evidence and science…

The pandemic would strain any nation and system, but Trump's rejection of evidence and public health measures have been catastrophic in the U.S…

Trump's reaction to America's worst public health crisis in a century has been to say "I don't take responsibility at all." Instead he blamed other countries and his White House predecessor, who left office three years before the pandemic began.
From Fear to Hope; Scientific American Endorses Joe Biden. Scientific American, October 2020 issue.
🔬 Research and medical news
"What is not in the models is that students will actually fail to isolate," said Goldenfeld during a Sept. 2 press briefing, "that they would go to a party even if they knew they were COVID-positive or that they would host a party while they were COVID-positive. … We didn't include that behavior in the model."
Students' Mass Migration Back to College Gets a Failing Grade. KHN, 17 September 2020.
Trump tossed the "manage COVID-19 yourselves" baton at the states in the spring. Now some states are saying "not so fast" to vaccine promises.
Seven jurisdictions indicated they would analyze the data independently: California, Colorado, the District of Columbia, Michigan, New York, Oregon and West Virginia. Another two — Montana and Wyoming — said they'd only administer a vaccine that completed clinical trials and an outside committee's review. Three states — Arizona, Georgia and Oklahoma — indicated they would accept federal recommendations as usual.
States plan to independently vet COVID-19 vaccine data. Roll Call, 17 September 2020.
Live SARS-CoV-2, the virus that causes COVID-19, was isolated from air samples collected 2 to 4.8 meters (6.6 to 15.7 feet) away from two coronavirus patients—one recently released and one newly admitted—in a single hospital room, according to a study published yesterday in the International Journal of Infectious Diseases.
Contagious SARS-CoV-2 isolated from air in hospital patients' room. CIDRAP, 16 September 2020.
🧰
Recommended tools
The Stanford-MIT Healthy Elections Project brings together "academics, civic organizations, election administrators, and election administration experts to assess and promote best practices." Resources include a COVID-related litigation tracker.
⓷ Politics, economics and COVID-19
⬆️ On Thursday, India reported 97,894 infections, a record jump in COVID-19 daily cases. The US has 201.7 cases per 10,000 people; India has 37.1, but twice as many cases per day as the US.
💰 Federal Reserve Chairman Jerome Powell warned Congress and President Trump that another COVID-19 relief bill is needed because a lack of fiscal support could harm the US economy.
🦠 Unemployment claims are at their lowest levels since this began.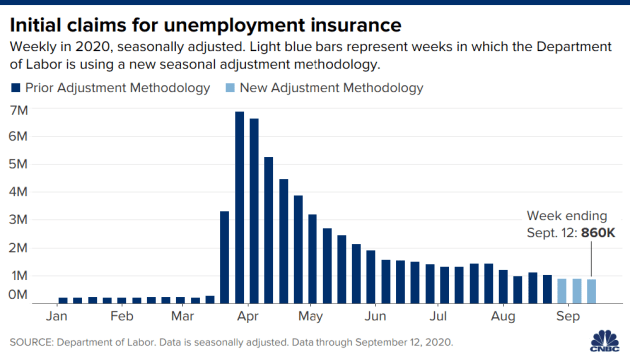 ⓸ Key metrics
🦠 Wednesday, Johns Hopkins reported 6,630,051 (24,318 new) cases and 196,763 (848 new) deaths, an increase of 0.37% and 0.43%, respectively, since Tuesday. The daily number of cases was significantly less than Tuesday (52,334) or Thursday (44,360), an unusual aberration during mid-week. A week ago, the daily numbers increased by 0.54% and 0.64%, respectively.
Wednesday
- cases 🔻36.7% compared to seven-day average; deaths 🔺0.5%
- seven-day average: 38,398 cases and 843 deaths, both 🔺 compared to last week
- 2.97% cases leading to death
- case rate, 200.3 per 10,000; death rate, 5.9 per 10,000

One week ago
- cases 🔻3% compared to seven-day average; deaths 🔺64%
- seven-day average: 35,394 cases and 734 deaths 
- 3.0% cases leading to death
- case rate, 192.2 per 10,000; death rate, 5.8 per 10,000
Note: the seven-day average is important because dailies vary due to factors other than actual case numbers, particularly over a weekend.
🇺🇸 16 September 
CDC: 6,571,867 (34,240 new) cases & 195,003 (911 new) deaths
- One week ago: 6,310,663 (23,301 new) cases & 189,147 (459 new) deaths

State data*:  6,598,873 (40,377 new) cases & 188,813 (1,190 new) deaths
- One week ago: 6,330,188 (30,926 new) cases & 182,819 (1,016 new) deaths
KS reports only M-W-F; CT and RI report only M-F

WHO: 6,496,246 (34,111 new) cases & 193,494 (375 new) deaths
- One week ago: 6,248,989 (26,015 new) cases & 188,172 (169 new) deaths
🌎 
16 September 
Johns Hopkins interactive dashboard (11.00 pm Pacific)
Global: 29,764,055 (192,722 new) cases & 939,473 (xxx 4,487) deaths
- One week ago: 26,031,410 (281,768 new) cases & 863,028 (6,013 new) deaths
* Johns Hopkins data, ~11.00 pm Pacific.
State data include DC, Guam, the Northern Mariana Islands, Puerto Rico and the US Virgin Islands
The virus was not created in a lab and the weight of evidence is that it was not released intentionally. Although early reports tied the outbreak to a market in Wuhan, China, analyses of genomic data have suggested that the virusdeveloped elsewhere.
⓹ Resources
👓 See COVID-19 resource collection at WiredPen.
📝 Subscribe to Kathy's COVID-19 Memo :: COVID-19 Memo archives
🦠 COVID-19 @ WiredPen.com
📊 Visualizations: US, World
🌐 Global news (at WiredPen)

👏🏻 Thank you
 for your time!