Discover more from ⚡️Memo from a News Hound
Weekly news in context with focus on the pandemic, misinformation, trends.
COVID-19 day 237: 📈 The economy, COVID-19 top US voter concerns : 13 September 2020
Trump Administration interferes with CDC reports; Israel to enter three-week lockdown; WHO reports a record 307,930 new cases; many nursing homes and hospitals ignored CDC guidelines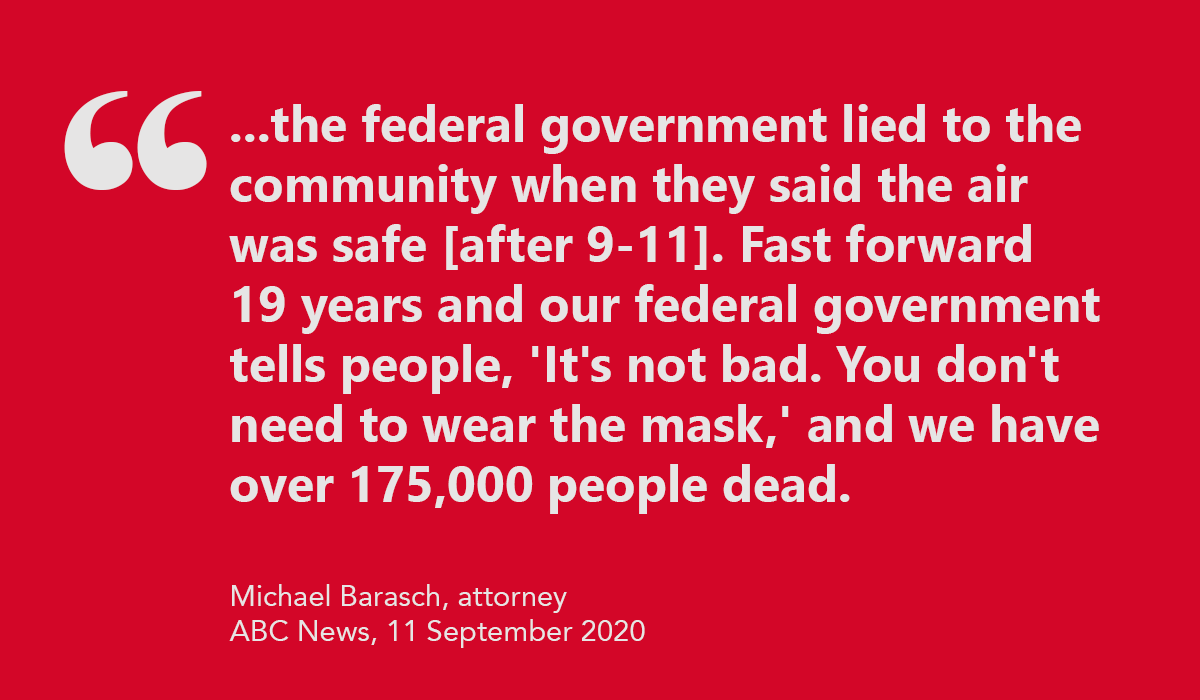 Sunday was day 237 since the first case of coronavirus disease was announced in the United States. This report is dated Sunday and contains detailed data from Friday. But you're reading it Monday (at the earliest).
Friday marked the 19th anniversary of the September 11 terrorist attacks as well as six months since the World Health Organization (WHO) declared the coronavirus a global pandemic. Two days later, on 13 March 13, President Trump declared a national emergency.
About that quote: several news organizations explored health impacts affecting first responders and survivors of 9-11. This is the story of John Feal, who contracted COVID-19 in March; he is one of the more than 1,400 responders and survivors who have contracted the disease.
Sections (no jump links, sorry!)
1, One big thing; 2, Recommendations; 3, Politics, economics & COVID; 4, Key metrics;
5, Resources
⓵ One big thing - COVID-19 and the election
One-third of registered voters (32%) report that the economy is the most important factor in their presidential candidate decision followed by coronavirus outbreak (20%).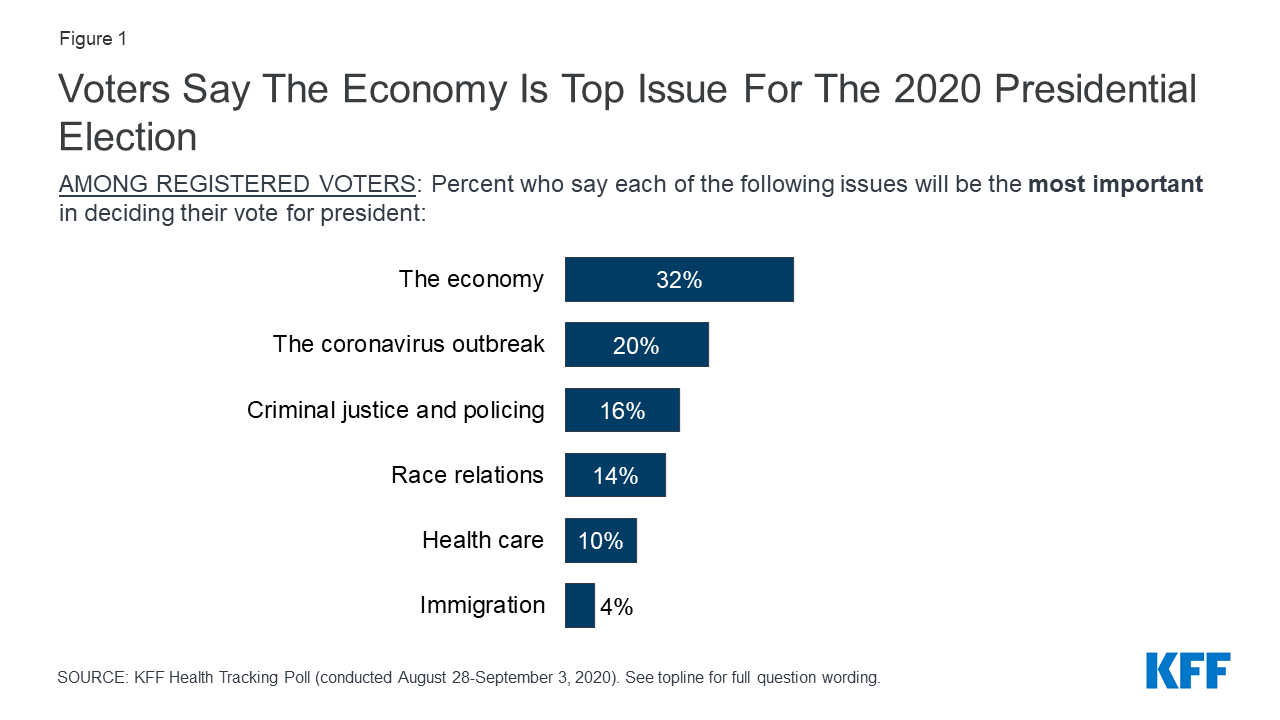 The report from the Kaiser Family Foundation (KFF) notes a definite partisan split.
The economy is overwhelmingly the top issue for Republican voters with more than half (53%) choosing it as the most important issue in making their decision about who to vote for president, and it is also the top issue for independent voters (29%). Nearly four in ten Democratic voters (36%) say the coronavirus outbreak is the top issue in deciding their vote, followed by race relations (27%). Few Republican voters say the coronavirus outbreak (4%) or race relations (2%) is their top issue in the election.
Independent voters put COVID-19 in second place.
Thus Administration interference with CDC reports should come as no surprise.
Michael Caputo, a former Trump campaign official who does not have a scientific background, is the spokesperson for the Department of Health and Human Services. HHS communications staff have "demanded the right to review and seek changes to the Centers for Disease Control and Prevention's weekly scientific reports charting the progress of the coronavirus pandemic, in what officials characterized as an attempt to intimidate the reports' authors and water down their communications to health professionals."
Caputo and his team have attempted to add caveats to the CDC's findings, including an effort to retroactively change agency reports that they said wrongly inflated the risks of Covid-19 and should have made clear that Americans sickened by the virus may have been infected because of their own behavior, according to the individuals familiar with the situation and emails reviewed by POLITICO…

"CDC to me appears to be writing hit pieces on the administration," appointee Paul Alexander wrote, calling on Redfield to modify two already published reports that Alexander claimed wrongly inflated the risks of coronavirus to children and undermined Trump's push to reopen schools. "CDC tried to report as if once kids get together, there will be spread and this will impact school re-opening . . . Very misleading by CDC and shame on them. Their aim is clear."
This Sunday interview ("goes haywire") between Trump surrogate Peter Navarro and Jake Tapper of CNN is also no surprise:
… again and again Tapper tried to get Navarro to answer the question. Again and again, Navarro dodged. Finally, when Tapper said, "He was not honest with the American people," Navarro snapped, "You're not honest with the American people. CNN is not honest with the American people." At that point, Tapper ended the interview. "I would just like to remind the American people watching," said Tapper, "that the United States has less than 5 percent of the world's population, and the United States has more than 20 percent of the world's coronavirus deaths. That is a fact. It does not matter how many times he insults CNN."
This map, also from the KFF, might explain voter concern:
⓶ Recommendations
🤓 Recommended reading
This issue brief compares President Trump and Democratic nominee Joe Biden on their records, actions and proposals related to the COVID-19 pandemic. It includes a general overview of their respective approaches, followed by a detailed side-by-side.
Comparing Trump and Biden on COVID-19. KHN, 11 September 2020.
🔬 Research and medical news
▪️ AstraZeneca has resumed British clinical trials of its COVID-19 vaccine; the trial paused on 06 September 2020. Trials remain suspended in the U.S. and other countries. Pfizer announced an expansion of its vaccine trial to 44,000 people; initially the goal was 30,000.
AstraZeneca Partly Resumes Coronavirus Vaccine Trial After Halting It for Safety. NY Times, 12 September 2020.
▪️ Past time to stop calling COVID-19 a respiratory disease. COVID-19 causes cardiac dysfunction in up to 25% of patients.
When SARS-CoV-2 virus was added to human heart cells grown in lab dishes, the long muscle fibers that keep hearts beating were diced into short bits, alarming scientists at the San Francisco-based Gladstone Institutes, especially after they saw a similar phenomenon in heart tissue from Covid-19 patients' autopsies…

… the "carnage in the human cells" they saw was unlike anything that's been previously described with other diseases. "Nothing that we see in the published literature is like this in terms of this exact cutting and precise dicing. We should think about this as not only a pulmonary disease, but also potentially a cardiac one." 
'Carnage' in a lab dish shows how the coronavirus may damage the heart. STAT News, 04 September 2020.
SARS-CoV-2 infection of human iPSC-derived cardiac cells predicts novel cytopathic features in hearts of COVID-19 patients. bioRxiv, 12 September 2020
▪️ Researchers found COVID victims commingled with uninfected patients in California, Florida, New Jersey, Iowa, Ohio, Maryland and New York.
A KHN investigation found that dozens of nursing homes and hospitals ignored official guidelines to separate COVID patients from those without the coronavirus, in some places fueling its spread and leaving staff unprepared and infected or, in some cases, dead.
Hospitals, Nursing Homes Fail to Separate COVID Patients, Putting Others at Risk. KHN, 10 September 2020.
🎧 Recommended listening
The headlines from this week will be about how President Donald Trump knew early on how serious the coronavirus pandemic was likely to become but purposely played it down. Potentially more important during the past few weeks, though, are reports of how White House officials have pushed scientists at the federal government's leading health agencies to put politics above science.
What the Health? : The Politics of Science. KHN, 10 September 2020.
⓷ Politics, economics and COVID-19
🆘 We're about two weeks away from a government shutdown; the fiscal year ends 30 September and Congress needs to agree to a continuing resolution by midnight on 01 October to prevent a shutdown. It is unlikely the two houses will agree on coronavirus relief funding. We have had 10 shutdowns that furloughed employees.
✅ In Australia, measures to reduce the spread of COVID-19 have led to fewer cases of influenza as well.
🦠 In Israel, Prime Minister Benjamin Netanyahu has announced a new lockdown in Israel, the West Bank and Gaza following a resurgence in coronavirus cases; its seven day average is 5,000 new cases daily. The lockdown is expected to last at least three weeks, beginning Friday, "the start of the Jewish High Holiday season." Its per capita case rate, 180.0 per 10,000, trails the U.S. (197.0).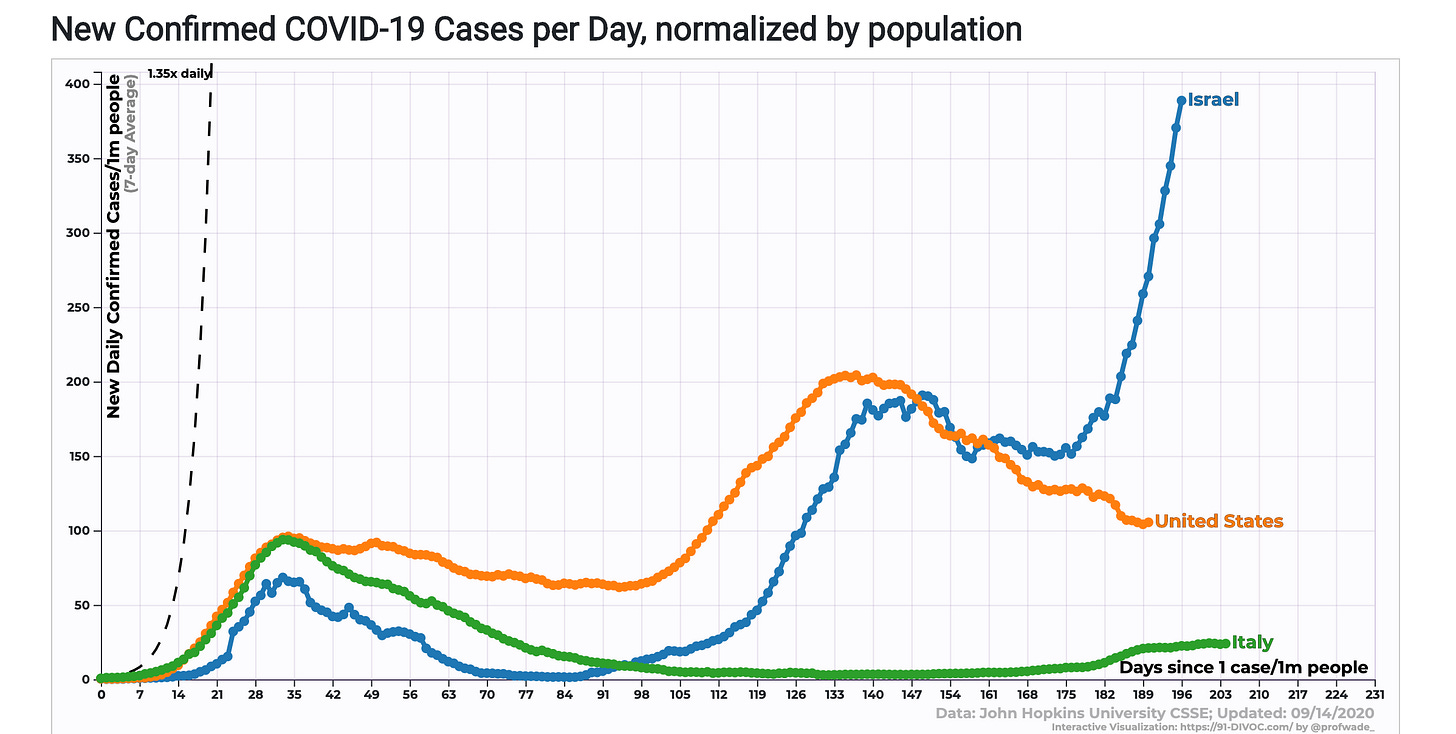 ⓸ Key metrics
WHO reported a record 307,930 new coronavirus cases globally on Sunday. The three countries with the most new cases: India (94,372), the US (45,523) and Brazil (43,718). WHO data lag Johns Hopkins dashboard data. On a per capita basis, Brazil has 203.7 cases per 10,000; the US, 197.0; and India, 34.5.
For the fourth consecutive week, the daily increase in both the cases and deaths in the US have stayed below 1.0% each day. We account for 23% of the world's reported cases and 21% of the deaths, and yet we are only 4% of the world's population.
Data reported on Friday come from Thursday reports, and several states do not report on Thursday. So the fact that Friday's case report is 33% greater than Thursday's report is troubling. Saturday's report is also greater than Wednesday (but is less than Friday). In addition, reported cases and deaths are significantly greater than the 7-day average, which may be artificially low due to the three-day Labor Day holiday.
🦠 Friday, Johns Hopkins reported 6,443,743 (47,192 new) cases and 192,979 (1,213 new) deaths, an increase of 0.74% and 0.63%, respectively, since Thursday. A week ago, the daily numbers increased by 0.82% and 0.52%, respectively.
Friday
- cases 🔺35.8% compared to seven-day average; deaths 🔺62.5%
- seven-day average: 34,746 cases and 746 deaths 
- 2.99% cases leading to death
- case rate, 194.7 per 10,000; death rate, 5.8 per 10,000

One week ago
- cases are 🔺23% compared to seven-day average; deaths 🔺13%
- seven-day average: 40,940 cases and 851 deaths 
- 3.03% cases leading to death
- case rate, 187.3 per 10,000; death rate, 5.7 per 10,000
Note: the seven-day average is important because dailies vary due to factors other than actual case numbers, particularly over a weekend.
🇺🇸 11 September 
CDC: 6,381,013 (37,451 new) cases & 190,262 (1,115 new) deaths
- One week ago: 6,132,074 (44,671 new) cases & 186,173 (1,081 new) deaths

State data*:  6,413,114 (45,226 new) cases & 184,969 (1,009 new) deaths
- One week ago: 6,170,471 (52,465 new) cases & 179,763 (904 new) deaths
KS reports only M-W-F; CT and RI report only M-F

WHO: 6,304,182 (31,988 new) cases & 189,709 (1,101 new) deaths
- One week ago: 6,050,444 (39,402 new) cases & 184,614 (1,004 new) deaths
🌎 
11 September 
Johns Hopkins interactive dashboard (11.00 pm Pacific)
Global: 6,443,743 (47,192 new) cases & 192,979 (1,213 new) deaths
- One week ago: 26,609,482 (304,626 new) cases & 874,369 (5,636 new) deaths
* Johns Hopkins data, ~11.00 pm Pacific.
State data include DC, Guam, the Northern Mariana Islands, Puerto Rico and the US Virgin Islands
The virus was not created in a lab and the weight of evidence is that it was not released intentionally. Although early reports tied the outbreak to a market in Wuhan, China, analyses of genomic data have suggested that the virusdeveloped elsewhere.
⓹ Resources
👓 See COVID-19 resource collection at WiredPen.
📝 Subscribe to Kathy's COVID-19 Memo :: COVID-19 Memo archives
🦠 COVID-19 @ WiredPen.com
📊 Visualizations: US, World
🌐 Global news (at WiredPen)

👏🏻 Thank you
 for your time!