Discover more from ⚡️Memo from a News Hound
Weekly news in context with focus on the pandemic, misinformation, trends.
COVID-19 day 213: 📈 Rather than foster a robust absentee voting system, the Trump administration is dismantling the USPS : 20 August 2020
At least 21 states plan lawsuits; children play a larger role in COVID-19 community transmission than previously thought; beware contact tracer scam phone calls; fire fighters and COVID-19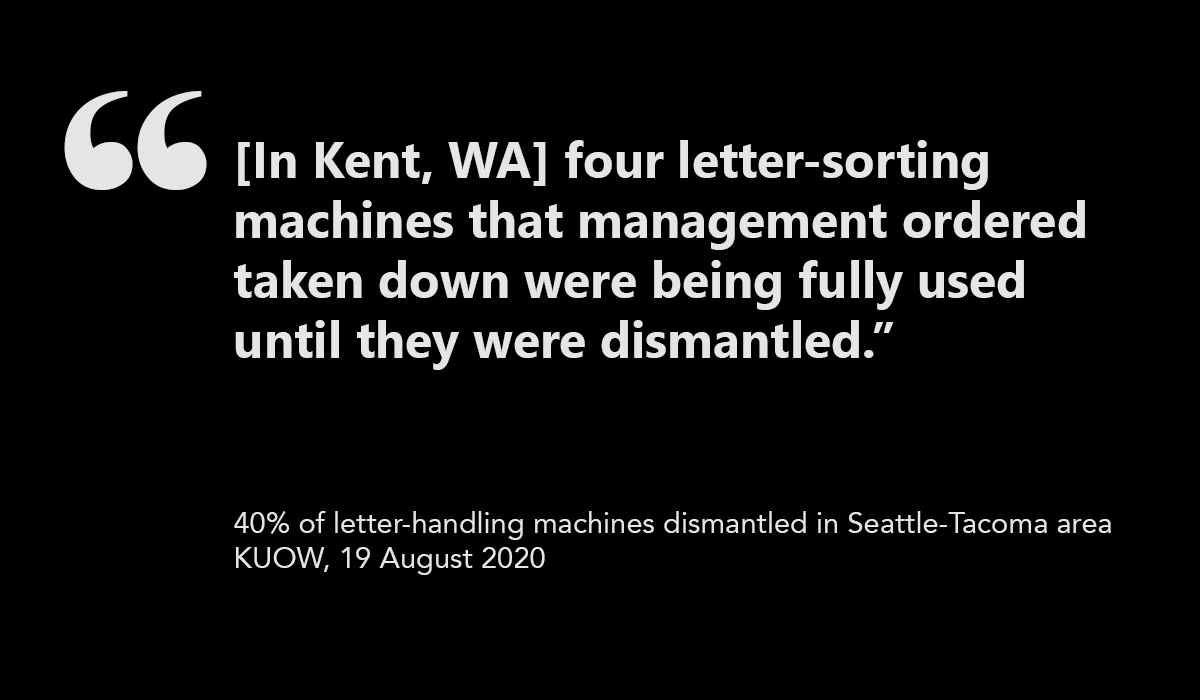 Thursday was day 213 since the first case of coronavirus disease was announced in the United States. In 75 days, we will hold a presidential election in the middle of a pandemic. Primary election snafus foreshadowed the need for robust absentee voting systems this fall. Instead, we have a dismantling of the United States Postal Service.
Sections (no jump links, sorry!)
1, One big thing; 2, Recommendations; 3, Politics, economics & COVID; 4, Key metrics;
5, Resources
⓵ One big thing - USPS (again)
One week ago, I wrote that being able to vote absentee will be critical to voter risk management this fall. I pointed out that the new Postmaster General, a major political donor and the first non-career employee in two decades, had implemented policies that were already slowing the mail. And last Thursday, President Trump told FOX News that he doesn't plan to negotiate with Democrats who he said want money for USPS so that it can process mail-in ballots.
All voters in five states will vote-by-mail in November: Colorado, Hawaii, Oregon, Utah and Washington. One-third of American voters told pollsters last week that they plan to vote by mail (which would be absentee in the other 45 states).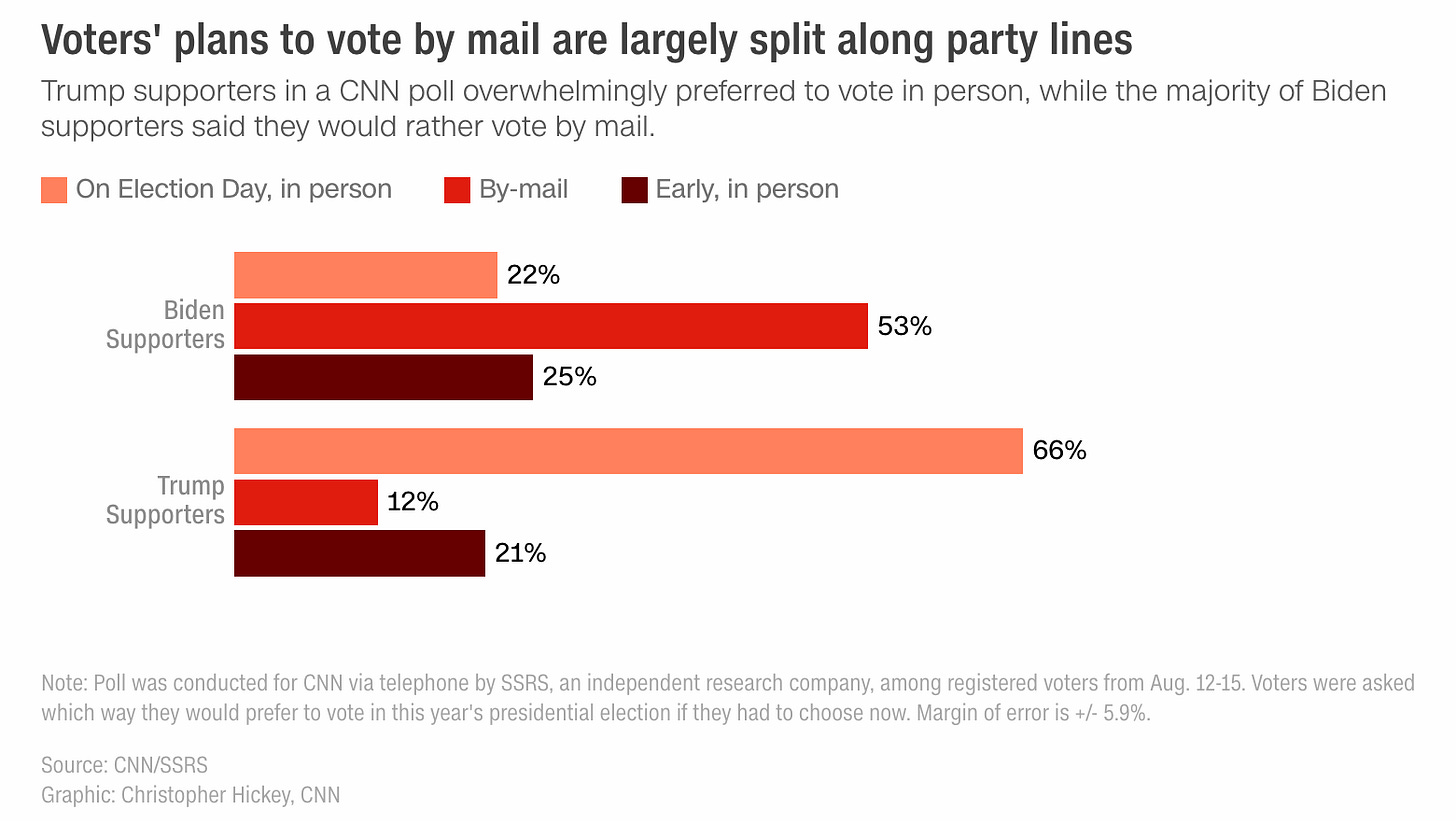 This week, Trump cast his absentee primary ballot in Florida. Florida calls its absentee balloting "vote-by-mail."
Trump submitted the Florida primary ballot by giving it to a third party to return, a spokesperson for the Palm Beach elections supervisor confirmed to NPR on Wednesday. Republicans often derisively refer to sending in a ballot this way as "ballot harvesting," and it's something Trump has criticized.
The Trump campaign insists that absentee voting by mail is fraught with fraud. In Pennsylvania, a federal court judge told the campaign to provide evidence supporting those claims. They couldn't. Their court filing "documented only a handful of cases of election fraud in recent years — none of which involved mail-in ballots."
This week we also learned how Louis DeJoy came to be Postmaster General was "irregular." DeJoy was "was not among the candidates initially vetted for the position" by the national search firm the Board of Governors hired. Instead, John Barger, the chairman of the search committee (a Republican donor), added DeJoy's name to the candidate pool.
Facing criticism, on Tuesday DeJoy claimed he was "suspending [his] initiatives until after the election is concluded" in order to "avoid even the appearance of any impact on election mail."
However, USPS (this means DeJoy) has "instructed all maintenance managers around the country not to reconnect or reinstall any mail sorting machines they had already disconnected, according to emails obtained by Motherboard."
House Speaker Nancy Pelosi (D-San Francisco) said Wednesday that DeJoy informed her he did not intend to restore the sorting machines or blue mailboxes that have been removed in several cities, nor did he have plans to allow for adequate overtime for workers.
DeJoy will appear at a Senate hearing on Friday and a House committee next week. 
In Washington state, USPS has shut down 40% of the high-speed letter-sorting machines in the Seattle-Tacoma area, which traditionally votes Democratic. It shut down 3-of-20 in eastern Washington, which votes Republican, and then reversed two of those.
In Kent, WA, "four letter-sorting machines that management ordered taken down were being fully used until they were dismantled."
Postal Service internal planning documents from May show the agency was planning to remove 746 letter-sorting machines, or 1 in 5 nationwide, this summer.
You can read the documents in the KUOW news story.
David C.W. Parker, professor of political science at Montana State University, has documented that mail boxes which had been removed were primarily in Democrat-leaning precincts, just like the sorting equipment in Washington.
The stories of dismantling and backlog come from across the country.
[I]nside a massive mail-sorting facility in South Los Angeles, workers fell so far behind processing packages that by early August, gnats and rodents were swarming around containers of rotted fruit and meat, and baby chicks were dead inside their boxes.
[Keith Combs, a Michigan postal worker for more than 30 years] says he and other union employees were not given notice of the closing, as mandated by USPS operations procedures. Instead, post office box customers began receiving notices in late July that they would need to find another post office to use—before employees were told they could be out of a job.
Sen. Chris Coons (D) found dismantled letter-sorting machinery left outside in the rain in Delaware.
Mail-in voters and attorneys general in at least 21 states are planning to sue the U.S. Postal Service.
The suits, including one filed Tuesday afternoon in federal court in Washington state, will argue that the Postal Service broke the law by making operational changes without first seeking approval from the Postal Regulatory Commission. They will also argue that the changes will impede states' ability to run free and fair elections, officials from several state attorney general's offices told The Washington Post. The Constitution gives states and Congress, not the executive branch, the power to regulate elections.
This story remains a nine-alarm fire. On Saturday, consider showing your support for your local USPS office, which delivers medicine, pay checks, little chicks (and even human remains).
⓶ Recommendations
🤓 Recommended reading
Paul is one of thousands of firefighters from across the U.S. battling dozens of wildfires burning throughout the West. It's an inherently dangerous job that now carries the additional risk of COVID-19 transmission. Any outbreak that ripples through a camp could easily sideline crews and spread the virus across multiple fires — and back to communities across the country — as personnel transfer in and out of "hot zones" and return home.
COVID Plans Put to Test as Firefighters Crowd Camps for Peak Wildfire Season. KHN, 20 August 2020.
No president has ever inherited a pandemic. But if Joe Biden is elected in November, he has made clear that his first moments in office would mark a dramatic shift in the nation's approach to Covid-19.
Ramped-up testing and daily briefings: Inside Biden's plan to take over a tumultuous Covid-19 response. STAT News, 20 August 2020.
🔬 Research and medical news
In the most comprehensive study of COVID-19 pediatric patients to date, researchers provide critical data showing that children play a larger role in the community spread of COVID-19 than previously thought.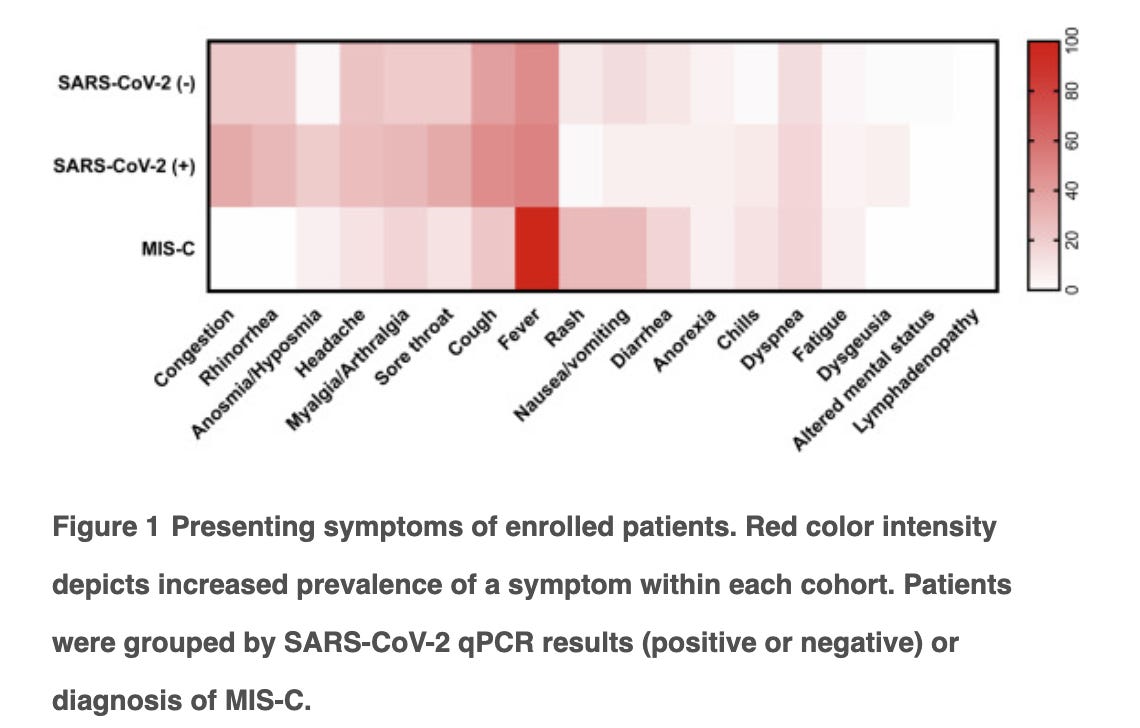 Children's role in spread of virus bigger than thought. Harvard Gazette, 20 August 2020.
Pediatric SARS-CoV-2: Clinical Presentation, Infectivity, and Immune Responses. The Journal of Pediatrics, 19 August 2020.
By mid-March, it was clear that community transmission was occurring in New Zealand and that the country didn't have sufficient testing and contact-tracing capacity to contain the virus. Informed by strong, science-based advocacy, national leaders decisively switched from a mitigation strategy to an elimination strategy.
Successful Elimination of Covid-19 Transmission in New Zealand. New England Journal of Medicine, 20 August 2020.
⓷ Politics, economics and COVID-19
‼️ Health and Human Services has rescinded the need for FDA approval of COVID-19 tests, via an executive order from President Trump.
🆘 Beware callers posing as COVID-19 contact tracers. "Legitimate contact tracers don't ask for payment or seek other financial information."
💰 A meeting summary from the July 28-29 session of the Federal Reserve Open Market Committee noted "that the ongoing public health crisis would weigh heavily on economic activity, employment, and inflation in the near term and was posing considerable risks to the economic outlook over the medium term." 
🦠 Recent Trump campaign events in Arizona, Florida, Iowa, New Jersey and Wisconsin have been marked by no physical distancing and Trump and Pence without masks, which "project[s] a confusing message to the public."
▪️ Nearly 7 in 10 Americans say the US response to the coronavirus outbreak makes them feel embarrassed.
About 8 in 10 say they are at least somewhat angry about the way things are going in the country today, including an astonishing 51% who say they are very angry. CNN has asked this question in polling periodically since 2008, and the previous high for the share who said they were "very angry" was 35%, reached in 2008 and 2016.
⓸ Key metrics
🦠 Wednesday, Johns Hopkins reported 5,529,824 (47,408 new) cases and 173,177 (1,356 new) deaths, an increase of 0.86 % and 0.79%, respectively, since Tuesday. A week ago, the daily numbers increased by 1.09% and 0.90%, respectively.
Today
- seven-day average: 48,577 cases and 1,080 deaths 
- 3.13% cases leading to death
- case rate, 167.1 per 10,000; death rate, 5.2 per 10,000

One week ago
- seven-day average: 53,255 cases and 1,153 deaths 
- 3.19% cases leading to death
- case rate, 157.0 per 10,000; death rate, 5.0 per 10,000
Note: the seven-day average is important because dailies vary due to factors other than actual case numbers, particularly over a weekend.
🇺🇸 19 August 
CDC: 5,460,429 (39,318 new) cases & 171,012 (1,172 new) deaths
- One week ago: 5,119,711 (55,540 new) cases & 163,651 (1,244 new) deaths

State data*:  5,502,927 (45,103 new) cases & 165,011 (1,416 new) deaths
- One week ago: 5,172,509 (56,035 new) cases & 157,776 (1,503 new) deaths
KS reports only M-W-F; CT and RI report only M-F

WHO
5,393,138 (39,125 new) cases and & 169,508 (509 new) deaths
- One week ago: 5 039 709 (39 894 new) cases & 162 104 (557 new) deaths
🌎 
19 August 
Johns Hopkins interactive dashboard (11.00 pm Pacific)
Global: 22,411,300 (274,346 new) cases & 787,672 (6,764 new) deaths
- One week ago: 20,620,847 (335,965 new) cases & 749,358 (8,232 new) deaths
* Johns Hopkins data, ~11.00 pm Pacific.
State data include DC, Guam, the Northern Mariana Islands, Puerto Rico and the US Virgin Islands
The virus was not created in a lab and the weight of evidence is that it was not released intentionally. Although early reports tied the outbreak to a market in Wuhan, China, analyses of genomic data have suggested that the virusdeveloped elsewhere.
⓹ Resources
👓 See COVID-19 resource collection at WiredPen.
📝 Subscribe to Kathy's COVID-19 Memo :: COVID-19 Memo archives
🦠 COVID-19 @ WiredPen.com
📊 Visualizations: US, World
🌐 Global news (at WiredPen)

👏🏻 Thank you
 for your time!