COVID-19 day 145 : 📈 2,074,526 cases; 115,436 deaths : 13 June 2020
Parts of Beijing are back under lockdown with 79 new cases over a four-day period; Qatar, Chile and Peru lead in per capita cases in today's top 20 countries; US health officials face threats, firings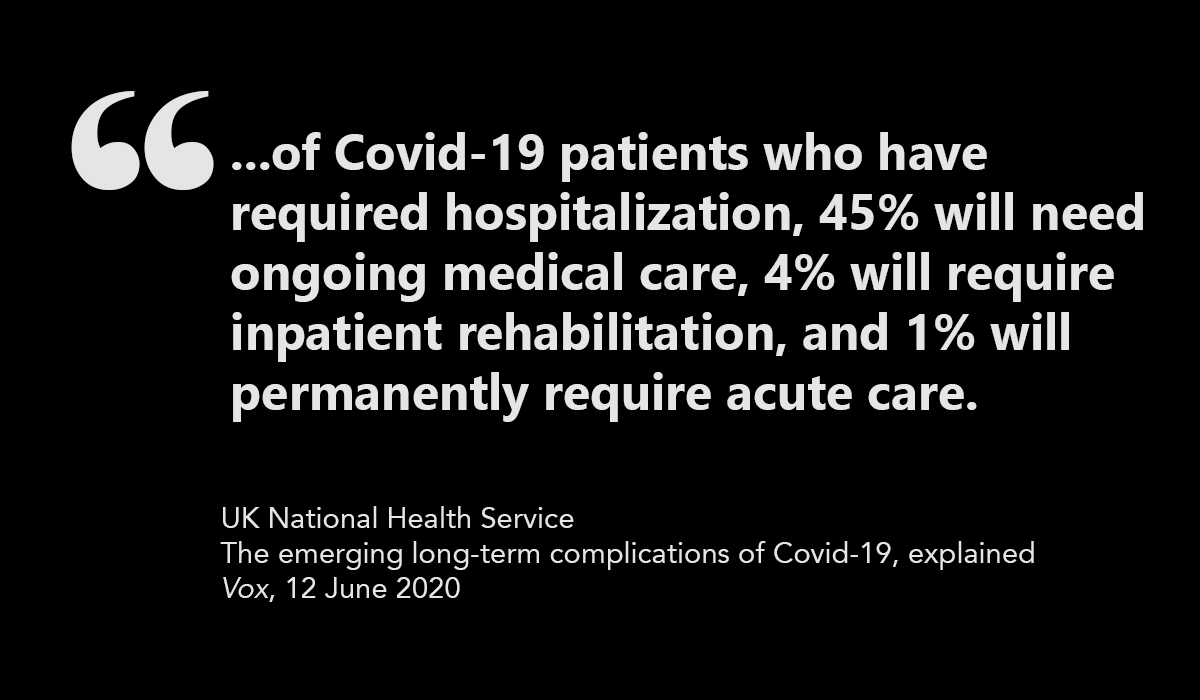 It's day 145 since the first case of coronavirus disease was announced in the United States. 
Until Thursday, Beijing had gone 55 days with no new domestic infections from SARS-COV-2. Then Saturday, six new infections, all related to Xinfadi market, one of the largest in Asia that supplies 90% of Beijing's fruit and vegetables.
Officials have quarantined 139 close contacts of people infected. The market is closed and surrounded by military and police on 24-hour watch. More than 10,000 people who work there will now be tested.
And parts of Beijing are back under lockdown.
On Sunday, 36 more cases brought the four-day total to 79. The common thread, working or shopping at the market.
Beijing health authority spokesman Gao Xiaojun told the news conference anyone in the city with a fever will be given nucleic-acid and serology tests for the coronavirus, a blood test and a CT scan.
🦠 Saturday, Johns Hopkins reported 2,074,526 (2,048,986) cases and 115,436 (114,669) deaths, an increase of 1.25% (1.27%) and 0.67% (0.75%), respectively, since Friday (Thursday). A week ago, the daily numbers increased by 1.20% and 0.61%, respectively.
The seven-day average: 22,143 (22,041) cases and 788 (807) deaths 

Percent of cases leading to death: 5.56% (5.6%).

Today's case rate is 626.74 per 100,000; the death rate, 24.87 per 100,000.

One week ago, the case rate was 580.07 per 100,000; the death rate, 33.17 per 100,000.
Note: numbers in (.) are from the prior day and are provided for context. I include the seven-day average because dailies vary so much in the course of a week, particularly over a weekend.
🤓 Recommended reading
"I feel guilty about surviving," he says. "There's a sense of 'why me?' Why did I deserve all this? Looking at the incredible cost of it all definitely adds to that survivor's guilt."
Coronavirus survival comes with a $1.1 million, 181-page price tag. Seattle Times, 12 June 2020.
📣The California corrections department experienced its first COVID-19 case 22 March when two staff tested positive. Despite that, it did not test its own employees for coronavirus until late May. It depended on them "to test and self-report."
The California Institution for Men "has one of the largest coronavirus outbreaks among all 35 facilities within the California Department of Corrections and Rehabilitation (CDCR)."
'Obsessed with staying alive': Inmates describe a prison's piecemeal response to a fatal Covid-19 outbreak. STAT News, 12 June 2020.
🔬 Research and medical news
This is not the first overview of the implications for long-term health issue for those with serious cases of COVID-19. It's just the latest.
The UK National Health Service assumes that of Covid-19 patients who have required hospitalization, 45 percent will need ongoing medical care, 4 percent will require inpatient rehabilitation, and 1 percent will permanently require acute care. Other preliminary evidence, as well as historical research on other coronaviruses like severe acute respiratory syndrome (SARS) and Middle East respiratory syndrome (MERS), suggests that for some people, a full recovery might still be years off. For others, there may be no returning to normal.
The emerging long-term complications of Covid-19, explained. Vox, 12 June 2020.
Sections (no jump links, sorry!)
1, Around the country; 2, Around the world; 3, Case count; 4, What you can do and resources
⓵ Around the country
Yesterday, I updated you on the Florida data analyst who was fired in mid-May, ostensibly for resisting efforts to politicize COVID-19 data.
Today, I bring you an analysis from Kaiser Health News which examines how many public health officials across the country are facing firing and threats.
Elected officials and members of the public who are frustrated with the lockdowns and safety restrictions have at times turned public health workers into politicized punching bags, battering them with countless angry calls and even physical threats.

On Thursday, Ohio's state health director, who had armed protesters come to her house, resigned. The health officer for Orange County, California, quit Monday after weeks of criticism and personal threats from residents and other public officials over an order requiring face coverings in public.

As the pressure and scrutiny rise, many more health officials have chosen to leave or been pushed out of their jobs. A review by KHN and The Associated Press finds at least 27 state and local health leaders have resigned, retired or been fired since April across 13 states.
In California news, more than 30,000 people have signed a petition to keep Disneyland closed due to steady growth in coronavirus cases. Both Disneyland Resort and California Adventure are scheduled to reopen on 17 July.
⓶ Around the world
Reviewing the seven-day average case rate for the top 20 countries in the world yields a few countries you might not hear about often in the news.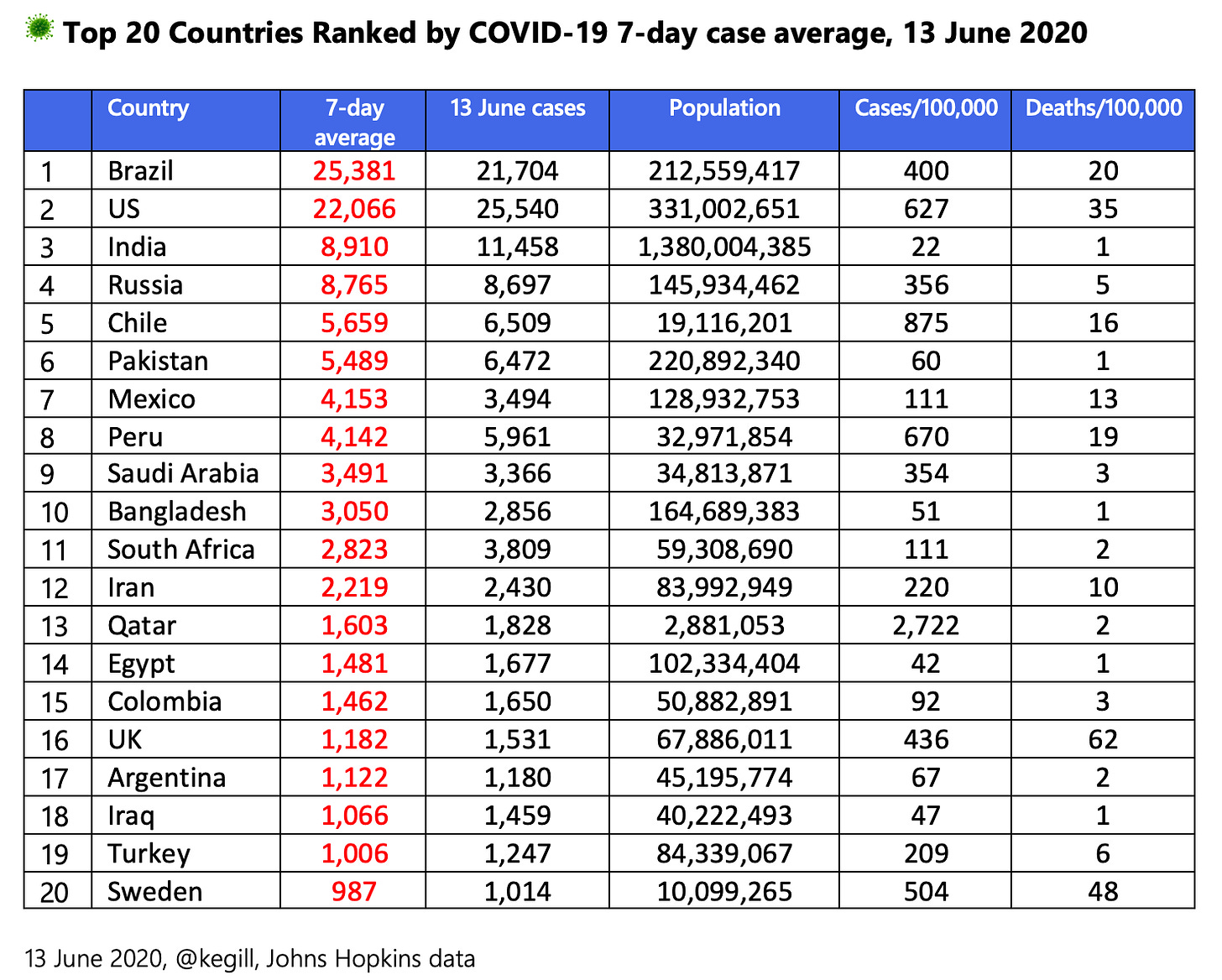 Let's explore them by per capita case rates.
❶ 2,722 cases/100,000 and 2 deaths/100,000
You might be shocked at the per capita case rate in Qatar. Qatar, a small country with a large natural gas asset. And it is "is heavily dependent on foreign labor, mainly workers from Asian and East African countries."
Dr. Sameh El-Saharty, Lead Health Specialist at The World Bank, said recently that migrant workers are a "major issue" in the transmission of COVID-19 for countries in the region that are part of the Gulf Cooperation Council, which includes Qatar….

The cases have spread across all of Qatar's population, and while officials don't give precise breakdowns of where they are, it's clear many are inside the labor camps.
Qatar has begun requiring citizens to have a contract-tracing app on their phone when they leave their homes. The penalty for noncompliance is enormous: a $55,000 fine or three years in prison. WHO said that there is "only anecdotal evidence" that contact-tracing apps are effective.
❷ 875 cases/100,000 and 16 deaths/100,000
Almost three weeks ago, President Sebastián Piñera said that the health care system was "very close to the limit" due to COVID-19. That day, 25 May, Chile reported 4,895 cases (Johns Hopkins). Today, it reported 6,509.
Chile has the highest number of confirmed cases per million people in Latin America. Today President Pinera replaced Health Minister Jaime Manalich with with Oscar Enrique Paris, the former head of the Chilean College of Doctors (Colmed).
Manalich, a tough-talking kidney specialist who once ran one of Chile's top hospitals, has won praise for an aggressive campaign to keep hospitals supplied with ventilators and protective equipment and leading detailed daily press conferences.
❸ 670 cases/100,000 and 19 deaths/100,000
Despite President Martín Vizcarra's ordering the first shutdown in Latin America coupled with an economic aid program, Peru has "become one of the world's worst coronavirus hot spots — its hospitals overwhelmed, its people fleeing the cities."
"They asked us to stay at home, but a lot of people have no savings so that was impossible. They asked us to wash our hands, but one in three poor households has access to running water," said Hugo Ñopo, who works for a Peruvian research group, Grade.
❹ 627 cases/100,000 and 35 deaths/100,000
The US is not the largest country on the list, that would be India. And it isn't leading in daily cases, that would be Brazil. But it is the highest profile.
❺ 504 cases/100,000 and 48 deaths/100,000 
Sweden initially took a laissez-faire approach to managing COVID-19, and in the process its per capita case numbers and deaths have far outstripped its neighboring Nordic countries, Denmark, Finland and Norway. 
Denmark, 213 cases/100,000 and 10 deaths/100,000

Finland, 128 cases/100,000 and 6 deaths/100,000

Norway, 159 cases/100,000 and 4 deaths/100,000
❻ 436 cases/100,000 and 62 deaths/100,000
Six months before the pandemic hit, Prime Minster Boris Johnson disbanded the government's 'anti-pandemic committee'. The United Kingdom abandoned its laissez faire, "herd immunity" policy approach in mid-May after the Imperial College estimated deaths could hit 250,000. Reported deaths on Saturday were 41,747 (Johns Hopkins). The week ending 29 May, the UK reported 955 "excess deaths" for every million people. That dwarfs the official COVID-19 rate of 620 deaths per million.
Economic outlook is bleak as well.
The OECD is projecting that the UK will suffer the deepest downturn among advanced economies. It is only a forecast, but it chimes with other indicators suggesting that this country will pay a uniquely high price for its sluggish imposition of the lockdown and the government's chaotic mismanagement of the attempt to grope towards an exit. 
❼ 400 cases/100,000 and 20 deaths/100,000
Brazil's daily case numbers are still on their initial climb. The US has been relatively flat due the recovery in the Northeast, but the current resurgence is at a slower rate than Brazil's growth.
⓷ Case count
There is a lag between being contagious and showing symptoms, between having a test and getting its results. There is also a lag in reports of cases and deaths making their way into daily results; this lag is visible in predictable declines for both reports containing weekend data.
🌎 1
3 June 
Globally: 7 553 182 cases (142 672 new) with 423 349 deaths (5 055 new)

The Americas: 3 638 525 cases (77 934 new) with 196 440 deaths (3 496 new)

US: 2 010 391 cases (21 745 new) with 113 757 deaths (947 new)
Johns Hopkins interactive dashboard (11.00 pm Pacific)
Global confirmed: 7,786,042 (7,651,175)

Total deaths: 430,128 (425,869)

Recovered: 3,708,328 (3,630,280)
🇺🇸 13 June 
View infographic and data online: total cases and cases and deaths/100,000.
* Johns Hopkins data, ~11.00 pm Pacific.
State data include DC, Guam, the Northern Mariana Islands, Puerto Rico and the US Virgin Islands
The virus was not created in a lab and the weight of evidence is it was not released intentionally. Although early reports tied the outbreak to a seafood ("wet") market in Wuhan, China, analyses of genomic data in January suggested that the virus might have developed elsewhere.
⓸ What you can do
Resources
👓 See COVID-19 resource collection at WiredPen.
📝 Subscribe to Kathy's COVID-19 Memo :: COVID-19 Memo archives
🦠 COVID-19 @ WiredPen.com
📊 Visualizations: US, World
🌐 Global news(at WiredPen)
// CIDRAP / STAT News // Financial Times / Global China Daily / New Straits Times / South China Morning Post / The Age / The Globe and Mail / The Guardian // New York Times / Seattle Times / Wall Street Journal / Washington Post // The Atlantic / The Conversation / The Economist / ProPublica // ABC News (Australia) / BBC News / BBC News China / CBC (Canada) // ABC News (US) / CBS News / CNBC / CNN / C-SPAN / NBC News //

👏🏻 Thank you
 for your time!