Discover more from ⚡️Memo from a News Hound
Weekly news in context with focus on the pandemic, misinformation, trends.
COVID-19 day 144 : 📈 2,048,986 cases; 114,669 deaths : 12 June 2020
Fired Florida state data architect has developed alternative COVID-19 dashboard, shows how the state inflates number of people tested. CDC held its first public briefing in three months.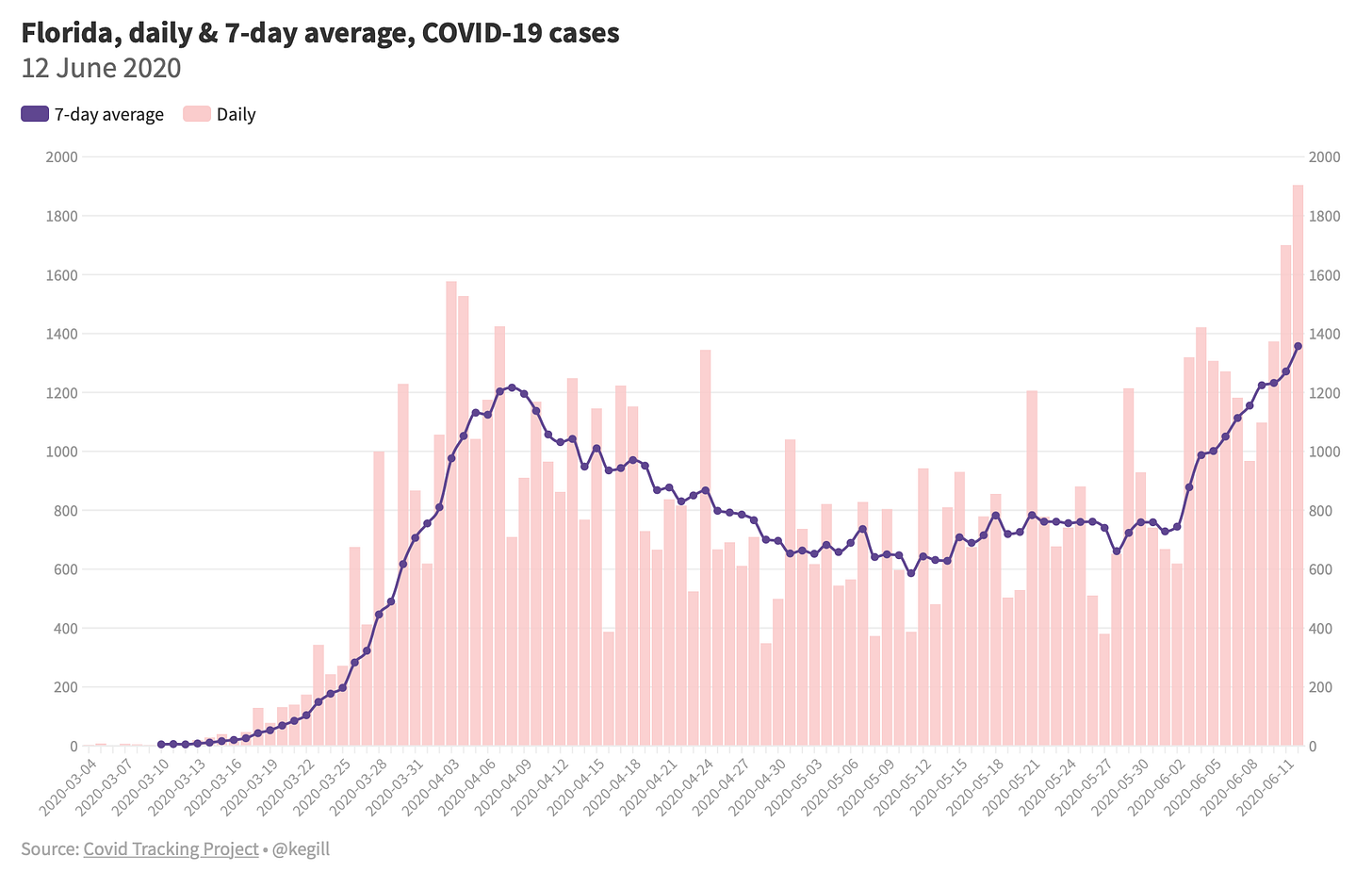 It's day 144 since the first case of coronavirus disease was announced in the United States. Cases and hospitalizations are on the rise across the country.
Florida is back in the news, and not just because it has seen a rapid rise in cases since the end of May (1,902 new cases today). Gov. Ron DeSantis (R) began unlocking a four-week period of "pause" on Monday 04 May 2020. Three weeks later, beaches were open for Memorial Day weekend.
In mid-May, officials fired Rebekah Jones, the architect of Florida's official COVID-19 dashboard. Using her insider knowledge, she has built an alternative dashboard that provides more information as well as data that contradict official stats.
At the time Jones said she was dismissed for refusing to "manually change data to drum up support for the plan to reopen." Now we can deduce what she meant.
The state's benchmarks for reopening also include two weeks of declining counts in new cases, declines in COVID-like illness from hospitals and emergency rooms and positivity.

By Jones' calculations based on data reported last week, only two counties qualify: Liberty and Clay.
Jones argues that state undercounts the number of people infected and over-counts the number of people tested to artificially lower positivity rates. For example, here are her data from Dade County (testing tab):
Does percent positive of all people tested meet criteria for Phase I?  NO 

Does percent positive by DOH's new and misleading calculation meet criteria for Phase I? YES
DOH changed how it calculates percent positive to lower to the overall positivity for counties on/about May 5. Both methods of calculating the total are shown above for context.
In her new Coronavirus Dashboard, Jones does an excellent job of turning "test" numbers into "people tested." She accounts for retests and duplicates as well the fact that some people have two tests (two nasal swabs) while others have only one.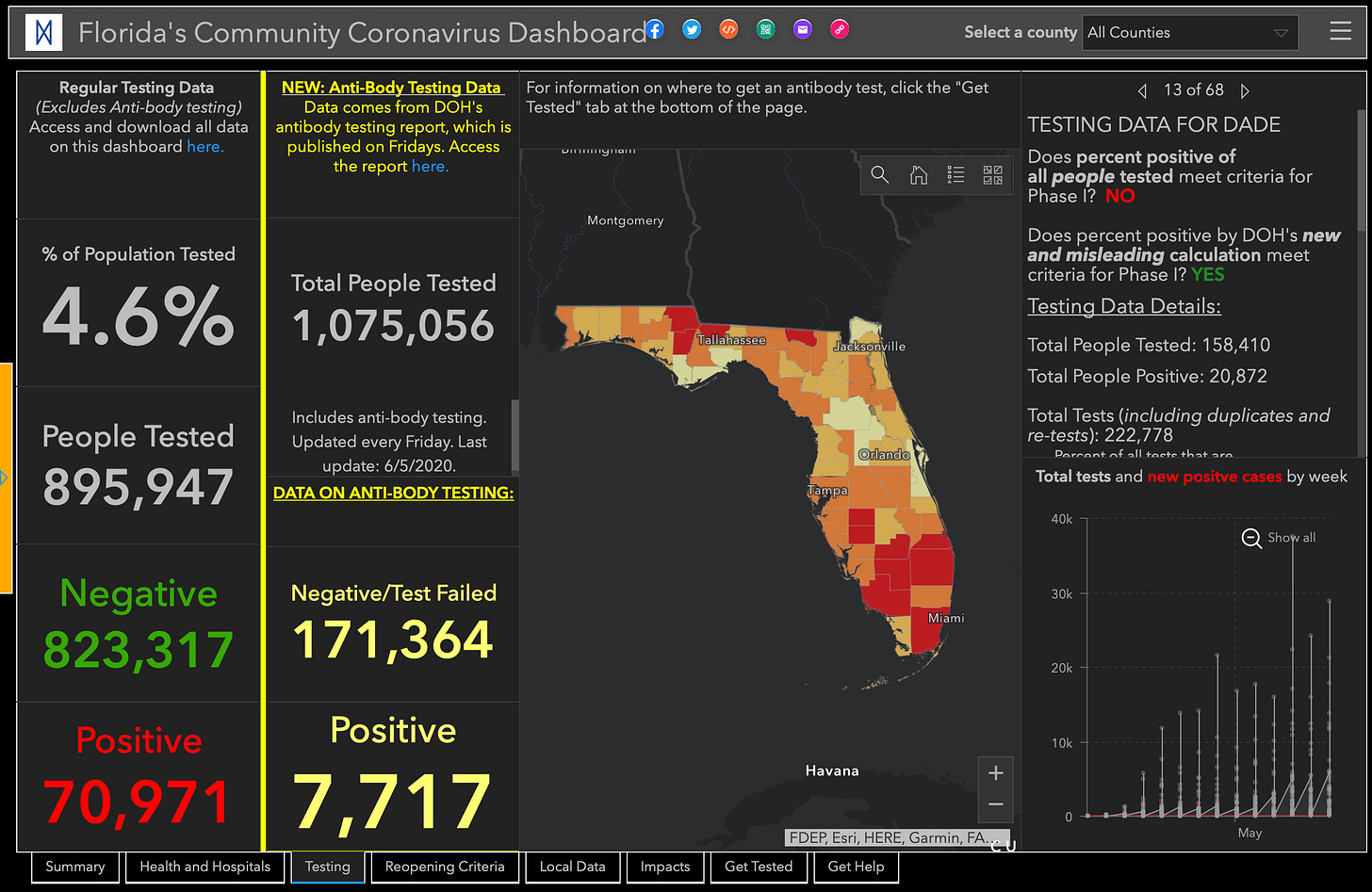 Returning to Dade County:
Total Tests: 222,778 (includes duplicates and retests)

Total People Tested: 158,410

Total People Positive: 20,872

Percent Positive of all People Tested: 13.2%

Percent of all tests that are duplicates/retests: 28.9% 
In contrast, the state site claims that each of those 222,778 tests is a person.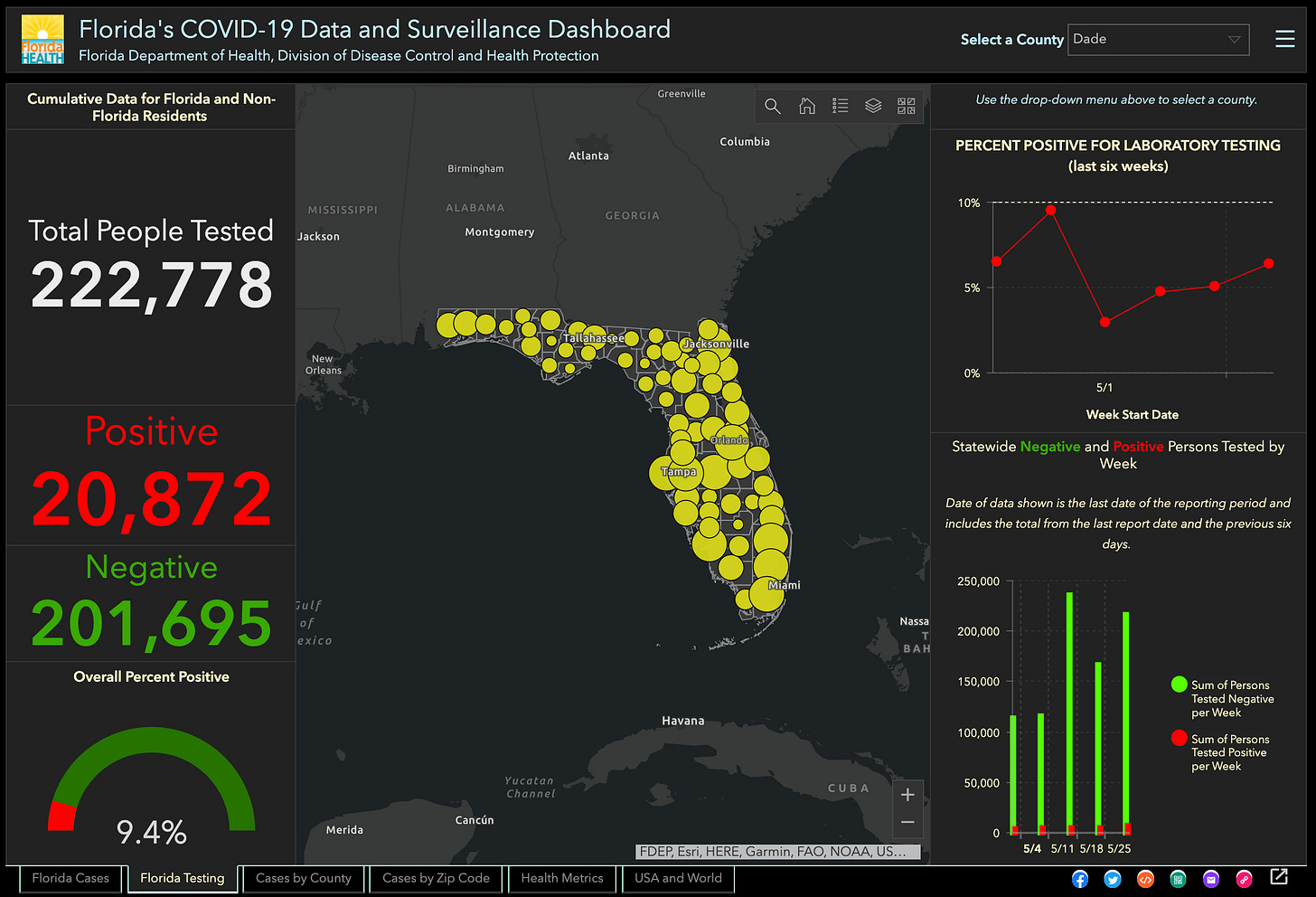 Jones gets some things flat wrong: she combines tests for active cases with tests for antibodies, for example. She has them segregated on the Testing tab, but it's the first screen that most people will see and that one has the misinformation.
The website, FloridaCOVIDaction.com, helps you find the closest testing center (remember President Trump promising this?) provides a map of local resources like food banks, USDA summer meals, and the American Red Cross.
Jones has a GoFundMe to support the project (equipment and two people plus that ARCGIS license which is not cheap).
I'm stunned that these testing data are publicly available (at least in Florida) if you know where to look for them. It calls into serious question "tests" as a proxy for "people tested" when almost one-third are dupes/repeats. That's separate from adding antibody tests to the mix.
The Atlantic reported last month how variable testing data are and that test reports differ by state:
Some states report the total number of people tested, while the CDC reports every test, even if a single person is tested more than once.
I am also angry at the people running the CDC. There should not be 50 piecemeal efforts at dashboards. Definitions should be uniform. And the CDC should not have "data" as PDFs and fail to provide an archive of daily numbers.
🦠 Friday, Johns Hopkins reported 2,048,986 (2,023,347) cases and 114,669 (113,820) deaths, an increase of 1.27% (1.14%) and 0.75% (0.79%), respectively, since Thursday  (Wednesday). A week ago, the daily numbers increased by 1.32% and 0.85%, respectively.
The seven-day average: 22,041 (21,478) cases and 807 (831) deaths 

Percent of cases leading to death: 5.6% (5.63%).

Today's case rate is 619.02 per 100,000; the death rate, 34.64 per 100,000.

One week ago, the case rate was 573.22 per 100,000; the death rate, 32.97 per 100,000.
Note: numbers in (.) are from the prior day and are provided for context. I include the seven-day average because dailies vary so much in the course of a week, particularly over a weekend.
🔬 Research and medical news
Researchers are asking this question: Can plasma delivered right after a high-risk exposure to COVID-19 "stave off illness?" Dr. Shmuel Shoham, Johns Hopkins University, is recruiting 150 volunteers from across the country (partner organizations).
"They're a paramedic, they're a police officer, they're a poultry industry worker, they're a submarine naval officer," Shoham ticked off. "Can we blanket protect them?"
Researchers ask if survivor plasma could prevent coronavirus. AP, 12 June 2020.
Sections (no jump links, sorry!)
1, Around the country; 2, Case count; 5, What you can do and resources
⓵ Around the country
Five states reported more than 1,000 new cases on Friday:
2,702, CA (359.3 per 100K)

2,097, TX (288.6 per 100K)

1,902, FL (330.4 per 100K)

1,768, NC (393.3 per 100K)

1,654, AZ (452.3 per 100K)
❌ California has 3,222 people hospitalized with COVID-19; 1,101 are in ICU. Hospitalizations have been relatively flat since mid-April.
🆘 In Texas, more than 2,100 people are hospitalized with COVID-19, and intensive care units are reportedly at 88% capacity in greater Houston. On Thursday, Reuters reported that Texas saw "record hospitalizations for three days in a row."
❌ North Carolina hospital beds are at 79% occupancy; ICU beds, 78% in use. There were 760 people hospitalized with COVID-19 Friday. On 01 June there were 650, and on 12 May, 475.
🆘 In Arizona, 80% of ICU beds are in use with 3,622 people hospitalized with COVID-19. The state health director told "hospitals to activate emergency plans and increase ICU capacity."
🆘 In Arkansas, Washington Regional Medical Center in Fayetteville issued a statement that the northwest region of the state was in a public health emergency. Over the past week, the hospital experienced a 350% increase in COVID-19 hospitalizations and 170% increase in tests.
Washington Regional is also seeing more critically ill COVID-19 patients, with over 30% of those hospitalized requiring ventilator support…

It is important for our community to understand that we are not seeing more hospitalizations simply because more testing is being done. We are seeing more hospitalizations because more people in our area are being infected with the virus," the statement said. 
✅ In its first public briefing in three months, the CDC released new guidelines on events and gatherings. All staff should be required to wear cloth face coverings; participants should be encouraged to bring and wear a face covering; and organizers should "consider limiting event attendance to staff and guests who live in the local area (e.g., community, city, town, or county) to reduce risk of spreading the virus from areas with higher levels of COVID-19."
The CDC suggests people try to socialize and dine outdoors rather than inside, refrain from touching non-family members, and keep interactions brief. The CDC also recommends all Americans leave the house with a cloth mask, hand sanitizer containing 60% or more of alcohol, and tissues in tow. (CIDRAP)
⓶ Case count
There is a lag between being contagious and showing symptoms, between having a test and getting its results. There is also a lag in reports of cases and deaths making their way into daily results; this lag is visible in predictable declines for both reports containing weekend data.
🌎 1
2 June 
Globally: 7 410 510 cases (136 572 new) with 418 294 deaths (4 925 new)

The Americas: 3 560 591 cases (75 346 new) with 192 944 deaths (3 401 new)

US: 1 988 646 cases (20 315 new) with 112 810 deaths (832 new)
Johns Hopkins interactive dashboard (11.00 pm Pacific)
Global confirmed: 7,651,175 (7,514,559)

Total deaths: 425,869 (421,458)

Recovered: 3,630,280 (3,542,237)
🇺🇸 12 June 
View infographic and data online: total cases and cases and deaths/100,000.
* Johns Hopkins data, ~11.00 pm Pacific.
State data include DC, Guam, the Northern Mariana Islands, Puerto Rico and the US Virgin Islands
The virus was not created in a lab and the weight of evidence is it was not released intentionally. Although early reports tied the outbreak to a seafood ("wet") market in Wuhan, China, analyses of genomic data in January suggested that the virus might have developed elsewhere.
⓷ What you can do
Resources
👓 See COVID-19 resource collection at WiredPen.
📝 Subscribe to Kathy's COVID-19 Memo :: COVID-19 Memo archives
🦠 COVID-19 @ WiredPen.com
📊 Visualizations: US, World
🌐 Global news(at WiredPen)
// CIDRAP / STAT News // Financial Times / Global China Daily / New Straits Times / South China Morning Post / The Age / The Globe and Mail / The Guardian // New York Times / Seattle Times / Wall Street Journal / Washington Post // The Atlantic / The Conversation / The Economist / ProPublica // ABC News (Australia) / BBC News / BBC News China / CBC (Canada) // ABC News (US) / CBS News / CNBC / CNN / C-SPAN / NBC News //

👏🏻 Thank you
 for your time!