27 March 2020 : COVID-19 news
1-in-6 reported cases worldwide are in the US; New York is the epicenter here but Louisiana bears watching; two cruise ship patients die; Europe is the global epicenter; testing is still abysmal
Today's headlines: US becomes first country to report more than 100,000 cases of COVID-19, accounting for approximately 1-in-6 diagnosed cases. Missing from reports about that grim statistic is this: China's overall case count does not include anyone who retests positive after being released. But more importantly:
China also does not include asymptomatic cases in case counts.

"I have no idea why the authorities choose not to count [asymptomatic] cases in the official case count. I am baffled," said one of the Wuhan doctors who had a second positive test after recovering [emphasis added].
It is unlikely that many asymptomatic individuals are included in US data due to the limited availability of testing. But China has been testing longer and, reportedly, more widely. How does a person in China who was asymptomatic upon testing but who later becomes symptomatic become "a counted case"? China's population is more than four that of the US.
Also, recognize that US data excludes people who are symptomatic but who are untested.
And so goes day 67 since the first case of coronavirus disease was announced in the United States, the third largest country in the world. We work with the data we have, but data weaknesses need to be acknowledged.
Today, Johns Hopkins reports 104,829 (85,840) cases and 1,707 (1,296) deaths, an increase of 22.1 and 31.7 percent, respectively, since yesterday. Our rate is 316 reported cases per million.
Italy has passed China in total number of cases as well as deaths (data below).
~
So you want to buy an oximeter? Make sure it is going to report reasonably accurate results. This 2016 study recommended Contec CMS50DL and Beijing Choice C20 because they met ISO criteria for accuracy. I found the Contec CMS50DL here, here and here (not affiliate links).
~
Recommended reading
Recommended viewing
Around the country
All 50 states, the District of Columbia, Guam, Puerto Rico and the US Virgin Islands have identified COVID-19 cases. The 1,707 deaths reported by Johns Hopkins are from 46 states plus the District of Columbia as well as from Guam, Puerto Rico, and the Grand Princess.
New York is by far the current epicenter of the disease in the United States. Preliminary research suggests that the virus has evolved along eight different tracks, with east coast strains being different from the west coast.
… the tiny differences between the virus strains suggest shelter-in-place orders are working in some areas and that no one strain of the virus is more deadly than another. They also say it does not appear the strains will grow more lethal as they evolve.
That said, the next place to watch is Louisiana.
Just over 1 percent of the U.S. population lives in Louisiana. But according to the COVID Tracking Project, 7 percent of all COVID-19 deaths, 7 percent of all hospitalizations, and 3 percent of all positive tests have been in the state. New York has suffered about two deaths per 100,000 residents. Louisiana is at 1.8.
Two-thirds of all cases in the state are in metro-New Orleans. Yesterday, state officials reported that a 17-year-old from Orleans Parish died from COVID-19. Previously, the youngest death had been someone aged 36. 
Hospital systems administrations in Atlanta, New Orleans, New York and Seattle are "warning that they have or will reach capacity in the coming days."
Dr. Howard Bauchner, the editor in chief of The Journal of the American Medical Association, warned Friday of "a potential tsunami coming" on a video call with hundreds of other physicians about rationing ventilators and critical care.
The Atlanta Journal-Constitution visited my home town of Albany, Georgia. Things there are not looking up: 266 positive tests in Albany, 13 positive tests in Americus (where Phoebe Putney has another hospital) and 18 deaths.
On Wednesday the hospital announced that all 38 of its intensive care beds for coronavirus patients were full. The following day, after five other hospitals agreed to take transfers, Phoebe had one bed open, and just four ICU beds available for other types of patients.
The southwest Georgia outbreak seems linked to two large funerals. The service for Andrew J. Mitchell was on 29 February, the day the first death was announced in Seattle and the week that the CDC began to allow testing for community spread (rather than only people who had traveled).
The day before, President Trump had called concerns over U.S. preparedness a Democratic hoax.
The ripple effect of that February funeral is ongoing.
A 67-year-old man who traveled from the Atlanta area for the service later died at Wellstar Kennestone Hospital in Marietta. His death, on March 11, was Georgia's first from coronavirus.

Izell Williams Jr., the pastor who delivered Mitchell's eulogy, also fell ill. On March 22, Williams died from the coronavirus. He was 58.
The other funeral was the first week in March.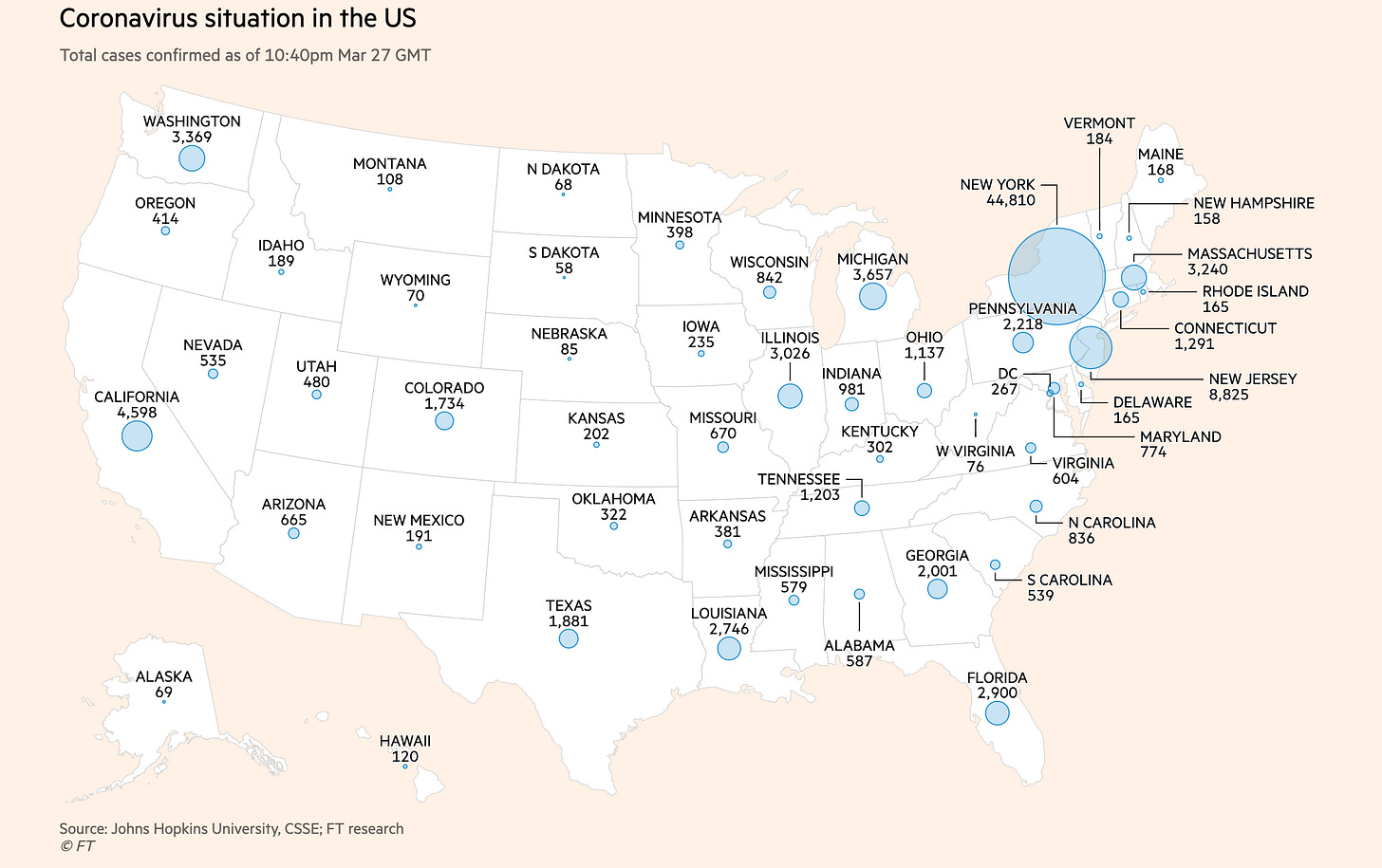 The cruise ship cases that dominated the news in February have faded from headlines. We learned this week that two people from the Grand Princess have died. The Grand Princess left San Francisco on 21 February for a 15-day cruise. Then in early March a passenger from the previous trip (11-21 February) was the first person in California known to die of coronavirus.
On 6 March, Vice President Pence announced that 21 of 46 people aboard the ship were infected with SARS-CoV-2, and a massive quarantine began. The country's lack of testing capability meant that passengers "were told that testing was optional and discouraged for those without symptoms."
At least 100 people taken from the ship to military bases later tested positive, HHS said Wednesday, nearly five times the number of people who first tested positive when the ship floated near California. Hundreds of results are still pending, a spokeswoman said Wednesday night [emphasis added].
Read that highlighted phrase again. Passengers began disembarking on 9 March, a Monday. Tests still pending, even though most passengers declined testing. Yet another example of our failure to prepare in January.
Both victims were in their 60s, and died on 21 March and 23 March.
The victims had been taken, along with nearly 1,000 of the other 3,400 passengers and crew, to quarantine at the air base in Fairfield, and each man was transported to a nearby medical facility when he began to show COVID-19 symptoms.
Politics, economics and COVID-19
Data from the CDC on the process of COVID-19 is provided Monday-Friday and is a high level aggregate of cases and deaths. States report their own data in an extremely unstandardized manner. (I review the data each night.) Johns Hopkins has made a notable effort to track domestic and global data, as has the University of Virginia.
On Friday, the New York Times made its county-level database of 85,000 cases public.
No single agency has provided the public with an accurate, up-to-date record of coronavirus cases, tracked to the county level. To fill the gap, The New York Times has launched a round-the-clock effort to tally every known coronavirus case in the United States… it is a product of a fragmented American public health system in which overwhelmed officials at the state or local level have sometimes struggled to report accurately and consistently. 
Global news
The number of affected countries/territories/areas jumped from 29 at the end of February to 197 today. There are 195 countries in the world. Although early reports tied the outbreak to a seafood ("wet") market in Wuhan, China, analyses of genomic data suggest that the virus may have developed elsewhere.
WHO reports that as of 25 March, 136 countries have implemented health measures that "significantly interfere with international traffic."
Europe is currently the epicenter of COVID-19 reported cases; the United States is approximately one week behind Europe on this chart. The spike in cases in China reflects a change in reporting.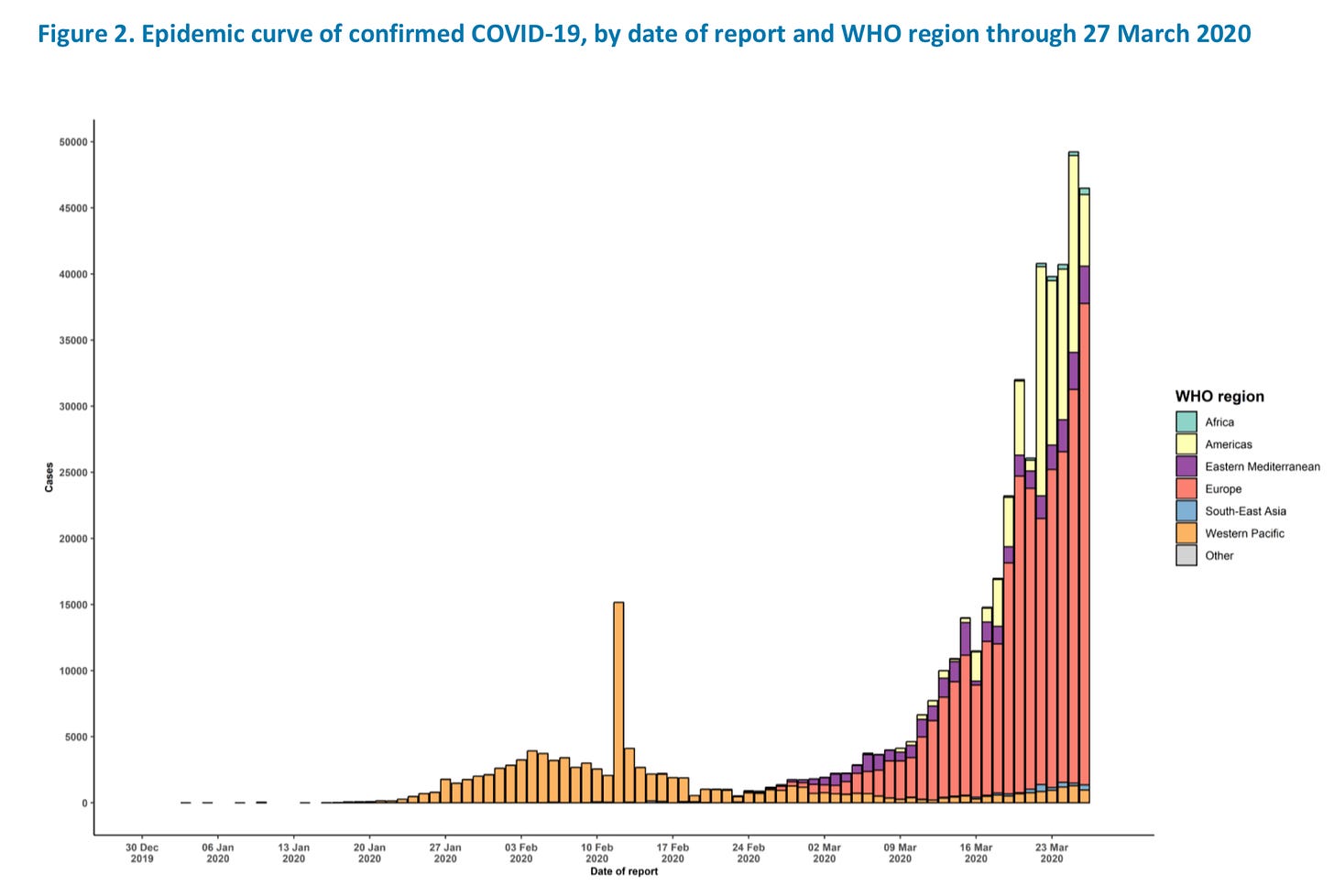 Case count
Tests are becoming much more widely available. There is a lag between being contagious and showing symptoms. The virus was not created in a lab.
27 March, global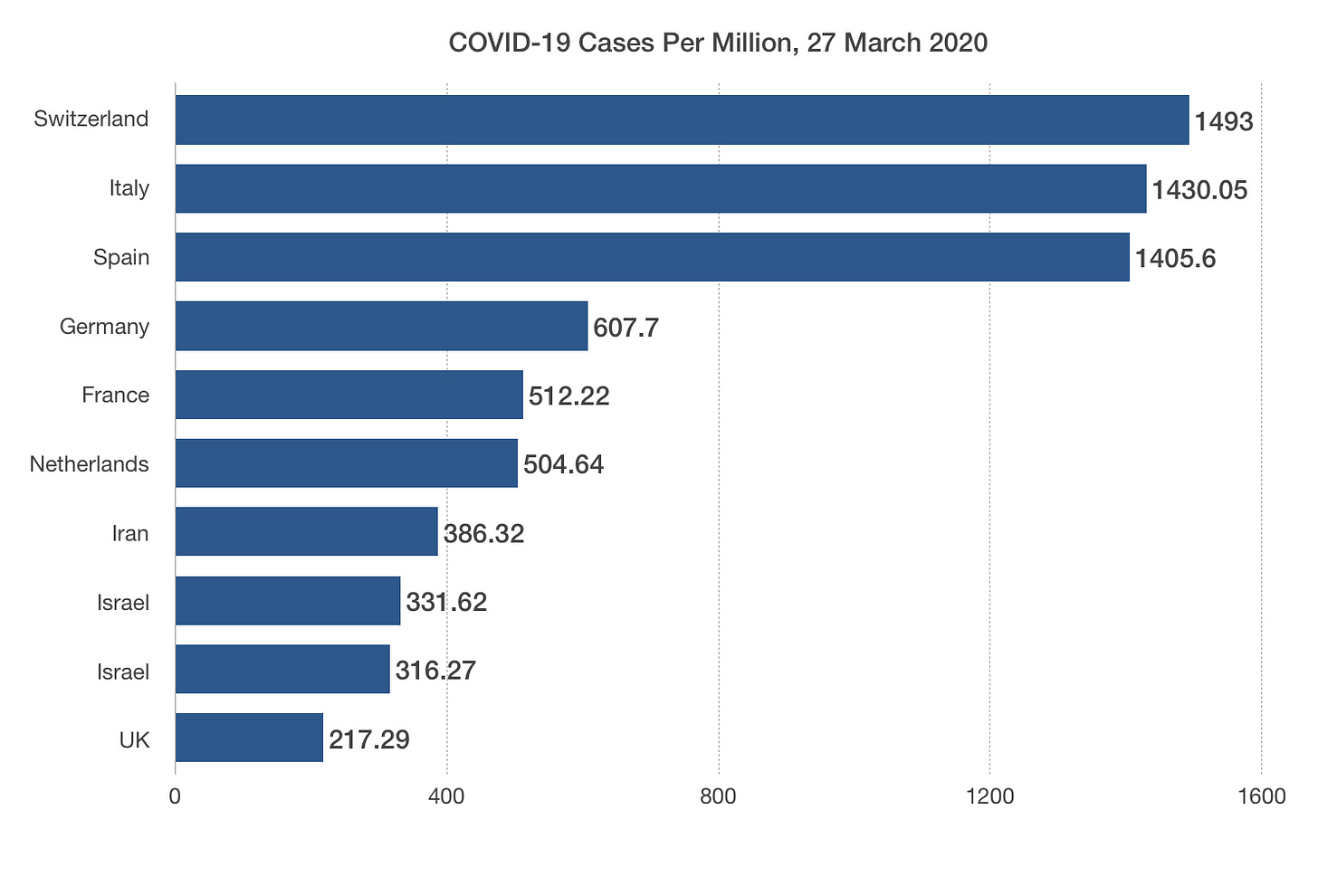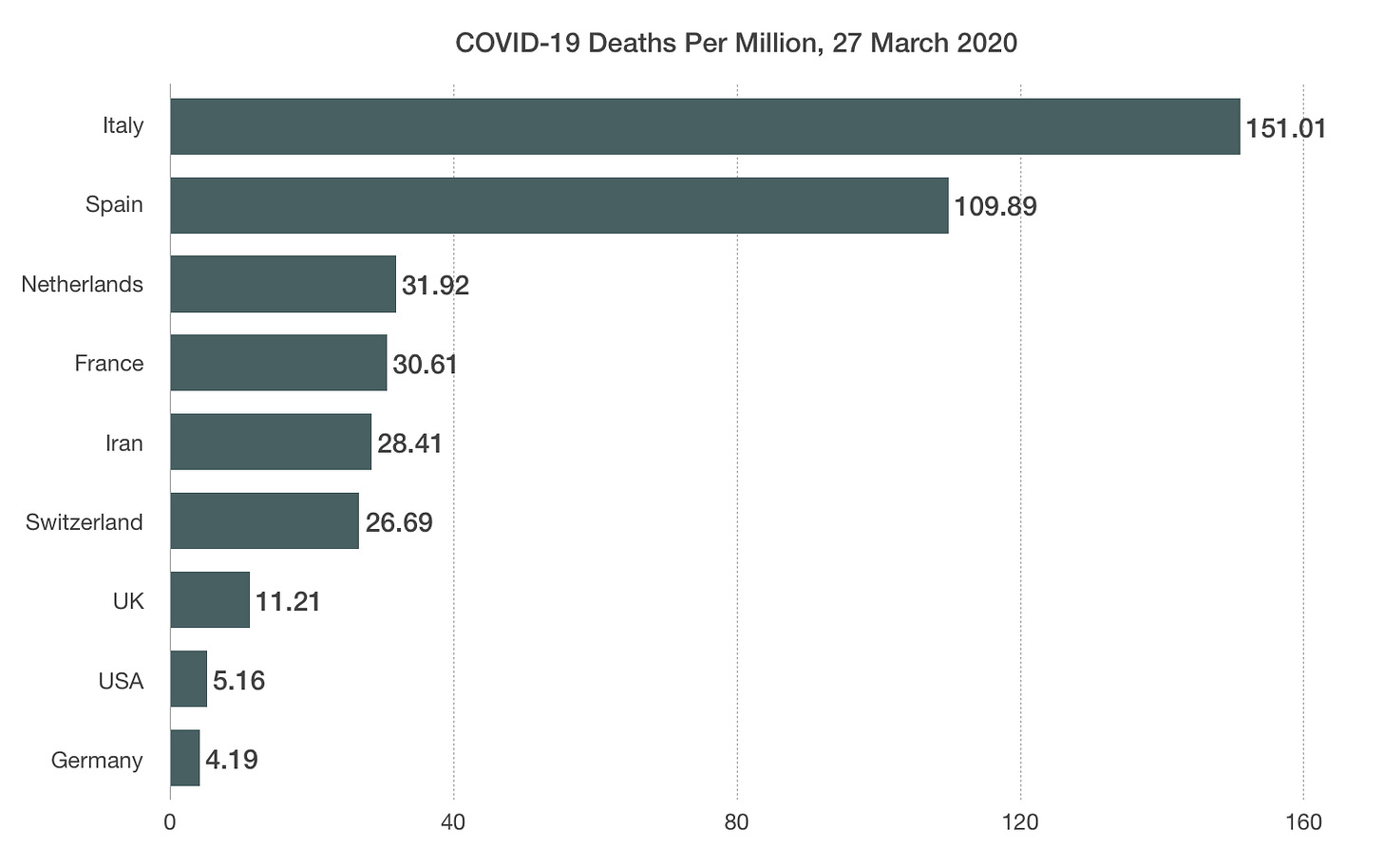 Globally: 509,164 confirmed (46,484 new) 23,335 with deaths (2,501 new)

Regions of the Americas: 81,137 confirmed (5,425 new) with 1,176 deaths (111 new)
Global confirmed: 597,335

Total deaths: 27,365

Total recovered: 131,712
Johns Hopkins interactive dashboard (10 pm Pacific)
27 March, domestic
Nationally* there are a total of 85,356 cases and 1,246 deaths according to the CDC, and 104,686 (85,840) cases and 1,701 (1,296) deaths according to Johns Hopkins (11.00 pm, Pacific) All 50 states plus DC are reporting 101,369 identified cases and 1,593 deaths.
View infographic and data online: total cases and cases/million.
We have the first deaths in Alabama, Delaware, Idaho, North Dakota, Nebraska. There are no reported deaths in Hawaii, Rhode Island, West Virginia and Wyoming or American Samoa and the Virgin Islands.
*Data include Puerto Rico, Guam, and US Virgin Islands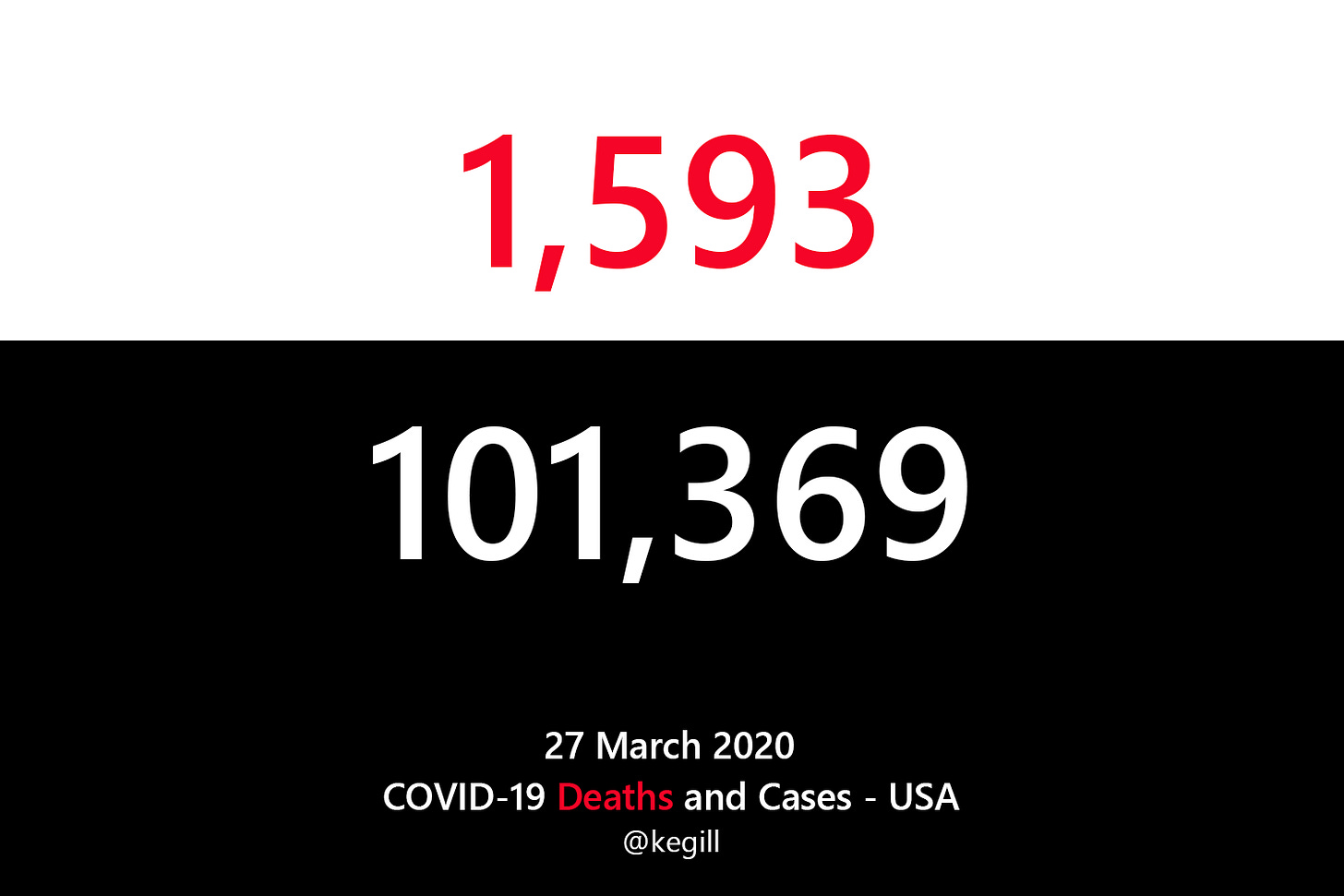 What you can do
Stay home when sick. 

Stay home as much as possible, period. 

Avoid crowded places.
What do to when you or a loved one feels sick
Digestive problems may be a symptom.
Resources
Subscribe to Kathy's Daily Memo :: Daily Memo archives
COVID-19 @ WiredPen.com