Discover more from ⚡️Memo from a News Hound
Weekly news in context with focus on the pandemic, misinformation, trends.
26 March 2020 : COVID-19 news
Headlines focus on US position as #1 source of identified cases, fail to note we are the 3rd largest country in the world; case study - Albany, GA; Trump pushes states to relax physical distancing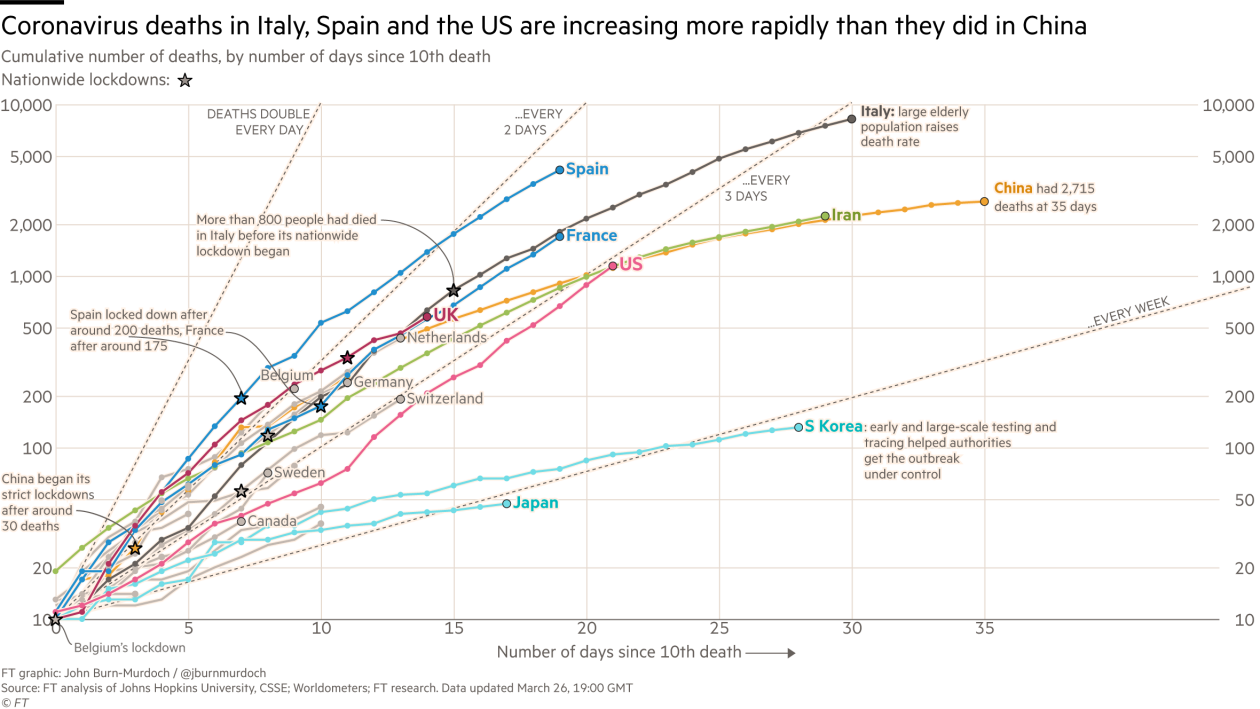 It's day 66 since the first case of coronavirus disease was announced in the United States. Johns Hopkins reports 85,840 (69,018) cases and 1,296 (1,042) deaths, an increase of 153 and 187 percent, respectively, since Sunday. 
The Financial Times daily trends chart illustrates the extraordinarily different death rates between western and Asian countries. On Thursday the US passed China to hold the dubious honor of having more reported cases than any other nation in the world, although Italy has far more deaths (8,215 versus 1,296).
US media are treating the virus as though it were a sporting event, with a news blurb and headline focus on raw numbers, scary-big raw numbers.
United States is the third most populous country (331,003,000) in the world, behind China (1,408,526,000) and India (1,380,004,000). The fact that the US now has more identified cases (85,840) than China (81,782) or India (727) is a direct reflection of how our national leaders failed to see, acknowledge and plan. If anyone has seen an explanation about India (other than a lack of testing), please share.
However, comparing our raw case or death numbers to European countries like Italy or Germany ignores the vast differences in both population and population density. With limited to zero context, these stories rest on an assumption that readers (or listeners) understand how different our country is from European (or Asian) countries. This is a tenuous assumption. A 2018 survey suggests that 2-in-5 Americans have never ventured outside the borders of America. And only 1-in-2 report having visited more than 10 states. [Disclosure: I've hit 48, and the missing two aren't AK and HI!]
In addition, the focus on raw, scary numbers hides stories like this one from southwest Georgia.
Georgia is the ninth largest state in the country by population (10.6 million) and has 1,643 identified cases of COVID-19. That's a rate of 155 cases/million. The national average is 259 cases/million (John Hopkins data).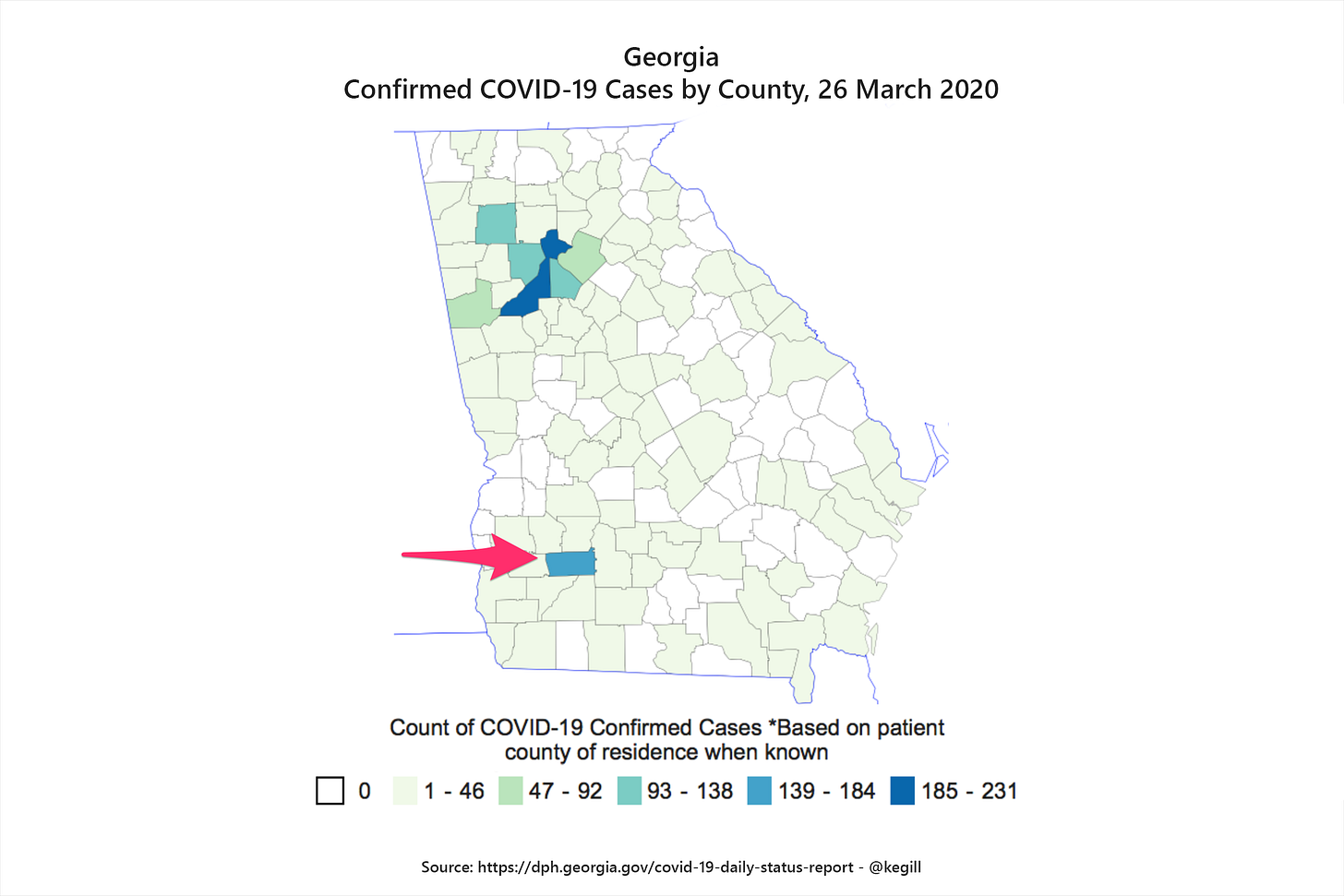 There's a regional hospital in the rural/agricultural southwest corner of the state reporting 217 positive cases, 16 deaths, and 1,319 people waiting for test results. It's situated in Albany, the Dougherty County seat and the center of an SMA of about 160,000. [It's also my hometown.]
Their case rate is almost an order of magnitude greater than the national average: 1,356/million or 1.4/thousand.
One hospital. Three ICU units.
And just like in Wuhan, China…
In the last 24 hours, we've even heard from physicians and nurses from parts of the state that are not being severely impacted by COVID-19. They want to come serve the people in our region, and we are currently working through the emergency credentialing and onboarding processes so they can do just that," said Scott Steiner, Phoebe Putney Health System Chief Executive Officer.
What's the case rate in New York state? 1,915/million or 1.9/thousand. With a population of 19.5 million, that's lot of sick people. But there are also lots of hospitals and medical workers.
Attention on New York is certainly appropriate. Their case rate exceeds both Italy (1.3/thousand) and Switzerland (1.4/thousand). You may not have known about the Swiss, however. It's that absolute numbers game again: Italy has 60.5 million people and Switzerland, 8.7 million.
When you see these stories, remind yourself that raw, non-contextual information fails to provide a complete picture.
Recommended reading
Scary-hard but important reading suggestions today. Trigger warning. Kleenex warning.
Recommended viewing
This virtual orchestral performance of Burt Bacharach and Hal David's "What the World Needs Now Is Love" is from music students (Boston Conservatory at Berklee and Berklee College of Music) and was masterminded by Shelbie Rassler, a senior composition major. Kleenex recommended.

Recommended life hack
NY Times best-selling author and Buddhist teacher Susan Piver is conducting a free online Open Heart Project mini-retreat this weekend, March 27-29. Each session will be recorded so you can log in at the time that works for you. Register here.
Around the country
All 50 states, the District of Columbia, Guam, Puerto Rico and the US Virgin Islands have identified COVID-19 cases. The 1,197 known deaths are from 42 states plus the District of Columbia, Guam, and Puerto Rico.
Chef Floyd Cardoz, who competed on Top Chef and operated restaurants in both India and New York, died of complications from coronavirus on Wednesday. He was 59.

In a letter to U.S. governors, President Trump said he was planning "to publish new guidelines for state and local governments to use when making decisions about 'maintaining, increasing or relaxing social distancing and other mitigation measures' for the coronavirus epidemic."

There's a COVID-19 Global Hackathon, designed "to build software solutions that drive social impact, with the aim of tackling some of the challenges related to the current coronavirus (COVID-19) pandemic." Deadline: 9:00am PDT 30 March 2020
More COVID-19 news from Wednesday.
Politics, economics and COVID-19
Why should you listen to Bill Gates, philanthropist and former technology chief? Because he and his foundation have focused on global heath and epidemics (at least) since this 2015 TED talk.
Context: Gates is rejecting the Republican-led call to end stay-at-home orders, even though we have no national stay-at-home order. President Trump on Wednesday:
Easter's a very special day for me. Wouldn't it be great to have all of the churches full? … You'll have packed churches all over our country. I think it would be a beautiful time.
The SARS-CoV-2 virus would think that "would be a beautiful time," too.
This #thread from UW professor Carl Bergstrom:
Global news
The number of affected countries/territories/areas jumped from 29 at the end of February to 195 today. There are 195 countries in the world. Although early reports tied the outbreak to a seafood ("wet") market in Wuhan, China, analyses of genomic data suggest that the virus may have developed elsewhere.
Ethiopia has pardoned more than 4,000 prisoners of minor crimes to help contain the spread of coronavirus.

Germany, with a quarter of the population of the United States, is now testing 500,000 people a week for COVID-19. "The reason why Germany has so few deaths compared to the number of infected people can be explained by the fact that we carry out an extremely large number of laboratory diagnostic tests," said Christian Drosten, who heads the Institute of Virology at Berlin's Charite University Hospital.

The public lockdown in Wuhan, China is slated to end on 08 April. On 23 January, China locked down Wuhan, home to 11 million people. No one was allowed in or out. Wuhan is the center of the Hubei province, which accounted for the majority of cases (67,801) and deaths (3,160) in China. Non-Wuhan residents of Hubei could begin moving about on Wednesday if they had a green QR code on their mobile phones.

The green code indicates they have no fever, are not a confirmed or suspected case, or a close contact of one. On April 8, the easing of restrictions will be extended to Wuhan, and residents with a green QR code will be able to leave the city and the province.
More COVID-19 news from Wednesday.
Case count
Tests are becoming much more widely available. There is a lag between being contagious and showing symptoms. The virus was not created in a lab.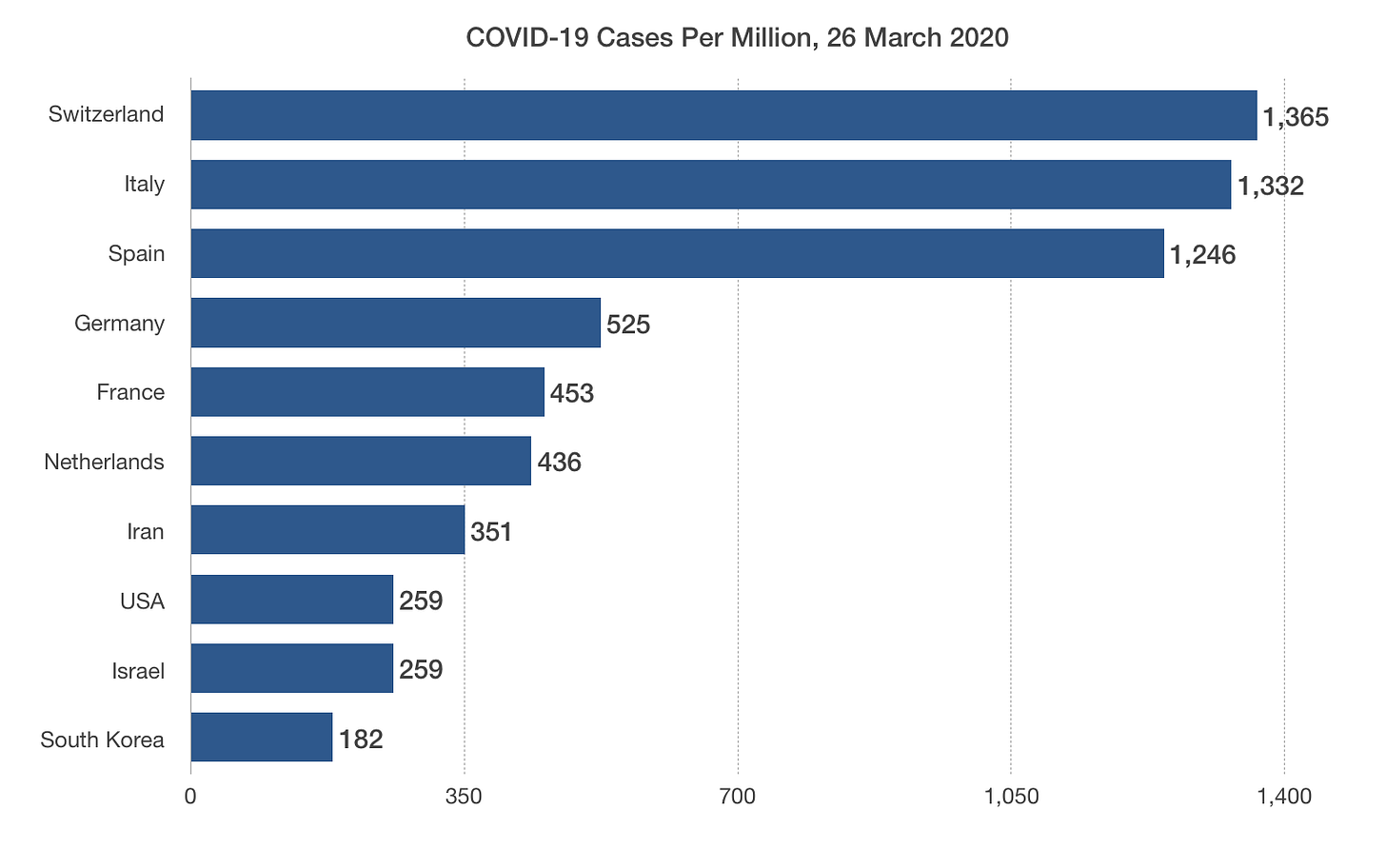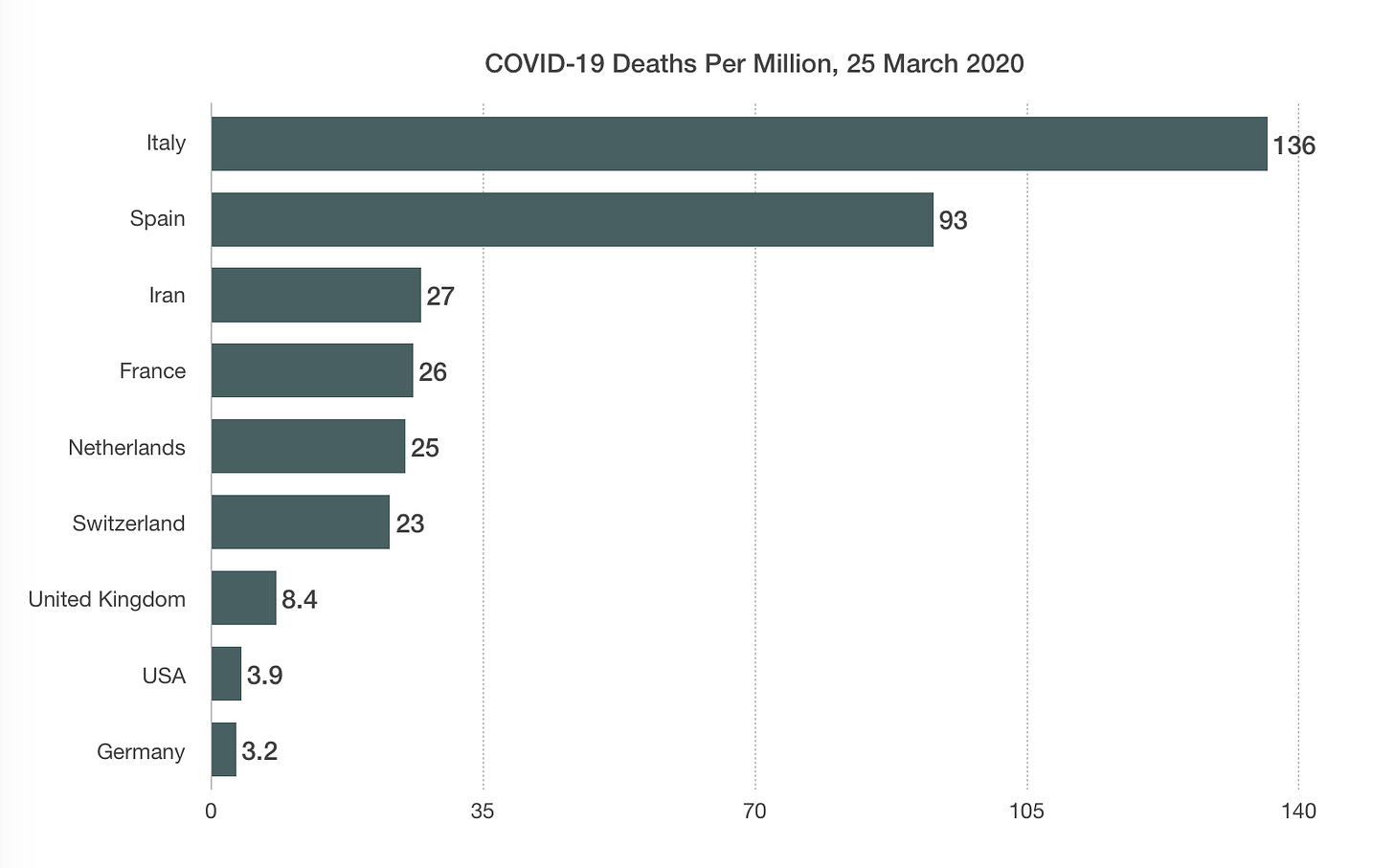 26 March, global
Globally: 462,684 confirmed (49,219 new) 20,834 with deaths (2,401 new)

Regions of the Americas: 75,712 confirmed (14,878 new) 1,065 with deaths (252 new)
Global confirmed: 532,253

Total deaths: 24,075

Total recovered: 122,627
Johns Hopkins interactive dashboard (10 pm Pacific)
26 March, domestic
Nationally* there are a total of 68,440 cases and 994 deaths according to the CDC, and 85,840 (69,018) cases and 1,296 (1,042) deaths according to Johns Hopkins (10.00 pm, Pacific) All 50 states plus DC are reporting 82,165 (24,043) identified cases and 1,197 (900) deaths. 
View infographic and data online: total cases and cases/million.
*Data include Puerto Rico, Guam, and the US Virgin Islands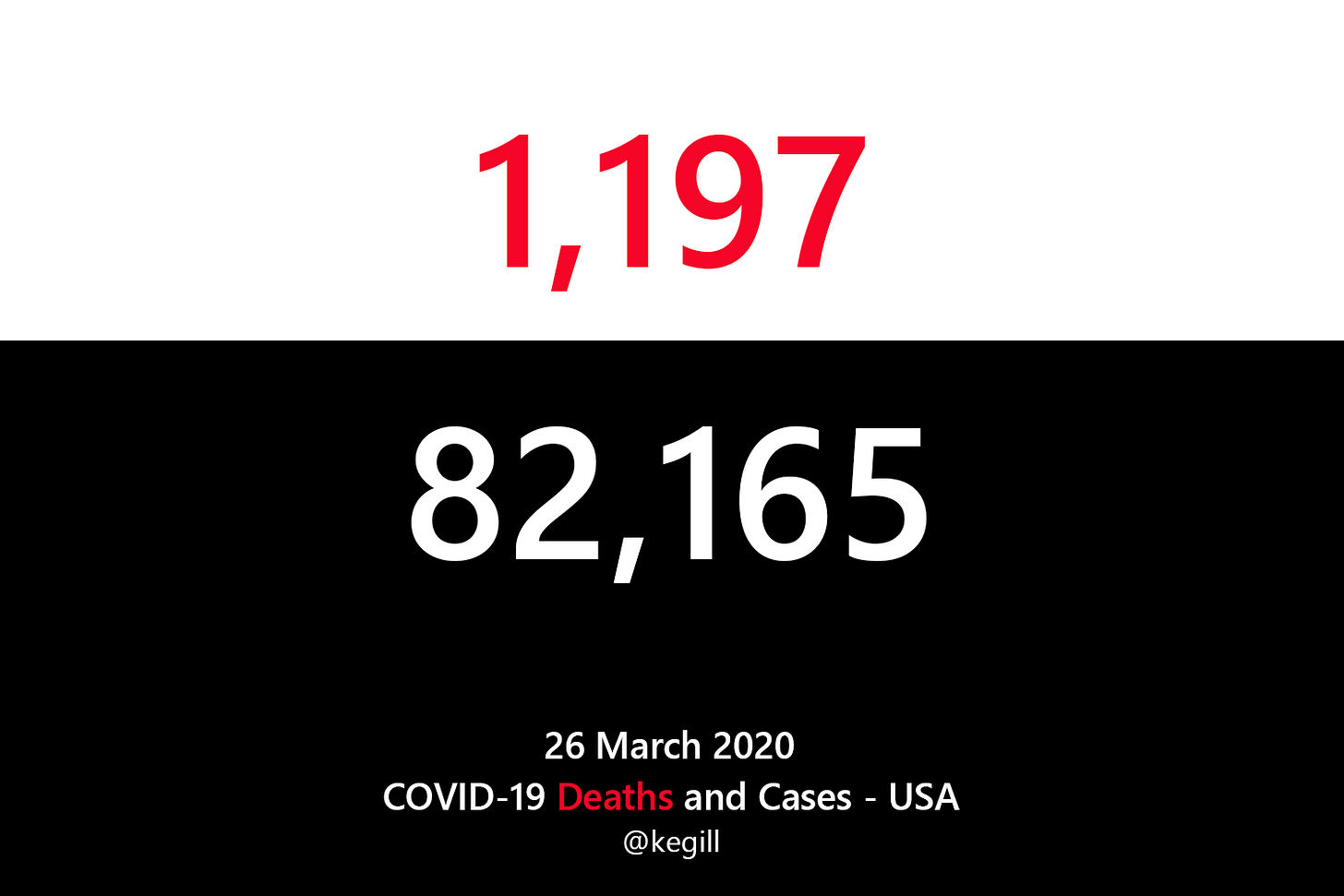 What you can do
Stay home when sick. 

Stay home as much as possible, period. 

Avoid crowded places.
What do to when you or a loved one feels sick
Digestive problems may be a symptom.
Resources
Subscribe to Kathy's Daily Memo :: Daily Memo archives
COVID-19 @ WiredPen.com