Discover more from ⚡️Memo from a News Hound
Weekly news in context with focus on the pandemic, misinformation, trends.
25 March 2020 : COVID-19 news
It's day 65, and US cases are growing faster than any other country per Financial Times; Swiss per capita cases exceed Italy; mainstream pushback against "curve flattening"; US deaths top 1,000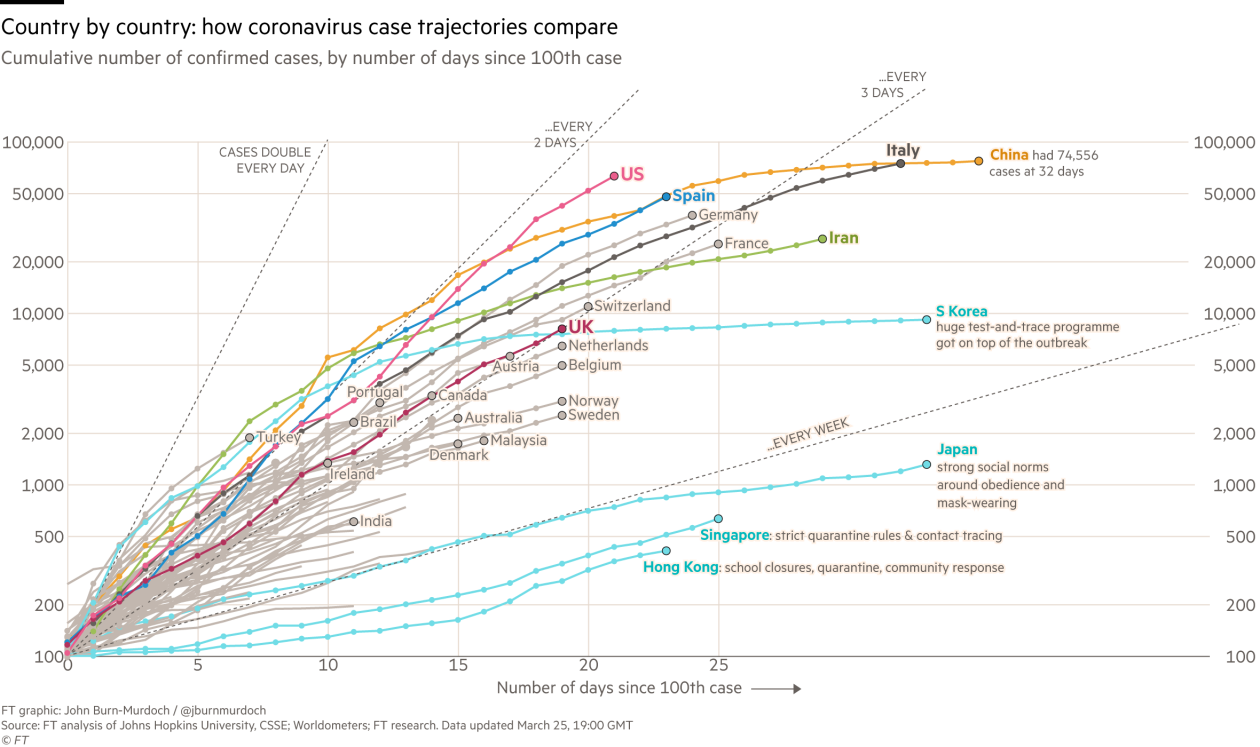 It's day 65 since the first case of coronavirus disease was announced in the United States. Johns Hopkins reports 69,018 (55,222) cases and 1,042 (797) deaths, an increase of 96 and 150 percent, respectively, since Sunday. 
The Financial Times daily trends chart shows the growth rate for identified cases. The x-axis represents the number of days since the 100th case. US cases are growing faster than any other country that they are tracking. This could be an artifact of our extremely delayed start in testing (which is still not widespread) but may also reflect delayed social distancing measures.
Think "flattening the curve" is overrated (here, here, here)?

Then look at China. Look at Singapore, South Korea. Those lines are…. flattening. Guess what they did? Tested, quarantined/isolated, locked down. 

When did the US have 100 identified cases? Day 42, on 02 March.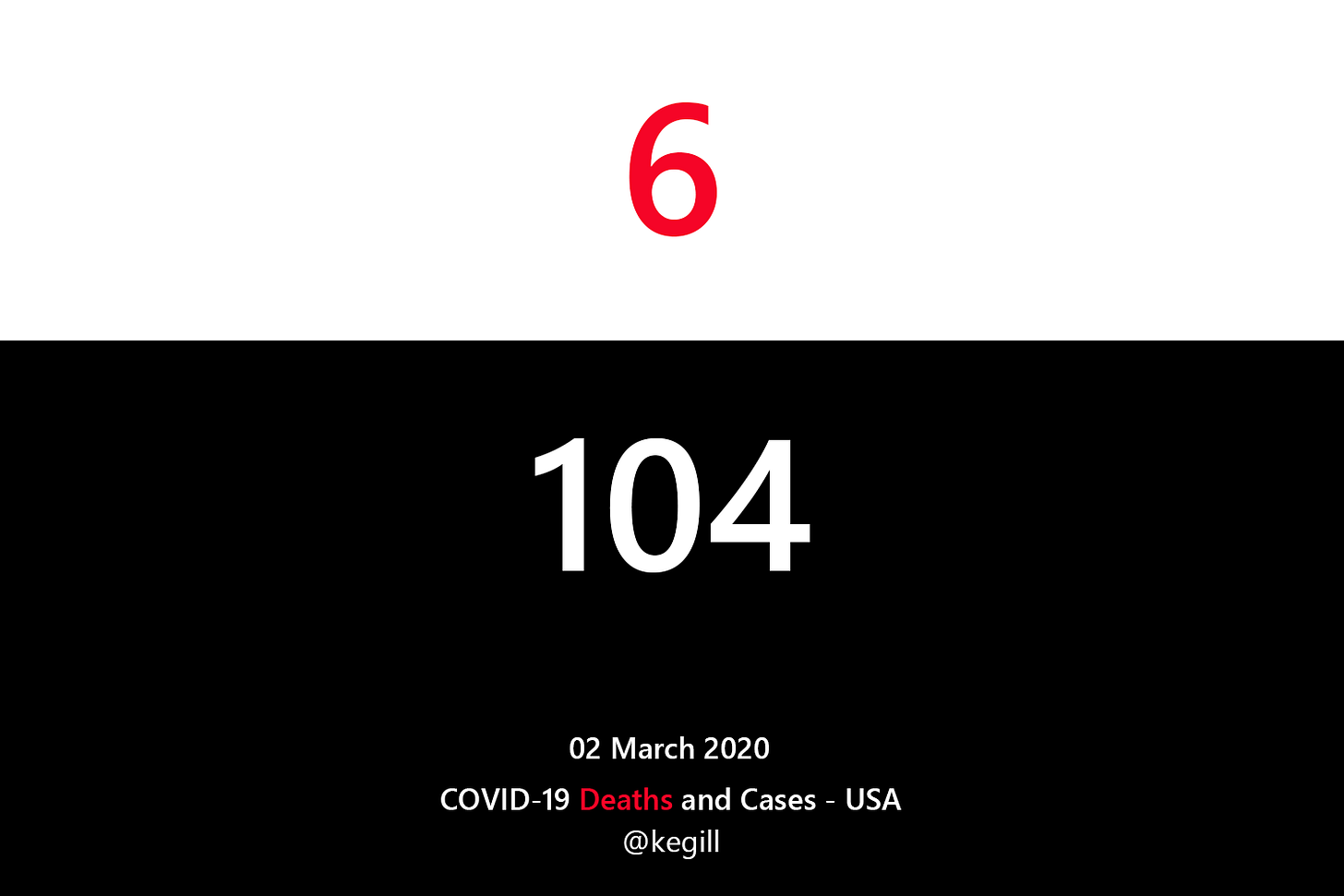 And 200 identified cases? Day 45 (232).
And 400 identified cases? Day 48 (530).
Identified cases is an important trend number to follow because doctors can project number of hospital beds that will be needed based upon the experience of other countries. For example, this is the projection in Arizona today:
The US remains behind China (81,726) and Italy (74,386) in total identified cases. In Italy, coronavirus deaths have topped 9,362.
However, the relevant numbers are these:
Italy: 1,224 deaths/million and 1,230 cases/million
Spain: 78 deaths/million and 1,059 cases/million
Iran: 25 deaths/million and 322 cases/million
France: 20 deaths/million and 392 cases/million
Switzerland: 18 deaths/million and 1,259 cases/million
USA: 3.15 deaths/million and 209 cases/million
China: 2.34 deaths/million and 58 cases/million
Switzerland now tops Italy in number of cases per million. Total population (city, state, country) matters: it is a proxy for the size of the health care system, and it provides context for scary-big case numbers.
Europe accounts for 75 percent of new global cases each day; 35 countries have more than 100 identified cases.
We remain in the early stages of this disease; limiting contact with others will slow the transmission. Eventually, most of us will become infected, and the longer we can stretch that timeline the more likely our health system will not collapse. And that there might be a vaccine.
A reminder that the alarm bells are incessant but officials are wearing both ear plugs and ear muffs when the subject is COVID-19 in our prisons and jails.
Recommended reading
Recommended viewing
The Monterey Aquarium started a meditation series (MeditOcean) on 18 March. It's available on YouTube as well as their Facebook page. If you don't already meditate, give this a try. This is my first meditation where I am looking at a soothing image of water.
Around the country
All 50 states, the District of Columbia, Guam, Puerto Rico and the US Virgin Islands have identified COVID-19 cases. The 930 known deaths are from 39 states plus the District of Columbia as well as from Guam, Puerto Rico.
A second Financial Times chart: this one compares deaths in cities and states starting with the 10th death. The important factor to consider is the steepness of the curve; steeper = increasing at a faster rate = more pressure on the medical system.
More COVID-19 news from Wednesday.
Politics, economics and COVID-19
The Trump Administration, ignoring its own medical team (the CDC), calls COVID-19 the "Wuhan virus" or the "China virus," and it became an impediment to the G7 agreeing upon a joint statement about the crisis.
Foreign ministers representing seven major industrialized nations failed to agree on a joint statement Wednesday after the Trump administration insisted on referring to the coronavirus outbreak as the "Wuhan virus," three officials from G-7 countries told The Washington Post… Washington's insistence on using the term "Wuhan virus" was first reported by Der Spiegel.
In California, one million people have filed an unemployment claim. But the White House has not released disaster unemployment funds.
On a typical day, the California department of unemployment sees 2,000 new claims. Last week, on Wednesday, 80,000 new claims were filed in a single day…

Newsom said on Tuesday he had spoken with CEOs from 200 financial institutions who committed to a 90-day waiver on mortgages and foreclosures. Bank of America only agreed to a 30-day waiver [emphasis added.]
In Canada …
And in South Korea …
Global news
The number of affected countries jumped from 29 at the end of February to 192 today. There are 195 countries in the world. Although early reports tied the outbreak to a seafood ("wet") market in Wuhan, China, analyses of genomic data suggest that the virus may have developed elsewhere.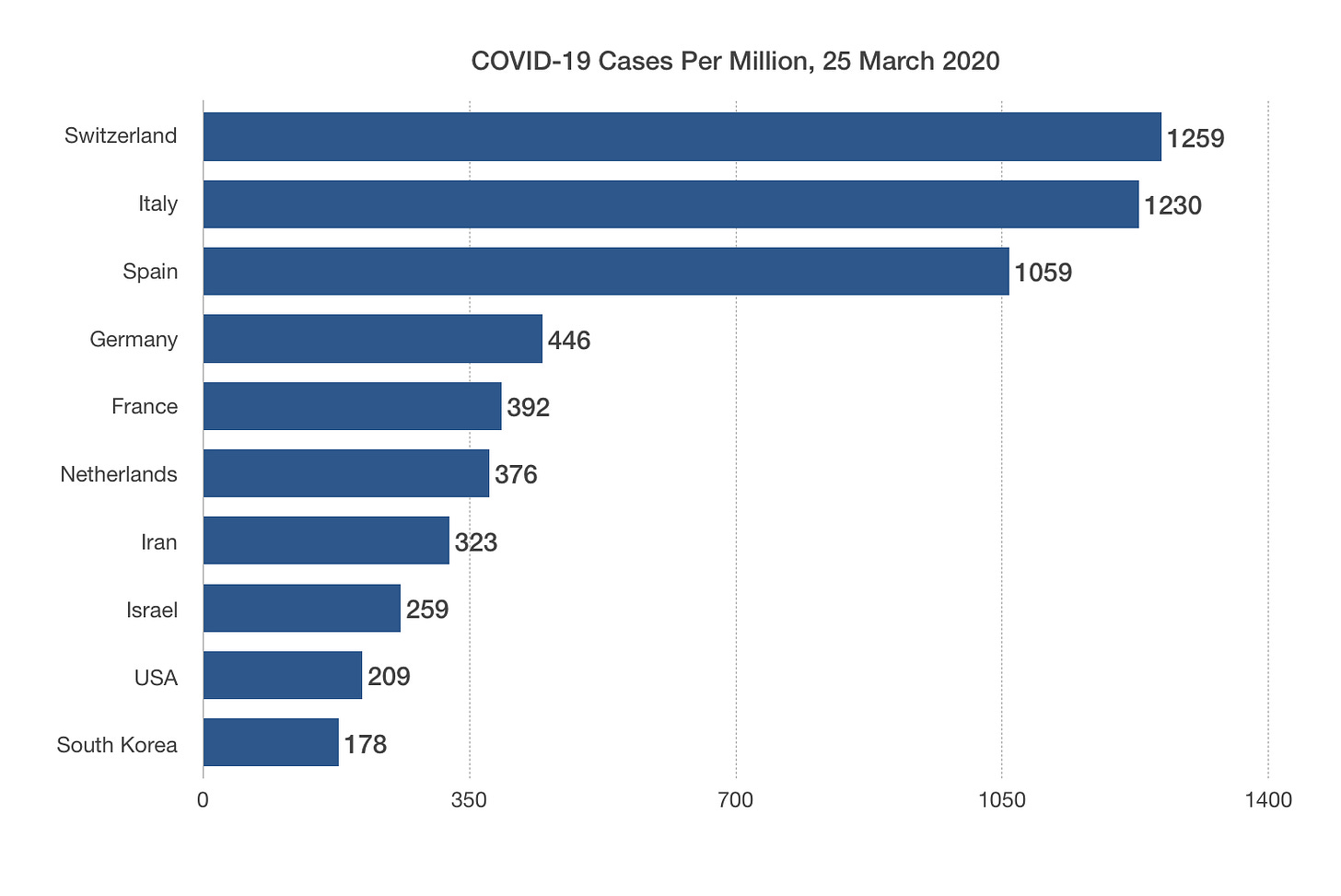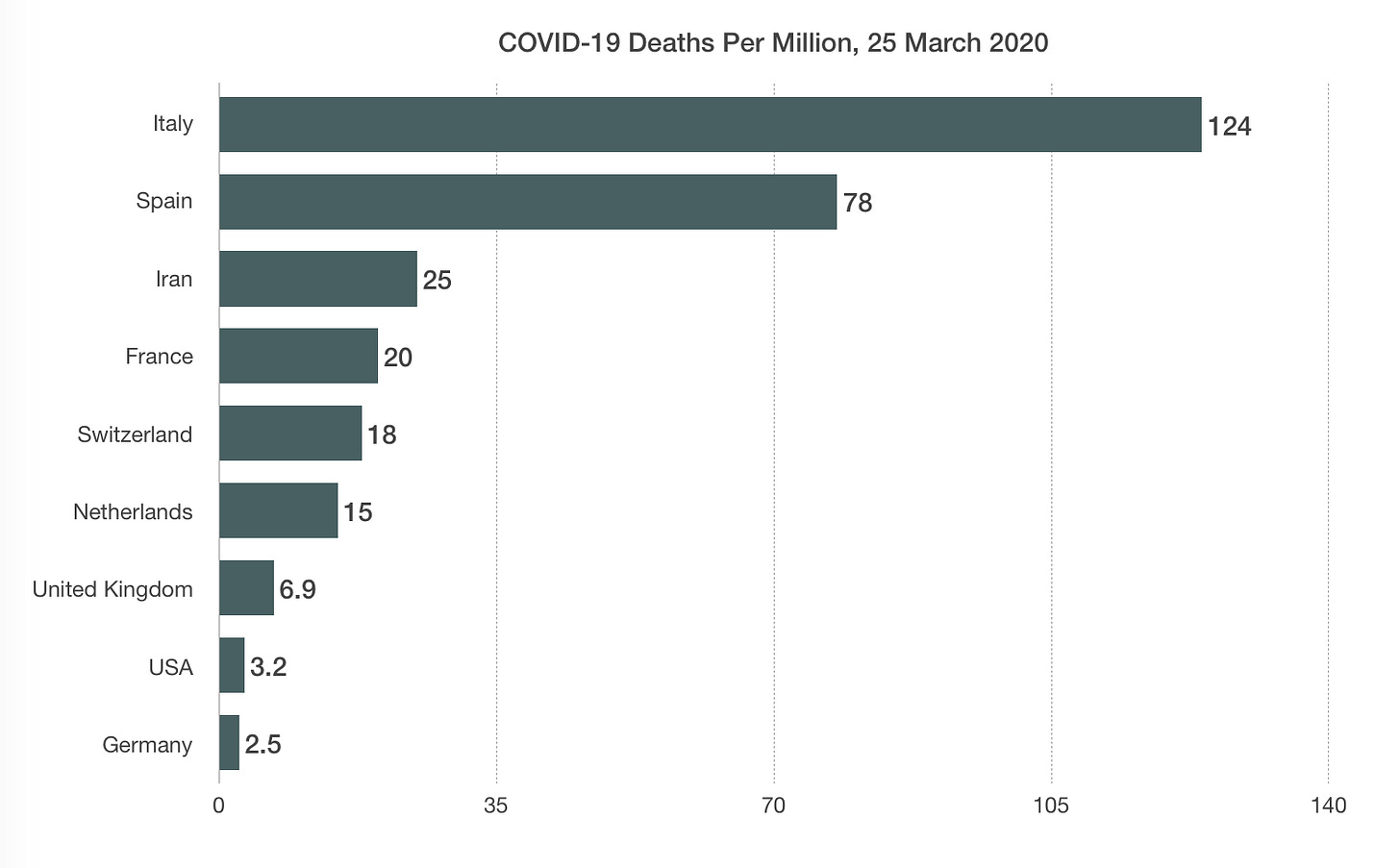 More COVID-19 news from Wednesday.
Case count
Tests are becoming much more widely available. There is a lag between being contagious and showing symptoms. The virus was not created in a lab.
25 March, global
Globally: 414,179 confirmed (40,712 new) with 18,440 deaths (2,202 new)

Regions of the Americas: 60,834 confirmed (11,390 new) with 813 deaths (248)
Global confirmed: 47,1407

Total deaths: 21,287

Total recovered: 114,444
Johns Hopkins interactive dashboard (9 pm Pacific)
25 March, domestic
Nationally* there are a total of 54,453 cases and 737 deaths according to the CDC, and 69,018 (55,222) cases and 1,042 (797) deaths according to Johns Hopkins (9:00 pm, Pacific). All 50 states plus DC, PR, Guan and VI are reporting 65,149 (53,126) identified cases. 
View infographic and data online: total cases and cases/million.
*CDC and Johns Hopkins data include Puerto Rico, Guam, and US Virgin Islands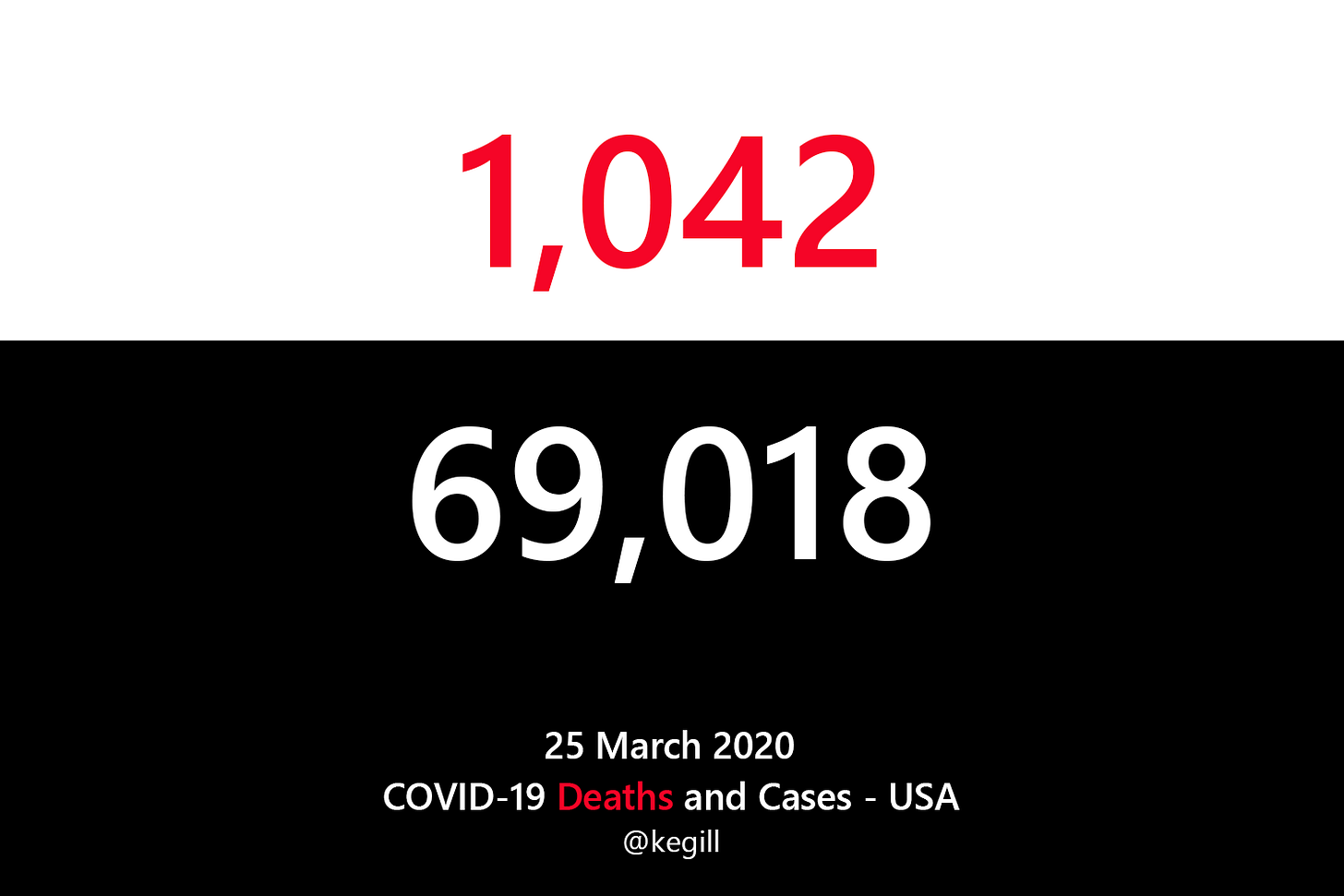 What you can do
Stay home when sick. 

Stay home as much as possible, period. 

Avoid crowded places.
What do to when you or a loved one feels sick
Digestive problems may be a symptom.
Resources
Subscribe to Kathy's Daily Memo :: Daily Memo archives
COVID-19 @ WiredPen.com