Discover more from ⚡️Memo from a News Hound
Weekly news in context with focus on the pandemic, misinformation, trends.
02 March 2020
COVID-19 death toll hits six; all in Washington State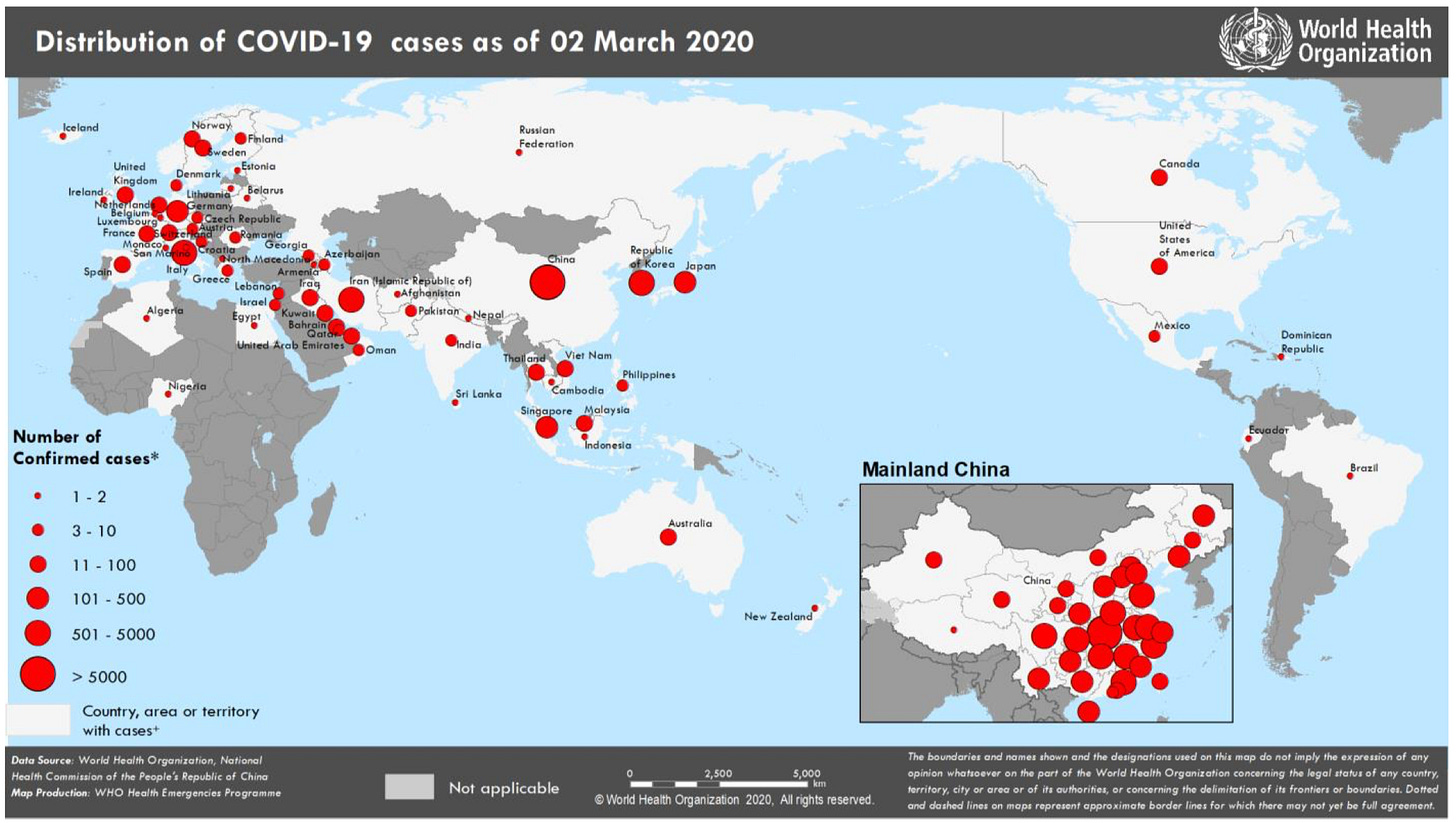 [Updated] Washington is home to patient zero for COVID-19 in the United States, and there have now been six deaths here. The only US deaths to date are here. There are 18 cases of COVID-19 in western Washington, and the number of people under supervision: 231. Nationally there are a total of 43 cases according to the CDC and 105 cases according to Johns Hopkins.
Seattle professor and researcher Trevor Bedford estimates that Washington "has at least one cluster of ~570 infected individuals." A Fred Hutchinson Cancer Research Center scientist, Beford writes:
The novel coronavirus SARS-CoV-2 which is responsible for the emerging COVID-19 pandemic mutates at an average of about two mutations per month. After someone is exposed they will generally incubate the virus for ~5 days before symptoms develop and transmission occurs. 
Seattle-King County public health announced four new cases (two are deceased). Two patients from LifeCare (EvergreenHealth in Kirkland) have died, a male and a female in their 70s. Another female resident of LifeCare (age, 80s) has been hospitalized at EvergreenHealth in critical condition. A man in his 50s with no known contact is being treated at Highline Medical Center in Burien. A woman in her 80s, who had previously been reported in critical condition at Evergreen, has died.

Snohomish County public health announced the first death of a county resident and raised the number of active cases in the county to three. The male patient, a resident of Snohomish County, was in his 40s and had been hospitalized at EvergreenHealth in Kirkland. The new case is a female in her 40s with underlying health conditions; she is currently hospitalized. Patient zero in the U.S., who contracted COVID-19 in China and was identified in January, has fully recovered. The high school student is in at-home quarantine.
The Washington State public health lab started testing on Friday and has a capacity of about 200 tests per day. The University of Washington will begin testing for the virus on Tuesday 03 March.
Closures
Trump Administration and COVID-19
Vice President Pence and HHS chief Azar have expanded the COVID-19 task force to include additional members: Ben Carson, surgeon, Housing and Urban Development; Kelvin Droegemeier, meteorologist, Office of Science and Technology Policy; Robert Wilkie, lawyer, Department of Veterans Affairs; Seema Verma, public health manager, Centers for Medicare & Medicaid Services; Stephen Hahn, radiation oncologist, Food and Drug Administration.
Pence announced that the United States "will require multiple fever checks of all passengers before they board U.S.-bound flights from Italy or South Korea." We have also banned all travel from Iran, and no foreign citizen who has visited Iran in the last 14 days can enter the county.
Around the country
Georgia reported its first two cases of COVID-19, and there were new cases in California and Illinois.
The two Georgians live in the same household in Fulton County (Atlanta) and one had recently traveled to Italy. They and family members are in at-home quarantine.
Global news
One of the best fact-based overviews of COVID-19 and how a government can be proactive before an emergency comes from Singapore. The Singapore COVID-19 dashboard lets anyone track "every known infection case, where the person lives and works, which hospital they got admitted to, and the network topology of carriers, all laid out on a time-series."
A graphical view of COVID-19 in Italy: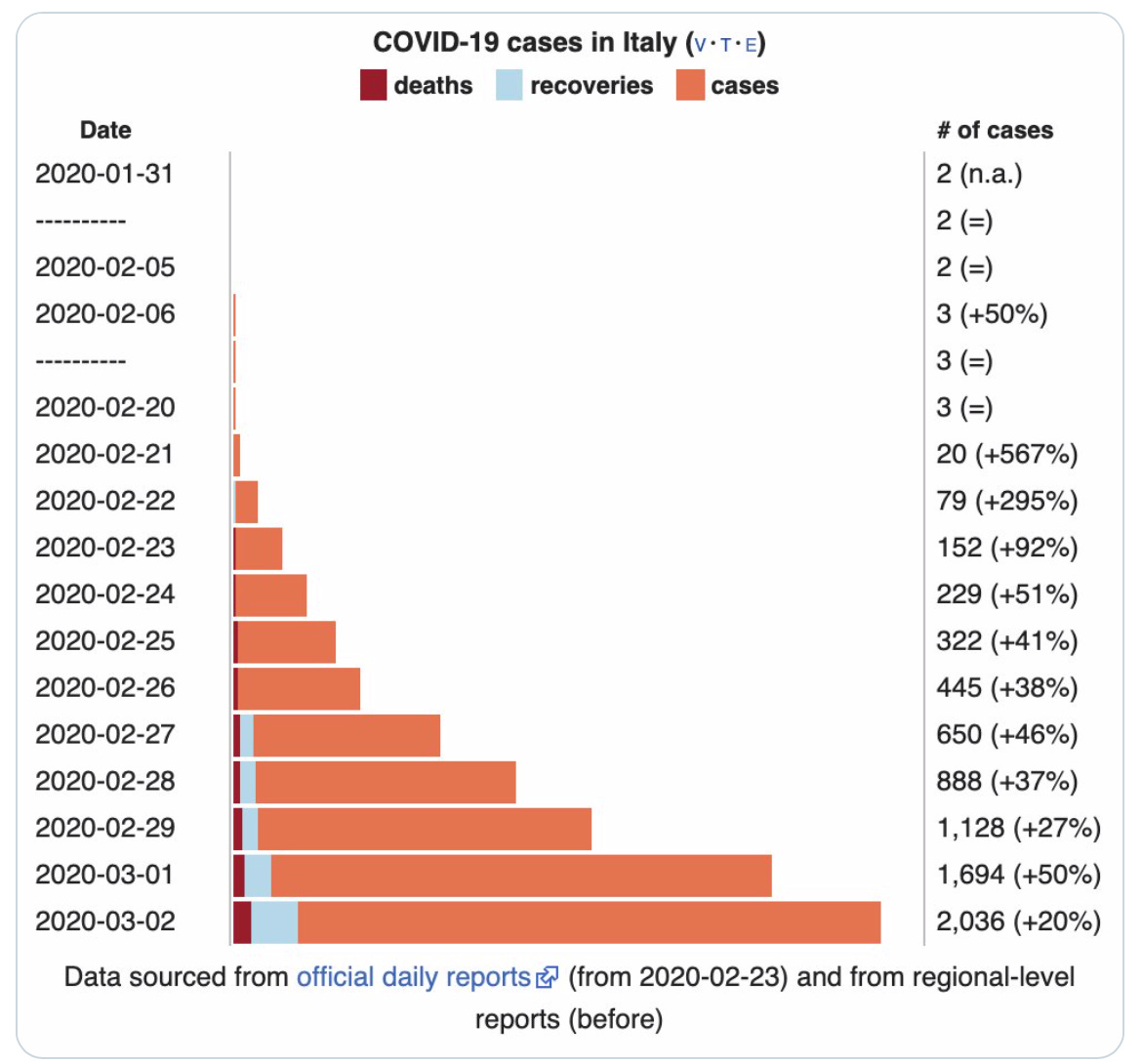 Case count
02 March, domestic
Arizona: 1 case

California: 43 cases (24 are from repatriation flights)

Florida: 2 cases

Georgia: 2 cases

Illinois: 4 cases

New York: 1 case

Massachusetts: 1 case

Oregon: 3 cases

Rhode Island: 2 cases

Texas: 11 cases (all from repatriation flights)

Washington: 18 cases (King County, 14; Snohomish County, 4)

Wisconsin: 1 case
02 March, global
Globally: 88,948 confirmed (1,804 new)

China: 80,174 confirmed (206 new); 2,915 deaths (42 new)

Outside of China: 8,774 confirmed (1,598 new) in 64 countries (6 new); 128 deaths (24 new)
Global confirmed: 90,936

Total deaths: 3,117

Total recovered: 48,017
Johns Hopkins interactive dashboard
What you can do
Do not go to the emergency room unless essential. Emergency rooms need to be able to serve those with the most critical needs. If you have symptoms like cough, fever, or other respiratory problems, contact your regular doctor first. 

Stay home when sick.

Practice excellent personal hygiene habits, including handwashing, coughing into tissue or elbow, and avoiding touching eyes, nose, or mouth. 

Stay away from people who are ill, especially if you are 60 and older or have underlying health conditions such as diabetes, heart disease, lung disease, or a weakened immune system. 

Don't stockpile personal protective equipment (PPE) such as face masks as they are needed by health care staff. When is a mask is needed? When we are unwell and have to go out.
Tips via Seattle-King County Public Health
Resources