Discover more from ⚡️Memo from a News Hound
Weekly news in context with focus on the pandemic, misinformation, trends.
19 March 2020 : COVID-19 News
Day 59: 205 deaths in 25 states; Italy's death toll passes China; all Californians told to stay at home; 34-year-old California man dies from coronavirus disease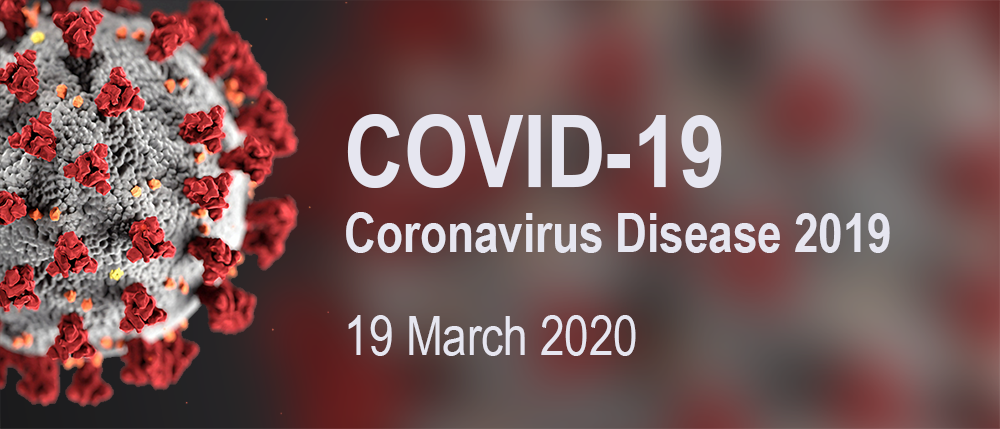 It's day 59 since the first case of coronavirus disease was announced in the United States. Johns Hopkins reports 205 deaths since the first death was announced 20 days ago (three weeks after the news about how the virus was affecting Wuhan reached a global audience.) Identified cases today are between 10,000 and 14,000 (depending on the source).
China, with a population of 1.4 billion, has experienced 3,253 deaths with 81,199 cases.
Italy, with a population of 60 million, has had 3,405 deaths with 41,035 cases.
Read those numbers again.
Less than half the population, about half the number of cases, but more deaths.
What's the difference? One might be that China's experience with SARS led it to act more quickly, although China has been criticized for initially minimizing the disease. Another might have been China's lockdown, estimated to have been half or most of the country's population.
Italy also locked down the country, an "unprecedented" move, on 10 March 2020, after the number of cases almost doubled in 48 hours. On March 5, deaths totaled 105, that's about where the United States was on 17 March. And our death toll has almost doubled in 48 hours.
However, we have a population more than five times that of Italy, and the land mass of Italy is about the same as Georgia and Florida combined. That's 532 people/square mile (Italy) versus 92.9 (US). China is 375. Might population density be a key?
A data analysis by USA Today notes that
… public health data shows that nations that are so far faring well at suppressing the outbreak's spread have done so through this combination: easy access to testing, rigorous contact tracing, clear and consistent science-based messaging, and a commitment to studiously abide by quarantines while clamping down on socializing no matter how tempting it may be to stray. 
The US has flunked number one; number two is now moot because of the failure of number one. As for messaging … here's a quote from President Trump today:
Governors around the country are closing schools; shutting down entertainment venues; and limiting the size of public gatherings. The country isn't locked down, but California is. On Thursday, the governor told 40 million people to stay home except for essential travel; this is the most restrictive measure in the country.
The statewide mandate forced all non-essential businesses to close. Residents have also been told to avoid all non-essential social contact, with groups of more than 10 people prohibited. 
LA County announced a "safer at home" policy for its 10 million citizens.
All businesses that require workers to be present must stop operations by 11:59 p.m. Friday, [Los Angeles Mayor Eric] Garcetti said during a news conference. Businesses that provide "essential services" are exempt.
Recommended reading
Recommended viewing
Around the country
All 50 states, the District of Columbia, and the US Virgin Islands have identified COVID-19 cases. The 205 known deaths are from 25 states, with most from Washington.
A 34-year-old man with a childhood history of asthma and bronchitis has died of coronavirus disease in California. He died less than a week after having been admitted to the hospital. He flew to Orlando for work on 02 March and visited DisneyWorld and Universal Studios while there. He developed a cough on 07 March and flew home on 09 March.
In Washington, Governor Inslee has restricted non-urgent medical and dental procedures. Other places where elective surgeries are off the calendar (not an exhaustive list): Colorado, Illinois, Indiana, New York City, Minnesota, Oklahoma and Wisconsin.
New York City will run out of medical supplies in 2-3 weeks if not replenished. The governor has ordered 3-out-of-4 of a company's non-essential workers to stay home.
In Indiana, Deaconess Health System is asking the community to sew masks for medical staff. And there are CDC protocols for this work-around when other supplies are exhausted.
The shortages are widespread. Phoebe Putney in Albany, GA is also sewing masks.
From Buffalo, NY to Henderson, KY … from Providence in Renton, WA to Valley View in Glenwood Springs, CO … citizens and hospitals are organizing sewing teams.
Construction masks are also helpful.
Politics, economics and COVID-19
Perhaps this will be easier in Tweets:
Senate Republicans propose to bail out business and also offer up to $2,400 per couple with restrictions based on 2018 tax returns. I explained yesterday why $50 billion for airlines rewarding risky management decisions (pocket-lining might be a more accurate description) and thus a bad deal for taxpayers.
States should be removing barriers to absentee voting and looking at ways to expand vote by mail (like Colorado, Oregon and Washington). Instead, we have disgraceful moves to make it harder to vote, like this in Kentucky.
Global news
The number of affected countries jumped from 29 at the end of February to 167 today . Although early reports tied the outbreak to a seafood ("wet") market in Wuhan, China, analyses of genomic data suggest that the virus may have developed elsewhere.
WHO reports that the world has passed 200,000 cases of COVID-19. It took three months to reach first 100,000 cases. It took 12 days to reach the next 100,000. That's exponential growth.
Spanish officials have confirmed 767 deaths. The country declared a 15-day national emergency, starting on 15 March.
The Australian prime minister says that most cases of COVID-19 have come from Americans.
In South Korea, cases approach 9,000.
Case count
Tests are becoming more widely available as state, university and commercial labs implement testing. There is a lag between the initial period of contagion and a person showing symptoms.
19 March, global
Globally: 209,839 confirmed (16,556 new) with8778 deaths (828 new)

Regions of the Americas: 9,144 confirmed (4,166 new) with 119 deaths (50 new)
Global confirmed: 244,517

Total deaths: 10,030

Total recovered: 86,025
Johns Hopkins interactive dashboard
19 March, domestic
Nationally* there are a total of 10,442 cases and 501 deaths according to the CDC, and 14,250 cases and 205 deaths according to Johns Hopkins (10 pm, Pacific) All 50 states plus DC are reporting 11,980 identified cases. View infographic and data online.
*CDC data include Puerto Rico, Guam, and US Virgin Islands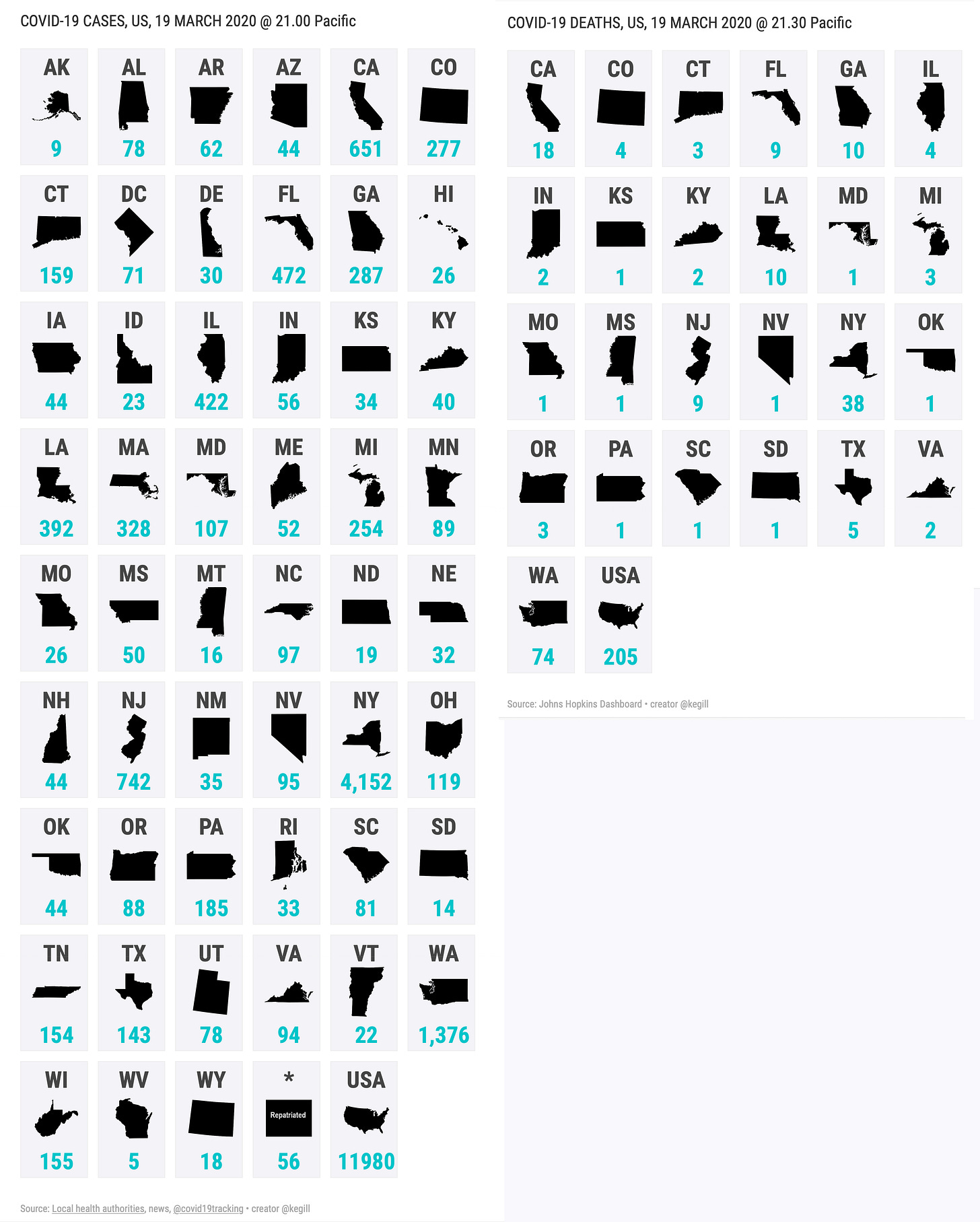 What you can do
Stay home when sick. 

Stay home as much as possible, period. 

Avoid crowded places.
What do to when you or a loved one feels sick
Digestive problems may be a symptom:
Resources
Subscribe to Kathy's Daily Memo :: Daily Memo archives
COVID-19 @ WiredPen.com