Discover more from ⚡️Memo from a News Hound
Weekly news in context with focus on the pandemic, misinformation, trends.
17 March 2020 | COVID19 News
US deaths exceed 100; WV patient tests positive, making the virus present in all 50 states and DC; the US Virgin Islands has its first case; NY numbers pass those in WA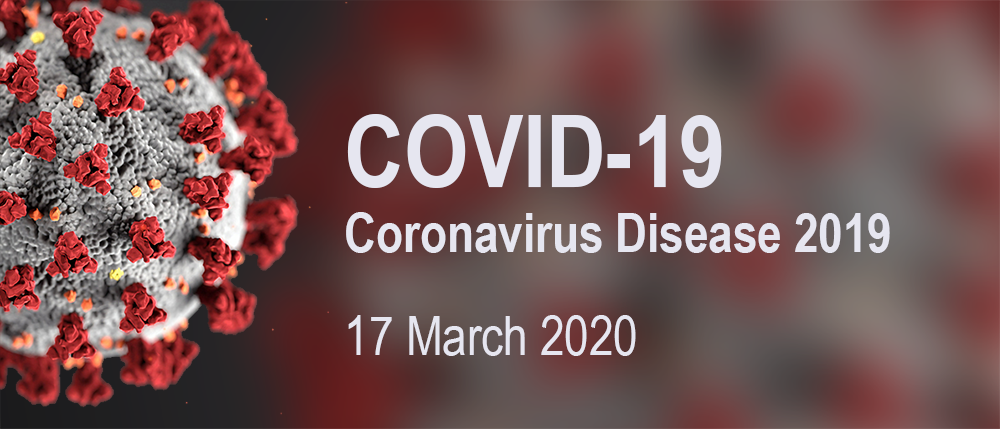 In the US, there are more than 100 deaths from COVID-19, 17 days after Washington State officials announced the first death. New York now leads Washington with the most identified cases (1,374 to 1,012) in the country. And both West Virginia and the US Virgin Islands report their first patients. All 50 states now have confirmed cases.
Vaccine testing in the US kicked off in Seattle on Monday. There's promising news on the treatment front from from China, France and the US.
In China, in a clinal trial with 340 patients, an existing drug from Japan reduced the time a patient tested positive from a median of 11 days to four. Shares of Fujifilm Toyama Chemical, the company that developed favipiravir to treat strains of influenza, went up after the news. "In 2016, the Japanese government supplied favipiravir as an emergency aid to counter the Ebola virus outbreak in Guinea."
In addition, X-rays confirmed improvements in lung condition in about 91% of the patients who were treated with favipiravir, compared to 62% or those without the drug.
In France, Professor Didier Raoult reported promising results from treating 24 patients in southeastern France with the anti-malaria drug chloroquin.
We were able to ascertain that patients who had not received Plaquenil (the drug containing hydroxychloroquine) were still contagious after six days, but of those that had received Plaquenil, after six days, only 25% were still contagious.
On Friday, two US researchers presented a paper documenting how chloroquine works against SARS-CoV-2 in a lab setting and detailed results from research in China and South Korea. There may be prophylactic (preventative) benefits.
Here's why this research is critical: hospital beds. I hesitate to share this because "red" doesn't mean what you think it means. It means the percentage of occupied hospital beds that would need to be emptied or added, and red is 300-500%. The darkest color: more than 800%.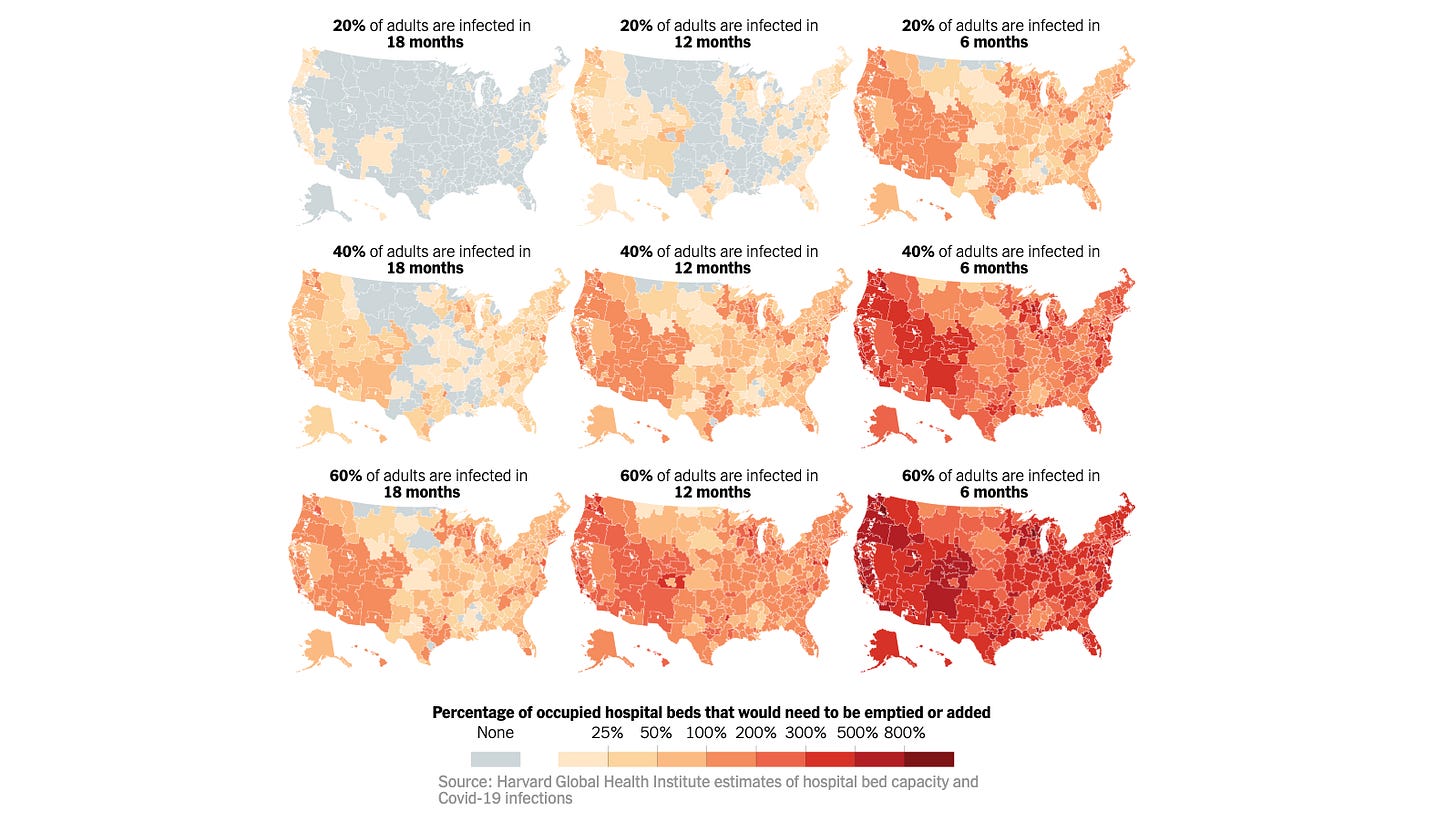 Recommended reading
COVID-19 Update, A Message From Concerned Physicians. 17 March 2020.

The COVID-19 pandemic has reached a point where containment is no longer possible. The COVID-19 threat is real, and rapidly getting worse. Many of you are very nervous, some are unsure of the validity of the information you are reading. As physician leaders, we felt it was important to craft a resource you can rely on as being scientifically accurate and one which contains as much actionable information and guidance as possible. 
Recommended viewing
C-SPAN has a coronavirus channel.
Around the country
All 50 states, the District of Columbia, and the US Virgin Islands have identified COVID-19 cases. The 114 known deaths are from 18 states, with most from Washington.
The Pentagon is planning to use two ships to provide relief for coastal hospital systems. Navy hospital ships USNS Mercy (T-AH-19) and USNS Comfort (T-AH-20) are being activated.
If, for example, a community has a large outbreak and there's a need for emergency room support or trauma support, a hospital ship is perfectly designed to do that.
A 100-page plan leaked to the New York Times warned that COVID-19 "will last 18 months or longer." It noted that the virus might come in "multiple waves" which can happen when people resume mingling. The plan warned of "widespread"shortages and disruption of infrastructure.
That's in stark contrast to Trump's comments Monday:
On March 16, in the White House briefing room, warning that the outbreak would "wash" away this summer: "So it could be right in that period of time where it, I say, wash — it washes through. Other people don't like that term. But where it washes through."
Politics, economics and COVID-19
We're behind in testing. You know that. It's political. You know that, too.
New York casualty was admitted to the hospital on 26 February. Unlike the medical staff at Evergreen in Kirkland, WA, those hospital staff weren't thinking about COVID-19. So he wasn't tested until 09 March. How many people did he infect, unwittingly? Read this thread from Eric Topol, Professor, Molecular Medicine, and Executive Vice-President of Scripps Research.

Global news
The number of affected countries jumped from 29 at the end of February to 159 today. Although early reports tied the outbreak to a seafood ("wet") market in Wuhan, China, analyses of genomic data suggest that the virus may have developed elsewhere.
Case count
Tests are becoming more widely available as state, university and commercial labs implement testing. There is a lag between the initial period of contagion and a person showing symptoms.
17 March, global
Globally: 179,112 confirmed (11,526 new) with 7,426 deaths (475 new)

Regions of the Americas: 4,910 confirmed (2,234 new) with 68 deaths (18 new)
Global confirmed: 198,178

Total deaths: 7,954

Total recovered: 81,960
Johns Hopkins interactive dashboard
17 March, domestic
Nationally* there are a total of 4,226 cases and 75 deaths according to the CDC, and 6,496 cases and 114 deaths according to Johns Hopkins. All 50 states plus DC are reporting 5,706 identified cases with 114 deaths. View infographic and data online.
*CDC data include Puerto Rico, Guam, and US Virgin Islands

What you can do
Stay home when sick. 

Stay home as much as possible, period. 

Avoid crowded places.
What do to when you or a loved one feels sick
Resources

Subscribe to Kathy's Daily Memo :: Daily Memo archives
COVID-19 @ WiredPen.com