Discover more from ⚡️Memo from a News Hound
Weekly news in context with focus on the pandemic, misinformation, trends.
COVID-19 day 272: 📈 US enters third spike with ~70K cases on Friday : 18 October 2020
The US passed 8 million cases; ND has the highest per capita case rate in the country; Pfizer says vaccine will not be ready before late November; EU per capita rates have overtaken the US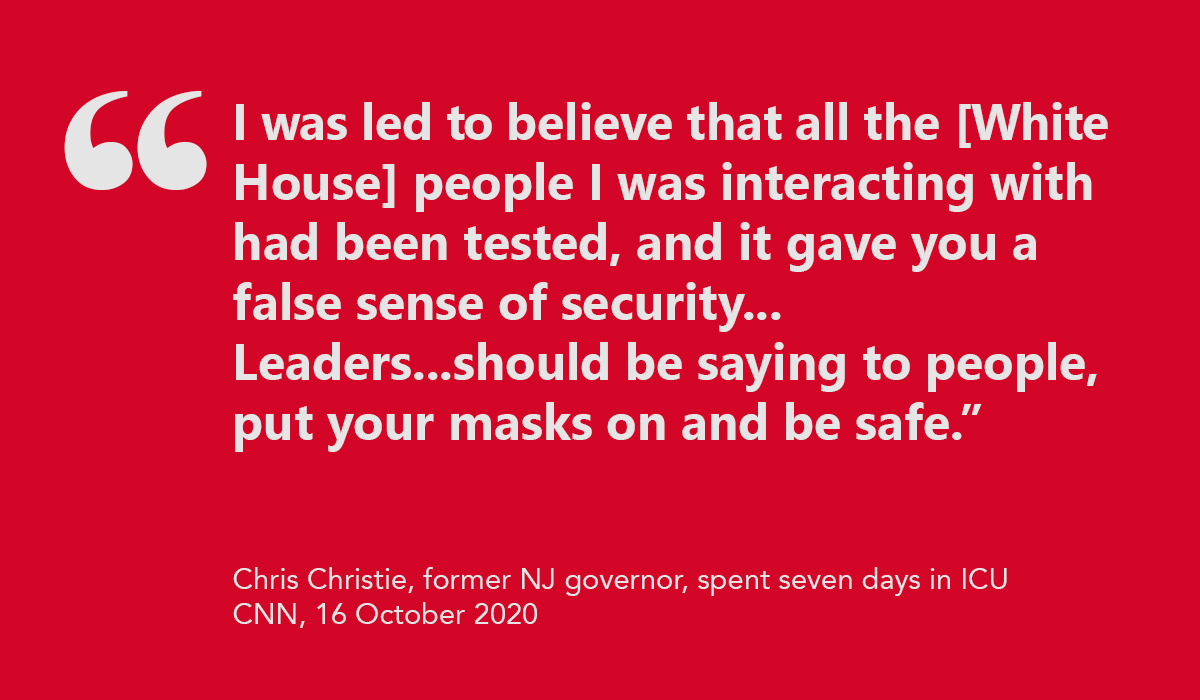 Sunday was day 272 since the first case of coronavirus disease was announced in the United States. Johns Hopkins reported 39.9 million globally cases Sunday; it reported 400,314 new cases on Friday, a new record. 
As projected last Sunday, we passed 8 million cases on Friday, 16 October 2020. We are beginning a third surge at the worst time, fall/winter. This Ed Yong essay from July is worth re-reading: American public-health specialists remain at risk of burning out due to surges. As do all of us. [We are not in a third wave, because we've never gotten our new daily cases under control.]
The rejection of science-based information for magical thinking is like climate change denial with one difference: people are dying in real time, not in some imagined future.
Sections (no jump links, sorry!)
1, One big thing; 2, Recommendations; 3, Politics, economics & COVID; 4, Key metrics;
5, Resources
⓵ One big thing - our third surge
Also on Friday, states reported 68,847 new cases; Johns Hopkins, 69,156. This is the most daily cases in almost three months, since 22 July (the 4th of July summer spike).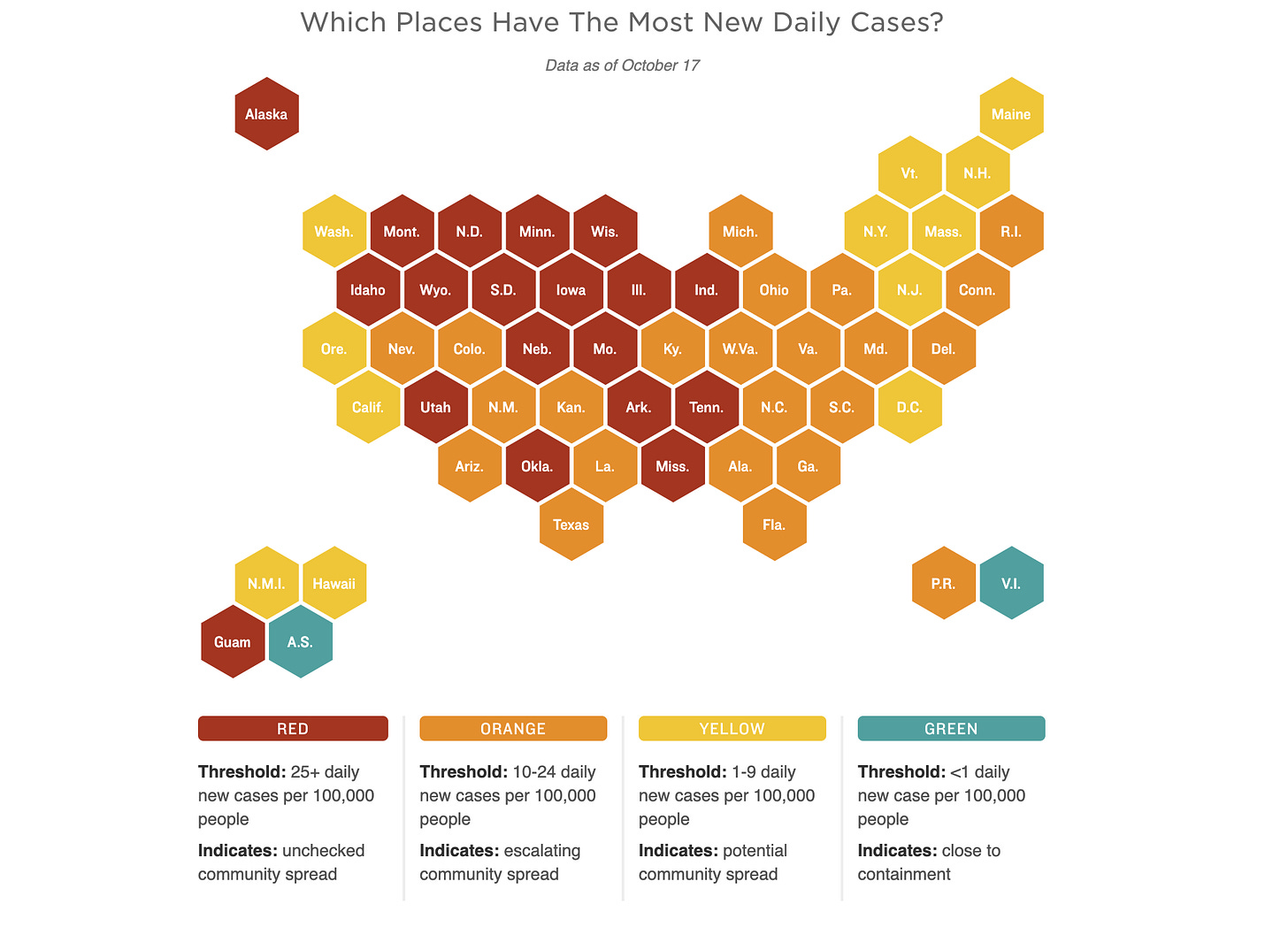 At least nine states set single-day case records on Friday according to the NY Times: Colorado, Indiana, Minnesota, New Mexico, North Dakota, Utah, West Virginia, Wisconsin and Wyoming. And as of midday Saturday, Indiana and Ohio had also set new records.
Epidemiologists warn that nearly half of the states in the U.S. are seeing surges unlike anything they experienced earlier in the pandemic. 
NPR reported 18 states (most in the upper mid-west) and one territory (Guam) with unchecked community spread. And NBC reported that cases were growing by 5% or more in 38 states on Friday.
On Sunday, North Dakota reported the most per capita cases of any state in the country: 420 per 100,000. New York was only 249 per 100,000. Vermont brings up the rear at 31 per capita.
In North Dakota, cases are up nearly 34% compared with a week ago. Hospital beds in the state capital, Bismarck, have been full. The state has only three-quarters of a million people; it reported 717 cases on Sunday; 744 on Saturday; and 864 on Friday; 706 on Thursday; and 702 on Wednesday.
But no region is immune.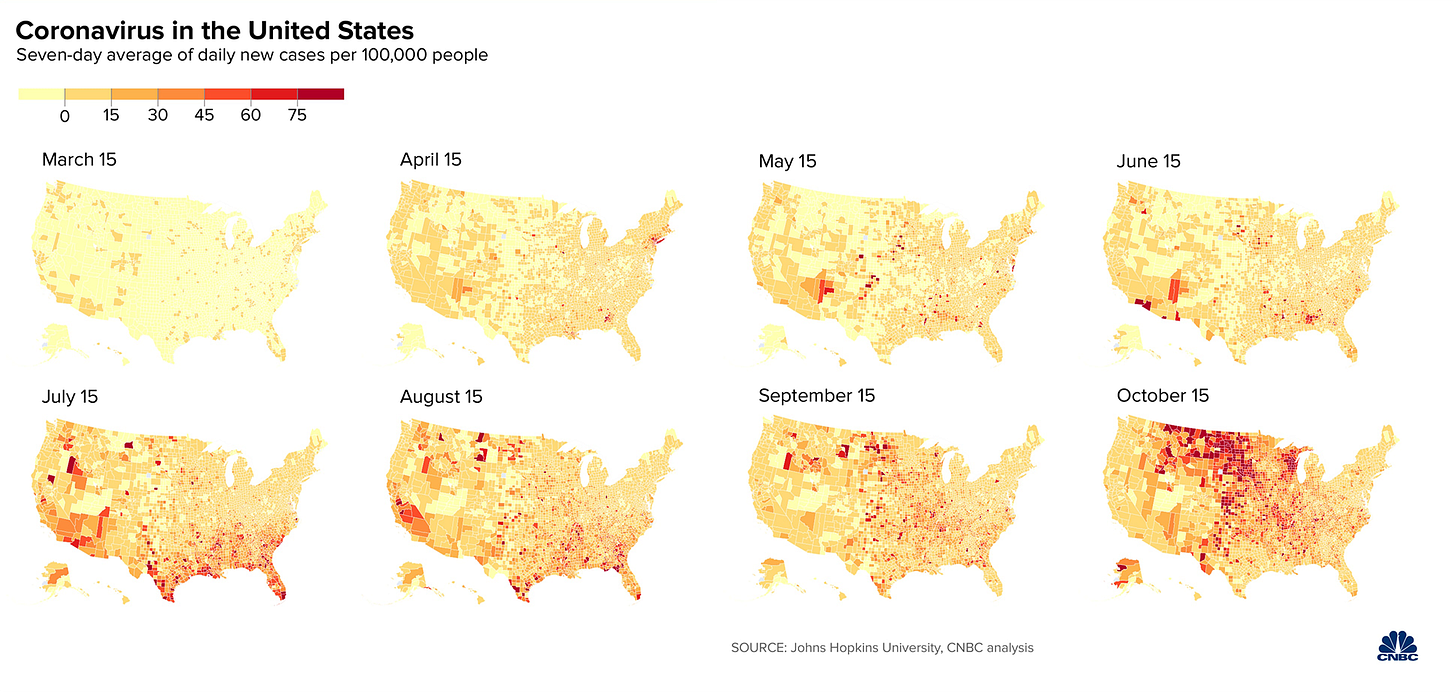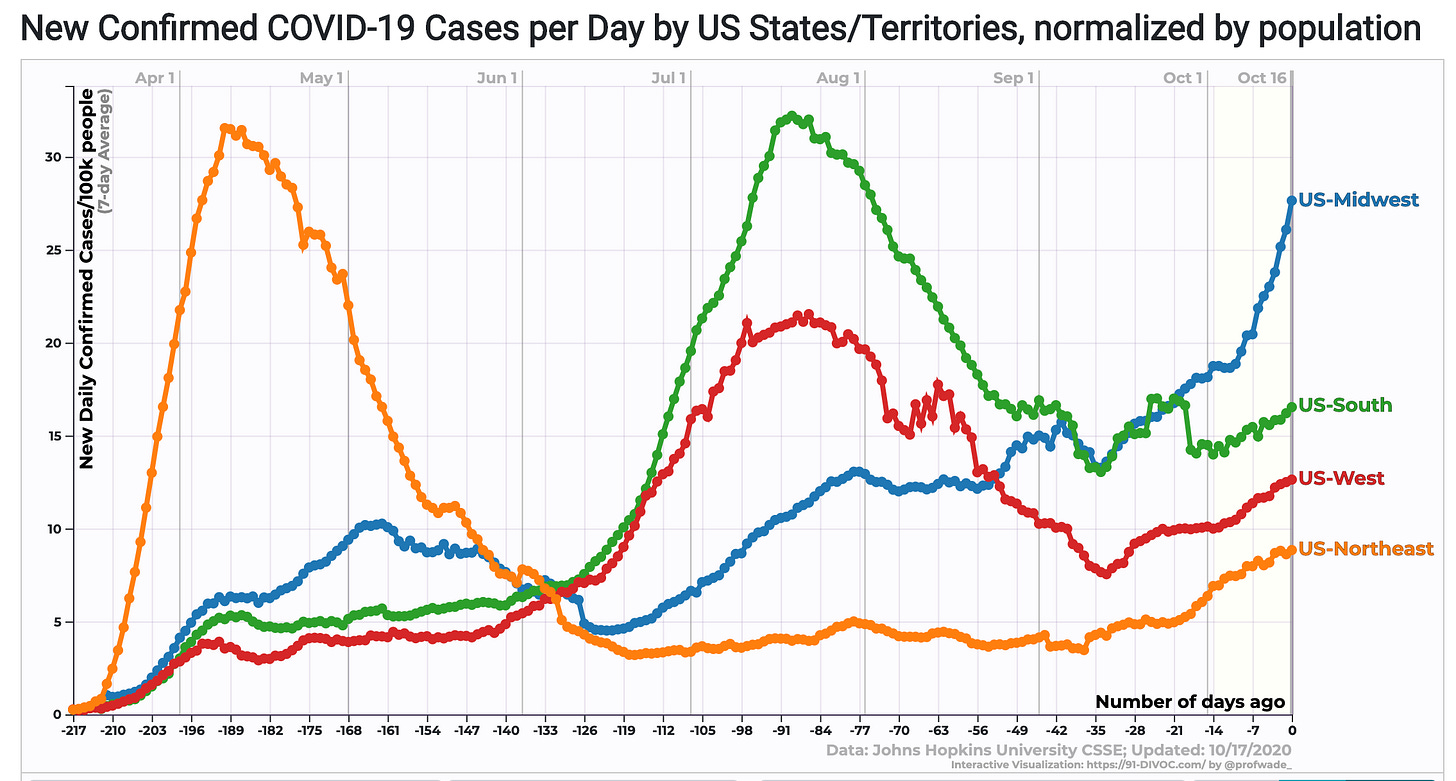 ⓶ Recommendations
🤓 Recommended reading
Political rhetoric still centers on COVID-19 deaths, silencing the pain and risk of chronic illness. In this in-depth essay, Bloomberg columnist Therese Raphael explores the growing data on long-term impacts of mild or moderate cases of the illness.
Conventional medicine, however, doesn't have a good record on responding to conditions where the cause can't easily be isolated, which is the case with long Covid. For years, sufferers of chronic fatigue syndrome, Lyme disease, endometriosis and other conditions often fought lonely battles for recognition and medical care. The most reported symptoms of long Covid sound like they could be any number of illnesses: extreme fatigue, breathlessness, heart palpitations, gastrointestinal problems, joint pain and problems with memory and focus. A cross-party U.K. parliamentary group identified 16 common symptoms, but the full list is much longer. In many cases, sufferers never had a Covid test (they weren't widely available) and blood tests and scans don't reveal any major abnormalities.
▪️ Covid-19 Hits the Old Hardest, But the Healthy Longest. Bloomberg, 14 October 2020.
Is it a coincidence that after an event which drew almost 500,000 people to South Dakota, a few weeks later North and South Dakota, Minnesota, Montana and Wyoming were leading the country in new coronavirus infections per capita? Or was the spikes triggered by returning to school, as some politicians have argued?
In many ways, Sturgis is an object lesson in the patchwork U.S. response to a virus that has proved remarkably adept at exploiting such gaps to become resurgent. While some states and localities banned even relatively small groups of people, others, like South Dakota, imposed no restrictions — in this case allowing the largest gathering of people in the United States and perhaps anywhere in the world amid the pandemic and creating huge vulnerabilities as tens of thousands of attendees traveled back home to every state in the nation.
Short story: we don't do contract tracing worth a damn. See the Rose Garden party. Longer story, we should probably be doing it like Japan (assuming we could get it going).
▪️ How the Sturgis Motorcycle Rally may have spread coronavirus across the Upper Midwest. Washington Post, 17 October 2020.
🔬 Research and medical news
No face masks in use at this super-spreading event at an indoor hockey game in Tampa Bay, FL, in June. The index case (the spreader) was not symptomatic until the day after the game; 14 of 22 players were infected plus a rink staffer.
▪️ An Outbreak of COVID-19 Associated with a Recreational Hockey Game — Florida, June 2020. CDC Morbidity and Mortality Weekly Report, 16 October 2020.
Public health officials had urged Pfizer not to "rush" its vaccine and it seems like Pfizer may have listened. Dr. Eric Topol, a clinical trial expert at Scripps Research in San Diego, told the NYT that Friday's public statement validates they are "not being part of any political machinations." Pfizer had been talking about October, which is in line with Trump's rhetoric. It's also possible that the data on efficacy may not be as rosy as hoped. Three other companies expect to have data by the end of the year, AstraZeneca, Johnson & Johnson, and Moderna.
▪️ Pfizer Says It Won't Seek Vaccine Authorization Before Mid-November. NYTimes, 16 October 2020.
A World Health Organization (WHO) clinical trial showed that remdesivir "had little or no effect on COVID-19 patients' length of hospital stay or chances of survival." This is the antiviral medication that doctors used to treat President Trump. Gilead, the company that developed the anti-viral, reported in contrast that it reduced recovery time by five days compared with a placebo.
▪️ Remdesivir has little effect on hospital stay or mortality in COVID-19 patients, WHO study finds. CBC.ca, 16 October 2020. Repurposed antiviral drugs for COVID-19; interim WHO SOLIDARITY trial results. medRxiv15 October 2020.
In this letter, 80 doctors and public-health and medical researchers call herd-immunity as a way to manage COVID-19 a "dangerous fallacy." The WSJ reports that another 2,000 subsequently have signed it. However, last week the White House embraced this idea in something called the Great Barrington Declaration. "The route to herd immunity would run through graveyards filled with Americans who did not have to die…" Dr. Tom Frieden.
▪️ Scientific consensus on the COVID-19 pandemic: we need to act now. The Lancet, 15 October 2020.
Researchers from NYU explored how 11K+ Americans sought out information about COVID-19 during March and April. Participants who were male, Republican or older "were likely to use fewer sources while those with children and higher educational attainment were likely to use more sources." Those who accessed government websites "had significantly more COVID-19 awareness than others." The sample was skewed white (92.7% versus actual ~60%).
▪️ Trust in COVID info sources varies by demographics, beliefs. CIDRAP, 14 October 2020. Trends and Predictors of COVID-19 Information Sources and Their Relationship With Knowledge and Beliefs Related to the Pandemic: Nationwide Cross-Sectional Study. JMIR Public Health and Surveillance, Oct-Dec 2020.
🎦 Recommended viewing (or read transcript)
An ill-fated European cruise ship left Fort Lauderdale on 05 March 2020. On day 13 of the cruise, US passengers, many of them sick, disembarked at Marseille, France, which had just started a nationwide lockdown. They then left for Atlanta at 2 am, but when their plane landed at 6:43 am, they couldn't get off.
We were told the CDC knew the plane was coming, but didn't make plans to quarantine passengers. Instead the decision was made to treat them like any other Americans returning from Europe in March: by having them fill out a health questionnaire…

This plane comes in, people are sick, they're fainting, they're coughing and then they're let into the main terminal of one of the busiest airports in America.
CBS tracked down 64 passengers who were allowed back into the country without quarantining. Of those 64, 45 said they tested positive for COVID soon after returning to the United States. Two passengers on the plane died after ICU stays.
▪️ Collapsing passengers, CDC missteps and "public health malpractice": The story of the COVID flight from hell. CBS 60 Minutes, 18 October 2020.
On the Trump campaign ad that features Dr. Fauci taken out of context, which is still on the air:
Dr. Anthony Fauci: I do not and nor will I ever, publicly endorse any political candidate. And here I am, they're sticking me right in the middle of a campaign ad. Which I thought was outrageous. I was referring to something entirely different. I was referring to the grueling work of the task force that, "God, we were knocking ourselves out seven days a week. I don't think we could have possibly have done any more than that."
Having received death threats, Fauci no longer runs but power walks, accompanied by security.
▪️ Fauci admits administration has restricted his media appearances, says he's not surprised Trump got COVID. CBS 60 Minutes, 18 October 2020.
How does dexamethasone work, and why did prescribing it cause speculation about the severity of Trump's illness?
▪️ Watch: Understanding dexamethasone, the steroid used to treat Trump's Covid-19. STAT News, 12 October 2020.
⓷ Politics, economics and COVID-19
"We in the World Health Organization do not advocate lockdowns as the primary means of control of this virus. The only time we believe a lockdown is justified is to buy you time to reorganize, regroup, rebalance your resources; protect your health workers who are exhausted. But by and large, we'd rather not do it."
❌ Yet on Monday, President Trump falsely tweeted that the WHO stated that lockdowns didn't work, that they were "killing countries."
✅ Twitter took down a tweet from Trump COVID task force member Scott Atlas that questioned the effectiveness of masks.
🦠 COVID-19 updates: Sen. Mike Lee, 42 (R-UT), attended this week's Senate confirmation hearing for SCOTUS nominee Amy Coney Barrett; he had tested positive for COVID-19 following the Rose Garden party announcing her nomination. Sen. Thom Tillis, 60 (R-NC), attended the hearing virtually. Former NJ Gov. Chris Christie spent seven days in intensive care before recovering. "I was led to believe that all the people I was interacting with had been tested and it gave you a false sense of security," he said. He also said he was "wrong" not to wear a mask at the Rose Garden party or while helping Trump prepare for the debate with Biden.
▪️ The four U.S. counties that still had no COVID-19 cases as of 16 October 2020.
📣 Attempting to manage COVID-19 by letting it spread unchecked throughout a population (herd immunity) is "unethical" and "not an option," according to WHO Director General Dr Tedros Adhanom Ghebreyesus.
‼️ Winter is coming. For the first time since March, the European Union has more new COVID-19 cases daily (per-capita basis) than the U.S. France has declared a public health state of emergency. Poland is setting up a field hospital in Warsaw.
⓸ Key metrics
🦠 Friday, Johns Hopkins reported 8,048,865 (69,156 new) cases and 218,575 (883 new) deaths, an increase of 0.87% and 0.42%, respectively, since Thursday. A week ago, the daily numbers increased by 0.75% and 0.47%, respectively.
Friday
- cases 🔺26% compared to seven-day average; deaths 🔺28%
- seven-day average: 🔺55,082 cases and 🔻689 deaths 
- 2.72% cases leading to death
- NEW: cases/100K (CDC): 16.2
- NEW: cases last seven days (CDC): 375,244

One week ago
- cases 🔺21% compared to seven-day average; deaths 🔺37%
- seven-day average: 🔺47,299 cases and 🔻722 deaths 
- 2.79% cases leading to death
Note: the seven-day average is important because dailies vary due to factors other than actual case numbers, particularly over a weekend. There are now seven states not reporting weekend data, which makes seven-day averages more important but also skews those averages.
🇺🇸 16 October 
CDC: 7,958,254 (63,486 new) cases & 216,917 (892 new) deaths
- One week ago: 7,528,313 (54,887 new) cases & 211,132 (979 new) deaths

State data*:  8,011,508 (68,847 new) cases & 210,250 (892 new) deaths
- One week ago: 7,569,132 (57,198 new) cases & 204,597 (890 new) deaths
KS reports only M-W-F; CT and RI report only M-F

WHO: 7,833,851 (59,106 new) cases & 215,199 (830 new) deaths
- One week ago: 7,471,688 (210,338 new) cases & 52,458 (888 new) deaths
🌎 
16 October 
Johns Hopkins interactive dashboard (11.00 pm Pacific)
Global: 39,266,928 (400,314 new) cases & 1,103,517 (6,269 new) deaths
- One week ago: 36,823,012 (377,945 new) cases & 1,067,234 (6,321 new) deaths
* Johns Hopkins data, ~11.00 pm Pacific.
State data include DC, Guam, the Northern Mariana Islands, Puerto Rico and the US Virgin Islands
The virus was not created in a lab and the weight of evidence is that it was not released intentionally. Although early reports tied the outbreak to a market in Wuhan, China, analyses of genomic data have suggested that the virusdeveloped elsewhere.
⓹ Resources
👓 See COVID-19 resource collection at WiredPen.
📝 Subscribe to Kathy's COVID-19 Memo :: COVID-19 Memo archives
🦠 COVID-19 @ WiredPen.com
📊 Visualizations: US, World
🌐 Global news (at WiredPen)

👏🏻 Thank you
 for your time!