Discover more from ⚡️Memo from a News Hound
Weekly news in context with focus on the pandemic, misinformation, trends.
COVID-19 day 251: 📈 COVID-19 currently third leading cause of U.S. deaths; cases increasing again in more than half the states : 27 September 2020
Research suggests fewer than 1-in-10 Americans have COVID-19 antibodies; US cases cross 7 million, hit records in ND, SD, UT and WI; FL removes all restrictions despite almost 3K daily cases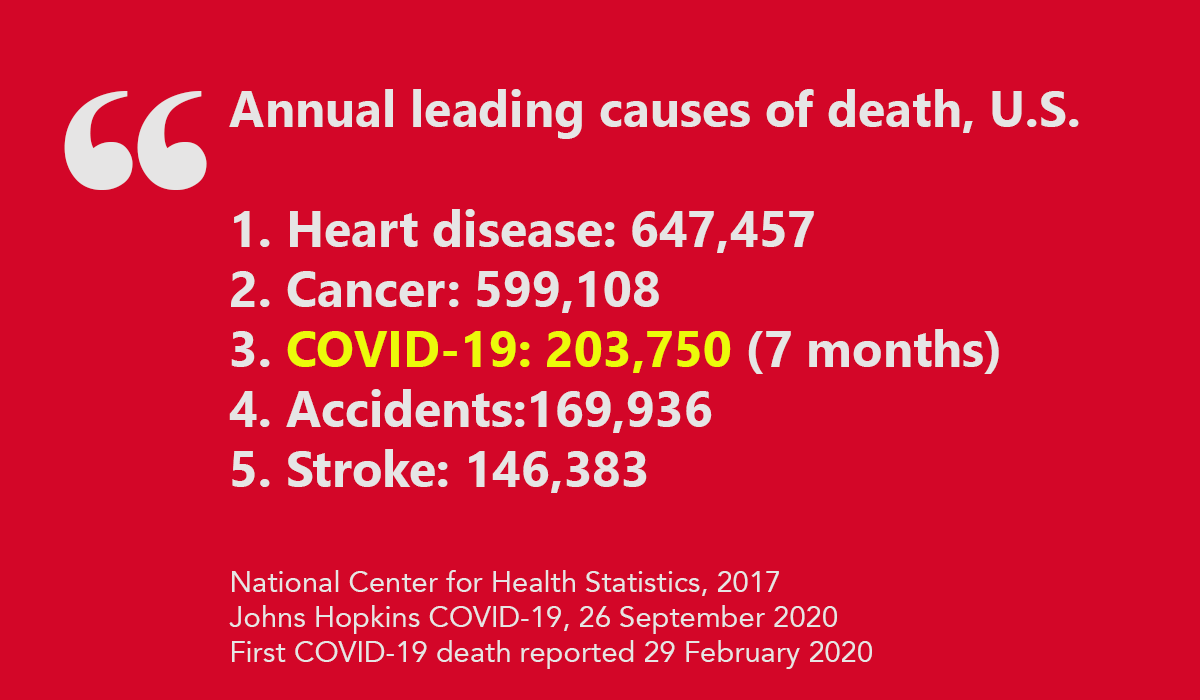 Sunday was day 251 since the first case of coronavirus disease was announced in the United States. On Saturday, US cases crossed the 7 million mark (Johns Hopkins). States reported 56,120 new cases, the most since mid-August. Daily cases in August had trended downward from July highs. More than half of the country is reporting an uptick in cases, with more than a dozen states setting or matching records.
This is still the first wave: Dr. Antony Fauci.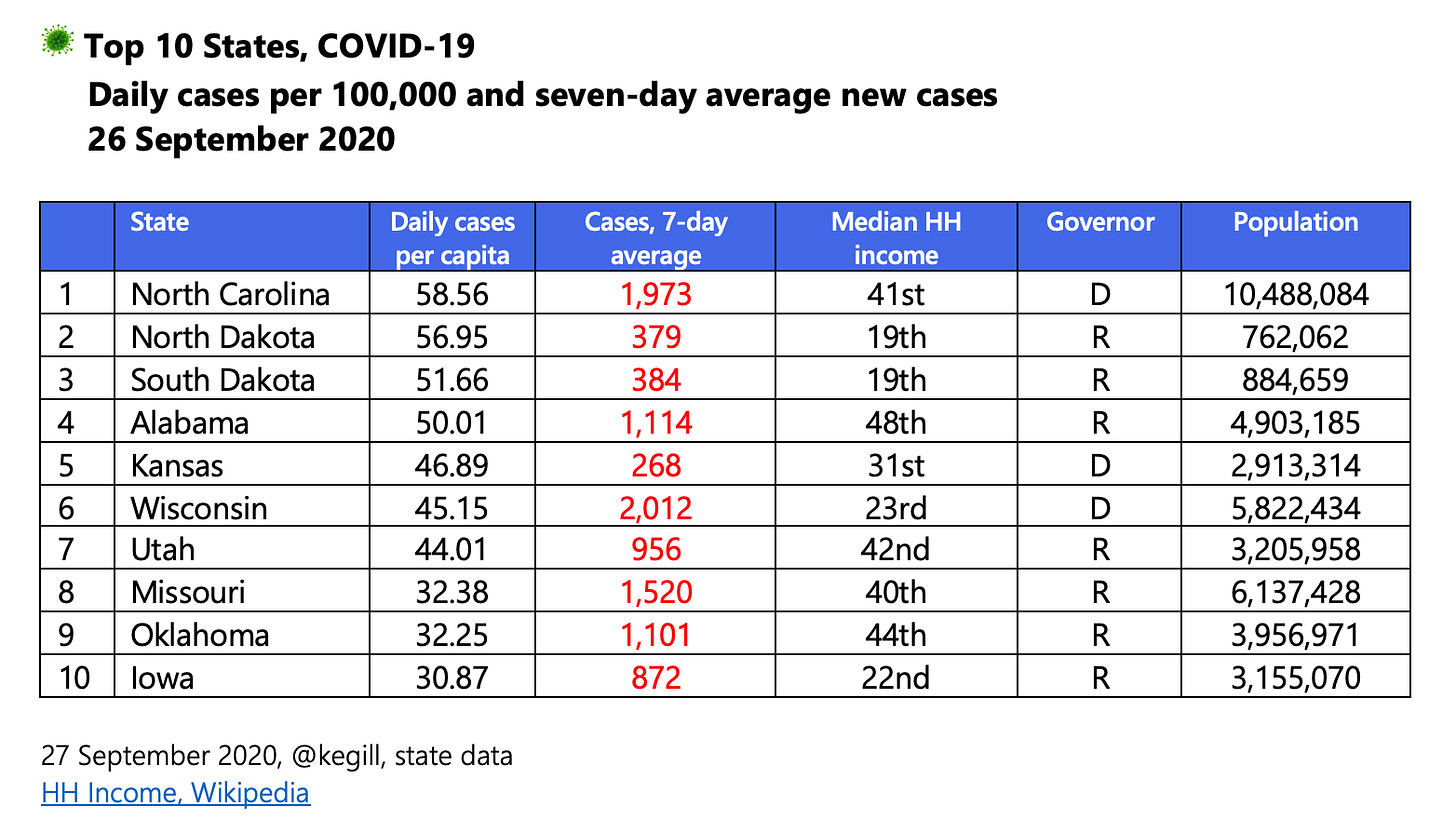 Sections (no jump links, sorry!)
1, One big thing; 2, Recommendations; 3, Politics, economics & COVID; 4, Key metrics;
5, Resources
⓵ One big thing - just how bad are things here?
The leading causes of death in the United States in 2020, as we approach the fourth quarter:
Heart disease

Cancer
By year's end, according to Caitlin Rivers, an epidemiologist at Johns Hopkins, COVID-19 will probably have caused more deaths than diabetes, influenza, pneumonia, kidney disease, and suicide combined did in 2017.
What's distressing is that many COVID-19 deaths could have been prevented had we adopted techniques used in countries that have had success reducing cases and mortalities. That means mandatory face masks in public and enforced physical distancing, according to Bob Bednarczyk, assistant professor of global health and epidemiology at Emory University in Atlanta.
Compare whatever the guidelines might be in your state to these from Victoria (capitol, Melbourne) Australia, population 6.7 million.
Due to a spike in cases, Melbourne, Australia's second largest city, has been under a nighttime curfew (8 pm - 5 am) since the first of August, and residents were limited to traveling no more than 3 miles from their home. On 04 August, there were 686 new cases; on 25 September, 12.
Most of Australia's cases have been in Victoria. Australia as a whole has a case rate of 3 per 10,000; Victoria, 30. Indiana is comparable in population; its case rate is 171 per 10,000; the US, 212.
In Melbourne, restrictions are being relaxed slightly on Monday. The city expects to enter step three on October 19, a week ahead of schedule. In step three, 10 people will be allowed to meet outdoors (up from five), and residents will no longer have restrictions on leaving their homes.
And yes, Victoria has a mandatory face mask rule.
On the other hand, Indiana had 822 new cases on 04 August and 1,171 new cases on 25 September. On Saturday, Indiana lifted all capacity restrictions on businesses and public gatherings. Gov. Eric Holcomb is a Republican.
Both step three and the less restricted environment in Victoria on Monday bear little resemblance to the most restrictive guidelines in the US. In addition, on Monday Victoria is increasing fines for breaking the rules about gatherings to almost $5,000.
Florida has a per capita case rate of 324 per 10,000, greater than the US rate of 212. The Sunshine State reported 2,847 new cases on Friday (122 deaths). Yes, that's down from a peak of 14,000 in mid-July, but it is no where close enough to open back up. Yet that's what Gov. Rick DeSantis did on Friday. Restaurants and bars can immediately return to 100% capacity.
"If a local (government) restricts between 50 and 100, they've got to provide the justification and they've got to identify what the costs are involved with doing that are," DeSantis said. And DeSantis expects Florida to host a "full Super Bowl" in February 2021.
Four states hit record new cases: North Dakota, South Dakota, Utah and Wisconsin. According to Reuters, all Midwestern states except Ohio reported more cases in the last four weeks compared with the prior four weeks.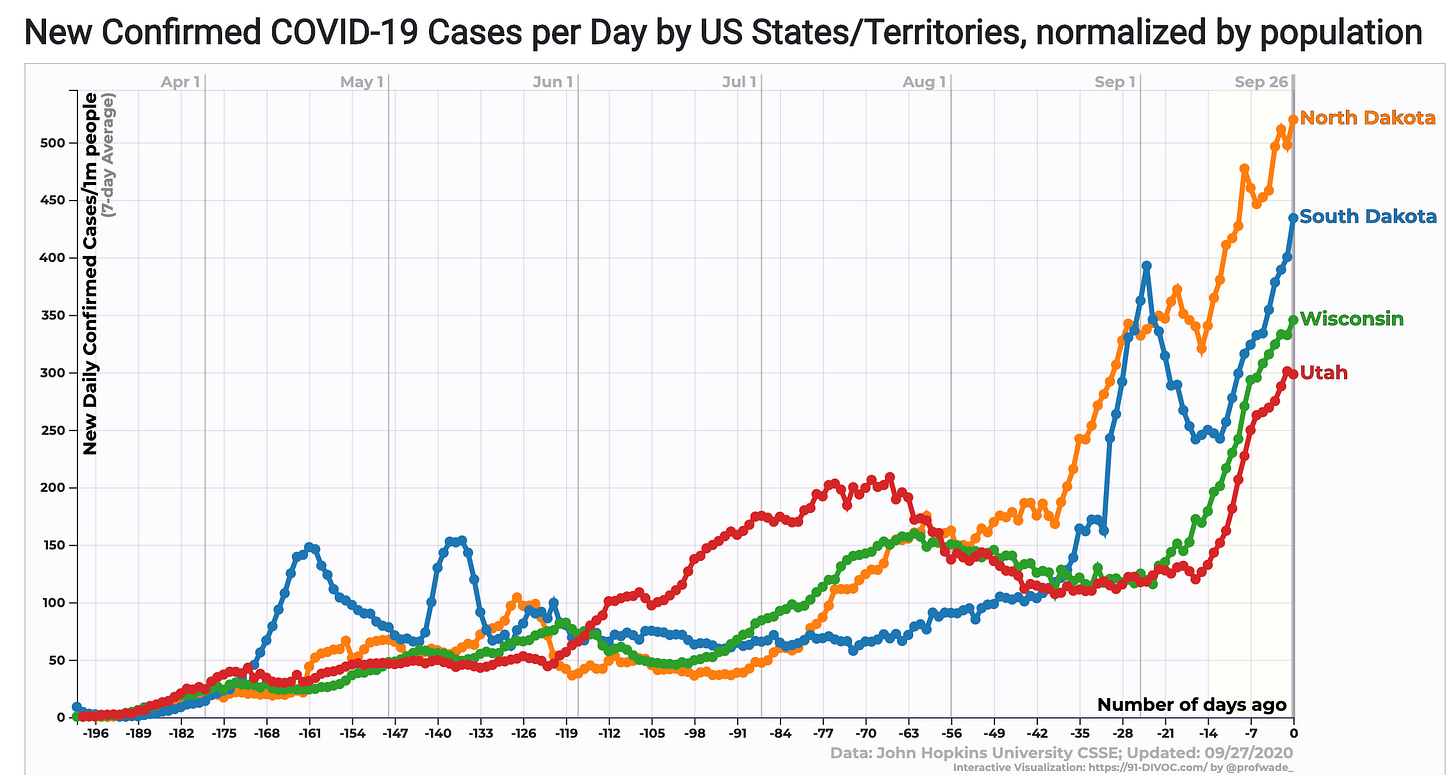 The Pac-12 announced Thursday that it will resume its football and basketball seasons in November.
I'll close with a map of where Americans are welcome around the world: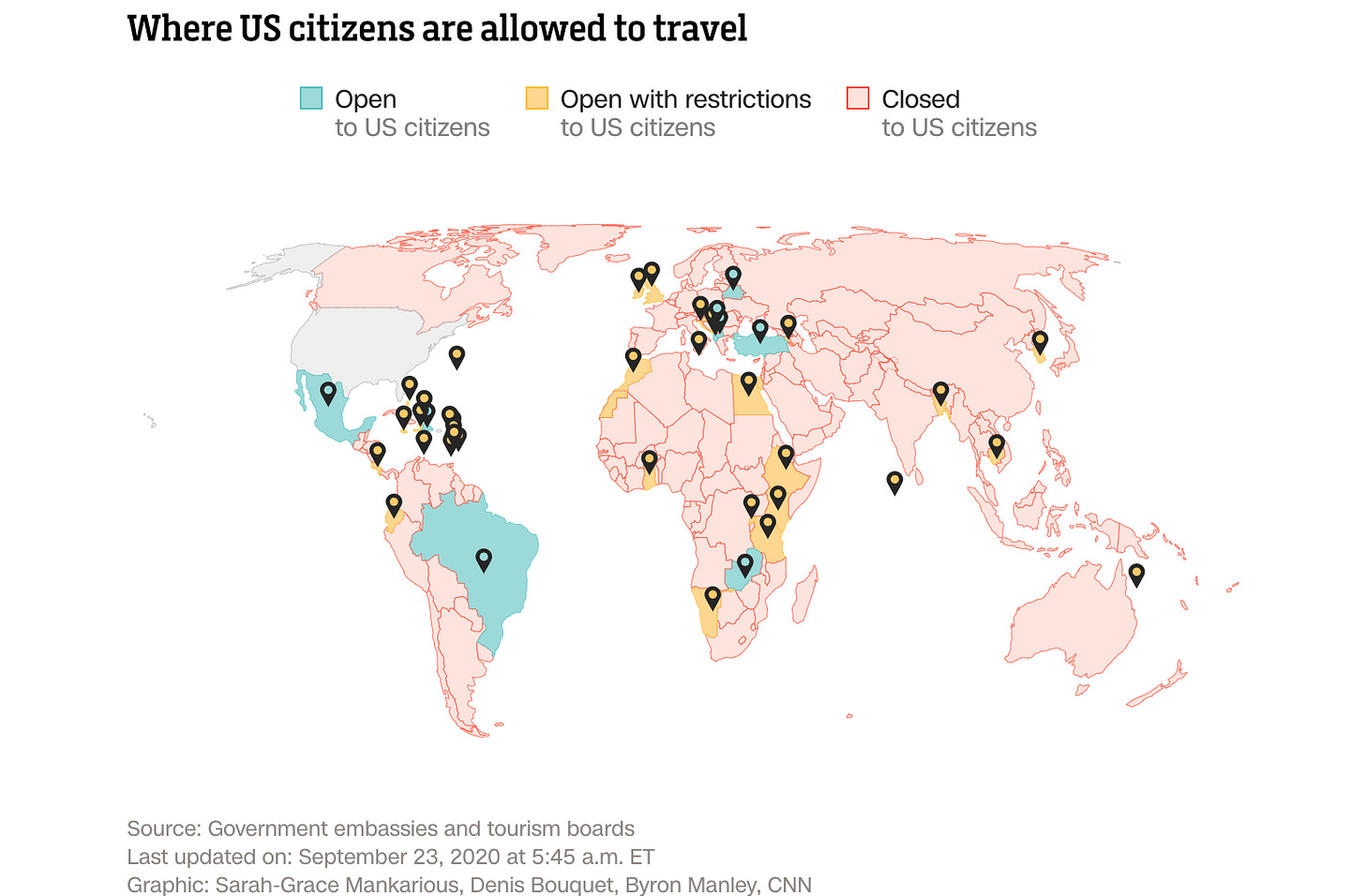 ⓶ Recommendations
🔬 Research and medical news
Physicians Premier ER charged Dr. Zachary Sussman's insurance $10,984 for his COVID-19 antibody test even though Sussman worked for the chain and knows the testing materials only cost about $8. Even more surprising: The insurer paid in full.

The bill left him so dismayed he quit his job. And now, after ProPublica's questions, the parent company of his insurer said the case is being investigated and could lead to repayment or a referral to law enforcement.
A Doctor Went to His Own Employer for a COVID-19 Antibody Test. It Cost $10,984. ProPublica and The Texas Tribune, 05 September 2020.
Researchers have found that about two weeks after they reopened, colleges and universities contributed about 3,000 COVID-19 cases a day to the US total, regardless of the type of instruction. Those that opened primarily with in-person instruction accounted for 6-7% of the national daily case rate.
College Openings, Mobility, and the Incidence of COVID-19 Cases. medRxiv, 23 September 2020.
The American Academy of Pediatrics and the Children's Hospital Association report "a worrying trend among children: the infection rate has increased by 56 percent since the beginning of August."
'Just a Small Play Date'? You Still Need to Be Careful. NY Times, 24 September 2020.
Economists at the University of Chicago have analyzed the impact of the two most popular cable news shows in the U.S. on behavior as the coronavirus began to spread in February. The two shows aired back-to-back on FOX. Whereas Sean Hannity downplayed the risk, Tucker Carlson reported that the disease was serious. Researchers found that areas of the country with greater exposure to Hannity "experienced a greater number of cases and deaths."
Finally, we also provide additional evidence that contemporaneous information exposure is an important mechanism driving the effects in the data. Together, our results indicate that misinformation on mass media can have significant social consequences.
Misinformation During a Pandemic. University of Chicago, Working Paper. 01 September 2020.
Analysis of 28,503 randomly selected adults undergoing dialysis in July 2020 revealed that less than 10% exhibited antibodies to COVID-19. Moreover, less than 1-in-10 of those had been diagnosed. Good news: measures to slow the spread have done so despite our outsized death rate relative to global statistics. Bad news: herd immunity will take a long time without a vaccine or overwhelming our medical system.
Prevalence of SARS-CoV-2 antibodies in a large nationwide sample of patients on dialysis in the USA: a cross-sectional study. The Lancet, 25 September 2020.
🎦 Recommended viewing
⓷ Politics, economics and COVID-19
🦠 A person who attended Trump's 10 September rally in Saginaw, MI, has tested positive for coronavirus; approximately 10,000 attended the partially-indoor rally.
📣 Washington Post reporters have found that internal USPS documents link changes that resulted in mail slowdowns to top executives (aka political appointees).
Citing DeJoy's history as a GOP fundraiser and ally of President Trump ally, critics contend the changes were politically motivated — which the postal chief has denied — ahead of an election that is expected to see a surge in mail-in ballots due to the pandemic. The president has repeatedly warned without evidence that voting by mail will lead to massive fraud and has also suggested it will hurt Republicans' chances by leading more Democrats to cast ballots.
❌ It's not possible to dismiss the corruption at Health and Human Services.
Another program initiated by HHS spokesperson Michael Caputo (now on medical leave): a "highly unusual" advertising campaign to give COVID-19 a PR boost with $300 million pulled from the CDC. This"Covid-19 immediate surge public advertising and awareness campaign" is designed to "address the Trump administration's response to the crisis." In October. Before the 03 November ballot return deadline.
Caputo, who has no medical or scientific background, claimed in a Facebook video on Sept. 13 that the campaign was "demanded of me by the president of the United States. Personally."
There has been no HHS public awareness campaign about the disease or guidelines for public health. For more than six months. And now they are running a campaign to "defeat despair" using Hollywood celebrities and administration officials? Of course, the CDC is not involved.
And who has the contract?
DD&T is also a firm run by Caputo's longtime business partner, Den Tolmor, who has now spent weeks working to produce the government's videos, said five people with knowledge of the arrangement. Tolmor was Caputo's client as recently as April 2020, compensating Caputo at least $5,000 per year to handle his public relations, according to a copy of Caputo's ethics disclosure form obtained by POLITICO. The two men also went into business together to launch a video streaming platform and other services in 2017 and 2018.
Any public service campaign should have been run by the CDC and the Ad Council, with a focus on public health not administration PR.
⓸ Key metrics
🦠 Friday, Johns Hopkins reported 7,032,712 (55,054 new) cases and 203,750 (952 new) deaths, an increase of 0.79% and 0.47%, respectively, since Thursday. A week ago, the daily numbers increased by 0.74% and 0.47%, respectively.
Friday
- cases 🔺25% compared to seven-day average; deaths 🔺29%
- seven-day average: 44,111 cases and 740 deaths 
- 2.90% cases leading to death
- case rate, 212.5 per 10,000; death rate, 6.2 per 10,000

One week ago
- cases 🔺24% compared to seven-day average; deaths 🔺17%
- seven-day average: 40,027 cases and 799 deaths 
- 2.95% cases leading to death
- case rate, 203.1 per 10,000; death rate, 6.0 per 10,000
Note: the seven-day average is important because dailies vary due to factors other than actual case numbers, particularly over a weekend.
🇺🇸 25 September 
CDC: 6,916,292 (42,340 new) cases & 201,411 (918 new) deaths
- One week ago: 6,613,331 (196,277 new) cases & 43,468 (839 new) deaths

State data*:  7,000,073 (56,120 new) cases & 195,796 (928 new) deaths
- One week ago: 6,691,317 (48,693 new) cases & 190,619 (935 new) deaths
KS reports only M-W-F; CT and RI report only M-F

WHO: 6,868,828 (40,043 new) cases & 200,725 (1,125 new) deaths
- One week ago: 6,571,119 (195,638 new) cases & 40,795 (1,204 new) deaths
🌎 
25 September 
Johns Hopkins interactive dashboard (11.00 pm Pacific)
Global: 32,476,713 (335,488 new) cases & 987,775 (5,967 new) deaths
- One week ago: 30,406,197 (327,308 new) cases & 950,520 (5,633 new) deaths
* Johns Hopkins data, ~11.00 pm Pacific.
State data include DC, Guam, the Northern Mariana Islands, Puerto Rico and the US Virgin Islands
The virus was not created in a lab and the weight of evidence is that it was not released intentionally. Although early reports tied the outbreak to a market in Wuhan, China, analyses of genomic data have suggested that the virusdeveloped elsewhere.
⓹ Resources
👓 See COVID-19 resource collection at WiredPen.
📝 Subscribe to Kathy's COVID-19 Memo :: COVID-19 Memo archives
🦠 COVID-19 @ WiredPen.com
📊 Visualizations: US, World
🌐 Global news (at WiredPen)

👏🏻 Thank you
 for your time!