COVID-19 day 246: 📈 US deaths cross 200,000 : 22 September 2020
Deaths commemorated by 20,000 American flags around the Washington Monument, interfaith memorial; Pentagon uses Cares Act allocation for defense production; HHS continues to politicize public health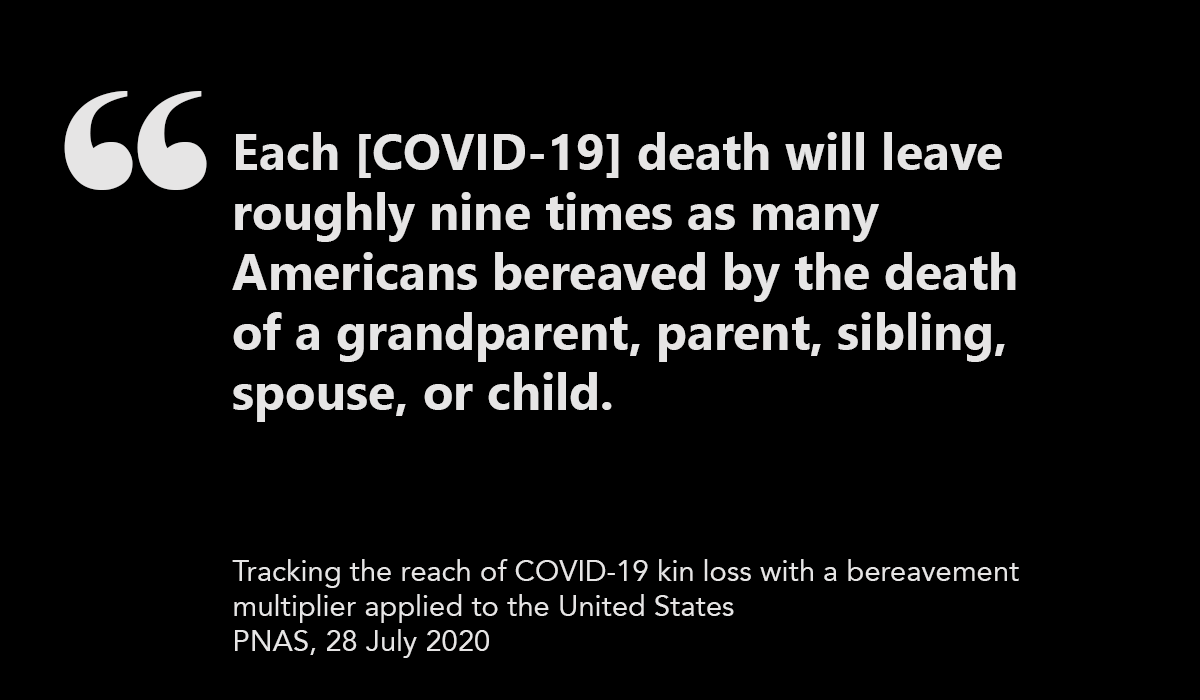 Tuesday was day 246 since the first case of coronavirus disease was announced in the United States, the first day of autumn (in the northern hemisphere!), and the day we passed 200,000 deaths. That's equivalent to the population of Salt Lake City, Utah.
Tuesday morning, COVID Memorial Project volunteers completed their placement of 20,000 American flags around the Washington Monument, facing the White House, to commemorate the COVID-19 deaths. It was followed by an interfaith memorial service.
[T]his administration has done nothing to memorialize this stunning number of lives lost -- instead choosing to downplay, minimize, and ignore whenever possible. No flags lowered, no service held, no day of mourning declared -- so the COVID Memorial Project seeks to simply say: these lives are more than a statistic -- they were family, friends, neighbors.
The volunteers, who have a Kickstarter, will remove the flags at sunset on Wednesday.
Sections (no jump links, sorry!)
1, One big thing; 2, Recommendations; 3, Politics, economics & COVID; 4, Key metrics;
5, Resources
⓵ One big thing - grief
Bereavement is linked to psychological, emotional and physical health risks including anxiety, depression, feelings of anger and bitterness, and cardiovascular stress (e.g., heart attack, stroke and death). And that's in a "normal" world. COVID-19 delivers traumatic grief, the grief accompanying an unexpected loss.
COVID-19 is unlike anything anyone alive has experienced. The deaths are sudden and unanticipated, they can impact several members of a family, there's little room for closure without traditional postmortem rituals, and the contagiousness of the disease precludes many from being at the bedside of those who are sick.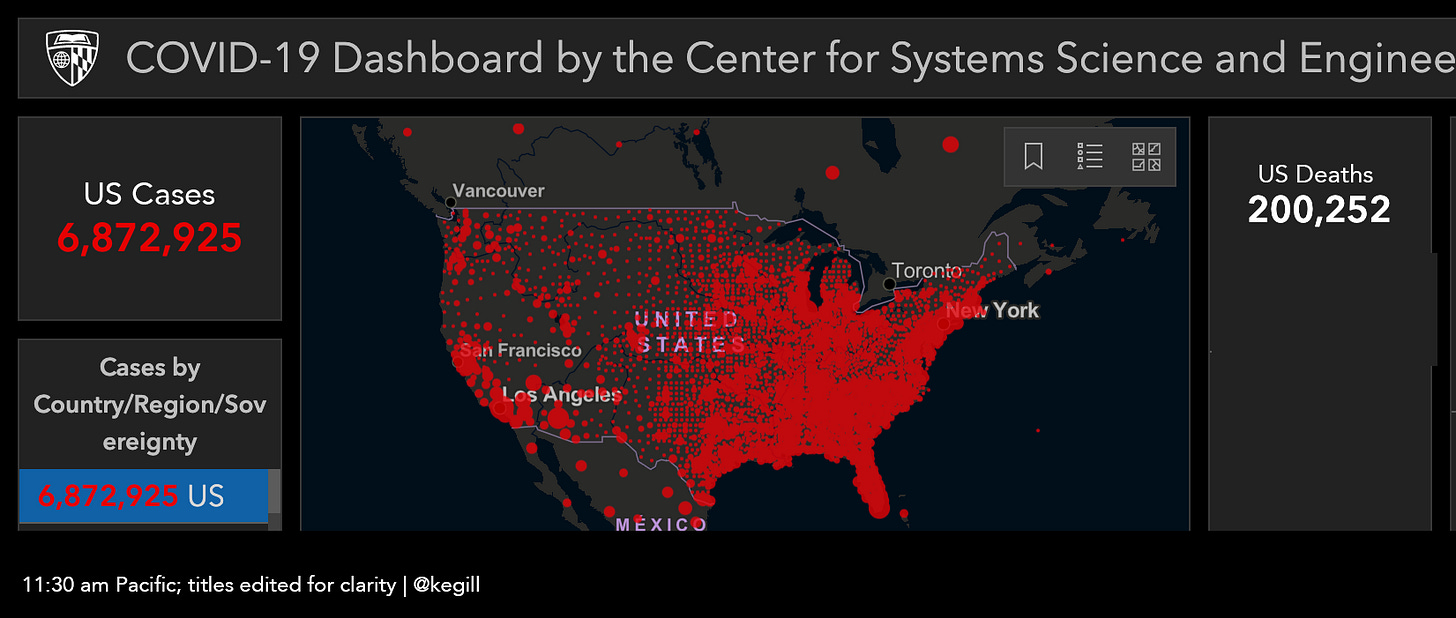 Although the July research study quoted above focused on direct family members, this is an incomplete picture. Extended family, close friends and co-workers of those who died from COVID-19 are also subject to the trauma of loss. Think, too, of healthcare workers who have lost so many patients.
There are also those of us who had friends and family die this year of other causes but who were unable to engage in rituals for closure because of COVID-19. (That would be me. A friend from college died; it was not possible to attend the memorial service due to the limits, in place for a good reason, on the number of people who could attend.)
And unlike traumatic events that have beginnings-middles-and-ends like hurricanes, floods and fires, there is no end in sight for the COVID-19 pandemic in the United States. Unlike New Zealand, Nicaragua, Sweden or Vietnam - all which reported zero new cases on Tuesday - the seven-day average in the US increased from 34,321 on 12 September to 43,355 on 21 September.
Last month, the Kaiser Family Foundation reported that half of US adults -- about 53% -- said that their mental health had been negatively affected due to COVID-19 worry and stress. In March, only 1-in-3 reported this stress response. Prior to the COVID-19 pandemic, about 1-in-5 Americans had reported mental illness in the prior year.
⓶ Recommendations
🔬 Research and medical news headlines
⓷ Politics, economics and COVID-19
❌ Last week, we learned that on 15 September Trump's Secretary of Health and Human Services, Alex Azar, barred the FDA and other 26 health agencies under its umbrella from signing any new rules regarding the nation's food supply, medicine or any other products regulated by HHS.
Dr. Peter Lurie, president of the Center for Science in the Public Interest and a former associate commissioner of the F.D.A., called the new policy "a power grab."
❌ Sunday, HHS assistant secretary of health Brett Giroir told CNN: "From the peaks in early July and late July, the number of cases are down by 41 percent."
This is BS, tossing out statistics that are true but meaningless. Daily cases still exceed the initial April peak. Seven-day average daily cases on 21 September (43,355) were greater than on 01 September (42,304).
❌ On Monday, the CDC removed a statement from its website that it had posted on Friday. On Friday, the CDC website acknowledged that COVID-19 can be airborne, spread by "through respiratory droplets or small particles, such as those in aerosols, produced when an infected person coughs, sneezes, sings, talks or breathes."
[T]here is growing evidence that droplets and airborne particles can remain suspended in the air and be breathed in by others, and travel distances beyond 6 feet (for example, during choir practice, in restaurants, or in fitness classes.) In general, indoor environments without good ventilation increase this risk.
Airborne transmission is not a new theory (July, August). In fact, that's what President Trump told Bob Woodward on 07 February 2020.
Researchers have explored the risk of exposure in indoor environments where the air is poorly ventilated.
Many experts outside the agency say the pathogen can waft over considerably longer distances to be inhaled into our respiratory systems, especially if we are indoors and air flow conditions are stagnant.
This about face is the opposite of last week's news that CDC scientists did not write a website advisory that individuals who had been exposed to COVID-19 but were asymptomatic did not need to be tested. That advice was criticized and retracted.
Both were likely driven by HHS Secretary Alex Azar as part of Trump's increasing politicization of public health guidance:
See Occam's razor.
❌ On Tuesday, the Washington Post reported that the Cares Act had allocated $1 billion to the Pentagon to "prevent, prepare for, and respond to coronavirus." However, the Pentagon instead directed hundreds of millions to "projects that have little to do with the coronavirus response. Defense Department lawyers quickly determined that the money could be used for defense production, a conclusion that Congress later disputed." Cares Act oversight/transparency remains MIA.
❌ Also Tuesday, the Daily Beast reported that William B. Crews, a public affairs specialist for the National Institute of Allergy and Infectious Diseases (run by Dr. Anthony Fauci), had a side gig as managing editor of the conservative website RedState. He had been writing anti-mask and anti-Fauci articles. He is, reportedly, being allowed to "retire."
🇺🇸 Finally, the November election has begun, with North Carolina's absentee ballots and early voting in Minnesota, South Dakota, Virginia and Wyoming. There is no longer an "election day": there is, instead, a balloting deadline.
Vote early, so your ballot can be included in results reported 03 November.
⓸ Key metrics
🦠 Monday, Johns Hopkins reported 6,856,884 (132,951 new, average of 44,317/day) cases and 199,865 (1,295 new, average of 432/day) deaths since Friday.
Monday
- cases 🔺20% compared to seven-day average; deaths 🔻54%
- seven-day average: 43,355 cases and 768 deaths 
- 2.91% cases leading to death
- case rate, 207.2 per 10,000; death rate, 6.0 per 10,000

One week ago
- cases 🔻6% compared to seven-day average; deaths 🔻45%
- seven-day average: 36,111 cases and 754 deaths 
- 2.97% cases leading to death
- case rate, 198.0 per 10,000; death rate, 5.9 per 10,000
Note: the seven-day average is important because dailies vary due to factors other than actual case numbers, particularly over a weekend.
🇺🇸 21 September 
CDC: 6,748,935 (198,754 new) cases & 37,417 (270 new) deaths
- One week ago: 6,503,030 (35,549 new) cases & 193,705 (510 new) deaths

State data*:  6,811,240 (191,927 new) cases & 39,601 (298 new) deaths
- One week ago: 6,523,075 (65,017 new) cases & 186,578 (742 new) deaths
KS reports only M-W-F; CT and RI report only M-F

WHO: 6,703,698 (198,094 new) cases & 41,695 (652 new) deaths
- One week ago: 6,426,958 (40,126 new) cases & 192,612 (803 new) deaths
🌎 
21 September 
Johns Hopkins interactive dashboard (11.00 pm Pacific)
- Global: 31,245,797 (310,786 new) cases & 963,693 (4,128 new) deaths
- One week ago: 29,190,588 (287,835 new) cases & 927,245 (4,508 new) deaths
* Johns Hopkins data, ~11.00 pm Pacific.
State data include DC, Guam, the Northern Mariana Islands, Puerto Rico and the US Virgin Islands
The virus was not created in a lab and the weight of evidence is that it was not released intentionally. Although early reports tied the outbreak to a market in Wuhan, China, analyses of genomic data have suggested that the virusdeveloped elsewhere.
⓹ Resources
👓 See COVID-19 resource collection at WiredPen.
📝 Subscribe to Kathy's COVID-19 Memo :: COVID-19 Memo archives
🦠 COVID-19 @ WiredPen.com
📊 Visualizations: US, World
🌐 Global news (at WiredPen)

👏🏻 Thank you
 for your time!