Discover more from ⚡️Memo from a News Hound
Weekly news in context with focus on the pandemic, misinformation, trends.
COVID-19 day 232: 📈 Sturgis, SD motorcycle rally resulted in more than 250,000 new US COVID-19 cases and an estimated $12.2 billion in public health costs : 08 September 2020
AstraZeneca Phase 3 Covid-19 vaccine trial placed on hold; MS challenges ruling that voters with health conditions be allowed to vote absentee; Tokyo Olympics will go forward next year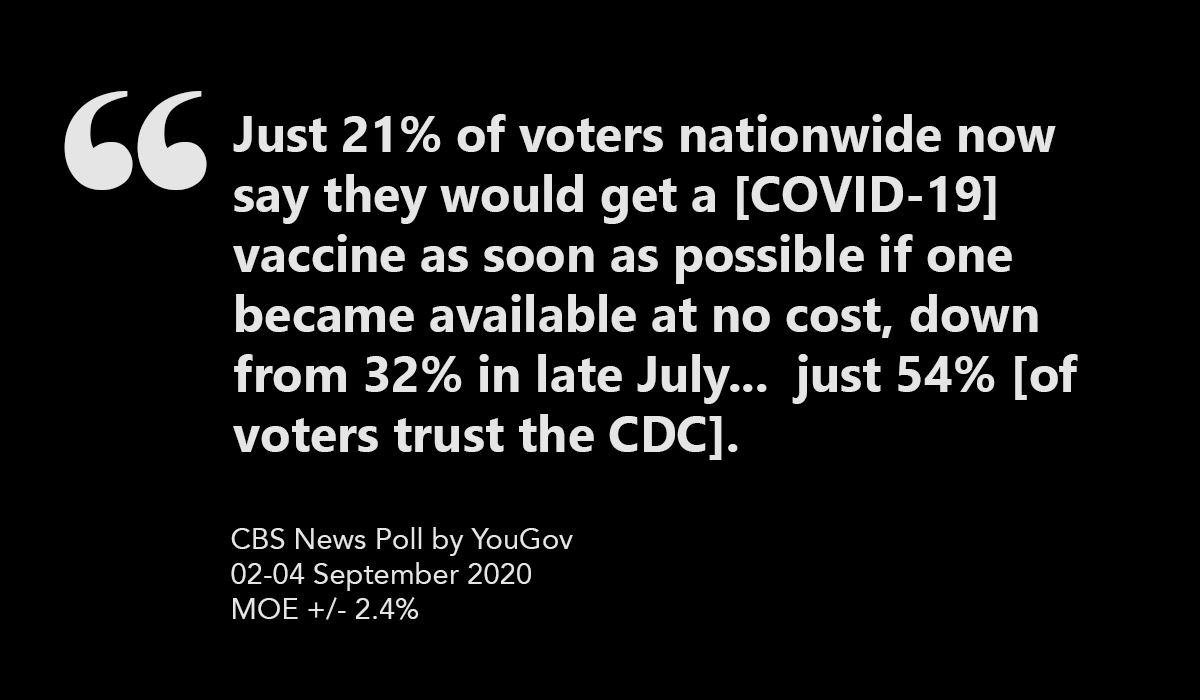 Tuesday was day 232 since the first case of coronavirus disease was announced in the United States. Today, I am comparing weekend data with Friday's report.
Sections (no jump links, sorry!)
1, One big thing; 2, Recommendations; 3, Politics, economics & COVID; 4, Key metrics;
5, Resources
⓵ One big thing - Sturgis, SD
In one four-week period, one superspreading event appears to have contributed 250,000+ new US COVID-19 cases, which is 18% of all new reported cases for those four weeks.
The event? The 80th Annual Sturgis Motorcycle Rally and "possibly the only major U.S. music festival of 2020," which included .38 Special, Molly Hatchett, Quiet Riot, Smash Mouth and the Guess Who. Sturgis has a population of about 7,000; the motorcycle rally (07-16 August 2020) drew almost 500,000.
South Dakota is a rural state with a low population density. Gov. Kristi Noem (R) is one of eight governors who did not issue a statewide shelter-in-place order or a statewide "safer-at-home" order.
A recent assessment found South Dakota to have the least restrictive COVID-19 policy environment when assessing mask wearing mandates (none), travel restrictions (none), large gathering restrictions (none), statewide school restarts (district level decisions), reopening of bars and restaurants (full indoor-dining permitted), work-from home requirements (none) and temperature screenings (not required).
It's no surprise, then, that when local officials appealed to the state to "restrict or revoke camping permits" associated with the rally, the answer the city received was "absolutely not," according to Daniel Ainslie, Sturgis city manager. Moreover, events and camping are not contained with the city limits. That major music festival? At Buffalo Chip, outside the city limits.
Sweden, positioned by US media as a country taking a "hands off" approach to COVID-19, still prohibits all gatherings (looking at you, churches) of more than 50 people. We know that restricting public gatherings reduces infections.
Restrictions on large gatherings during a pandemic is a form of government regulation of quantity within a market to curb a negative externality. In that way, gathering restrictions are similar to public smoking bans, chemical emission standards, or vaccination mandates. In this case, the negative externality is due to infection risk, so the blanket nature of a gathering restriction is a key part of the containment strategy as a single mass gathering has the potential to generate a large number of cases, a phenomenon referred to as a "superspreading event." Indeed, the Centers for Disease Control and Prevention (CDC) deems "large in-person gatherings where it is difficult for individuals to remain spaced at least 6 feet apart and attendees travel from outside the local area" among the highest risk activities for the spread of COVID-19 (CDC 2020). The risk of contagion of COVID-19 is exacerbated at such events if (i) there are high frequency, prolonged interactions between individuals, and (ii) pre-event COVID-19 case growth in the county hosting the event is elevated (CDC 2020).
On 31 July 2020, a week prior to official Sturgis festivities, South Dakota reported 8,764 cases* of COVID-19. On 08 September, the state reported 15,403 cases, a 76% increase. Per capita cases have jumped from 9.9 per 1,000 population to 17.4.
Researchers have used cellphone data and statistical modeling to estimate the number of new cases of coronavirus in the United States that were reported during the period 02 August to 02 September from that gathering of about 460,000 people. It's not pretty.
Researchers compared changes in coronavirus trends in counties that had Sturgis attendees with counties that did not have attendees. They estimated that 266,796 cases could be linked to the rally. 
A COVID-19 case incurs about $46,000 in costs according to research from Kniesner and Sullivan. The researchers said this means "the rally carried a public health price tag of $12.2 billion."
Gov. Noem immediately rejected the research as "science fiction."
Bright note from the research: states and locales with strict mitigation policies "may contribute to limiting externality exposure" that could result from "noncompliant events."
The paper is published by the IZA Institute of Labor Economics in Bonn, Germany, and the researchers are associated with the Center for Health Economics & Policy Studies at San Diego State University.
As if August excessive gatherings weren't enough, on Labor Day Weekend the South Dakota State Fair went forward as though there were no pandemic; 205,000 people attended last year. Most of these attendees would be local, however.
*COVID Tracking Project data
The Contagion Externality of a Superspreading Event: The Sturgis Motorcycle Rally and COVID-19. IZA Institute of Labor Economics, September 2020.
⓶ Recommendations
🤓 Recommended reading
Activities ripple across the region, though, and on August 9th — as Covid-19 cases in the United States topped 5 million and the death toll climbed above 160,000 — photos and videos from one such event spread on social media: Smash Mouth performing to a packed crowd at a campground/outdoor venue known as Buffalo Chip. The footage seemed to show little social distancing; in one video, Smash Mouth frontman Steve Harwell addressed the crowd, "Now we're all here together tonight. And we're being human once again. Fuck that Covid shit."
'Freedom-Loving People': Behind the Scenes at That Controversial Smash Mouth Show in South Dakota. RollingStone, 12 August 2020.
🔬 Research and medical news
▪️The AstraZeneca Phase 3 Covid-19 vaccine trial is the first that we know of that has been put on hold. In "an abundance of caution" the company put the global trial (there are "dozens" of sites in the US) on hold after " a suspected serious adverse reaction in a participant in the United Kingdom." This vaccine is being developed by AstraZeneca and the University of Oxford.
AstraZeneca Covid-19 vaccine study put on hold due to suspected adverse reaction in participant in the U.K. STAT News, 08 September 2020.
▪️As though anyone actually trusts drug companies, nine pharma/biotech firms have pledged "to only seek approval for Covid-19 vaccines demonstrated to be safe and effective."
Amid broad mistrust of FDA and Trump administration, drug companies seek to reassure public about Covid-19 vaccine safety. STAT News, 08 September 2020.
▪️Compared with the Sturgis Rally, Black Lives Matter protests have been small relative to the local population. They have also been accompanied by "offsetting avoidance behavior by the local population" which has, surprisingly to some, yielded a net increase in social distancing.
Black Lives Matter Protests, Social Distancing, and COVID-19. National Bureau of Economic Research, June 2020.
▪️A reminder that there are significant non-fatal economic losses associated with COVID-19, as much as a "non-fatal unadjusted valuation of $2.2 trillion for the U.S. with a weighted average value of about $46,000 per case." This is almost 40% more than the estimated cost due to fatalities. 
The Forgotten Numbers: A Closer Look at COVID-19 Non-Fatal Valuations. SSRN, 28 August 2020.
⓷ Politics, economics and COVID-19
‼️ The Mississippi Attorney General and Secretary of State have filed a challenge to a court ruling that voters with health conditions must be allowed to vote absentee. Regardless of whether a voter has "a higher risk of severe illness or death" from coronavirus while voting in person, the state believes that they should not be allowed to vote absentee.
📣 University of Michigan faculty will hold a remote vote of no confidence in the administration regarding UM response to COVID-19. University of Michigan lawyers have told the Faculty Senate they cannot hold official meetings remotely.
❌ Few of us (globally) trust our employers to do the right thing in terms of COVID-19 and returning to work.
🆘 Up to 60,000 people in the UK may have been suffering from "long Covid" for more than three months.
🦠Spain has passed 500,000 cases. However, its per capita case rate remains lower than that of the United States (112.4 per 10,000 versus 190.4 per 10,000).
❌ Tokyo Olympics will go forward next year regardless of COVID-19.
⓸ Key metrics
🦠 Monday (a holiday), Johns Hopkins reported 6,300,622 (24,257 new) cases and 189,208 (267 new) deaths since Friday. That's a dramatic decline in daily cases, from 51K cases on Friday to a three-day average of 33K. The decline in reported deaths is similar, from 851 on Friday to a three-day average of 484. This is a larger discrepancy than normal for the Sa-Su-Mo report.
Monday
- cases 🔻37% compared to seven-day average; deaths 🔻67%
- seven-day average: 38,576 cases and 802 deaths 
- 3.00% cases leading to death
- case rate, 190.4 per 10,000; death rate, 5.7 per 10,000

One week ago
- cases 🔻19% compared to seven-day average; deaths 🔻41%
- seven-day average: 42,252 cases and 913 deaths 
- 3.04% cases leading to death
- case rate, 182.2 per 10,000; death rate, 5.5 per 10,000
Note: the seven-day average is important because dailies vary due to factors other than actual case numbers, particularly over a weekend.
🇺🇸 07 September 
CDC: 6,226,879 (34,337 new) cases & 188,051 (462 new) deaths
- One week ago: 5,934,824 (37,532 new) cases & 182,149 (473 new) deaths

State data*:  6,299,262 (22,650 new) cases & 181,440 (363 new) deaths
- One week ago: 6,000,398 (32,345 new) cases & 175,732 (488 new) deaths
KS reports only M-W-F; CT and RI report only M-F

WHO: 6,189,488 (45,350 new) cases & 187,541 (878 new) deaths
- One week ago: 5,899,504 (43,983 new) cases & 181,689 (1,000 new) deaths
🌎 
07 September 
Johns Hopkins interactive dashboard (11.00 pm Pacific)
Global: 27,332,433 (228,588 new) cases & 892,443 (9,104 new) deaths
- One week ago: 25,484,767 (262,058 new) cases & 850,535 (4,140 new) deaths
* Johns Hopkins data, ~11.00 pm Pacific.
State data include DC, Guam, the Northern Mariana Islands, Puerto Rico and the US Virgin Islands
The virus was not created in a lab and the weight of evidence is that it was not released intentionally. Although early reports tied the outbreak to a market in Wuhan, China, analyses of genomic data have suggested that the virusdeveloped elsewhere.
⓹ Resources
👓 See COVID-19 resource collection at WiredPen.
📝 Subscribe to Kathy's COVID-19 Memo :: COVID-19 Memo archives
🦠 COVID-19 @ WiredPen.com
📊 Visualizations: US, World
🌐 Global news (at WiredPen)
👏🏻 Thank you
 for your time!