Discover more from ⚡️Memo from a News Hound
Weekly news in context with focus on the pandemic, misinformation, trends.
COVID-19 day 227: 📈 Why herd immunity is not a strategy: 03 September 2020
US daily per capita data resemble South America more than Europe; another celebrity infection, The Rock; first death post-Sturgis rally; more on myocardial infections and athletes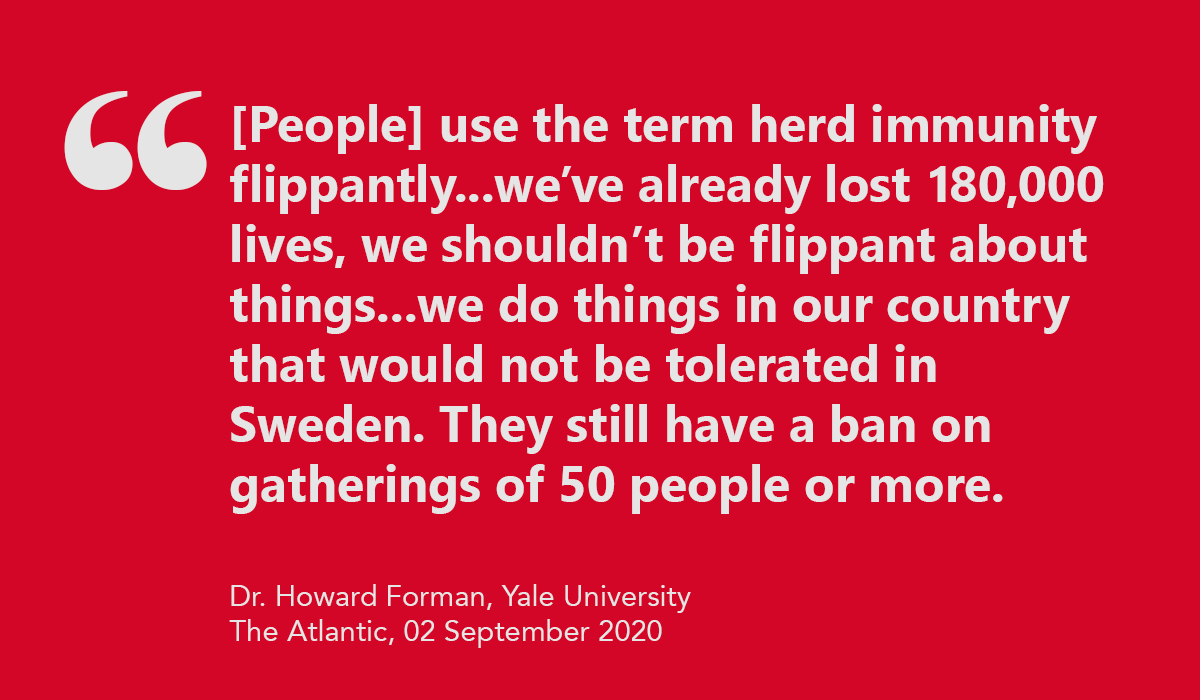 Today was day 227 since the first case of coronavirus disease was announced in the United States. Today, I am comparing Wednesday data with Monday's report.
There are now 26 million cases worldwide; last week, there were 24 million.
In the US, the annual Sturgis, SD, Harley-Davidson-influenced motorcycle rally has claimed its first victim, a Minnesota man in his 60s. There have been at least 260 cases in 11 states linked to the event.
Now, just over two weeks after the conclusion of the rally, the Midwest and the Dakotas in particular are seeing a spike in coronavirus cases even as infections decline or plateau in the rest of the country. South Dakota's seven-day averages for new cases stood at 347 on Sept. 2 compared to 107 two weeks earlier and its total caseload was 14,003, up from 10,566, according to The Post's tracking. In North Dakota, the seven-day averages for new cases was 257, up from 142 two weeks earlier and its total caseload was 12,267, compared to 8,968.
Sections (no jump links, sorry!)
1, One big thing; 2, Recommendations; 3, Politics, economics & COVID; 4, Key metrics;
5, Resources
⓵ One big thing - US numbers remain problematic
Saying that the daily US COVID-19 case rate per million is less than South American countries does not feel like a bragging right. Ditto Mexico and South America for the daily death rate. The exception in daily new cases is Spain, which is having a spike (chart below) that has just surpassed its initial outbreak.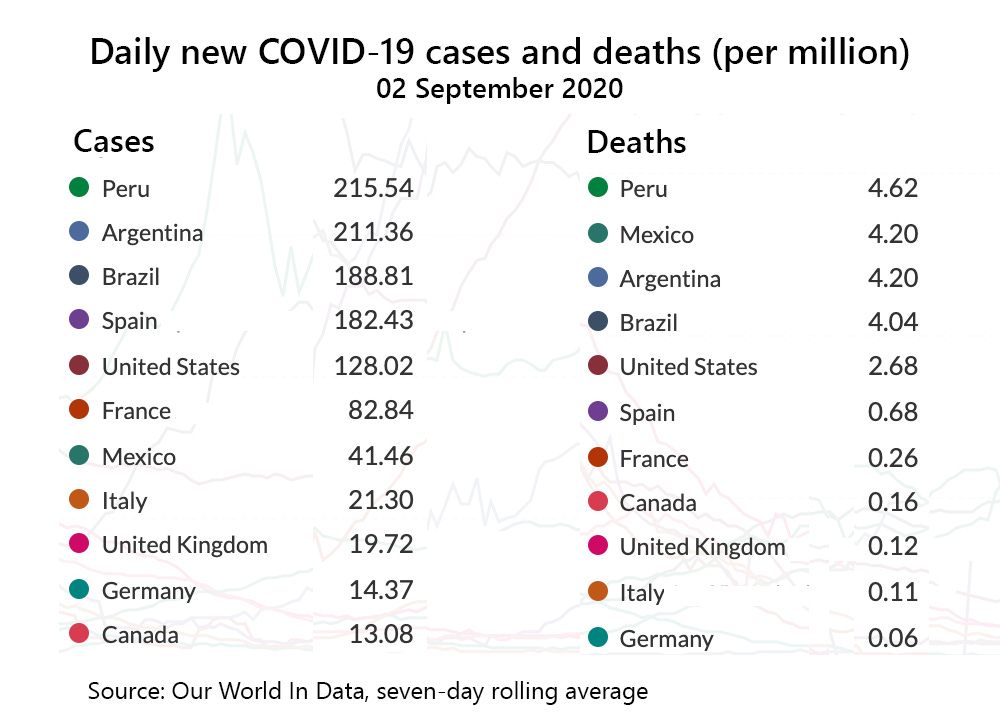 A reminder the the US spends more on health care per capita than any other developed nation. And yet look at us.
As you can see from the next chart, US daily case numbers per capita have not yet declined to March peak (less than 100 per day), when all things COVID-19 were new.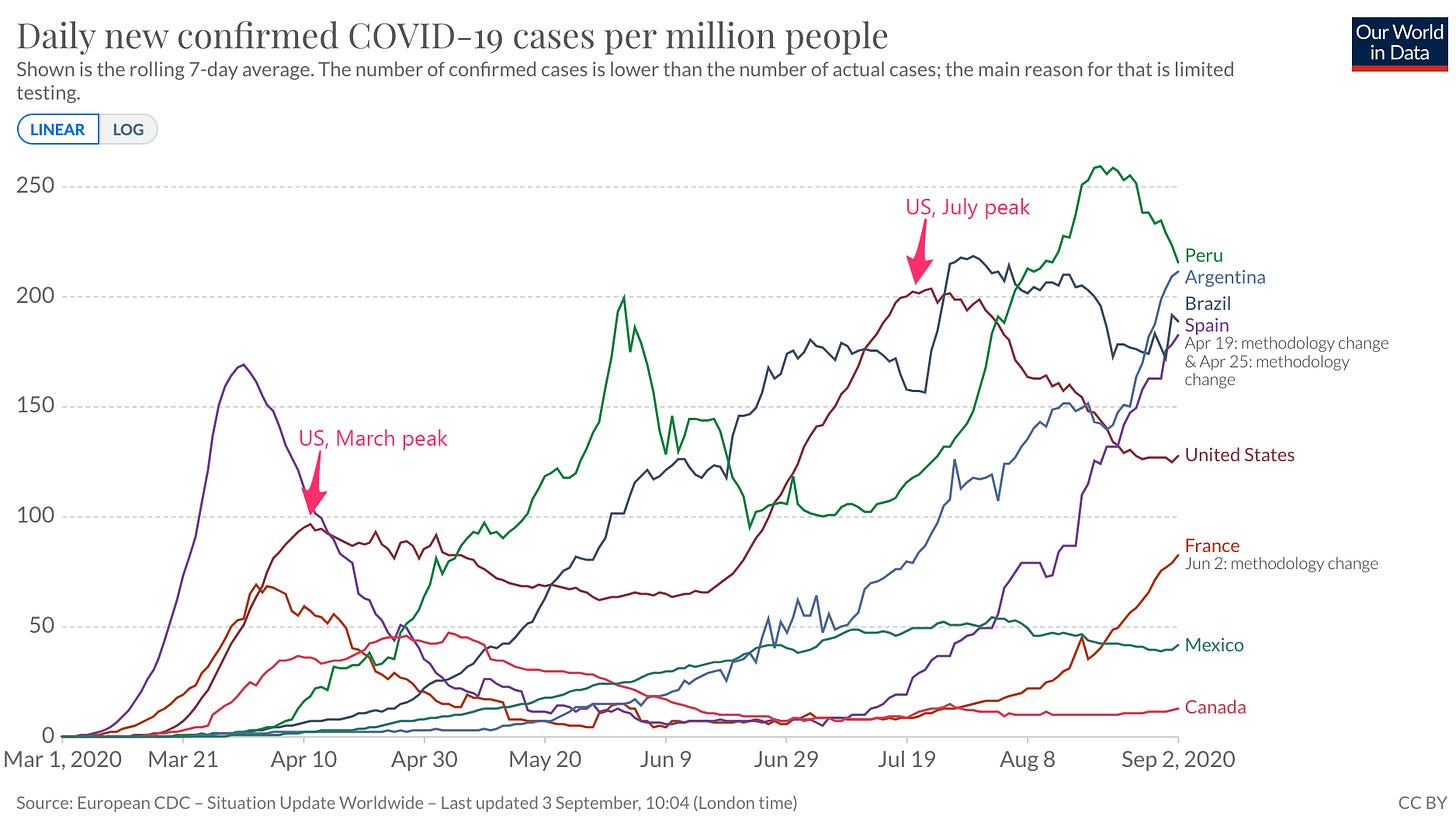 As we approach Labor Day weekend, Dr. Anthony Fauci noted that cases are increasing in seven states: Arkansas, Illinois, Indiana, Iowa, Missouri, North Dakota, and South Dakota. "Those states are starting to see an increase in the percent positive of their testing; that is generally predictive that there's going to be a problem."
This Axios map suggests there are a lot more states that need to worry.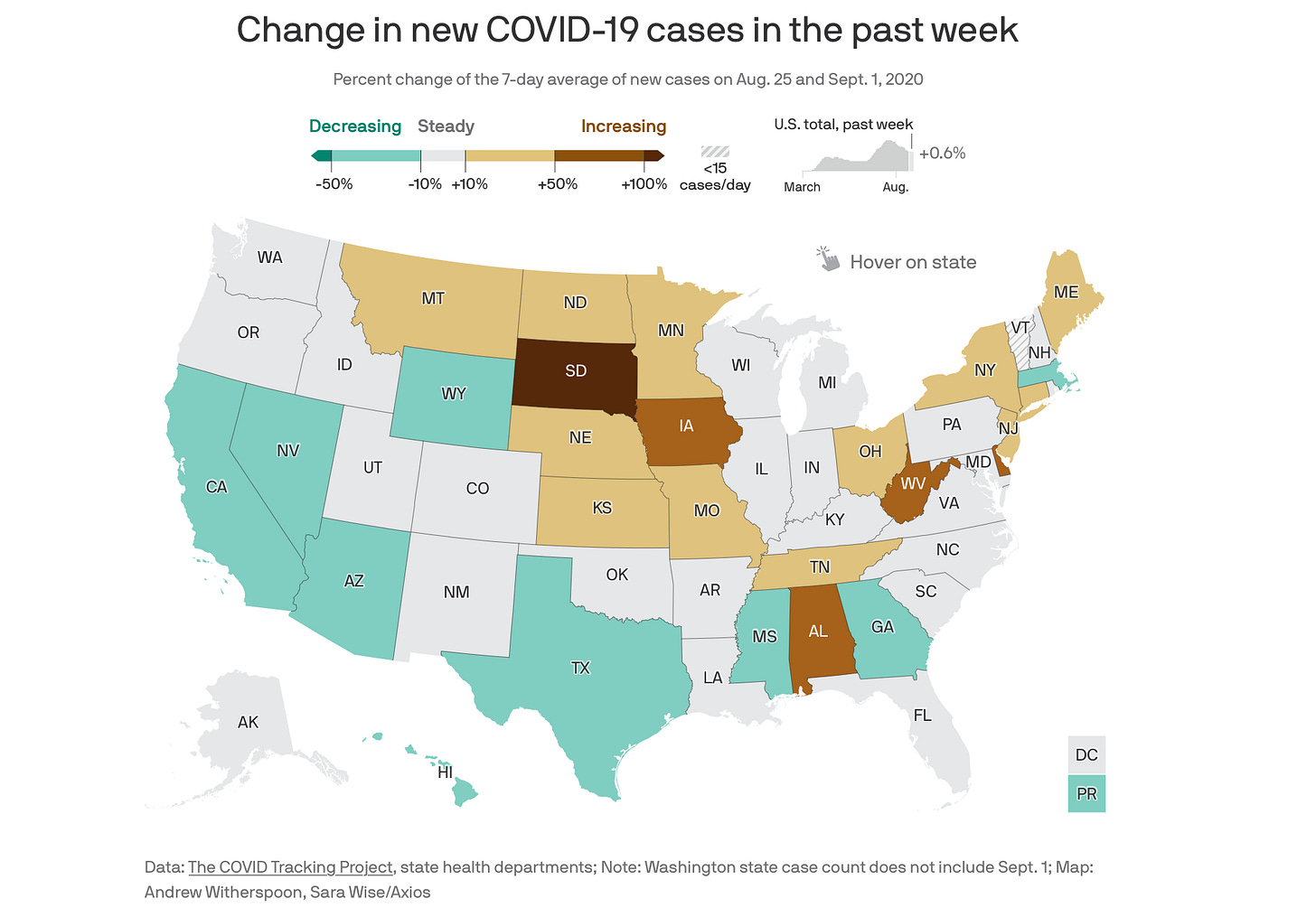 ⓶ Recommendations
📆 Put this on your calendar
The Arizona State University News Co/Lab has a free online media literacy course. The next session begins 13 September and focuses on finding credible elections information. The three-week course is self-paced, and there will be a series of optional live events including conversations with Wikipedia's Jimmy Wales and Harlo Holmes of the Freedom of the Press Foundation. I've signed up. You should, too!
🤓 Recommended reading
But "herd-immunity strategy" is a contradiction in terms, in that herd immunity is the absence of a strategy. Herd immunity is an important public-health concept, developed and used to guide vaccination policy. It involves a calculation of the percentage of people in a population who would need to achieve immunity in order to prevent an outbreak. The same concept offers little such guidance during an ongoing pandemic without a vaccine. If it were a military strategy, it would mean letting the enemy tear through you until they stop because there's no one left to attack…

[Sweden] still [has] a ban on public gatherings of 50 people. Gatherings for religious practice? Banned. Theatrical and cinema performances? Banned. Concerts? Banned. And this is what bothers me. Our president did a rally in Tulsa. That would have been banned in Sweden.
Herd Immunity Is Not a Strategy. What the term actually means, and what it doesn't. The Atlantic, 02 September 2020.
🔬 Research and medical news
In this Perspective, David M. Morens and Anthony Fauci explore what they describe as "a pandemic era," marked by SARS, MERS and COVID-19. They focus on human triggers such as deforestation, urban crowding, and wet markets for wild game.
There are many examples where disease emergences reflect our increasing inability to live in harmony with nature. Nipah virus emergence followed agricultural burning of forests, which led to displacement of infected bats; bats then went to roost in trees that shaded intensively farmed pigs that were crowded into small areas, which led to infection of pigs via bat droppings, which in turn led to human outbreaks in pig farmers.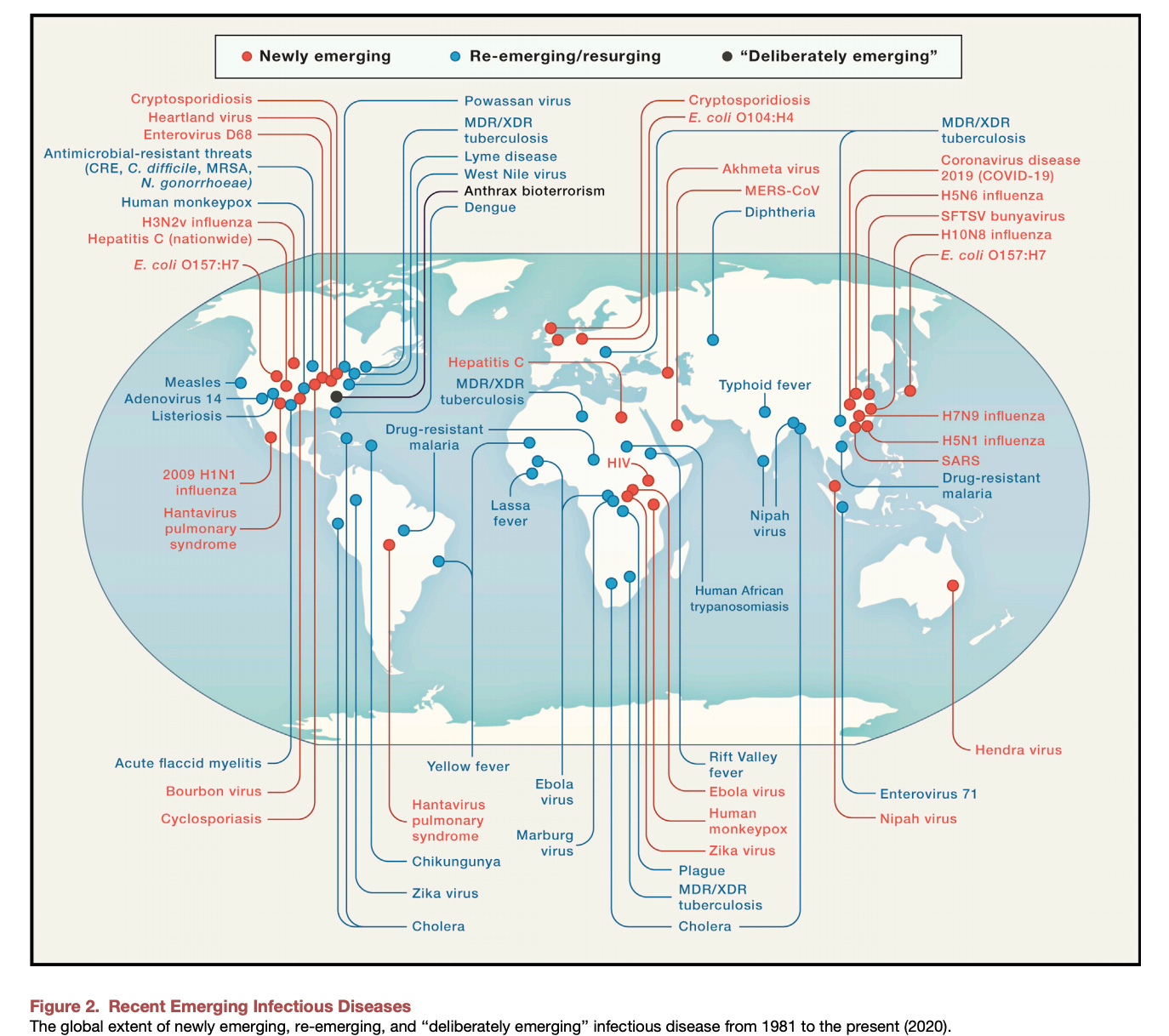 Emerging Pandemic Diseases: How We Got to COVID-19. Cell. 03 September 2020.
[A] research team is trying to determine whether the several million people who merely carry one copy of the sickle cell mutation — but do not have the disease itself — could be more vulnerable to Covid-19, and whether that might be one reason the virus is disproportionately sickening and killing Black Americans.
Millions of Americans carry the sickle cell trait, many without knowing it. Could they be at risk for severe Covid-19? STAT News, 03 September.
You may have read or heard that Wayne Sebastianelli, Penn State director of athletic medicine, said that that 30-35% of Big Ten athletes who had tested positive for the coronavirus appeared to have myocarditis when subjected to an MRI scan. That comment has been walked back.
Penn State clarifies remark by doctor about myocarditis and covid-19 positive Big Ten athletes. Washington Post, 03 September 2020.
🎦 Recommended viewing
⓷ Politics, economics and COVID-19
📣 The US Centers for Disease Control and Prevention, not Heath and Human Services, announced a moratorium on evictions from 04 September through 31 December if renters meet a certain set of criteria. This order does not cancel rent; it only postpones it.
😕The incumbent advantage. USDA food aid boxes contain a letter from President Trump.
💉 Moncef Slaoui, who leads the Administration vaccine effort, insisted he would quit rather than succumb to "political pressures to rush an unsafe or ineffective vaccine."
✅ Despite the FDA emergency use authorization for convalescent plasma as a COVID-19 treatment, "[a]s many as 45 hospitals from coast to coast have expressed interest in collaborating on a randomized, controlled clinical trial sponsored by Vanderbilt University Medical Center."
🛑 In August, at least 124 people in Oregon died of COVID-19, the most in any month since the pandemic began.
🦠 Two laboratory studies suggest that deer mice can become infected with COVID-19 and transmit it to other mice. The papers have not been peer-reviewed.
🎬 Warner Brothers resumed filming in London on The Batman on 01 September but has shut down again because someone tested positive for COVID-19. Vanity Fair reports that would be the star, Robert Pattinson.
🤼‍♂️ The latest COVID celebrity is Dwayne Johnson (The Rock). He, his wife Lauren, and their two children all tested positive for COVID-19. Johnson made the announcement on Instagram. He called it "one of the most challenging and difficult things" they've gone through as a family. "Wear your mask."
⓸ Key metrics
🦠 Wednesday, Johns Hopkins reported 6,113,510 (39,670 new) cases and 185,720 (759 new) deaths, an increase of 0.57% and 0.65%, respectively, since Tuesday. A week ago, the daily numbers increased by 0.76% and 0.68%, respectively.
Wednesday
- cases 🔻5% compared to seven-day average; deaths 🔺23%
- seven-day average: 41,670 cases and 859 deaths 
- 3.04% cases leading to death
- case rate, 184.7 per 10,000; death rate, 5.6 per 10,000

One week ago
- cases 🔺6% compared to seven-day average; deaths 🔺31%
- seven-day average: 41,714 cases and 933 deaths 
- 3.09% cases leading to death
- case rate, 175.9 per 10,000; death rate, 5.4 per 10,000
Note: the seven-day average is important because dailies vary due to factors other than actual case numbers, particularly over a weekend.
🇺🇸 02 September 
CDC: 6,047,692 (43,249 new) cases & 184,083 (1,033 new) deaths
- One week ago: 5,752,653 (37,086 new) cases & 177,759 (1,142 new) deaths

State data*:  6,073,759 (30,653 new) cases & 177,678 (919 new) deaths
- One week ago: 5,749,803 (43,716 new) cases & 170,353 (1,251 new) deaths
KS reports only M-W-F; CT and RI report only M-F

WHO: 5,968,380 (31,808 new) cases & 182,585 (423 new) deaths
- One week ago: 5,393,138 (39,125 new) cases and & 169,508 (509 new) deaths
🌎 
02 September 
Johns Hopkins interactive dashboard (11.00 pm Pacific)
Global: 26,031,410 (281,768 new) cases & 863,028 (6,013 new) deaths
- One week ago: 24,176,836 (287,686 new) cases & 825,696 (6,282 new) deaths
* Johns Hopkins data, ~11.00 pm Pacific.
State data include DC, Guam, the Northern Mariana Islands, Puerto Rico and the US Virgin Islands
The virus was not created in a lab and the weight of evidence is that it was not released intentionally. Although early reports tied the outbreak to a market in Wuhan, China, analyses of genomic data have suggested that the virusdeveloped elsewhere.
⓹ Resources
👓 See COVID-19 resource collection at WiredPen.
📝 Subscribe to Kathy's COVID-19 Memo :: COVID-19 Memo archives
🦠 COVID-19 @ WiredPen.com
📊 Visualizations: US, World
🌐 Global news (at WiredPen)

👏🏻 Thank you
 for your time!