Discover more from ⚡️Memo from a News Hound
Weekly news in context with focus on the pandemic, misinformation, trends.
COVID-19 day 225: 📈 A wedding in rural Maine flouted distancing rules; a woman who was not a guest is dead. Yet another super-spreader event : 01 September 2020
US thumbs nose at global vaccine initiative; Vietnam has reported no new cases for four days; how COVID-19 can wreck your heart; widespread criticism of CDC testing recommendation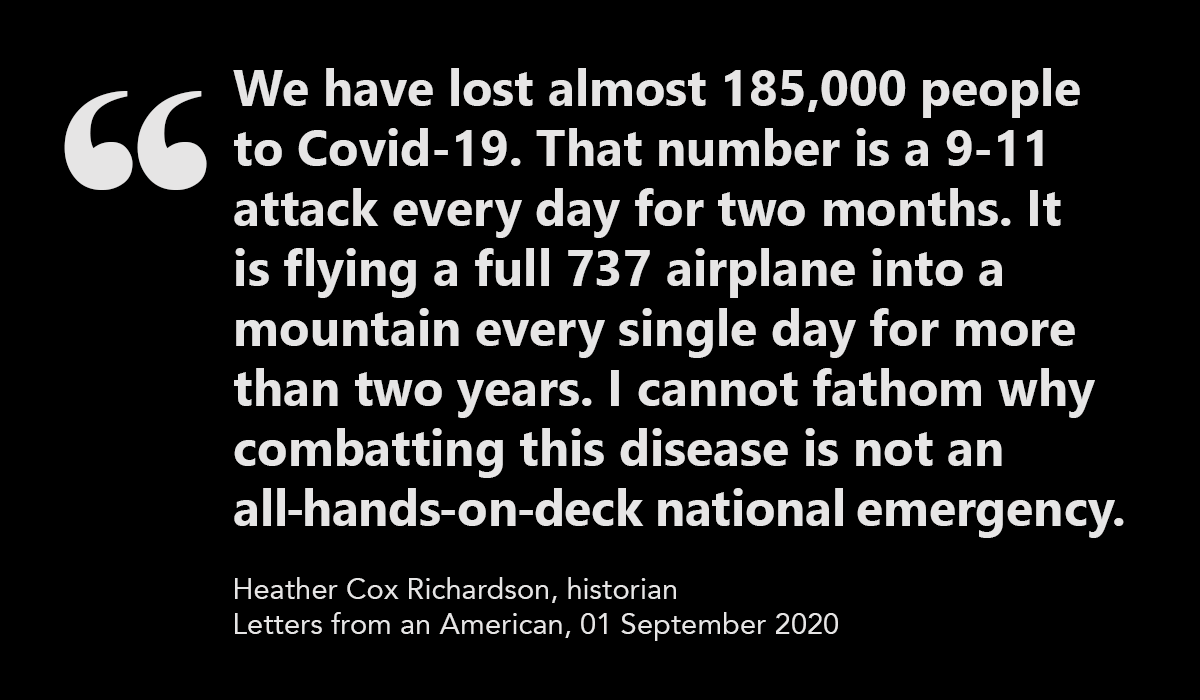 Monday was day 224 since the first case of coronavirus disease was announced in the United States. Today, I am comparing weekend data with Friday's report.
About that quote: it's from Heather Cox Richardson. Read her.
The new case seven-day average is rising by more than 5% in 26 states, according to a CNBC analysis. A week ago, it was only 12 states.
Sections (no jump links, sorry!)
1, One big thing; 2, Recommendations; 3, Politics, economics & COVID; 4, Key metrics;
5, Resources
⓵ One big thing - the latest super spreader event
This story from rural Maine will either break your heart or make you want to throw things. Or both.
The first Friday in August. A packed church; local and out-of-town guests totaling 62 at the wedding and reception. A violation of state attendance limits. Few masks.
So far, 123 COVID-19 cases, including schools, a county jail 220 miles away, a rehabilitation center 100 miles away. There are 54 positive cases at the jail, 19 are staff and 35 are people who are incarcerated.
Twenty-three miles away from the festivities, Frank and Theresa Dentremont spent the evening nestled in a wood cabin near sleepy Cedar Lake. The elderly Millinocket natives had spent much of the last four months at the secluded home.. Friends sent food and a caregiver stopped by to take care of Theresa, whose health had deteriorated in recent years. At 97 and 83, the couple qualified as high risk for coronavirus infection and weren't taking any chances.
Theresa is now dead; Frank was hospitalized and is on oxygen and antivirals. The bride and groom, social media accounts now private, would not speak to the Boston Globe reporters.
But it wasn't just the wedding venue, out-of-town pastor, and guests, although it's called the Millinocket wedding outbreak.
The wedding reception was held at the Big Moose Inn, which "allowed more than 40 unrelated guests to dine on the deck and at the bar" in addition to the 62 for the wedding. Maine limits indoor gatherings to 50; there was no fine (CDC "imminent health hazard" notice) and no COVID-related closure.
"What we are dealing with is a giant tube of glitter. You open a tube of glitter in your basement, then two weeks later you are in the attic and all you find is glitter and have no idea how it got there," Dr. Nirav Shah, the Maine CDC director, said in a Tuesday briefing.
Let's name other super-spreader events: two funerals in Albany, Georgia; a choir practice in Washington state; a biotech conference in Boston. These were all early in the pandemic. Super-spreader events now, more than six months later, are inexcusable.
In Ontario, Canada, corporations can be fined $500,000 and individuals $750-$1,000 for "failure to comply" with rules issued during an emergency. In New Zealand, individuals can be fined up to NZ$4,000 or sentenced up to six months in jail. In Victoria, Australia, an individual fine is AU$1,652.
The U.S. is not serious about containing this pandemic.
⓶ Recommendations
🤓 Recommended reading
As an infectious disease epidemiologist…I find the politicization of advice coming out of the CDC disturbing…
The latest, most egregious non-science-based advice is a change in recommendation for who should get tested for COVID-19. Here's what happened and why it matters so much – not just to public health experts, but to the public.
I'm a public health researcher, and I'm dismayed that the CDC's missteps are causing people to lose trust in a great institution. The Conversation, 31 August 2020.
Residents of rural Albany, Georgia, united to save their city from COVID-19. They say they have lessons for other Americans: Don't think you're immune, or that the virus only affects other kinds of people, in other cities, in faraway states.
This Georgia city beat back COVID-19. It wishes states would pay attention. Christian Science Monitor, 21 July 2020.
Since the beginning of the pandemic, [Terris] King, 60, has been fighting an uphill battle, weaving together science and scripture in the hopes his approximately 300 congregants will adhere to public health guidelines: mask-wearing, hand-washing, and social distancing.
With science and scripture, a Baltimore pastor is fighting Covid-19 vaccine skepticism. STAT News, 31 August 2020.
🔬 Research and medical news
Ontario, Canada, has an 84-week backlog of nonurgent surgeries delayed because of COVID-19 that will take 717 surgeries, 719 operating room hours, 265 hospital ward beds, and 9 intensive care unit (ICU) beds per week to clear, according to a time series modeling study published today in CMAJ.
19-month pandemic-related surgical backlog in Ontario. CIDRAP, 01 September 2020.
Clearing the surgical backlog caused by COVID-19 in Ontario: a time series modelling study. CMAJ, 01 September 2020.
More than a dozen athletes at Power Five conference schools have been identified as having myocardial injury following coronavirus infection… Myocarditis appears to result from the direct infection of the virus attacking the heart, or possibly as a consequence of the inflammation triggered by the body's overly aggressive immune response. And it is not age-specific… several studies suggest that COVID-19 patients show signs of the condition months after contracting the virus.
COVID-19 Can Wreck Your Heart, Even if You Haven't Had Any Symptoms. Scientific American, 31 August 2020.
Covid-19 is teaching everyone in medicine lessons about health care and public health. Mine have been up close, personal, and frightening.

One day I was a healthy 44-year-old doctor, CEO of a health care company, and a triathlete who was prepared to do another triathlon. Then I was a Covid-19 patient a few shallow breaths away from being put on a ventilator.
My severe Covid-19: It felt like dying in solitary confinement. STATNews, 28 August 2020.
✅ Note: the University of Washington Medical Center does not allow valved masks.
⓷ Politics, economics and COVID-19
▪️ A reminder that almost half of US voters claim to be independents. Axios:

🆘 The politicization of the CDC, historically a non-partisan agency, has been growing steadily. Two important contextual reports: Top U.S. Officials Told C.D.C. to Soften Coronavirus Testing Guidelines and It Has Come to This: Ignore the C.D.C. both come from the New York Times (news followed by op-ed).
📣 WHO: Countries with significant active spread of coronavirus must prevent amplifying events. (That would be us.)
✅ This is a good year to get a flu shot.
‼️Sen. Joni Ernst (R-IA) "seemed to embrace … a thoroughly-discredited QAnon conspiracy theory about U.S. deaths from COVID-19 being a mere fraction of what has been reported."
🏥 Vietnam has reported no new cases for four days, suppressing the August outbreak that took more than 30 lives. It has a case rate of 1 per 100,000; the US rate is 1,822.
🍎 The New York City public school system, the nation's largest, has reached an agreement with union leaders regarding coronavirus safety; schools will open 21 September. Los Angeles and Chicago, the second and third largest school systems, have opened with 100% online instruction.
💉 The Trump administration said it will not join a global effort to develop, manufacture and equitably distribute a coronavirus vaccine. There are more than 170 nations in the COVID-19 Vaccines Global Access (COVAX) Facility.
⓸ Key metrics
🦠 Monday, Johns Hopkins reported 6,030,587 (116,646 new) cases and 183,597 (1,797 new) deaths since Friday. That's a decline in daily cases, from 46K cases on Friday to a three-day average of 39K. The decline in reported deaths is similar, from 976 on Friday to a three-day average of 599. This is normal, however, for the Sa-Su-Mo reporting period.
Monday
- seven-day average: 42,252 cases and 913 deaths 
- 3.04% cases leading to death
- case rate, 182.2 per 10,000; death rate, 5.5 per 10,000

One week ago
- seven-day average: 42,064 cases and 900 deaths 
- 3.09 % cases leading to death
- case rate, 173.4 per 10,000; death rate, 5.4 per 10,000
Note: the seven-day average is important because dailies vary due to factors other than actual case numbers, particularly over a weekend.
🇺🇸 31 August 
CDC: 5,934,824 (37,532 new) cases & 182,149 (473 new) deaths
- One week ago: 5,682,491 (38,679 new) cases & 176,223 (572 new) deaths

State data*:  6,000,398 (32,345 new) cases & 175,732 (488 new) deaths
- One week ago: 5,713,293 (35,202 new) cases & 169,208 (350 new) deaths
KS reports only M-W-F; CT and RI report only M-F

WHO: 5,899,504 (43,983 new) cases & 181,689 (1,000 new) deaths
- One week ago: 5,612,163 (44,946 new) cases and & 175,243 (997) deaths
🌎 
31 August 
Johns Hopkins interactive dashboard (11.00 pm Pacific)
Global: 25,484,767 (262,058 new) cases & 850,535 (4,140 new) deaths
- One week ago: 23,647,377 (226,959 new) cases & 813,022 (4,346 new) deaths
* Johns Hopkins data, ~11.00 pm Pacific.
State data include DC, Guam, the Northern Mariana Islands, Puerto Rico and the US Virgin Islands
The virus was not created in a lab and the weight of evidence is that it was not released intentionally. Although early reports tied the outbreak to a market in Wuhan, China, analyses of genomic data have suggested that the virusdeveloped elsewhere.
⓹ Resources
👓 See COVID-19 resource collection at WiredPen.
📝 Subscribe to Kathy's COVID-19 Memo :: COVID-19 Memo archives
🦠 COVID-19 @ WiredPen.com
📊 Visualizations: US, World
🌐 Global news (at WiredPen)

👏🏻 Thank you
 for your time!