Discover more from ⚡️Memo from a News Hound
Weekly news in context with focus on the pandemic, misinformation, trends.
COVID-19 day 223: 📈 Thousands protest coronavirus restrictions in Berlin: 30 August 2020
US university campuses, football, at risk from COVID-19; PBS News Hour has five-series in-depth look at health care and COVID-19 in the US, the UK, Australia and Switzerland; global cases >25M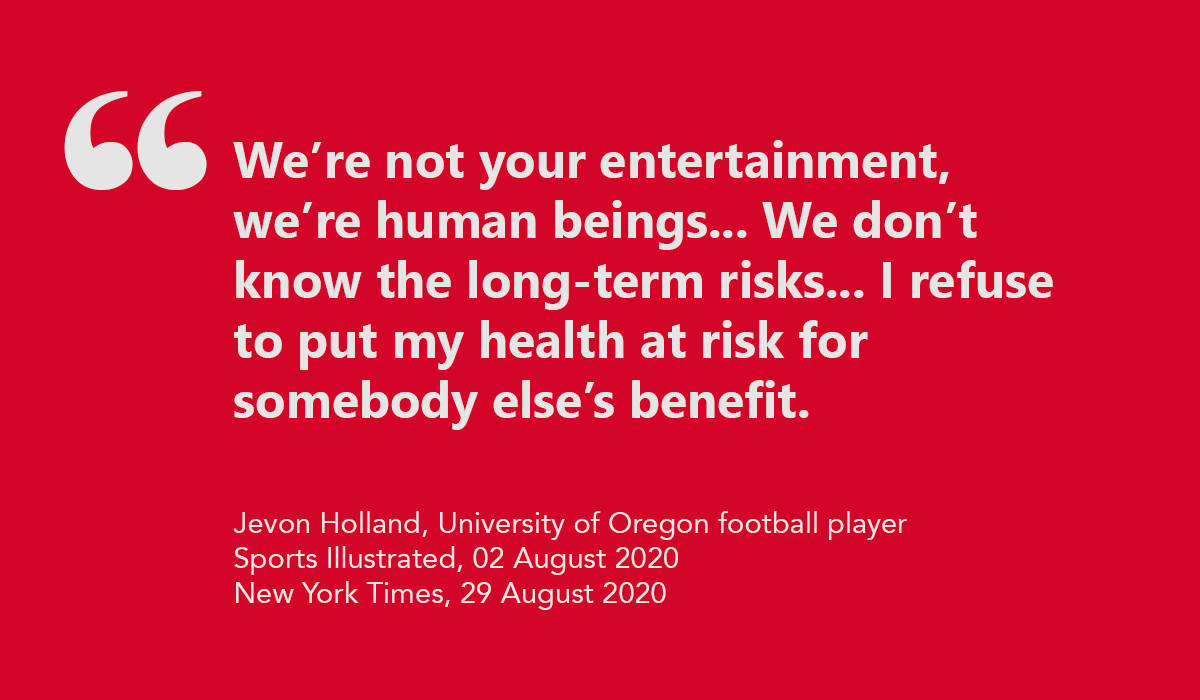 Sunday was day 223 since the first case of coronavirus disease was announced in the United States.  This report is dated Sunday and contains detailed data from Friday. However, on Sunday, Johns Hopkins reported that global cases had passed 25 million; deaths hover just below 850,000. It's been four days since global cases crossed 24 million; it took 75 days to reach the first million.
Although for the second week, the daily increase in both the cases and deaths in the US have stayed below 1.0% each day … our case numbers are knocking on 6 million, about one-quarter of the world's total. (We'll hit it Monday.) We also account for 22% of the world's reported deaths and yet we are only 4% of the world's population.
Sections (no jump links, sorry!)
1, One big thing; 2, Recommendations; 3, Politics, economics & COVID; 4, Key metrics;
5, Resources
⓵ One big thing - Germany
The BBC reported that about 38,000 protested coronavirus restrictions in Berlin on Saturday (police estimate, 18,000). Many also gathered at the Brandenburg Gate. Police stopped the event because many were not practicing physical distancing, a court-ordered requirement for the protest, or wearing masks.
Robert F Kennedy, Jr., an anti-vaccination skeptic, spoke at the event.
The day-long protest was ostensibly people "opposed to the wearing of masks and other government measures intended to stop the spread of the new coronavirus."
[P]articipants expressed their opposition to a wide range of issues, including vaccinations, face masks and the German government in general. Some wore T-shirts promoting the "QAnon" conspiracy theory while others displayed white nationalist slogans and neo-Nazi insignia, though most participants denied having far-right views.
Some demonstrators broke through a cordon and tried to storm the parliament building. They carried the flag of former imperial Germany, which is used by the Reichsbürger (Reich Citizens) far-right group.
According to CNN correspondent Frederick Pleitgen, the protest included a "massive QAnon" turnout... Some told us they believe Donald Trump is an angel."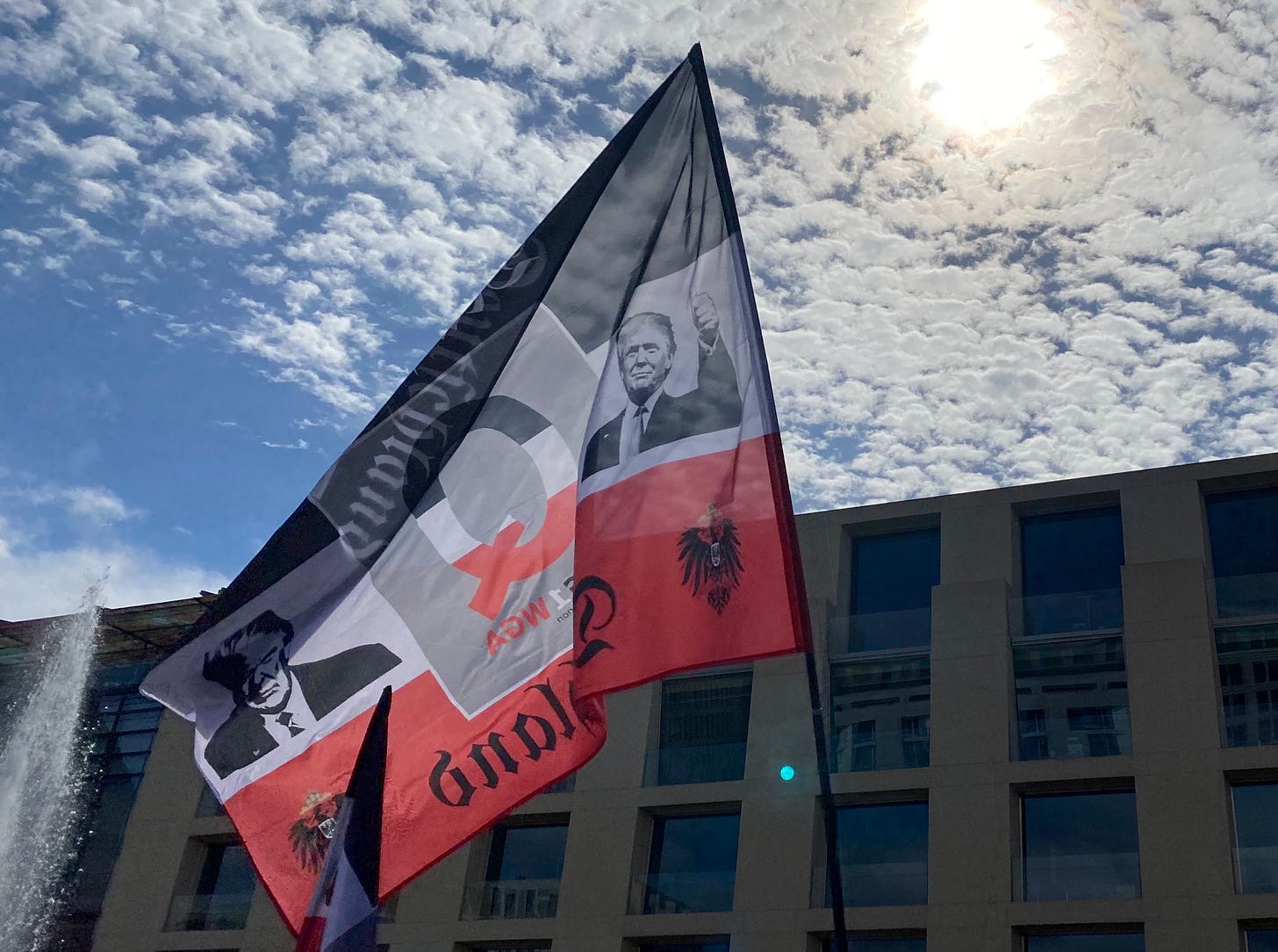 CBS reports that "the protest was organized and promoted by far-right groups and outlets, including the Islamophobic political party Alternative for Germany (AfD) and Compact Magazine, which was removed from Facebook and Instagram on Friday."
In early August, a similar "anti-corona" march in Berlin drew about 20,000, "a mix of the extreme left and right, anti-vaccination campaigners, conspiracy theorists and self-described 'free thinkers."
Coronavirus cases continue to rise in Europe, concurrent with August vacations. In France, new daily cases are a flashback to April (below). About 1,000 anti-mask protesters also gathered in Zurich as well as London. About 300 protested in Paris.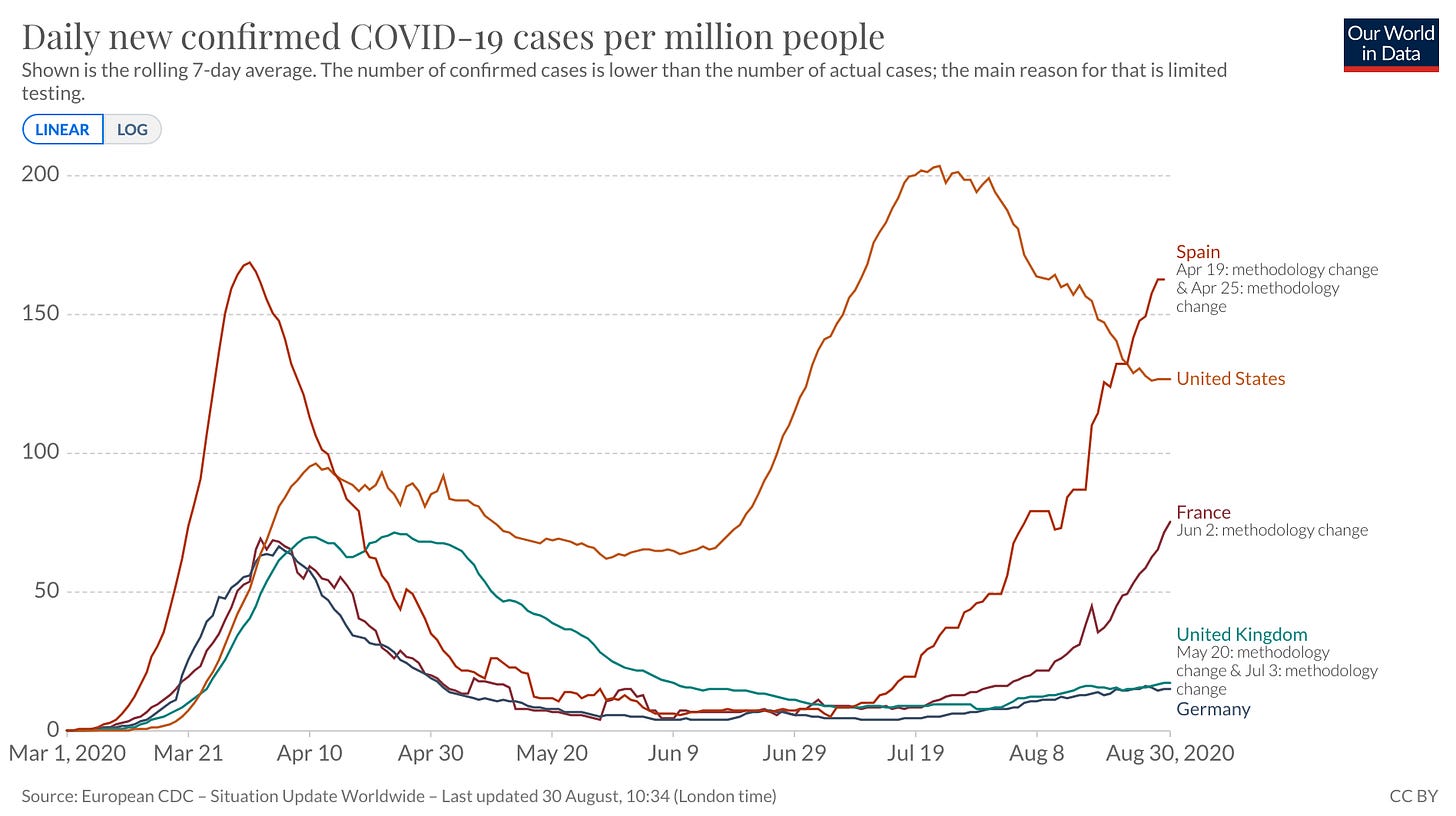 ⓶ Recommendations
🤓 Recommended reading: COVID on campus
Never has the inaccuracy of the term "student-athlete" been put in starker relief than in the misguided and dangerous attempt by the Big 12, Atlantic Coast Conference and Southeastern Conference to press forward with a nearly full season of football games beginning next month —  as nonathlete classmates are sent home for their safety. For many college competitors, but for football in particular, the demands of practice and travel can exceed those of a full-time job. The players do it all, however, for no pay —  while schools, coaches, television networks and the conferences profit.
College Football Is Not Essential. New York Times editorial board, 29 August 2020.
The biggest threat to universities' carefully drawn reopening plans? Their students.
Colleges crack down on student behavior as virus threatens more closures. Politico, 30 August 2020.
UNC has a really good media and journalism school. I'm a pre-admitted student, and like 30 kids nationwide get pre-admitted into the Hussman School of Journalism. That was what made it worth it for me. I wasn't just doing requirements. I'm taking media and journalism classes…

At least for me, I am glad that I had those two weeks. It definitely was very bittersweet, but I'm glad that I met people there in Chapel Hill, so next year, I won't be as clueless. 
I'm a College Freshman Who Moved Into Campus. Now I Have COVID-19. Slate, 27 August 2020.
The health director in Columbia [MO] ordered on Friday that bars stop serving alcohol at 9pm and close by 10pm after more than 300 students at the University of Missouri tested positive for the coronavirus amid an alarming 44% positivity rate for the surrounding county…

In Utah, the city council in Provo overrode a mayoral veto to pass a mask mandate, which includes a $500 fine for organizing large mask-less gatherings, days before students return to Brigham Young University from around the country.
'No social distancing': US college towns close bars as Covid-19 cases surge. The Guardian, 27 August 2020.
🔬 Research and medical news
✅ Framing data: The mortality rate in the United States is 550 deaths per million people. Compare that with ~490 in Mexico; ~240 in Canada; 170 in Iraq; 110 in Germany; 24 in Australia; and fewer than 10 per million in Japan, New Zealand, Singapore, South Korea and Taiwan. 
‼️ A 25-year-old man from Reno, NV, appears to be the first documented case of coronavirus reinfection in the U.S. Unlike the Hong Kong case recently in the news, the Nevada man had a mild case in April and more severe symptoms when he got sick again in late May.
COVID-19 reinfection reported in Nevada patient, researchers say. NBC News, 28 August 2020.
Genomic Evidence for a Case of Reinfection with SARS-CoV-2. Lancet pre-print, 27 August 2020.
Researchers at the University of Toronto have begun a clinical trial testing whether an early intervention of acai palm berry extract can help prevent severe complications caused by inflammation in patients with COVID-19 thanks to its proposed anti-inflammatory benefits.
Canadian clinical trial looks to acai berries in hopes of preventing severe cases of COVID-19. CTV News, 30 August 2020.
🎦 Recommended viewing
PBS NewsHour will air a five-part series on national health care systems beginning Monday, August 31, 2020 (check local listings). The series begins in Houston, Texas, and then moves to the United Kingdom, Switzerland and Australia. It wraps up with an analysis of how each has fared during the COVID-19 pandemic, focusing on the role of their health care systems. Set your digital recorder.
⓷ Politics, economics and COVID-19
📣 The University of Alabama system reported that 2% of students tested positive on entry to campus and were not allowed to return. In the subsequent two weeks, almost 1,400 students have tested positive, which is about 7% of the combined student body. About 2% of faculty and staff also flunked entry testing.
🆘 If Covid-19 is a test of government effectiveness, then the world's most powerful country has failed spectacularly. The number of Americans who have died is more than twice the number who died in Afghanistan, Iraq and Vietnam combined. 
🦠 In each of Canada's five most populous provinces, COVID-19 cases are setting records (or knocking on them). "Respiratory viruses should not be circulating at all in July and August," Dr. Colin Furness, a infection control epidemiologist.
❌ President Trump's "insistence on traveling and holding campaign-style events amid the pandemic" dozens of Secret Service agents have gotten sick or been forced to quarantine.
💉 In a sign of what's to come when there is a (safe, proven) COVID-19 vaccine, hundreds demonstrated in Boston against a new flu shot mandate for students, a measure designed to reduce the impact of the flu on the health care system. Massachusetts is the first state to make seasonal flu shots mandatory vaccines for students; there are (as always) exemptions for religious or health reasons.
⓸ Key metrics
🦠 Friday, Johns Hopkins reported 5,913,941 (46,156 new🔺) cases and 181,800 (976 new🔻) deaths, an increase of 0.79% and 0.54%, respectively, since Thursday. A week ago, the daily numbers increased by 0.87% and 0.64%, respectively.
Friday
- seven-day average: 42,512 cases and 943 deaths (less than Friday's report)
- 3.07% cases leading to death
- case rate, 178.7 per 10,000; death rate, 5.5 per 10,000

One week ago
- seven-day average: 46,711 cases and 1,032 deaths 
- 3.12% cases leading to death
- case rate, 169.9 per 10,000; death rate, 5.3 per 10,000
Note: the seven-day average is important because dailies vary due to factors other than actual case numbers, particularly over a weekend.
🇺🇸 28 August 
CDC: 5,845,876 (46,830 new) cases & 180,165 (1,167 new) deaths
- One week ago: 5,551,793 (44,864 new) cases & 173,490 (1,074 new) deaths

State data*:  5,884,053 (45,119 new) cases & 173,754 (1,007 new) deaths
- One week ago: 5,593,701 (47,529 new) cases & 167,268 (1,140 new) deaths
KS reports only M-W-F; CT and RI report only M-F

WHO: 5,765,325 (45,484 new) cases and & 178,561 (1,229 new) deaths
- One week ago: 5,477,305 (46,259 new) cases and & 172,033 (1,393 new) deaths
🌎 
28 August 
Johns Hopkins interactive dashboard (11.00 pm Pacific)
Global: 24,734,448 (281,819 new) cases & 837,124 (5,538 new) deaths
- One week ago: 22,949,234 (270,751 new) cases & 799,245 (5,547 new) deaths
* Johns Hopkins data, ~11.00 pm Pacific.
State data include DC, Guam, the Northern Mariana Islands, Puerto Rico and the US Virgin Islands
The virus was not created in a lab and the weight of evidence is that it was not released intentionally. Although early reports tied the outbreak to a market in Wuhan, China, analyses of genomic data have suggested that the virusdeveloped elsewhere.
⓹ Resources
👓 See COVID-19 resource collection at WiredPen.
📝 Subscribe to Kathy's COVID-19 Memo :: COVID-19 Memo archives
🦠 COVID-19 @ WiredPen.com
📊 Visualizations: US, World
🌐 Global news (at WiredPen)
👏🏻 Thank you
 for your time!