Discover more from ⚡️Memo from a News Hound
Weekly news in context with focus on the pandemic, misinformation, trends.
COVID-19 day 220: 📈 Global cases cross 24 million as RNC holds White House event for 1,500 with no physical distancing : 27 August 2020
Many "long haulers" cannot prove they have had COVID-19; FDA fast-tracks Abbott test; how tech combats COVID-19 (video); employees file NRLB complaints when told to keep mum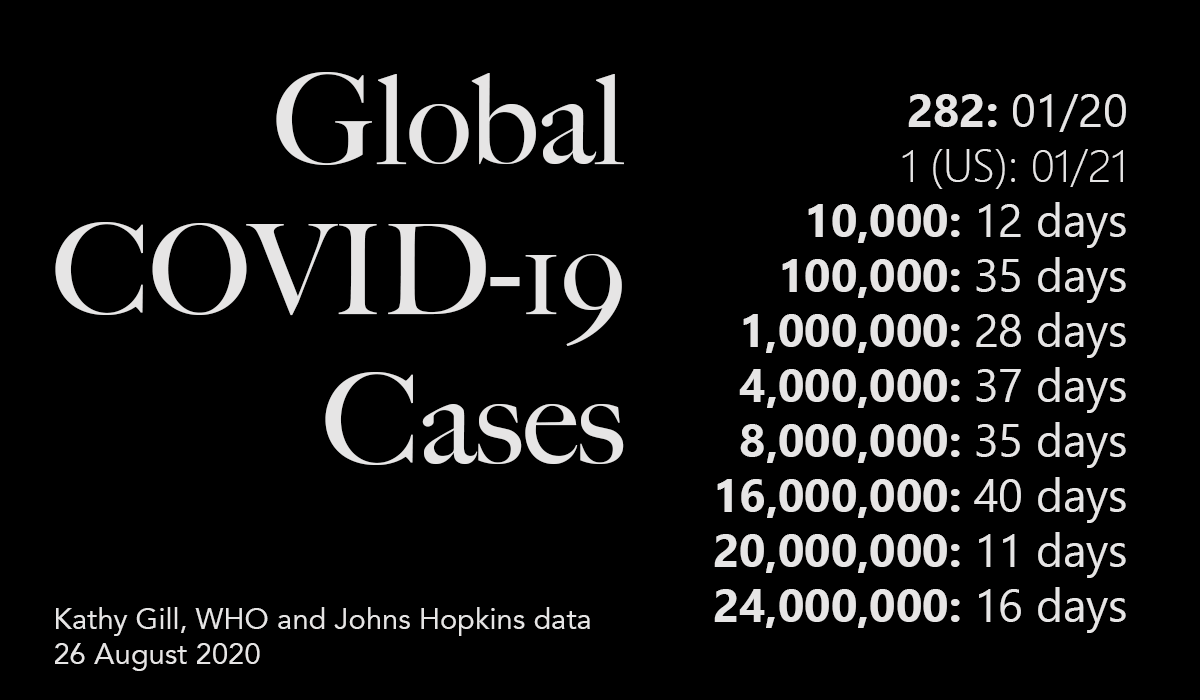 Wednesday was day 219 since the first case of coronavirus disease was announced in the United States. Thursday, day 220, was the last night of the Republican National Convention, with an unseemly rally on the south White House lawn which flouted public health guidance. It was also the day that global cases crossed 24 million with 825,000 deaths.
Sections (no jump links, sorry!)
1, One big thing; 2, Recommendations; 3, Politics, economics & COVID; 4, Key metrics; 5, Resources
⓵ One big thing - the White House south lawn
Set aside for a moment the controversy over whether holding the RNC rally on the White House south lawn is a Hatch Act violation. News orgs report 1,500 seats. Next-to-zero masks. Chairs inches apart.
It's Tulsa all over again. There is a benefit to being outside. Contrast that with the difference in cases: seven-day case average then, 25,799; today, 42,425. Case rate per 10,000 then: 68.1. Today, 175.9.
⓶ Recommendations
🤓 Recommended reading
Employees at Amazon, Cargill, Cheesecake Factory, Delta, General Electric, McDonald's, REI, Smithfield Foods, Target, Urban Outfitters and others report that their employers told them not to discuss COVID-19 cases or raise concerns about the virus. Some claim retaliation. Employees have reported hundreds of businesses to the NLRB and OSHA.
In many cases, workers say their bosses have cited employee privacy to justify the gags, including federal privacy laws such as the Health Insurance Portability and Accountability Act of 1996. But such laws don't require companies to silence employees on safety matters. 
Covid Gag Rules at U.S. Companies Are Putting Everyone at Risk. Business Week, 27 August 2020.
💨 In March, researchers forecast an "above average" hurricane season and gave a nearly 70 percent chance that a major storm would strikes the U.S. coast. In August, Hurricane Laura barreled towards the Gulf Coast. A retrospective read of what was then a future danger.
First Came the Virus. Next Come the Storms. The Atlantic, 26 May 2020.
Never has the simple tense of a verb revealed so much about a political party—or seemed so plainly out of touch with reality…

"Health and economic impacts were tragic," [Larry Kudlow, President Donald Trump's chief economic adviser] said of that pandemic. "Hardship and heartbreak were everywhere."

If the pandemic were truly in the past, however, Kudlow would have been delivering that message to a packed, roaring crowd at the Spectrum Center in Charlotte, North Carolina.
Remember the Pandemic? The Atlantic, 25 August 2020.
🔬 Research and medical news
The protection provided by memory T and B cells is the reason that vaccine-based protection works.

However, there are exceptions. A lifelong vaccine against the flu does not work because flu's genetic code changes rapidly, altering the appearance of the flu, and therefore requires a new vaccine every season.

But with SARS-CoV-2, the problem as I see it, seems to be that those memory T cells and B cells seem to be wiped out.
Declining antibodies and immunity to COVID-19 – why the worry? The Conversation, 26 August 2020.
‼️ Officials involved with the White House coronavirus task force "ordered the Centers for Disease Control and Protection to stop promoting coronavirus testing for most people who have been exposed to the virus but aren't showing symptoms." The new guidance was quietly introduced on the CDC website.
CDC Director Robert Redfield seemed to walk the new guidelines back on Thursday, generating more controversy.
In depth:
CDC director attempts to clarify controversial Covid-19 testing guidelines. STAT News, 27 August 2020.
White House Task Force Directed CDC To Weaken COVID Testing Guidelines. KHN, 27 August 2020.

📣 Because of widespread supply shortages and overwhelmed medical providers, many who sought viral testing in the first months of the pandemic were refused for not meeting strict criteria. Others decided on their own to self-quarantine. Some, like wildlife veterinarian Emily Talkington, received negative results from local testing sites despite clinical signs of the disease.
A dilemma for 'long-haulers': Many can't prove they ever had Covid-19. STAT News,
26 August 2020.
In 24 hours, the testing landscape of the United States has transformed.

Yesterday morning, all of the tests for COVID-19—traditional or rapid—that had received emergency authorization from the Food and Drug Administration required an expensive machine and cost around $40 or more. In the afternoon, the pharmaceutical company Abbott announced that it had received FDA authorization to distribute a new type of test…

This morning, the Trump administration announced that it would be purchasing 150 million of these tests from the company. For comparison, states have reported fewer than 75 million tests total over the past six months, according to the COVID Tracking Project at The Atlantic.
But how much hope to pin on a test that can be "used only on people with symptoms of COVID-19 within seven days of the onset of their symptoms"?
A New Era of Coronavirus Testing Is About to Begin. The Atlantic, 27 August 2020.
🎦 Recommended viewing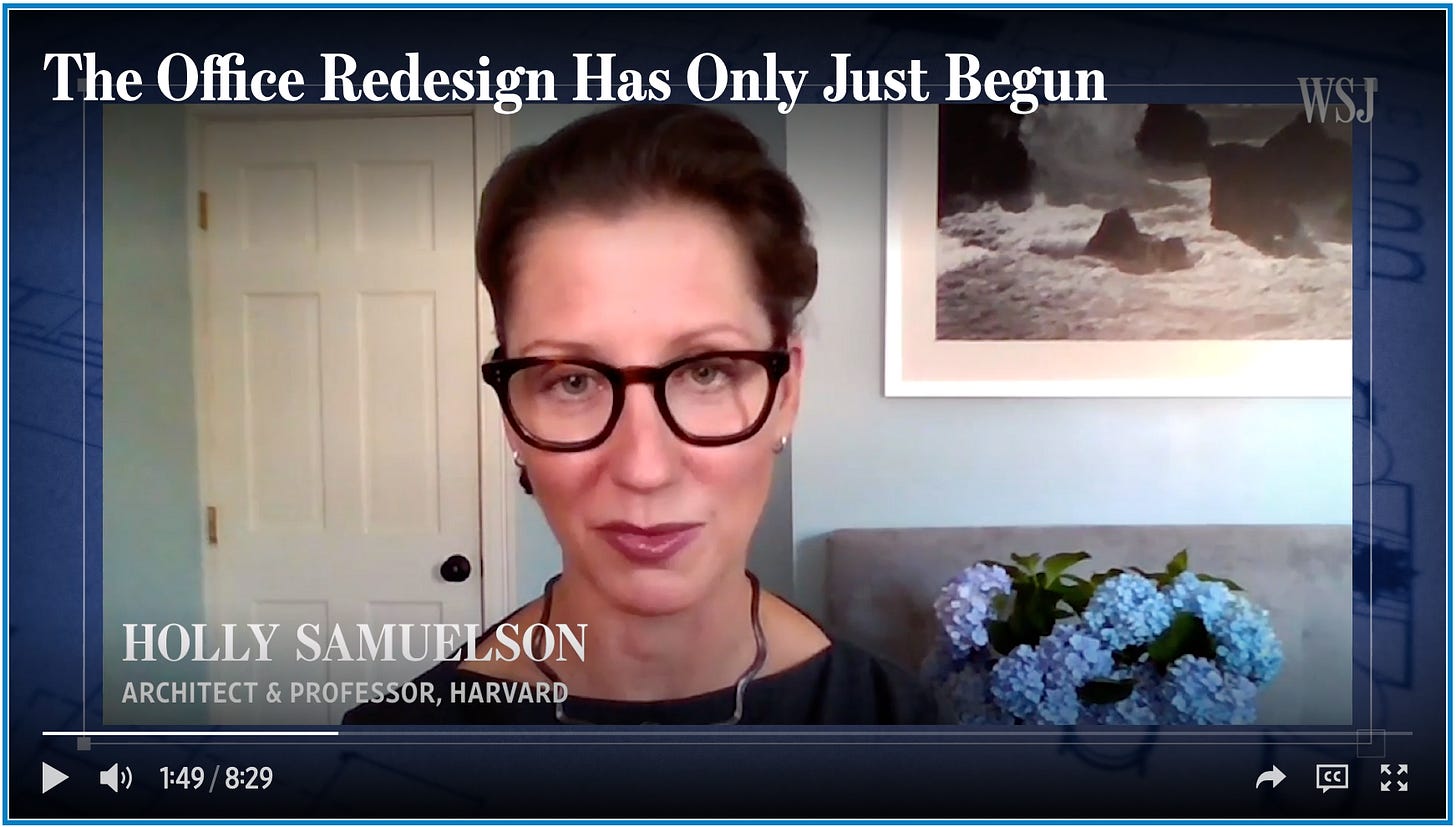 From Remote Work Isn't Going Away. So Let's Deal With the Obstacles. WSJ, 02 August 2020. [Article is paywalled; video is not.]
And there will be more of this:
⓷ Politics, economics and COVID-19
✅ World Economic Forum delays annual meeting in Davos from January 2021 until summer 2021.
✅ Carnival canceled more Princess Cruises due to coronavirus. It paused Cunard Line cruises until March 25, 2021.
❌ In California, state Sen. Brian Jones (R-Santee) tested positive, throwing the legislature into disarray as nearly every Republican was barred from the state Capitol on Thursday.
❌ This should surprise no one: 12 of the top 15 US universities reporting the highest number of cases are in the South, according to a NYTimes database. At least 26,000 positive cases have been reported at 1,500 colleges and universities.
🦠 India is closing the gap to overtake Brazil as the number two nation in cases. However its per capita cases (24.0/10,000) trails Brazil (174.9) and the US (175.9).
🆘 Without help, low-income, developing countries risk a lost decade: IMF
📣 Germany will ban large events until the end of this year. There's a sharp rise in cases in France and Italy. Masks are now required throughout Paris, even in parks.
⓸ Key metrics
🦠 Wednesday, Johns Hopkins reported 5,821,819 (44,109 new) cases and 179,708 (1,222 new) deaths, an increase of 0.76% and 0.68%, respectively, since Tuesday. A week ago, the daily numbers increased by 0.86 % and 0.79%, respectively.
Wednesday
- cases up 4% compared to seven-day average; deaths up 22%
- seven-day average: 42,425 cases and 986 deaths 
- 3.09% cases leading to death
- case rate, 175.9 per 10,000; death rate, 5.4 per 10,000

One week ago
- cases down 2% compared to seven-day average; deaths up 30%
- seven-day average: 48,577 cases and 1,080 deaths 
- 3.13% cases leading to death
- case rate, 167.1 per 10,000; death rate, 5.2 per 10,000
Note: the seven-day average is important because dailies vary due to factors other than actual case numbers, particularly over a weekend.
🇺🇸 26 August 
CDC: 5,752,653 (37,086 new) cases & 177,759 (1,142 new) deaths
- One week ago: 5,460,429 (39,318 new) cases & 171,012 (1,172 new) deaths

State data*:  5,749,803 (43,716 new) cases & 170,353 (1,251 new) deaths
- One week ago: 5,502,927 (45,103 new) cases & 165,011 (1,416  new) deaths
KS reports only M-W-F; CT and RI report only M-F

WHO: 5,682,811 (32,883 new) cases and & 176,201 (388 new) deaths
- One week ago: 5,393,138 (39,125 new) cases and & 169,508 (509 new) deaths
🌎 
26 August 
Johns Hopkins interactive dashboard (11.00 pm Pacific)
Global: 24,176,836 (287,686 new) cases & 825,696 (6,282 new) deaths
- One week ago: 22,411,300 (274,346 new) cases & 787,672 (6,764 new) deaths
* Johns Hopkins data, ~11.00 pm Pacific.
State data include DC, Guam, the Northern Mariana Islands, Puerto Rico and the US Virgin Islands
The virus was not created in a lab and the weight of evidence is that it was not released intentionally. Although early reports tied the outbreak to a market in Wuhan, China, analyses of genomic data have suggested that the virusdeveloped elsewhere.
⓹ Resources
👓 See COVID-19 resource collection at WiredPen.
📝 Subscribe to Kathy's COVID-19 Memo :: COVID-19 Memo archives
🦠 COVID-19 @ WiredPen.com
📊 Visualizations: US, World
🌐 Global news (at WiredPen)

👏🏻 Thank you
 for your time!