Discover more from ⚡️Memo from a News Hound
Weekly news in context with focus on the pandemic, misinformation, trends.
COVID-19 day 216: 📈 Trump administration tied hospital CARE Act money to reporting COVID-19 data to private firm: 23 August 2020
Six states reported more than 2,000 new cases on Friday; nine states had positivity rates greater than 10%; India trails US in new cases based on per capita data but leads in raw numbers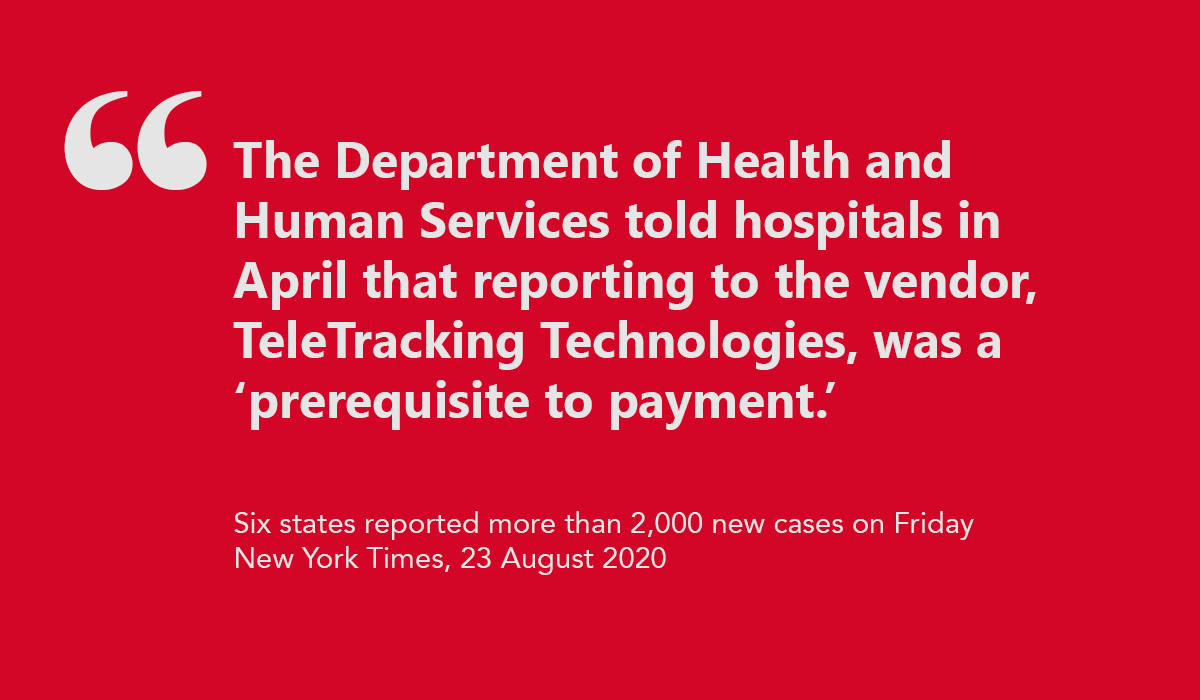 Sunday is day 216 since the first case of coronavirus disease was announced in the United States. This report is dated Sunday and contains data from Friday. However, global deaths passed 800,000 on Sunday.
There is big news in the past week's data from Johns Hopkins: the daily increase in both the cases and deaths have stayed below 1.0% each day beginning with 15 August. This means the rate of growth for the country has slowed considerably. Whether it will continue to decline depends in large part on state decisions about mandatory masks; K-12; colleges and universities; and sports.
Six states reported more than 2,000 new cases on Friday: California (5,585), Texas (5,021), Florida (4,684), Georgia (2,889), Illinois (2,293) and North Carolina (2,008).
On a per capita basis, COVID-19 was hitting the US Virgin Islands the hardest on Friday: 60.05 new cases per 100,000. Guam, 38.02; Kansas, 33.16; Iowa, 31.41; North Dakota, 30.44; Arkansas, 29.39; Mississippi, 29.37; Nevada, 27.56; Oklahoma, 27.22; Georgia, 27.21.
Arizona remains out front in positivity (18.68%), followed by
South Carolina, 12.53%

Florida, 12.52%

Mississippi, 12.36%

Alabama, 12.20%

Georgia, 11.75%

Texas, 11.33%

Idaho, 10.72%

Massachusetts, 10.32%
Each of these states should be under stay at home orders; masks should be required in public spaces; and gatherings should be limited less than five.
The US threshold for economic "opening" is a positivity rate of less than 10%; for WHO, the rate is 5%. Only 11 states have a positivity rate of 5% or less, along with Guam, Puerto Rico, and the US Virgin Islands.
Sections (no jump links, sorry!)
1, One big thing; 2, Recommendations; 3, Politics, economics & COVID; 4, Key metrics; 5, Resources
⓵ One big thing - India
You might see a chart like this one, that shows India has passed the US in daily case numbers. But it's important to remember the difference in total population.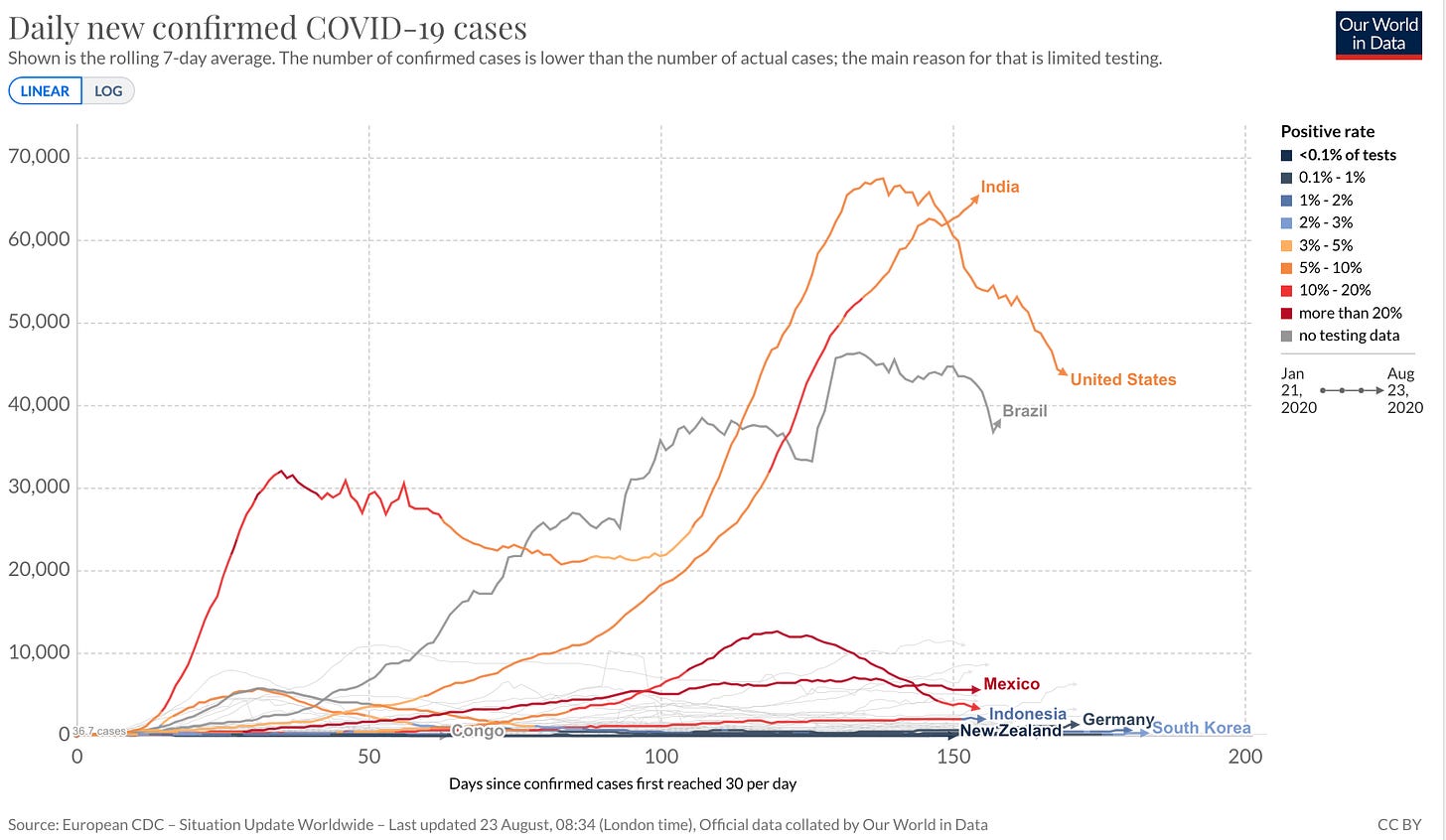 Brazil trails the US in total cases and in daily cases. But on a per capita basis, the US Virgin Islands, Panama and Brazil are in worse shape than the United States.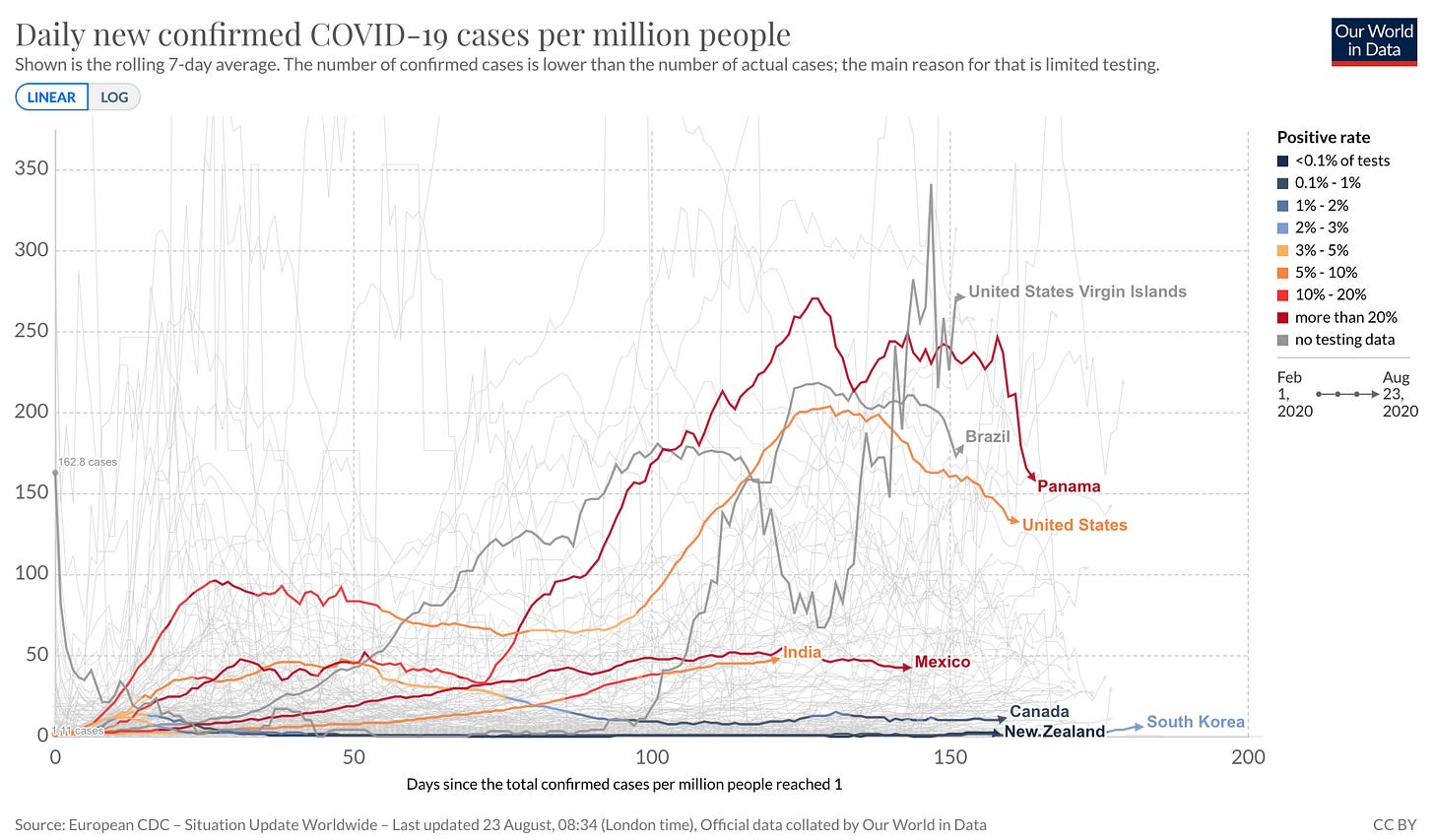 For most of western India, Mumbai has begun celebrating the Hindu elephant-headed god Ganesh; the weekend marked the beginning of an 11-day festival traditionally marked by large public celebrations.
On Friday, India reported almost 70,000 new cases, up from about 65,000 a week earlier. The fatality rate (1 in 10,000) is one-fifth that of the United States.
Former Indian President Pranab Mukherjee (2012-2017) remains in a coma after testing positive for COVID-19 and an operation to remove a blood clot.
According to Fierce Parma, "the Serum Institute of India (SII) is pursuing $1 billion in fundraising by September to support development of five COVID-19 vaccine candidates."
⓶ Recommendations
🤓 Recommended reading
The COVID-19 pandemic has thrown socio-economic inequalities into sharp relief. From access to healthcare and green spaces, to work and education, here are five areas of society where coronavirus has shown up real disparities.
5 things COVID-19 has taught us about inequality. World Economic Forum, 18 August 2020.
The NY Times broke this story of how Health and Human Services demanded hospitals shift their data reporting from the CDC to a private firm.
The Trump administration tied billions of dollars in badly needed coronavirus medical funding this spring to hospitals' cooperation with a private vendor collecting data for a new Covid-19 database that bypassed the Centers for Disease Control and Prevention… The office of the health secretary, Alex M. Azar II, laid out the requirement in an April 21 email obtained by The New York Times…

The financial condition, which has not been previously reported, applied to money from a $100 billion "coronavirus provider relief fund" established by Congress as part of the $2.2 trillion Coronavirus Aid, Relief and Economic Security Act, or CARES Act.
To further illustrate the dysfunction in the Trump administration, Dr. Deborah Birx told the Wall Street Journal that hospitals would again be sending data to the CDC. Then the next day:
Michael Caputo, HHS assistant secretary, told Texas-based News West 9 that the hospital COVID-19 data reporting system will not be transitioning back to the CDC, despite statements made by White House coronavirus official Deborah Birx, MD, earlier this week.
Billions in Hospital Virus Aid Rested on Compliance With Private Vendor, NYTimes, 23 August 2020.
[A]s federal, state, and local protections and resources expire and in the absence of robust and swift intervention, an estimated 30–40 million people in America could be at risk of eviction in the next several months.
The COVID-19 Eviction Crisis: an Estimated 30-40 Million People in America Are at Risk. The Aspen Institute, 07 August 2020.
An outbreak linked to a bar and grill in southwestern Washington state is instructive. For karaoke night, the staff spaced the tables, checked temperatures at the door, even put up plexiglass barriers near the singers. Nonetheless, a few weeks later, close to 20 customers and employees had been infected.
Deadly Mix: How Bars Are Fueling COVID-19 Outbreaks. KHN & NPR, 21 August 2020.
🔬 Research and medical news
Three research reports highlight the challenge of managing COVID-19 in the nation's incarcerated population: one in JAMA Network Open; the other two are in the CDC Morbidity and Mortality Weekly Report.
Studies spotlight high COVID-19 infection rate in US prisons. CIDRAP, 21 August 2020.
🎦 Recommended viewing
As COVID-19 spreads, don't forget about the world's deadliest animal: the mosquito.
⓷ Politics, economics and COVID-19
🍷 Californians face both wildfire smoke and viral particles in the air.
‼️ FDA, under pressure from Trump, authorizes blood plasma as Covid-19 treatment
✅ Beijing says residents can go mask-free as China COVID cases hit new lows
✅ Japan is planning to ease travel restrictions, allowing foreign nationals with resident visas to enter the country.
🦠 After a quiet start to the summer, Europe is experiencing a sharp rise in cases. 
⬆️ On Friday, South Korea reported 324 new cases, "its highest single day total since early March and the eighth consecutive triple-digit daily increase." South Korea and the United States each had their first public case on 21 January.
Churches had been a major source of new cases in the Seoul area before authorities shut them this week while raising social distancing restrictions, something they had resisted for months out of economic concerns. Nightclubs, karaoke bars, buffet restaurants and computer gaming cafes are also closed and spectators have been banned again from baseball and soccer games.
⓸ Key metrics
🦠 Friday, Johns Hopkins reported 5,622,540 (48,693 new) cases and 175,363 (1,108 new) deaths, an increase of 0.87% and 0.64%, respectively, since Thursday. A week ago, the daily numbers increased by 1.22% and 0.80%, respectively.
Friday
- seven-day average: 46,711 cases and 1,032 deaths 
- 3.12% cases leading to death
- case rate, 169.9 per 10,000; death rate, 5.3 per 10,000

One week ago
- seven-day average: 53,684 cases and 1,043 deaths 
- 3.17% cases leading to death
- case rate, 160.5 per 10,000; death rate, 5.1 per 10,000
Note: the seven-day average is important because dailies vary due to factors other than actual case numbers, particularly over a weekend.
🇺🇸 21 August 
CDC: 5,551,793 (44,864 new) cases & 173,490 (1,074 new) deaths
- One week ago: 5,228,817 (52,799 new) cases & 166,317 (1,169 new) deaths

State data*:  5,593,701 (47,529 new) cases & 167,268 (1,140 new) deaths
- One week ago: 5,280,137 (55,923 new) cases & 160,156 (1,217 new) deaths
KS reports only M-W-F; CT and RI report only M-F

WHO
5,477,305 (46,259 new) cases and & 172,033 (1,393 new) deaths
- One week ago: 5 150 407 (55 907 new) cases & 164 826 (1 486 new) deaths
🌎 
21 August 
Johns Hopkins interactive dashboard (11.00 pm Pacific)
Global: 22,949,234 (270,751 new) cases & 799,245 (5,547 new) deaths
- One week ago: 21,159,730 (253,839 new) cases & 764,683 (9,094 new) deaths
* Johns Hopkins data, ~11.00 pm Pacific.
State data include DC, Guam, the Northern Mariana Islands, Puerto Rico and the US Virgin Islands
The virus was not created in a lab and the weight of evidence is that it was not released intentionally. Although early reports tied the outbreak to a market in Wuhan, China, analyses of genomic data have suggested that the virusdeveloped elsewhere.
⓹ Resources
👓 See COVID-19 resource collection at WiredPen.
📝 Subscribe to Kathy's COVID-19 Memo :: COVID-19 Memo archives
🦠 COVID-19 @ WiredPen.com
📊 Visualizations: US, World
🌐 Global news (at WiredPen)

👏🏻 Thank you
 for your time!