Discover more from ⚡️Memo from a News Hound
Weekly news in context with focus on the pandemic, misinformation, trends.
COVID-19 day 211: 📈 Campuses open, COVID-19 infections spread : 18 August 2020
More than 1,100 four-year colleges and universities are bringing students back "in a vast unplanned pandemic experiment". COVID-19 is currently the third-leading cause of death in the U.S.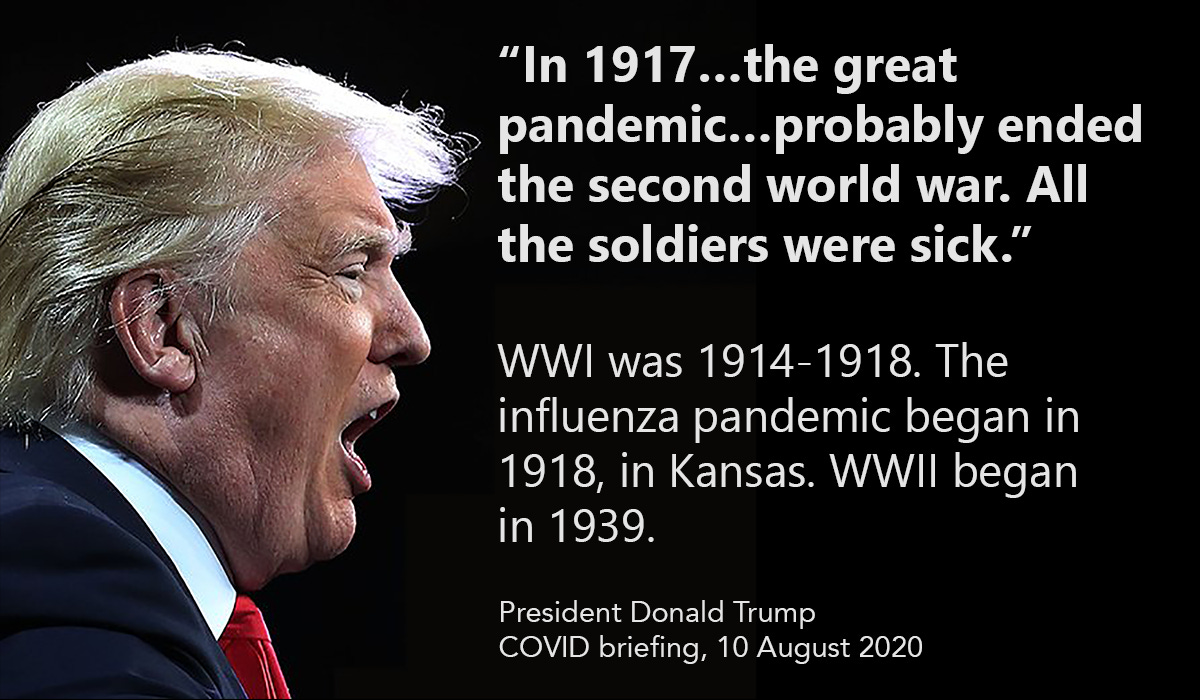 Monday was day 210 since the first case of coronavirus disease was announced in the United States.  Because so many states are no longer reporting data on Saturday and Sunday, I am shifting data reports to M-W-F and publishing Tu-Th-Su.
Daily data reports are important but are no longer the most important news about COVID-19 in the United States as we continue to trail the developed world in our response to the pandemic.
About that quote: It was a slowly paced ad-lib with no stutters, alarming in its divergence from basic facts. The vicious wave of the pandemic began as WWI was coming to a close.
Sections (no jump links, sorry!)
1, One big thing; 2, Recommendations; 3, Politics, economics & COVID; 4, Key metrics; 5, Resources
⓵ One big thing - campuses open, COVID-19 infections spread
According a research project at Davidson College, as of 17 August more than 1,100 four-year colleges and universities were bringing students back to campus in some form with almost 600 of those "primarily in person." Less than 100 were "fully in person." Almost 800 reported being "primarily online."
Nature calls this a "vast unplanned pandemic experiment."
This non-exhaustive list hints at the next month:
Colorado
Colorado College: 155 students in one dorm in quarantine after one student tested positive and then students did not follow "enhanced social distancing protocols"
Connecticut
Florida
Georgia
Indiana
University of Notre Dame - classes suspended eight days after fall term began; 146 students and a staff member test positive.
Iowa
Kansas
Bethel College: 482 people have been tested in the county; 50 from Bethel College are positive, including 43 students; 22 student-athletes; and seven faculty members. That's almost 10% of the student body.
Massachusetts
Mississippi
Missouri
St. Louis University: 22 students tested positive during move-in week; SLU has set aside 150 beds for isolation and quarantine housing
Kentucky
North Carolina
Oklahoma
Tennessee
Wyoming
⓶ Recommendations
🤓 Recommended reading
But 10 days after I arrived in Australia, Lebanon closed its only airport. Ten days after that, Australia introduced a mandatory fortnight of hotel quarantine for all overseas arrivals….

Time has never moved as slowly as it did in that last week. But eventually, the day arrived. In the months since we had last seen each other, the world had changed completely. Had we?
In the months my husband and I were apart, the world changed completely. The Guardian, 09 August.
In the absence of any national strategy for tackling the coronavirus pandemic, colleges and universities in the United States are on their own when it comes to deciding whether and how to bring students back for the autumn term, which has already started for some institutions…

Bringing so many university students to crowded campuses is uniquely risky in the United States, which has seen the largest number of deaths to COVID-19 of any country and has active community transmission of SARS-CoV-2, the virus responsible for the pandemic. Other large countries with surging infection rates, such as India and Brazil, are not opening up campuses to the same degree…

More than in many other countries, universities in the United States have increasingly come to rely on tuition income and fees, including payments for housing and meals, to stay afloat
Millions of students are returning to US universities in a vast unplanned pandemic experiment. Nature, 17 August 2020.
The American Council on Education, a higher education trade group, put colleges' losses in the spring at $46.6 billion in increased student financial aid and lost revenue. The same group, joined by other college associations, told Congress it would cost at least $73.8 billion in new costs to reopen campuses…

Even a dorm that is half-full might be better for a college's bottom line than one that is completely empty. In some cases, he said, a college may be influenced to reopen by its board – members of which are often political appointees. (States led by conservative leaders have pushed to reopen their businesses and schools more quickly than their liberal peers.) 
COVID-19 will hit colleges when students arrive for fall semester. So why open at all? Money is a factor. USA Today, 17 August 2020.
🔬 Research and medical news
Heart disease and cancer are the leading causes of death in the US, but COVID-19 is now the third leading cause of death in the country. "Last week, Americans were eight times more likely to get killed by Covid than were Europeans," Dr. Thomas Frieden, a former director of the Centers for Disease Control and Prevention, told CNN.
Birx says she wishes US lockdown had resembled the one in Italy. CNN, 17 August 2020.
After researchers adjusted for sociodemographic factors and pre-existing conditions, they report that Black patients were no more likely than white patients to die of COVID-19 in a retrospective analysis. However Black patients were more likely to have pre-existing conditions.
Association of Race With Mortality Among Patients Hospitalized With Coronavirus Disease 2019 (COVID-19) at 92 US Hospitals. JAMA Open Network, 18 August 2020.
As the global COVID-19 total today neared 22 million cases, the head of the World Health Organization (WHO) warned about "vaccine nationalism" and previewed a basic strategy for deploying vaccine, once available, that not only protects those at greatest risk, but also helps reduce the threat for all countries.
WHO urges global coordination of vaccine rollout, notes COVID in Caribbean. CIDRAP, 18 August 2020.
🎦 Recommended viewing
Many people have joked that they've lost their sense of time during the Covid-19 pandemic — but the underlying idea, known as time blindness, is a real phenomenon.
Watch: What day is it? How pandemic stress alters your perception of time. STAT News, 17 August 2020.
⓷ Politics, economics and COVID-19
🌵 More than 100 teachers staged a sickout in a school district outside of Phoenix, leading to Monday classes being canceled.
‼️ CDC's chief of staff, deputy chief of staff depart from agency. The Department of Health and Human Services chief information officer abruptly resigned.
❌ Pittsburgh-based TeleTracking Technologies, a private tech company that is gathering coronavirus database data, told Senate Democrats that its nondisclosure agreement with the Trump administration means it can stay mum about its $10.2 million contract. "The lawyer refused to share the company's proposal to the government, its communications with administration officials and other information related to the awarding of the contract."
💰 Politics slows flow of federal pandemic relief funds to state public health agencies.
🦘 In Australia, the death toll reaches 450 and Victoria records 216 new cases
🆘 Grrrr. Patronage wins, again.
Dr. Scott Atlas, a frequent guest on Fox News Channel, has joined the White House as a pandemic adviser. Atlas, the former chief of neuroradiology at Stanford University Medical Center and a fellow at Stanford's conservative Hoover Institution, has no expertise in public health or infectious diseases…

Atlas, the sole doctor to share the stage at Trump's pandemic briefings this past week, has long questioned polices that have been embraced by public health experts both in the U.S. and abroad. He has called it a "good thing" for younger, healthy people to be exposed to the virus, while falsely claiming children are at near "zero risk."
⓸ Key metrics
Tuesday, global cases passed 22 million.
One reason US case numbers may be declining slightly: testing is down and 15 states conducted fewer tests this week than last week. Testing should be up: more than 30 states have test positivity rates of more than 5%, WHO's guide for economic reopening.
🦠 Monday, Johns Hopkins reported 5,438,325 (125,270 new) cases and 170,497 (2,051 new) deaths since Friday. That's a dramatic decline in daily cases, from 64K cases on Friday to a three-day average of 42K. The decline in reported deaths is similar, from 1,017 on Friday to a three-day average of 684. This is normal, however, for the Sa-Su-Mo reporting period.
Monday
- seven-day average: 49,183 cases and 945 deaths 
- 3.14% cases leading to death
- case rate, 164.3 per 10,000; death rate, 5.2 per 10,000

One week ago
- seven-day average: 53,306 cases and 1,075 deaths 
- 3.21% cases leading to death
- case rate, 153.9 per 10,000; death rate, 4.9 per 10,000
Note: the seven-day average is important because dailies vary due to factors other than actual case numbers, particularly over a weekend.
🇺🇸 17 August 
CDC: 5,382,125 (41,893 new) cases & 169,350 (654 new) deaths
- One week ago: 5,023,649 (48,690 new) cases & 161,842 (558 new) deaths

State data*:  5,417,366 (37,817 new) cases & 162,400 (407 new) deaths
- One week ago: 5,060,880 (40,455 new) cases & 154,947 (421 new) deaths
KS reports only M-W-F; CT and RI report only M-F

WHO
5,382,125 (41,893 new) cases and & 169,350 (654 new) deaths
- One week ago: 4 951 851 (53 893 new) cases & 160 989 (1 059 new) deaths
🌎 
17 August 
Johns Hopkins interactive dashboard (11.00 pm Pacific)
Global: 21,881,858 (209,672 new) cases & 774,034 (-1,210 new) deaths
- One week ago: 20,089,624 (xx227,941 new) cases & 736,191 (4,865 new) deaths
* Johns Hopkins data, ~11.00 pm Pacific.
State data include DC, Guam, the Northern Mariana Islands, Puerto Rico and the US Virgin Islands
The virus was not created in a lab and the weight of evidence is that it was not released intentionally. Although early reports tied the outbreak to a market in Wuhan, China, analyses of genomic data have suggested that the virusdeveloped elsewhere.
⓹ Resources
👓 See COVID-19 resource collection at WiredPen.
📝 Subscribe to Kathy's COVID-19 Memo :: COVID-19 Memo archives
🦠 COVID-19 @ WiredPen.com
📊 Visualizations: US, World
🌐 Global news (at WiredPen)

👏🏻 Thank you
 for your time!