Discover more from ⚡️Memo from a News Hound
Weekly news in context with focus on the pandemic, misinformation, trends.
COVID-19 day 197: 📈 57,540 new cases, 1,399 new deaths (US): 04 August 2020
Cases trending down, deaths trending up; Israel, the case against rapid opening of schools; what did public health experts fail to include in two decades of pandemic simulations?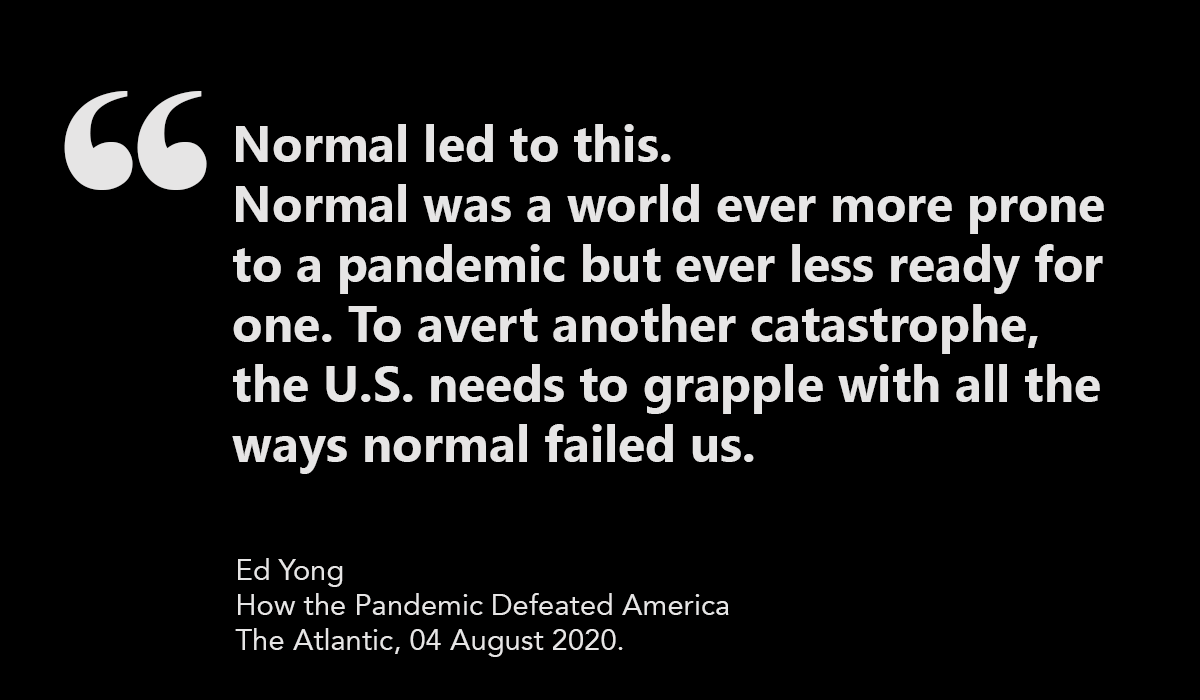 It's day 197 since the first case of coronavirus disease was announced in the United States. This is a lite edition (due to health issues).
US case numbers are slowly trending downward while daily deaths continue to rise. However, as I point out below, the per capita case rate has increased from about 6/100,000 in mid-May to 17/100,000 today.
Sections (no jump links, sorry!)
1, Key metrics; 2, Recommendations; 3, Resources
⓵ Key metrics
🦠 Tuesday, Johns Hopkins reported 4,771,080 (57,540 new 🔺) cases and 156,801 (1,399 new 🔺) deaths, an increase of 1.22% and 0.90%, respectively, since Monday. A week ago, the daily numbers increased by 1.44% and 0.84%, respectively.
Note: the seven-day average is important because dailies vary due to factors other than actual case numbers, particularly over a weekend.
🇺🇸
04
 August 
🌎 04
 August 
Johns Hopkins interactive dashboard (11.00 pm Pacific)
* Johns Hopkins data, ~11.00 pm Pacific.
State data include DC, Guam, the Northern Mariana Islands, Puerto Rico and the US Virgin Islands
The virus was not created in a lab and the weight of evidence is that it was not released intentionally. Although early reports tied the outbreak to a market in Wuhan, China, analyses of genomic data have suggested that the virus developed elsewhere.
⓶ Recommendations
🤓 Recommended reading
📣 If you read nothing else all month, you must read this six-month overview by Ed Yong at The Atlantic. He is the best science reporter on this beat and worth the price of a subscription.
In the first half of 2020, SARS‑CoV‑2—the new coronavirus behind the disease COVID‑19—infected 10 million people around the world and killed about half a million. But few countries have been as severely hit as the United States, which has just 4 percent of the world's population but a quarter of its confirmed COVID‑19 cases and deaths. These numbers are estimates. The actual toll, though undoubtedly higher, is unknown, because the richest country in the world still lacks sufficient testing to accurately count its sick citizens.
This is long and meticulously sourced. Even if you have been following this "story" since January, there will probably be tidbits here you have either not yet read or not yet thought about in the frame Ed presents.
Since the pandemic began, I have spoken with more than 100 experts in a variety of fields. I've learned that almost everything that went wrong with America's response to the pandemic was predictable and preventable. A sluggish response by a government denuded of expertise allowed the coronavirus to gain a foothold. Chronic underfunding of public health neutered the nation's ability to prevent the pathogen's spread. A bloated, inefficient health-care system left hospitals ill-prepared for the ensuing wave of sickness. Racist policies that have endured since the days of colonization and slavery left Indigenous and Black Americans especially vulnerable to COVID‑19. The decades-long process of shredding the nation's social safety net forced millions of essential workers in low-paying jobs to risk their life for their livelihood. The same social-media platforms that sowed partisanship and misinformation during the 2014 Ebola outbreak in Africa and the 2016 U.S. election became vectors for conspiracy theories during the 2020 pandemic.
When I see or hear any reference about "returning to normal," I grit my teeth because we cannot "go back." COVID-19 is here to stay. Ed aims his laser at a "normal" that I had not consciously considered:
Normal led to this. Normal was a world ever more prone to a pandemic but ever less ready for one. To avert another catastrophe, the U.S. needs to grapple with all the ways normal failed us.
And yes I read this one on my phone while in ER Tuesday night. (My heart checked out fine.)
How the Pandemic Defeated America. The Atlantic, 04 August 2020.
🆘 Over the past two decades, public health experts have conducted dozens of simulations and evaluations to help (goad?) governments and organizations into taking the risk of a pandemic seriously.
A novel coronavirus emerged in Brazil, jumping from bats to pigs to farmers before making its way to a big city with an international airport. From there, infected travellers carried it to the United States, Portugal and China. Within 18 months, the coronavirus had spread around the world, 65 million people were dead and the global economy was in free fall.

This fictitious scenario, dubbed Event 201, played out in a New York City conference centre before a panel of academics, government officials and business leaders last October (emphasis added).

[…]

Most strikingly, biosecurity researchers didn't predict that the United States would be among the hardest-hit countries. On the contrary, last year, leaders in the field ranked the United States top in the Global Health Security Index, which graded 195 countries in terms of how well prepared they were to fight outbreaks, on the basis of more than 100 factors.

[..]

In January 2017, the World Bank and the Bill & Melinda Gates Foundation in Seattle, Washington, backed a pandemic simulation at the World Economic Forum in Davos, Switzerland — a gathering of global leaders in business, politics and academia. The exercise highlighted a need for better coordination between companies, governments and non-profit organizations when it came to managing global supply chains for medical equipment, diagnostic tests, treatments and vaccines.

[…]

In May 2018, with leaders in the White House and Congress who had never dealt with a major epidemic, Inglesby and his colleagues at Johns Hopkins University hosted an exercise in Washington DC called Clade X. It featured a respiratory virus that was engineered in a laboratory. One early lesson of this simulation was that travel bans didn't stop the virus from gaining ground. Infections spread rapidly below the radar because half of the people infected showed few or no symptoms. Medical supplies ran short, and hospitals were overwhelmed. Federal and state leaders issued conflicting messages. More than 20 months passed before a vaccine was available.
Two decades of pandemic war games failed to account for Donald Trump. Nature, 04 August 2020.
🍎 Lots of reasons to worry about schools re-opening when unprepared. On 17 May, when Israel re-opened all its schools, its new case rate/day was <1 per 100,000; today, it's 20 per 100,000. On 17 May, the US new case rate was 6 per 100,000; today, it's 17 per 100,000 (without opening schools).
In his inaugural speech, Prime Minister Benjamin Netanyahu promised a new budget that would deliver three things: "Jobs, jobs, jobs." His new education minister, Yoav Gallant, said that the school system's "immediate mission" was to allow parents to return to work with peace of mind.

Shopping malls, outdoor markets and gyms had already reopened, and soon houses of worship, restaurants, bars, hotels and wedding halls did too. Mr. Netanyahu told Israelis to grab a beer and, while taking precautions, "Go out and have a good time."

In hindsight, that advice was wildly premature.
When Covid Subsided, Israel Reopened Its Schools. It Didn't Go Well. NY Times, 04 August 2020.
Related:
h/t Debb Kopp for assistance with this non-exhaustive list
🎦 Recommended viewing
To say that this is excruciatingly painful is a discredit to those descriptors. But every American should watch this. It is the second interview with President Trump where the interviewer did his job.
⓷ Resources
👓 See COVID-19 resource collection at WiredPen.
📝 Subscribe to Kathy's COVID-19 Memo :: COVID-19 Memo archives
🦠 COVID-19 @ WiredPen.com
📊 Visualizations: US, World
🌐 Global news (at WiredPen)

👏🏻 Thank you
 for your time!