Discover more from ⚡️Memo from a News Hound
Weekly news in context with focus on the pandemic, misinformation, trends.
COVID-19 day 188: 📈 55,902 new cases, 495 new deaths (US) : 26 July 2020
Seventeen states report more than 1,000 new cases; Louisiana is experiencing an outbreak in nursing homes, again; 3-in-4 new cases in LA County are age 50 or younger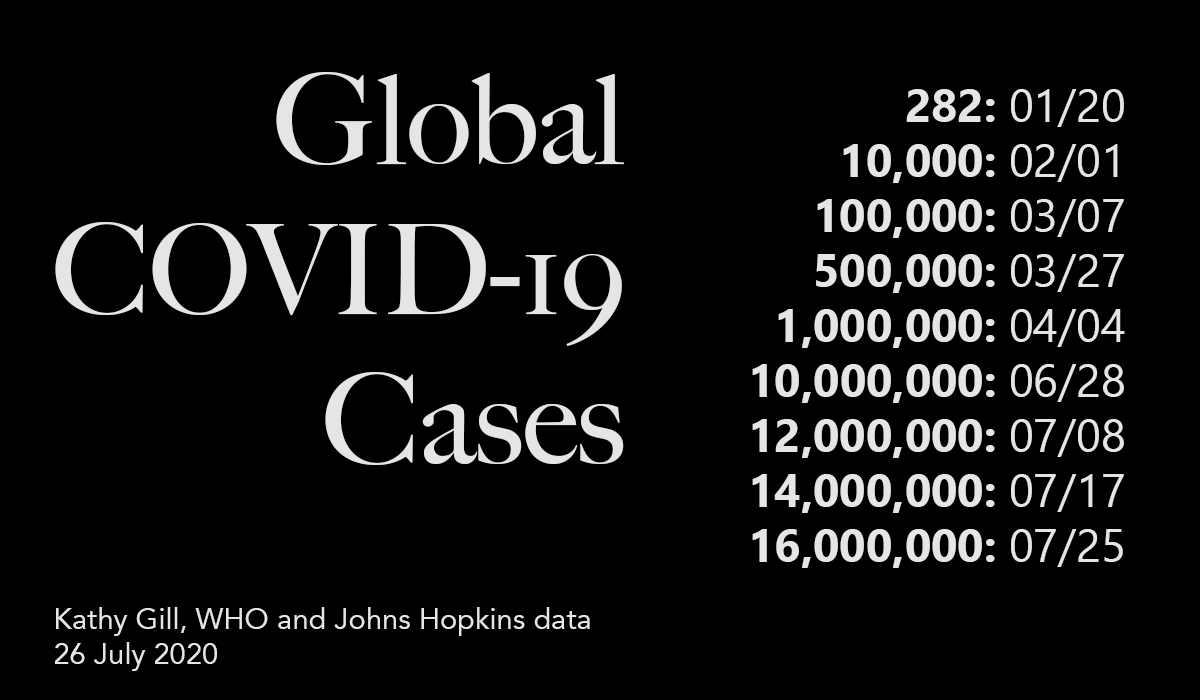 It's day 188 since the first case of coronavirus disease was announced in the United States. On Saturday, Johns Hopkins reported 310,487 new global cases and a total of 16,046,986 cases. For the second weekend in succession, the United States has failed to report data to the World Health Organization for its Sunday Situation report.
Sections (no jump links, sorry!)
1, One big thing; 2, Key metrics; 3, Recommendations; 4, Politics, economics & COVID;
5, Resources
⓵ One big thing - worrisome trends
Sunday and Monday are historically the days with the fewest reported cases and deaths, reflecting reduced testing and staff over the weekend. So when Sunday reports exceed the prior week's daily average, that's a yellow warning flag.
The first warning today comes from death reports. Of the five states reporting more than 25 deaths today, all have an average death rate for the week ending 25 July that is greater (🔺) than that for the week ending 19 July.

Moreover, two states, Texas and Louisiana, reported more deaths on Sunday than the prior weeks's daily average. And in Texas, 1,000 people have died in six days.
One more yellow flag in today's death reports: the South Carolina death rate is slightly greater than Florida, which is a distant second to Louisiana. Remember per capita data are not as dramatic but reflect the impact on a geographic region.
We know that increases in deaths follow spikes in cases, trailing by about three weeks, on average. And 17 states reported more than 1,000 cases today. Connecticut, Kansas and Rhode Island do not report on Sunday; none are likely to have been included in this chart.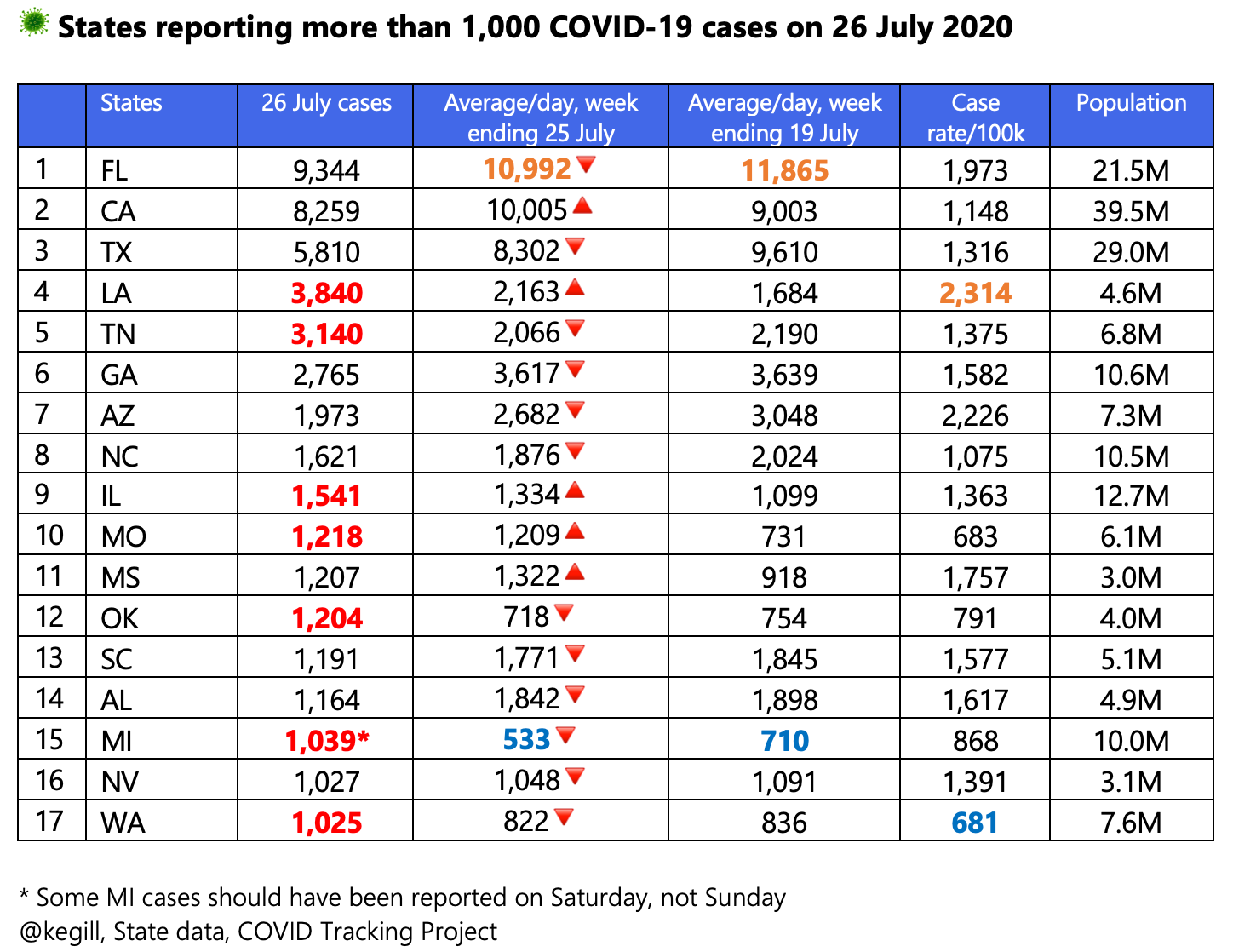 The good news is that steps taken in Arizona, Florida and Texas to curtail the spread of the virus seem to be working, if you ignore their relatively high positivity rates (21.9%, 19.0% and 12.5%, respectively). WHO sets 5% as the maximum threshold which shows a jurisdiction is testing appropriately; the Pence task force sets the threshold much higher, at 10%.
The bad news is what is happening in a handful of other states that have reported more than 1,000 cases today: Illinois, Louisiana, Michigan, Missouri, Oklahoma, Tennessee and Washington. They each reported more cases on Sunday than the prior week's daily average.
Another yellow flag: five states reported a larger average daily case rate for the week ending 25 July than for the week ending 19 July: California, Illinois, Louisiana, Mississippi and Missouri. This suggests additional efforts need to be implemented to contain the virus.
In Louisiana, there is an increase in nursing home-related cases and deaths. The state weekly report of 598 new nursing home resident cases (Wednesday 22 July) is the most new nursing home cases since since 994 were reported on 20 April 2020. Staff infections (479) are more than double those reported the first week of June (207).
[N]ursing home infections account for about 7% of the total known cases of the virus, but the 1,479 deaths of nursing home residents noted in Wednesday's report are about 42% of the state's total deaths from the disease.
There are as many coronavirus patients in Louisiana hospitals (1,600) as in the earlier outbreak (01 May). And the cases have spread far beyond New Orleans.
In California, 3-of-4 new new cases in Los Angeles County are people younger than 50 years old. Slightly more than half of those cases are people younger than 30. County officials report that hospitalization rates are still rising but not as rapidly as the first weeks of July.
The big question: will these state governors bite the bullet, unlike their behavior in the spring, and keep restrictions in place until the virus is controlled?
Only eight states reported fewer than 100 cases today: South Dakota (90), Montana (82), Hawaii (71), DC (63), Wyoming (29), Maine (24), New Hampshire (21) and Vermont (4).
⓶ Key metrics
🦠 Sunday, Johns Hopkins reported 4,233,923 (55,902 new) cases and 146,935 (475 new) deaths, an increase of 1.34% and 0.32%, respectively, since Saturday. A week ago, the daily numbers increased by 1.67% and 0.30%, respectively.
Today
- seven-day average: 65,314 cases and 852 deaths 
- 3.47% cases leading to death
- case rate, 1,279.12 per 100,000; death rate, 44.39 per 100,000

One week ago
- seven-day average: 65,917 cases and 720 deaths
- 3.72% cases leading to death
- case rate, 1,139.95 per 100,000; death rate, 42.46 per 100,000
Note: the seven-day average is important because dailies vary due to factors other than actual case numbers, particularly over a weekend.
🇺🇸 26 July 
CDC: 4,163,892 (64,582 new) cases & 145,982 (969 new) death
- One week ago: 3,698,161 (67,574 new) cases & 139,659 (877 new) deaths

State data*:  4,220,054 (60,431 new) cases & 139,250 (553 new) deaths
- One week ago: 3,758,591 (64,777 new) cases & 132,924 (625 new) deaths - missing NJ
KS reports only M-W-F; CT and RI report only M-F

WHO Situation report, 188
4 009 808 cases (0 new) with 143 663 deaths (0 new)
- One week ago: 3 544 143 cases (0 new) with 137 674 deaths (0 new)
🌎 26
 July 
Johns Hopkins interactive dashboard (11.00 pm Pacific)
Global cases 16,252,541 (205,555 new) & deaths: 648,637 (4,109 new)
- One week ago: 14,507,491 (218,802 new) & deaths: 606,173 (4,035 new)
* Johns Hopkins data, ~11.00 pm Pacific.
State data include DC, Guam, the Northern Mariana Islands, Puerto Rico and the US Virgin Islands
The virus was not created in a lab and the weight of evidence is that it was not released intentionally. Although early reports tied the outbreak to a market in Wuhan, China, analyses of genomic data have suggested that the virus developed elsewhere.
⓷ Recommendations
🤓 Recommended reading
▪️ Did you know that there is a long-standing group, the Advisory Committee on Immunization Practices, which has made recommendations on how to distribute vaccines "for decades", and it is being swept aside by at least two other Trump-initiated advisory groups?
Confusion spreads over system to determine priority access to Covid-19 vaccines. STAT News, 22 July 2020.
▪️ First person essay from a journalist who had documented the outbreak in Lombardy, Italy, and then decided to return home, to rural Haute-Alsace in northeastern France, and document the disease there.
I settle in quietly at my father's small farmhouse high in the mountains, but I decide not to have physical contact with my family for fear of getting them sick. Though I am home, it doesn't feel like home.

The next day, I visit Dr. Spihlmann, a small woman in her 40s. Her eyeglass frames are yellow, and the shape of France surrounds each eye. Like me, Dr. Spihlmann was born and raised in a small village in the Haut-Rhin district. It became a coronavirus hotspot in late February after 2,500 people from around the world attended a five-day evangelical conference at the Open Door Church in the city of Mulhouse.
When France locked down, this doctor became a lifeline for her rural community. National Geographic, 23 June 2020.
🔬 Research and medical news
Researchers at the University of New South Wales tested a variety of mask types to identify which works best. Surgical masks win (no surprise) but cloth masks are very effective with the right fabric and double-layers.
To visualise the droplets and aerosols you may not otherwise see, we used an LED lighting system with a high-speed camera.

We confirmed that even speaking generates substantial droplets. Coughing and sneezing (in that order) generate even more.
Which mask works best? We filmed people coughing and sneezing to find out. The Conversation, 24 July 2020.
⓸ Politics, economics and COVID-19
🦘In Australia, where it's winter, a recent outbreak in Sydney, NSW, has caused the adjacent state of Queensland to threaten to close its border. Victoria reported 522 cases, and 161 Australians have died.
Governments in Australia are more aggressive than in the United States at enforcing distancing. For example, in Melbourne, people have been fined for attending church services and parties; some fines take place at vehicle checkpoints. Note that the case rate in Australia is only 58.57 per 100,000 compared to the US rate of 1,279.12. Hawaii has the lowest case rate in the US, at 105.24 per 100,000.
💰Moderna announced additional US funding for its COVID-19 vaccine, bringing the total taxpayer investment to $1 billion.
✈ Travelers from Spain to the UK will be required to quarantine for 14 days, effective Sunday. There has been a sharp rise in the number of new cases in Spain in the past week, with 5,000 new cases reported Thursday and Friday. As a result, nightclubs, bars and beaches are facing new restrictions.
Catalonia ordered all nightlife venues to close for 15 days and applied a midnight curfew on bars in and around Barcelona and Lleida, hours after French Prime Minister Jean Castex urged French citizens not to visit Catalonia due to the upticks in new infections.
❌ On Saturday, Vietnam announced its first locally-transmitted case of COVID-19 in about 100 days; the country has had no deaths. On Sunday, Vietnam "reimposed restrictions in one of its most popular beach destinations." On Monday, Vietnam is evacuating 80,000 people from the central city of Da Nang.
The acting Minister of Health says that Da Nang's new Covid-19 patients have a different strain of the virus than previous cases, and it's possible the virus has been circulating in the city since the start of this month. (Michael Tatarski)
✅ On Friday, McDonald's announced that effective 01 August, customers in any of its stores must wear masks. The NY Times has published a list of retailers that require masks. It seems like every time I go to the grocery store or pharmacy, I find myself admonishing someone inside to store to mask up.
But here's the rub: front-line retail employees are now, effectively, bouncers. Without a bonus. From Utah, one example (worth your time; read in Threadreader, off Twitter):
⓹ Resources
👓 See COVID-19 resource collection at WiredPen.
📝 Subscribe to Kathy's COVID-19 Memo :: COVID-19 Memo archives
🦠 COVID-19 @ WiredPen.com
📊 Visualizations: US, World
🌐 Global news (at WiredPen)

👏🏻 Thank you
 for your time!