COVID-19 day 167: 📈 2,888,635 cases; 129,947 deaths : 05 July 2020
Hospitals under pressure in Houston, Arizona; three of Florida's largest daily reports in the past four days; US sets 27th record seven-day average; use wastewater and sewers to monitor outbreak?
It's day 167 since the first case of coronavirus disease was announced in the United States. The Washington Post reports this is the 27th consecutive day that the seven-day average for US cases set a new record.
A note about daily data reports: the closest we have to an official set of national data are the daily reports from the CDC, which are not archived. States report regularly on their websites; most report daily but some only Monday-Friday (and Kansas only M-W-F). State data feed into the federal reports, with a lag. The data that states report regularly come from labs, with a lag. And there are fewer testing sites running on weekends.
So the fact that Sunday's Johns Hopkins report (above) is greater than Saturday's is worrisome.
Newspapers like the Washington Post and New York Times compile their own data reports as well. I use end-of-day Pacific Time for mine, which means my state data are slightly different from the COVID Tracking Project (they are on east coast time).
This chart provides two weeks of case data (Sundays) for today's top 10 states using data from states.
For six of the states, today's report is the greatest for the two-week period. For Florida, the increase is almost three-fold, whereas for California, it's about 20%

For the other four, last Sunday was the larger number.
However none of those states showed a downward trend for the week, so this decline is probably an artifact of the reporting system, not a true slowdown. As for for Florida, three of the four last days have reported the most cases: 02 July, 10,109; 03 July, 9,488; 04 July, 11,458; and 05 July,10,059.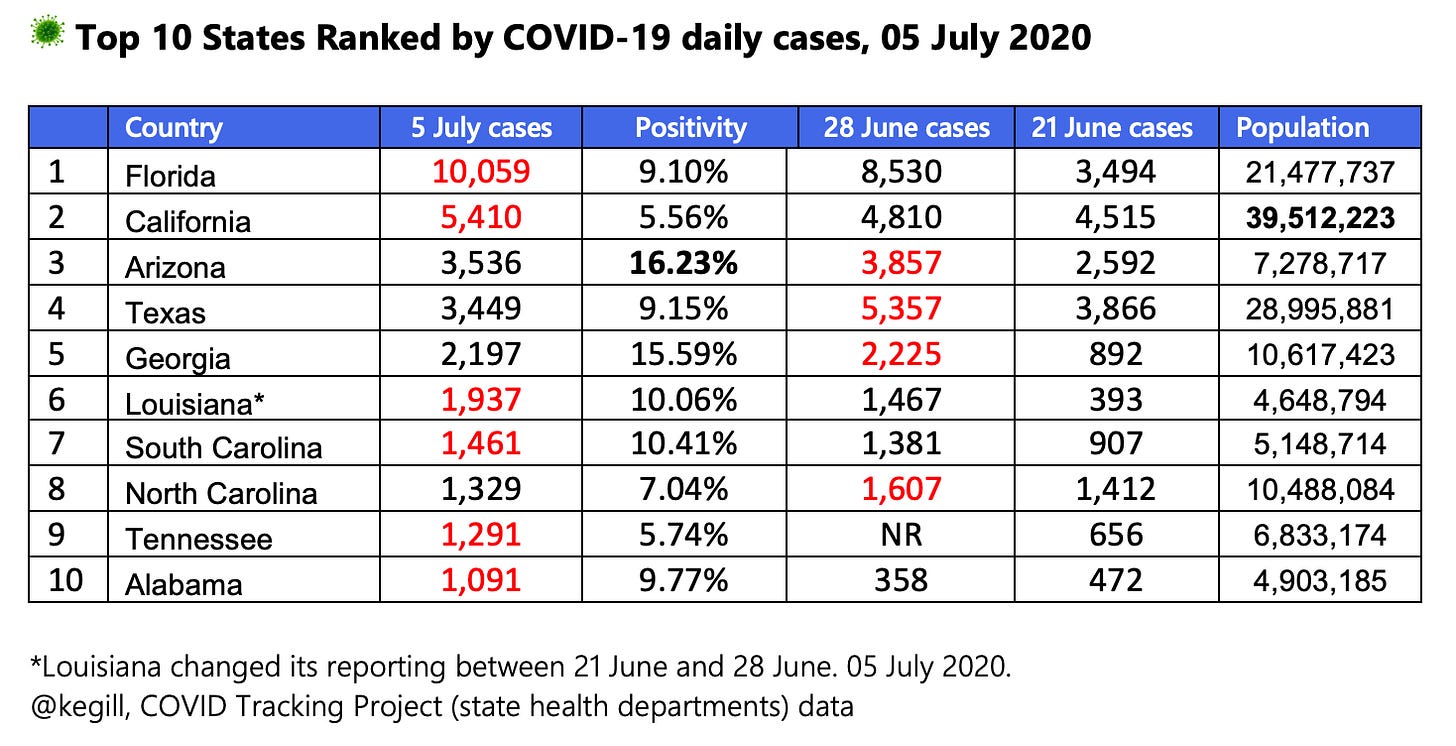 🦠 Sunday, Johns Hopkins reported 2,888,635 (49,199 new) cases and 129,947 (271 new) deaths, an increase of 1.73% (1.62%) and 0.21% (0.19%), respectively, since Saturday (Friday). A week ago, the daily numbers increased by 1.54% and 0.21%, respectively.
The seven-day average: 47,289 ⬆️ (46,485) cases and 551 ⬇️ (580) deaths.

Percent of cases leading to death: 4.50% ⬇️ (4.57%).

Today's case rate is 857.83 per 100,000; the death rate, 39.18 per 100,000.

One week ago, the case rate was 758.35 per 100,000; the death rate, 37.93 per 100,000.
Note: numbers in (.) are from the prior day and are provided for context. I include the seven-day average because dailies vary so much in the course of a week, particularly over a weekend.
🤓 Recommended reading
✅ The Washington Post interviewed six public health/infectious diseases specialists about how they have changed their behavior in this age of COVID. Their answers might help you manage your risk.
Anthony S. Fauci, director of the National Institute of Allergy and Infectious Diseases

Barry Bloom, Jacobson research professor and former dean of the Harvard T.H. Chan School of Public Health

David Satcher, former U.S. surgeon general, former director of the Centers for Disease Control and Prevention, and, most recently, founder of the Satcher Health Leadership Institute at the Morehouse School of Medicine

Elizabeth Connick, chief of the infectious diseases division and professor of medicine and immunobiology at the University of Arizona

Linda Bell, South Carolina's state epidemiologist

Paul A. Volberding, professor of medicine and emeritus professor of epidemiology and biostatistics at the University of California at San Francisco;
How Fauci, 5 other health specialists deal with covid-19 risks in their everyday lives. Washington Post or Seattle Times, 03 July 2020.
✅ After reading an article about making mask-wearing a habit, I asked for help on Facebook: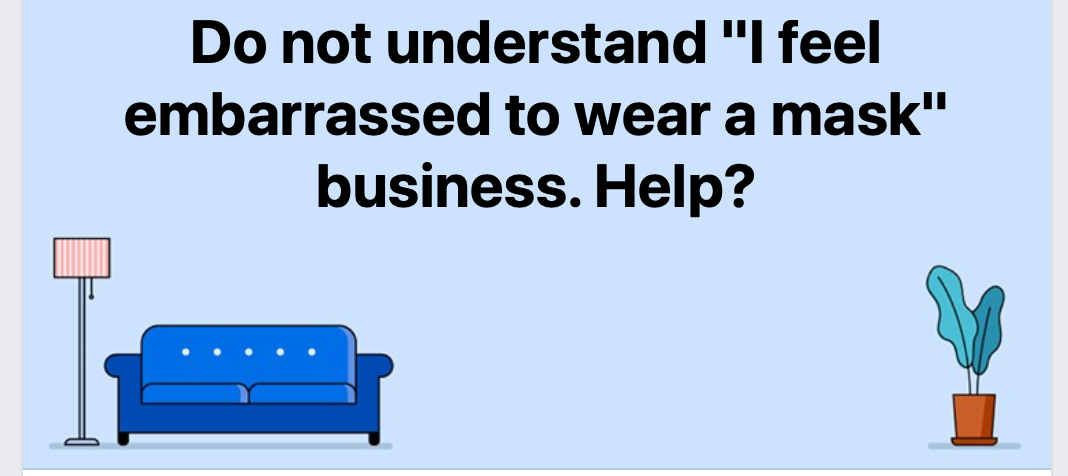 This provocative essay at Scientific American argues that a "celluloid masculinity" might be at the center of resistance, as it was during the AIDs crisis. This resonates with me, but it could very well be confirmation bias:
Trump… is the high priest of this ideology. When he rejected masks, his became the performance to imitate.
The Condoms of the Face: Why Some Men Refuse to Wear Masks. Scientific American, 29 June 2020. h/t Valerie Manusov, UW professor, Department of Communication
🔬 Research and medical news
💩When infected, we excrete SARS-CoV-2 in urine and feces, and scientists are trying to determine if sewage and/or wastewater can signal the arrival and extent of the virus in a community.
In April, Nature reported that researchers had detected the virus in wastewater effluent in the Netherlands, Sweden and the United States. In June, AFP reported that the virus was in wastewater in Italy in December, about the same time it was being reported in China, according to the ISS institute.
The results, confirmed in two different laboratories by two different methods, showed the presence of SARS-CoV-2 in samples taken in Milan and Turin on December 18, 2019 and in Bologna on January 29, 2020.
As the Seattle Times noted on Sunday, it's not the virus per se that researchers find in wastewater but its genetic material, through ribonucleic acid (RNA).
How our sewage could warn us of future outbreaks of COVID-19. Seattle Times, 05 July 2020. h/t Michael Miller
Sections (no jump links, sorry!)
1, Around the country; 2, Around the world; 3, Politics, economics and COVID-19; 4, Case count; 5, What you can do and resources
⓵ Around the country
🌵On the 4th of July, Arizona had only 11% of its ICU beds available. On 26 March, 38% were available; on 01 June, 75%. Its positivity rate on Thursday was 25%; it was 17% today.
☆ Texas is in a world of hurt. Houston hospitals are slammed, but the Rio Grande valley, even more so. From the first of June to the first of July, cases have surged from 1,391 to 7,600. This is from the Texas Tribune (ThreadReader).
Gov. Abbott has only recently started to reduce elective medical procedures. This is the same governor who "barred local officials from forcing residents to wear masks."
The U.S. Centers for Disease Control and Prevention has found that Hispanics are hospitalized for the coronavirus at about four times the rate of white people and cited "long-standing systemic health and social inequities."
⓶ Around the world
▪️ A University of Indonesia epidemiologist believes that by September or October, COVID-19 could reach 4,000 cases per day. It's the fourth most populous country in the world; it reported 1,607 cases today (Johns Hopkins). Pakistan, number five, had 6,535 cases; Brazil, number six, had 26,051. I think he's underestimating.
▪️ How will communities whose lifeblood is tourism rebuild after COVID-19? "Without tourists, in other words, there is hardly anyone left in Venice."

⓷ Politics, economics and COVID-19
❌ An order requiring Kansans to wear masks in public spaces went into effect on Friday, and so a rural Kansas newspaper published a cartoon on Friday comparing wearing a mask to the Holocaust. Dane Hicks, the owner and GOP county chairman, apologized on Facebook Sunday, an apology that seems less than sincere.
Before apologizing, Hicks had sounded a defiant tone over the weekend, calling his critics "liberal Marxist parasites" and insisting that the cartoon was fair commentary on a statewide mask order he described as "authoritarian."
When people show you who they are, pay attention.
❌On "This Week" on ABC News and then on Twitter, former President Trump Homeland Security adviser Tom Bossert broke ranks with the administration: "Masks are important, but not enough."
⓸ Case count
There is a lag between being contagious and showing symptoms, between having a test and getting its results. There is also a lag in reports of cases and deaths making their way into daily results; this lag is visible in predictable declines for both reports containing weekend data.
🌎 05
 July 
Globally: 11 125 245 cases (203 836 new) with 528 204 deaths (5 195 new)

The Americas: 697 954 cases (122 472 new) with 262 538 deaths (3 444 new)

US: 2 776 366 cases (51 933 new) with 129 226 deaths (745 new)
Johns Hopkins interactive dashboard (11.00 pm Pacific)
Global confirmed: 11,449,707 (170,242 new)

Total deaths: 534,267 (3,369 new)

Recovered: 6,179,006 (109,289 new)
🇺🇸 05 July 
📣 View weekly state infographics
* Johns Hopkins data, ~11.00 pm Pacific.
State data include DC, Guam, the Northern Mariana Islands, Puerto Rico and the US Virgin Islands
The virus was not created in a lab and the weight of evidence is it was not released intentionally. Although early reports tied the outbreak to a market in Wuhan, China, analyses of genomic data in January suggested that the virus might have developed elsewhere.
⓹ What you can do
Stay home as much as possible, period. 

Wear a mask when near non-family members.

Digestive problems may be a symptom.
Resources
👓 See COVID-19 resource collection at WiredPen.
📝 Subscribe to Kathy's COVID-19 Memo :: COVID-19 Memo archives
🦠 COVID-19 @ WiredPen.com
📊 Visualizations: US, World
🌐 Global news (at WiredPen)

👏🏻 Thank you
 for your time!