COVID-19 day 152: 📈 2,255,119 cases; 119,719 deaths : 20 June 2020
Trump calls COVID-19 "Kung flu" during Tulsa rally, campaign staff test positive; US reported cases up 17% in one week; Florida and South Carolina set new records, three successive days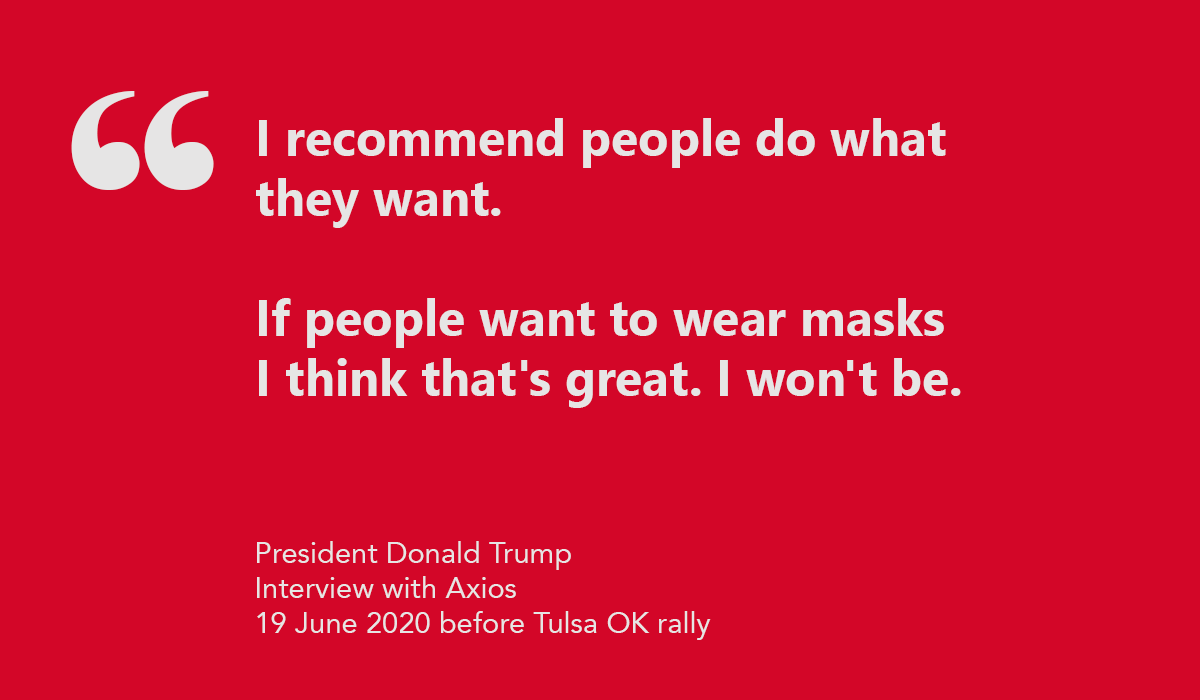 It's day 152 since the first case of coronavirus disease was announced in the United States. 
Today the US saw a huge jump in reported cases, and numbers have grown every day this week. Today's 34,158 reported cases is the most reported since 01 May (33,955). This week's seven-day average: 25,799 cases. Last week: 22,066. That's a 17% increase: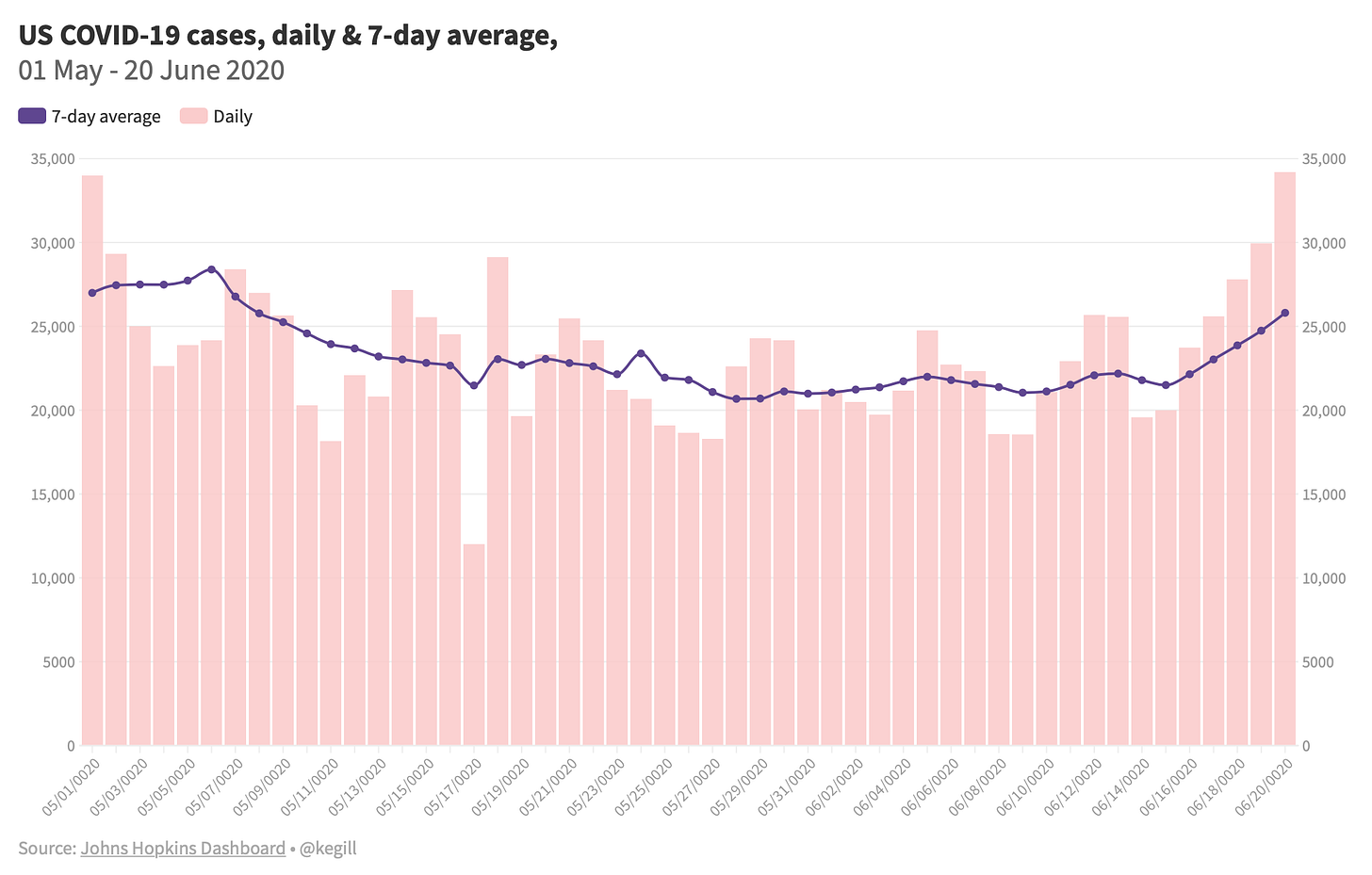 🦠 Saturday, Johns Hopkins reported 2,255,119 (2,220,961) cases and 119,719 (119,112) deaths, an increase of 1.54% (1.37%) and 0.51% (0.57%), respectively, since Friday (Thursday). A week ago, the daily numbers increased by 1.25%  and 0.67%, respectively.
The seven-day average: 25,767 (24,702) cases and 631 (662) deaths 

Percent of cases leading to death: 5.31% (5.41%).

Today's case rate is 681.30 per 100,000; the death rate, 26.17 per 100,000.

One week ago, the case rate was 626.74 per 100,000; the death rate, 24.87 per 100,000.
Note: numbers in (.) are from the prior day and are provided for context. I include the seven-day average because dailies vary so much in the course of a week, particularly over a weekend.
🤓 Recommended reading
The front lines of the virus fight have shifted from intensive care units to recovery areas like 11 North, and similar units at other hospitals, like Rusk Rehabilitation at NYU Langone Orthopedic Hospital. Here, doctors are finding that for the most severe cases, recovery can be a long and arduous process.
When Am I Coming Home?': A Tough Month Inside a Virus Recovery Unit. New York Times, 17 June 2020.
Of the top 25 COVID-19 hot spots that popped up in the last two weeks, 18 were in non-metropolitan counties. Arkansas, North Carolina and Texas all set records in mid-June for the number of people entering hospitals for COVID-19. Georgia's daily reported death toll from COVID-19 was up 35% compared to three weeks earlier.
Rural America is more vulnerable to COVID-19 than cities are, and it's starting to show. The Conversation, 18 June 2020.
😎 Brighten your day
Portland State University senior Madisen Hallberg was warming up, preparing to sing the national anthem for her virtual graduation, when a stranger asked if he could join. The video crew (from the university) said yes. The "stranger" is a classically trained singer who performs with the Portland Opera, Emmanuel (Onry) Henreid. ABC News provides the backstory (ABC on Facebook). It's beautiful; hanky warning.
Sections (no jump links, sorry!)
1, Around the country; 2, Around the world; 3, Politics, economics and COVID-19;
4, Case count; 5, What you can do and resources
⓵ Around the country
⛱ Florida reported 4,049 new cases on Saturday, breaking both Friday's record (3,822) and Thursday's record (3,207). Florida has reported 93,797 cases and 3,144 deaths. The per capita (100,000) case rate is 436.72 ; death rate, 15.07.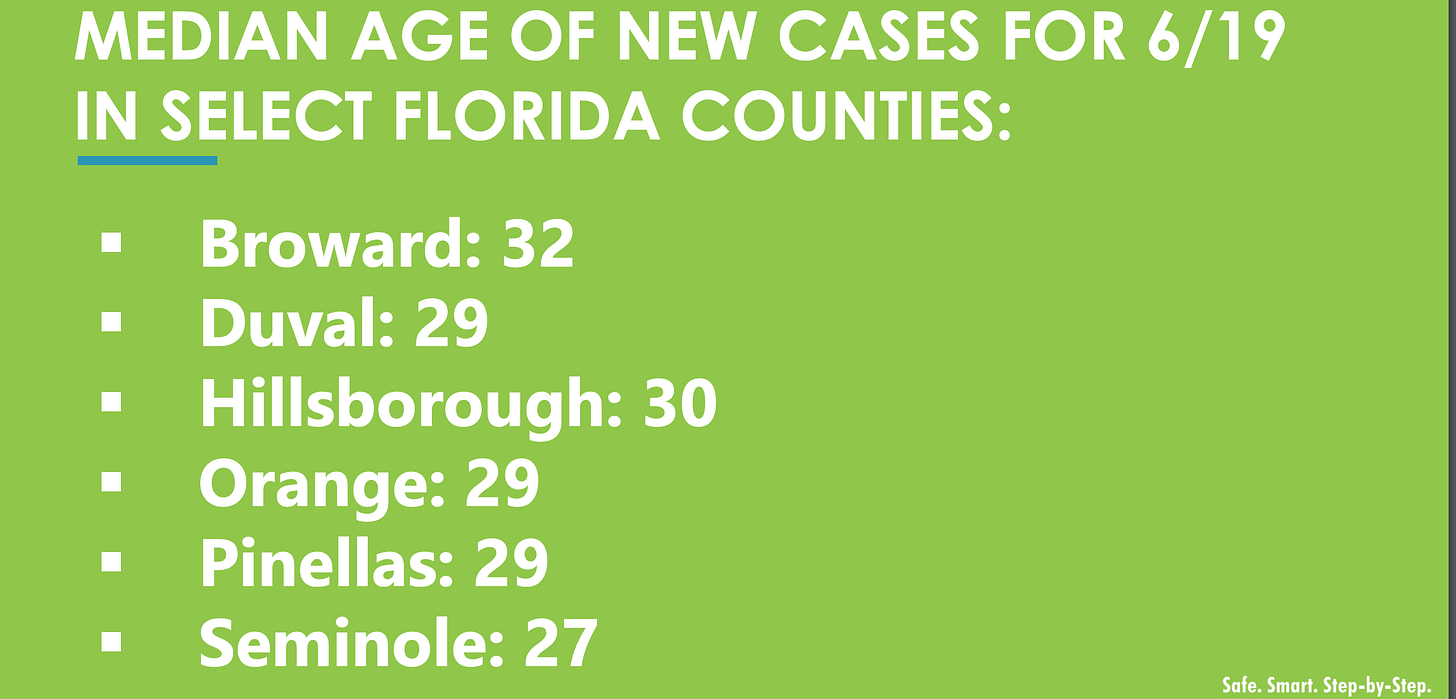 Florida officials now recommend that people avoid social or recreational gatherings with more than 50 people. It is encouraging physical distancing and masks for gatherings with fewer than 50. And for the vulnerable to stay at home.
🤥 South Carolina reported 1,155 new cases on Saturday, breaking both Friday's record (1,083) and Thursday's record (992). South Carolina has reported 23,786 cases and 644 deaths. The per capita (100,000) case rate is 461.98; death rate, 12.51.
"Golf made it through 11 days of its return" and then Nick Watney tested positive on the PGA tour on Hilton Head, SC. PGA golfer Justin Thomas observed:
I mean no offense to Hilton Head, but they're seeming to not take it very seriously. It's an absolute zoo around here. There's people everywhere. The beaches are absolutely packed. Every restaurant, from what I've seen when I've been driving by, is absolutely crowded.
▪️ Missouri set a new record for reported cases, 389; Friday was 293. The per capita (100,000) case rate is 286.60; death rate, 15.56.
▪️ Nevada set a new record for reported cases, 445; Friday was 410. The per capita (100,000) case rate is 419.82; death rate, 15.78.
☆ Texas set a new record for reported cases, 4,430. The per capita (100,000) case rate is 58.86; death rate, 7.77.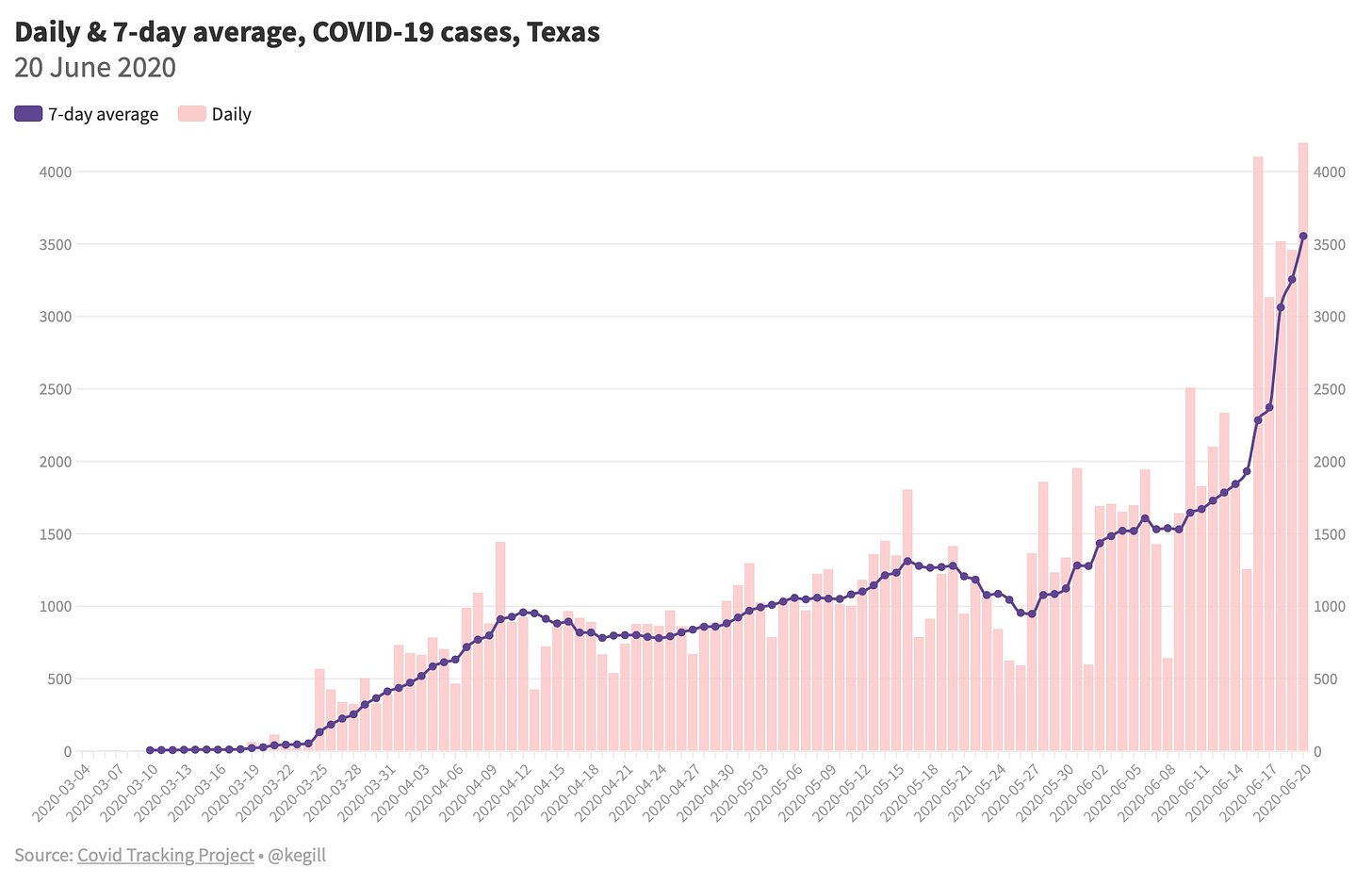 Mississippi has not updated its public-facing data on COVID19 since Wednesday 17 June due to "technical problems in our data reporting system."
Hospitalizations, however, are at a record high.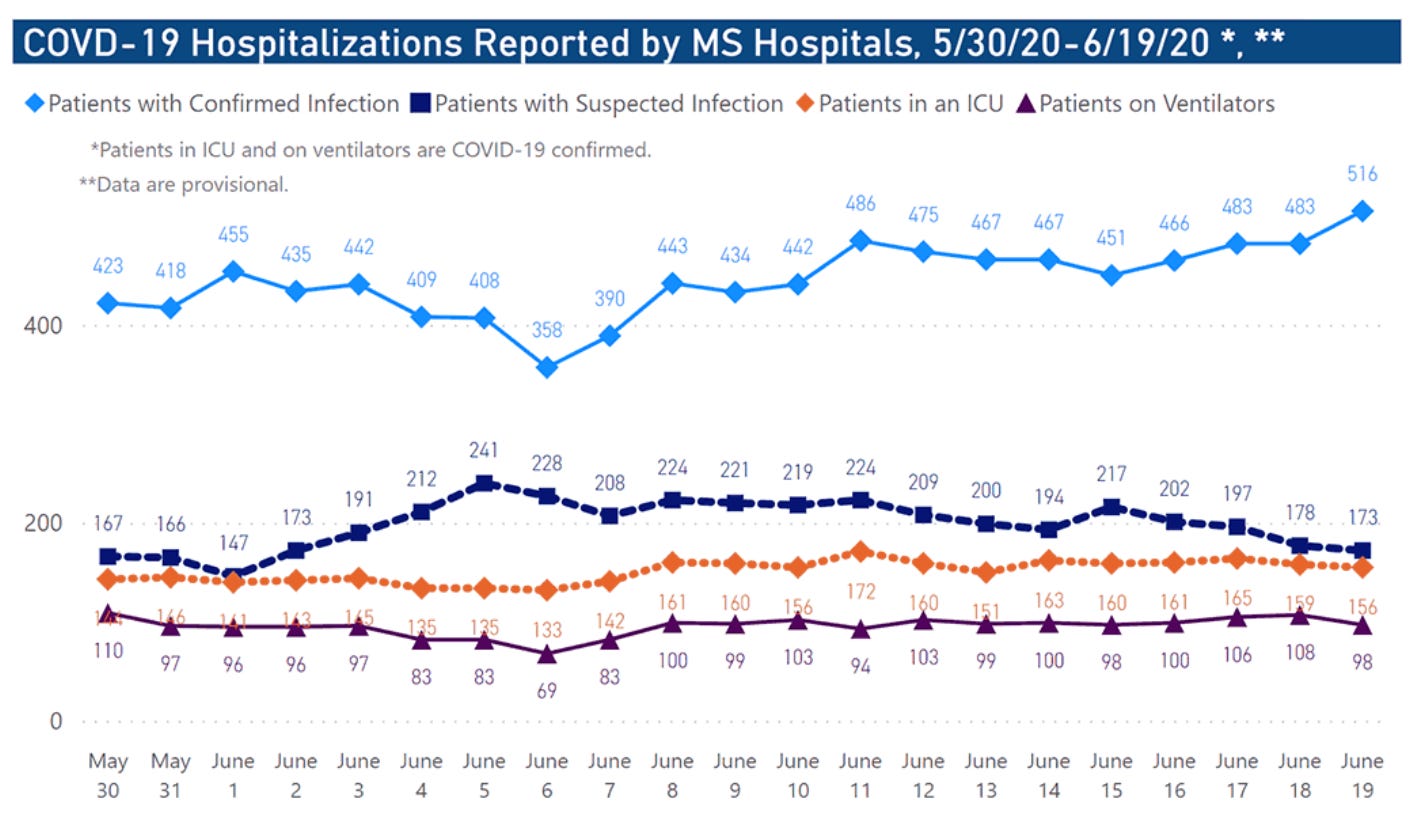 ⓶ Around the world
‼️Australia's second most populous state, Victoria (6.5 million), has extended its state of emergency. "Victoria reported 19 new infections on Sunday, the fifth day of double digit-rises." Nineteen. New guidelines: outdoor gathering limit of 10, visitors to households limit of five.
🆘 Turkey has had a rebound in infections (total 186,493). Masks are now required in three of the country's largest cities, Istanbul, Izmir and Bursa.
📣 Reviewing today's reported cases for the top 20 countries in the world yields a few countries you might not hear about often in the news. Heavy on the Americas.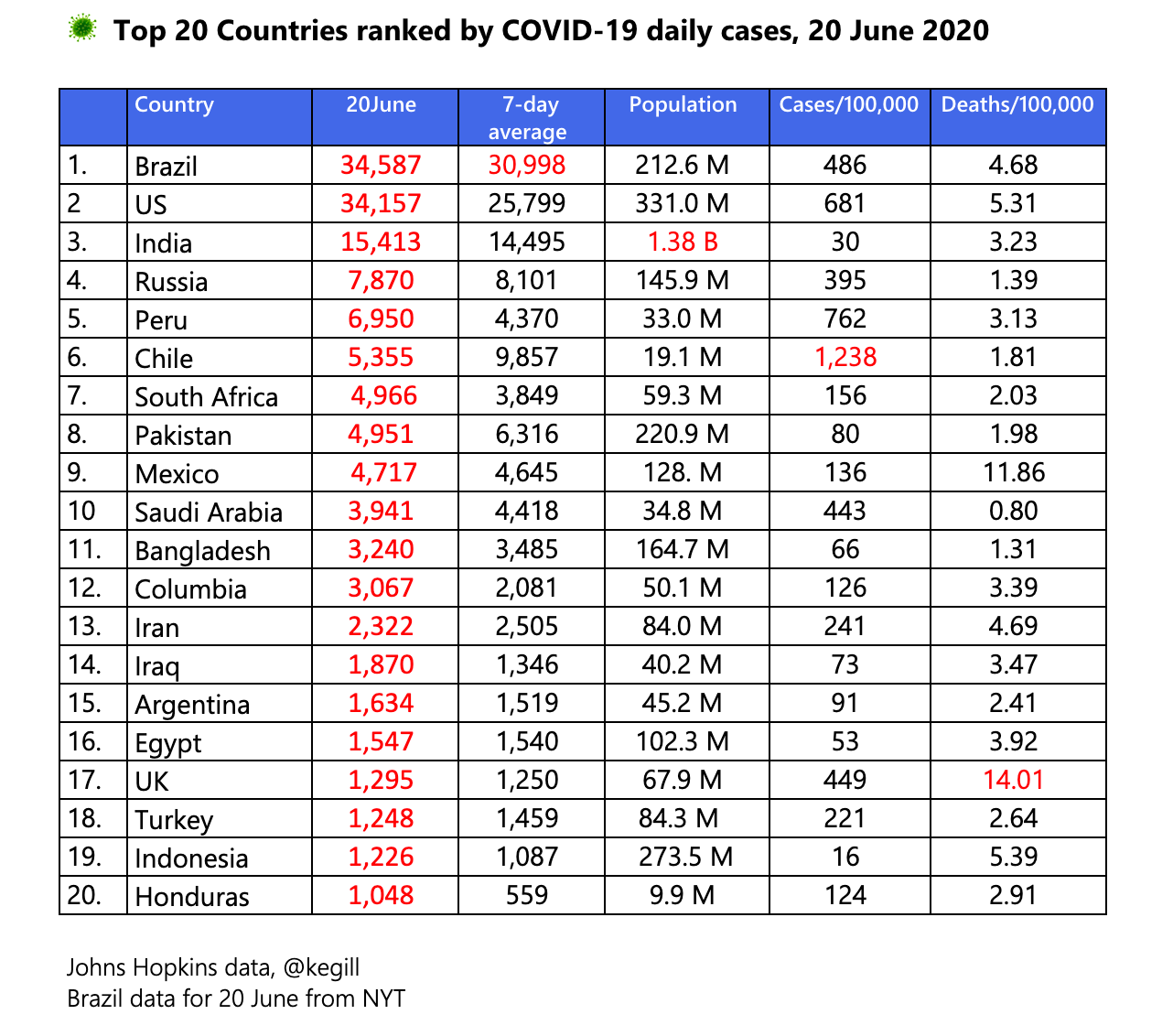 ⓷ Politics, economics and COVID-19
❌ Ignoring the health warnings of his own government and pleas from officials in Tulsa, OK, President Trump went through with his first rally. The Globe and Mail called it "one of the largest indoor gatherings in the world during a coronavirus outbreak." I had not contextualized it like this. (It's important to read foreign press.)
Additionally, six members of the Trump re-election campaign advance team in Tulsa, OK, tested positive for the virus.
News of the infections came just a short time before Trump departed for Oklahoma, and the president raged to aides that the information had been made public, according to two White House and campaign officials who spoke on condition of anonymity because they weren't authorized to speak publicly about private conversations.

Onstage, Trump unleashed months of pent-up grievances, accusing the media of favouring his Democratic opponent Joe Biden and defending his handling of the pandemic, which he dubbed the "Kung flu," a term for the virus that many consider to be racist.
The Guardian delves into Trump's use of "Kung flu" in his rally speech.
It's hard to understand why, on Friday, Trump told Axios that the virus is "hard to stop" after his track record of dismissing it. Why this moment of candor?
"Looks like by April, you know, in theory, when it gets a little warmer, it miraculously goes away." 10 February

"It's going to disappear. One day it's like a miracle, it will disappear." 27 February

"[I]t will go away. Just stay calm. It will go away." 10 March

"You know, this virus is going to disappear. It's a question of when." 06 May

"It's hard to stop it. It's the most contagious virus anyone's ever seen. I could look at you, and all of a sudden you have the virus. Or vice versa." 19 June
⓸ Case count
There is a lag between being contagious and showing symptoms, between having a test and getting its results. There is also a lag in reports of cases and deaths making their way into daily results; this lag is visible in predictable declines for both reports containing weekend data.
🌎 20
June 
Globally: 8 525 042 cases (138 980 new) with 456 973 deaths (6 271 new)

The Americas: 4 163 813 cases (71 287 new) with 215 903 deaths (3 386 new)

US: 2 172 212 cases (23 046 new) with 118 205 deaths (733 new)
Johns Hopkins interactive dashboard (11.00 pm Pacific)
Global confirmed: 8,791,794 (8,663,135)

Total deaths: 464,465 (459,474)

Recovered: 4,365,932 (4,245,777)
🇺🇸 20 June 
📣 View weekly state infographics
* Johns Hopkins data, ~11.00 pm Pacific.
State data include DC, Guam, the Northern Mariana Islands, Puerto Rico and the US Virgin Islands
The virus was not created in a lab and the weight of evidence is it was not released intentionally. Although early reports tied the outbreak to a market in Wuhan, China,  analyses of genomic data in January suggested that the virus might have developed elsewhere.
⓹ What you can do
Stay home as much as possible, period. 

Wear a mask when near non-family members.

Digestive problems may be a symptom.
Resources
👓 See COVID-19 resource collection at WiredPen.
📝 Subscribe to Kathy's COVID-19 Memo :: COVID-19 Memo archives
🦠 COVID-19 @ WiredPen.com
📊 Visualizations: US, World
🌐 Global news (at WiredPen)

👏🏻 Thank you
 for your time!