COVID-19 day 135 : 📈 1,831,821 cases; 106,180 deaths : 03 June 2020
This is a "just the numbers" edition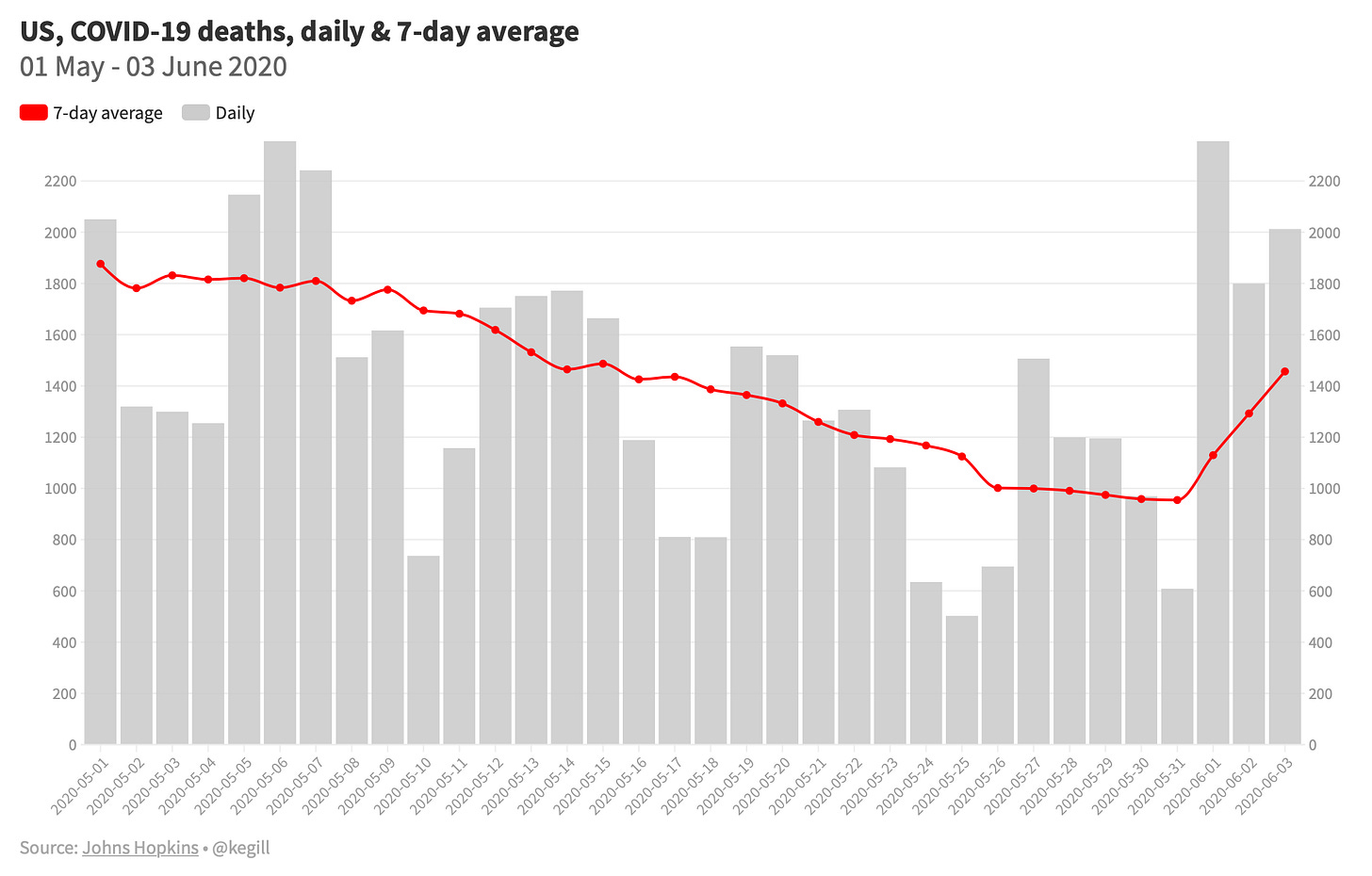 It's day 135 since the first case of coronavirus disease was announced in the United States. There has been a marked increase in reported deaths, both in daily and seven-day average reports (Johns Hopkins dashboard).
🦠Wednesday, Johns Hopkins reported 1,831,821 (1,831,821) cases and 106,180 (106,180) deaths, and increase of 1.08% (1.13%) and 0.94% (1.17%), respectively, since Tuesday (Monday). A week ago, the daily numbers increased by 1.09% and 1.52%, respectively.
The seven-day average: 19,043 (18,864) cases and 1,266 (1,330) deaths 

Percent of cases leading to death: 5.79 (5.80).

Today's case rate is 559.37 per 100,000; the death rate, 32.38 per 100,000.

One week ago, the case rate was 513.34 per 100,000; the death rate, 30.34 per 100,000.
Note: numbers in (.) are from the prior day and are provided for context. I include the seven-day average because dailies vary so much in the course of a week, particularly over a weekend.

1, Case count; 2, What you can do and resources
⓵ Case count
There is a lag between being contagious and showing symptoms, between having a test and getting its results. There is also a lag in reports of cases and deaths making their way into daily results; this lag is visible in predictable declines for both in weekend reports.
🌎 
03 June 
Globally: 6 287 771 cases (93 246) with 379 941 deaths (3 621)

The Americas: 2 949 455 cases (44 023) with 165 311 deaths (2 063)

US: 1 798 330 cases (14 692 new) with 105 008 deaths (761 new)
Johns Hopkins interactive dashboard (11.00 pm Pacific)
Global confirmed: 6,511,713 (6,382,951) 

Total deaths: 386,073 (380,318)

Recovered: 2,807,420 (2,731,340)
🇺🇸 03 June 
View infographic and data online: total cases and cases and deaths/100,000.
* Johns Hopkins data, ~11.00 pm Pacific.
State data include DC, Guam, the Northern Mariana Islands, Puerto Rico and the US Virgin Islands
The virus was not created in a lab and the weight of evidence is it was not released intentionally. Although early reports tied the outbreak to a seafood ("wet") market in Wuhan, China, analyses of genomic data in January suggested that the virus might have developed elsewhere.
⓶ What you can do
Resources
👓 See COVID-19 resource collection at WiredPen.
📝 Subscribe to Kathy's COVID-19 Memo :: COVID-19 Memo archives
🦠 COVID-19 @ WiredPen.com
🌐 Global news
📊 Visualizations: US, World
👏🏻 Thank you
 for your time!