COVID-19 day 102 : 📈 1,103,781 cases; 65,068 deaths : 01 May 2020
The "lies, damn lies, and statistics" edition; WA state stays closed, TX opens following a record-high day of new cases; US cases on slight increase; intelligence officials say virus not engineered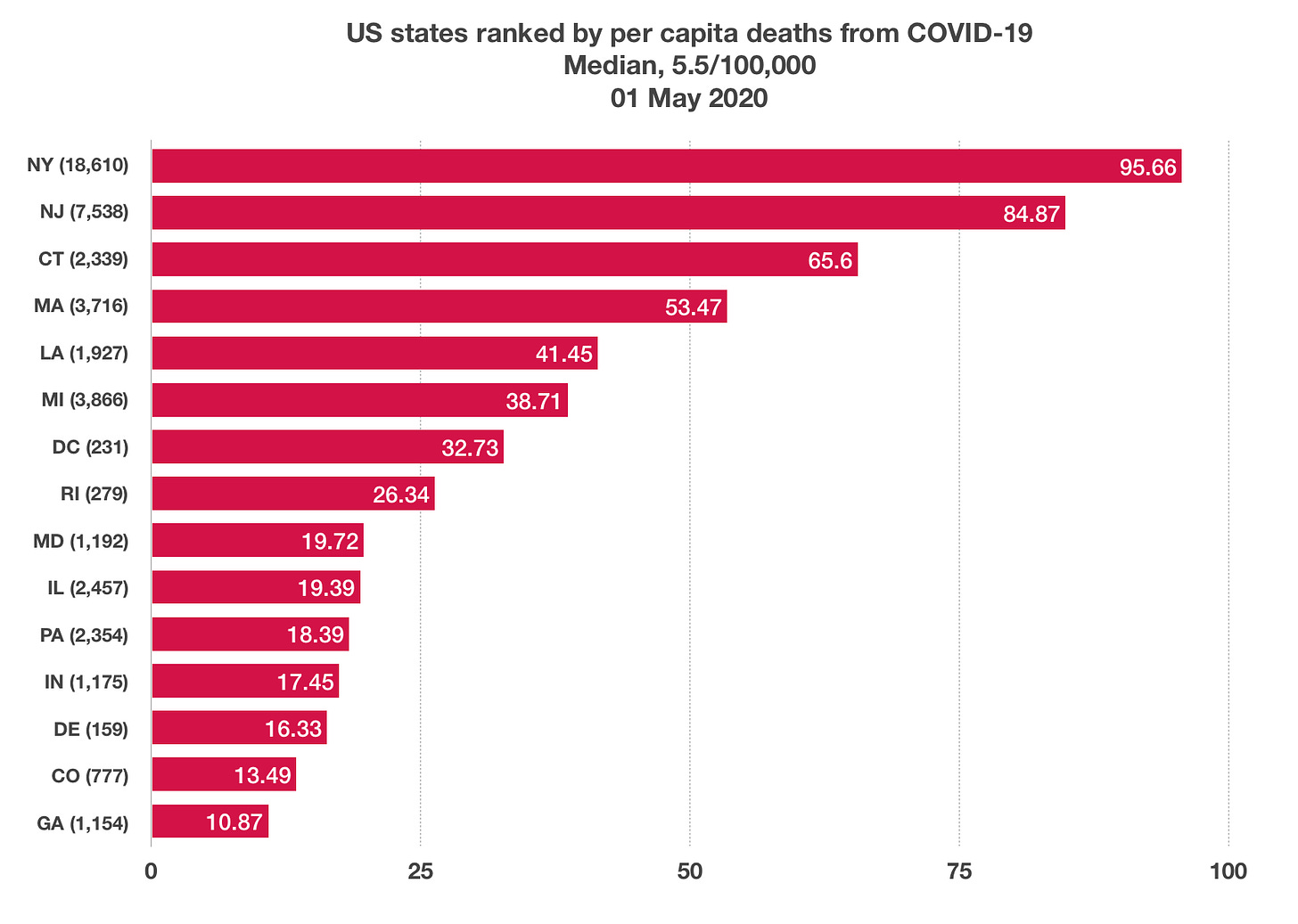 It's day 102 since the first case of coronavirus disease was announced in the United States.  A numbers-focused, limited edition.
Numbers can tell different stories while remaining "accurate." Hence "lies, damn lies, and statistics."
As I've stated before, the bias in news reports towards raw data is not new (see box office reports) and may relate to the innumerate nation that we seem to be.
My friend Gina Neff reminded us on Thursday that stories matter. The stories we tell around COVID-19 matter. And so I shall beat the drum of per capita comparisons once more.
The range in per capita deaths by state is enormous, from a high of 95.66 deaths per 100,000 in New York to a low 1.13 in Hawaii. The median: 5.5.
Georgia, where Gov. Brian Kemp (R) is leading the nation in rapidly "re-opening" the state ranks #15 in per capita deaths with 11 per 100,000. Two weeks ago, it was 6 per 100,000.
▪️Friday, Johns Hopkins reported 1,103,781 (1,069,826) cases and 65,068 (63,019) deaths in the US, an increase of 3.17% and 3.25%, respectively, since Thursday. A week ago, the daily numbers increased by 4.16% and 3.97%, respectively. The trend has dropped significantly from its peak but improvement has basically plateaued.
The seven-day average: 28,350 (28,665) cases and 1,874 (1,865) deaths

That case rate is 323.21 per 100,000; the death rate, 19.04 per 100,000. 

One week ago, the case rate was 273.51 per 100,000; the death rate,15.70 per 100,000.
Note: numbers in (.) are from the prior day and are provided for context. I include the seven-day average because dailies vary so much in the course of a week.
🤓Recommended reading
President Trump moved on Friday night to replace a top official at the Department of Health and Human Services who angered him with a report last month highlighting supply shortages and testing delays at hospitals during the coronavirus pandemic.
Trump Moves to Replace Watchdog Who Identified Critical Medical Shortages. New York Times, 01 May 2020.
🔬Research and medical news
💃🏼Life hack (or laugh)
⓵ Around the country
Texas. Positive cases increased by 1,033, on Thursday, the biggest one-day jump in three weeks. And the governor ended his stay-at-home order on Friday.
Washington state is on Day 36 of Stay Home, Stay Healthy. Gov. Jay Inslee extended the stay-at-home order until 31 May.
In the plan issued Friday, Washington's economy and social life would reopen in four phases, with some types of businesses ideally beginning to reopen in mid-May as the first phase even as the stay-home order remains until the end of the month.
~~~
Let's turn to raw numbers for a moment. They have a place as well, particularly in trends. And neither of these trends of the past seven days makes me smile.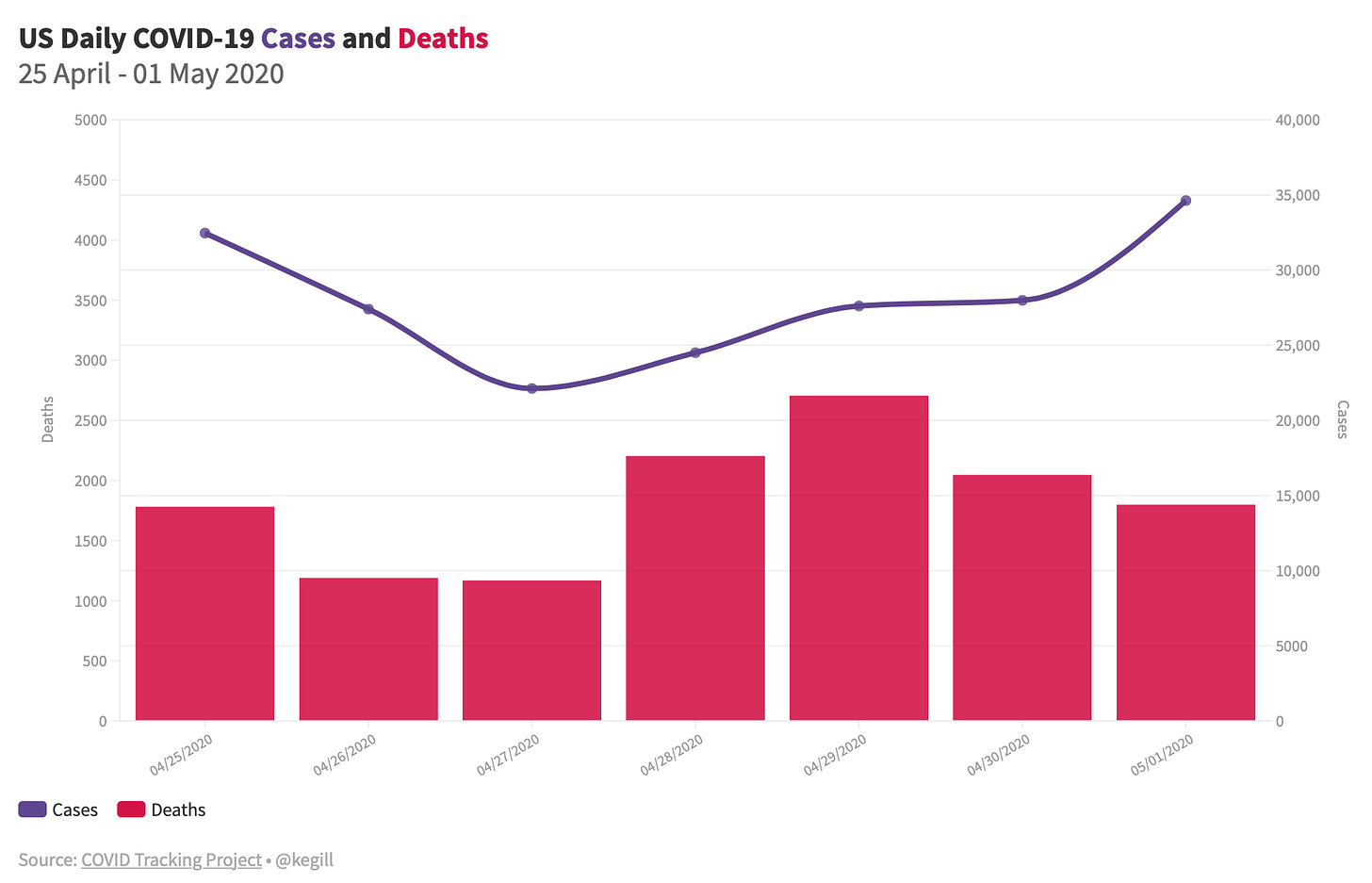 For both absolute number of daily cases and absolute numbers of daily deaths, we're ending this seven-day period with a number larger than we started. Not enormously larger, but larger.
There's a lot of variance in day-to-day reports. So I checked three different data sets (each with slightly different methodology). All painted a similar picture: end-of-week on a slightly larger note.
When you factor in the lag between exposure and testing positive, then between testing positive and death, it's obvious that this trend began earlier in April Perhaps it is the meat packing plant cases. Maybe it's the prisons.
If you see an explanation, please share. It's probably related to this:
Another place trend data is helpful: emergency room visits with COVID-like symptoms that resulted in hospitalizations, like this example from Washington's Department of Health. It clearly implies undocumented cases of COVID-19 due to a lack of tests.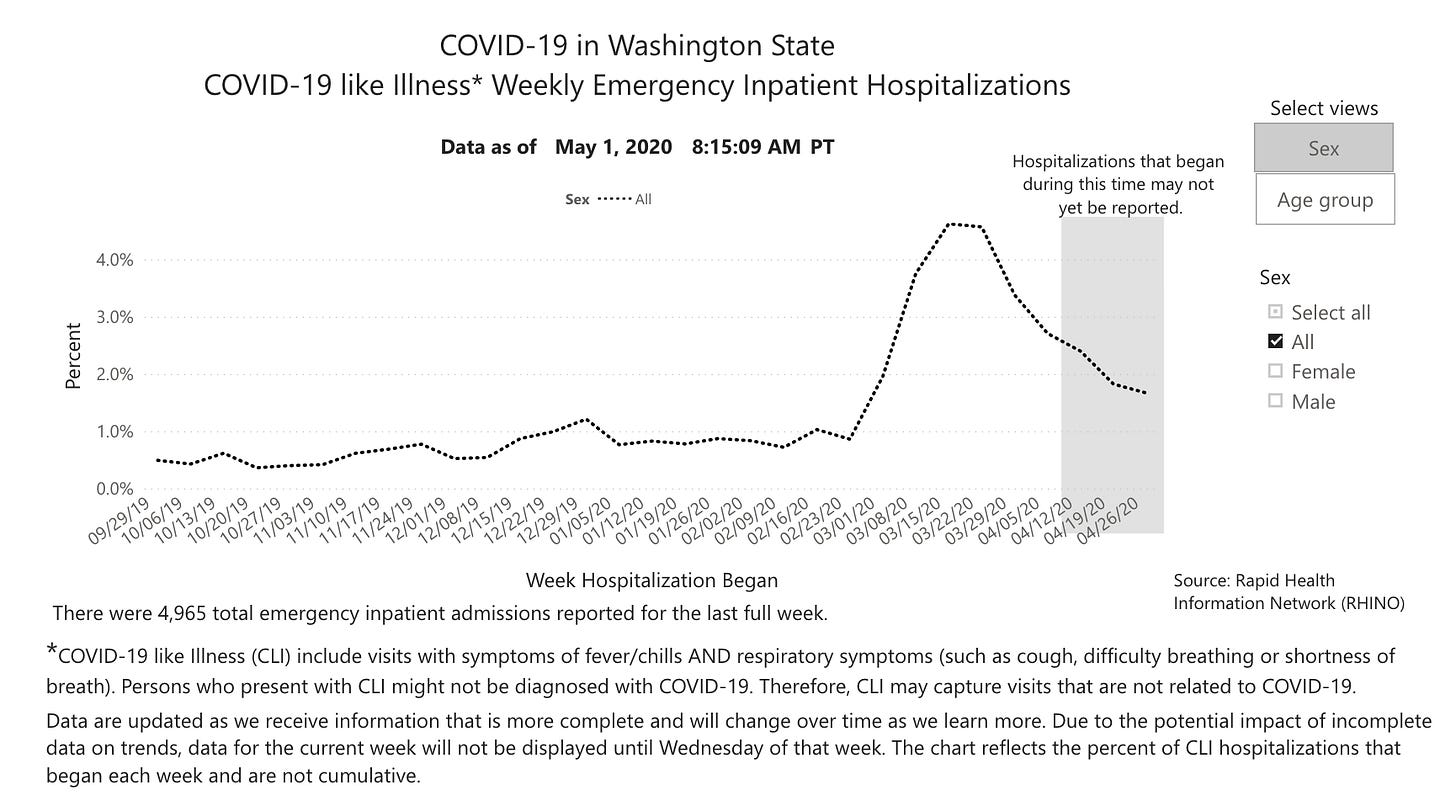 All 50 states, the District of Columbia, Guam, the Northern Mariana Islands, Puerto Rico and the US Virgin Islands have identified COVID-19 cases and all have at least one death.  
Please take a moment and answer this short reader survey! ✅
⓶ Around the world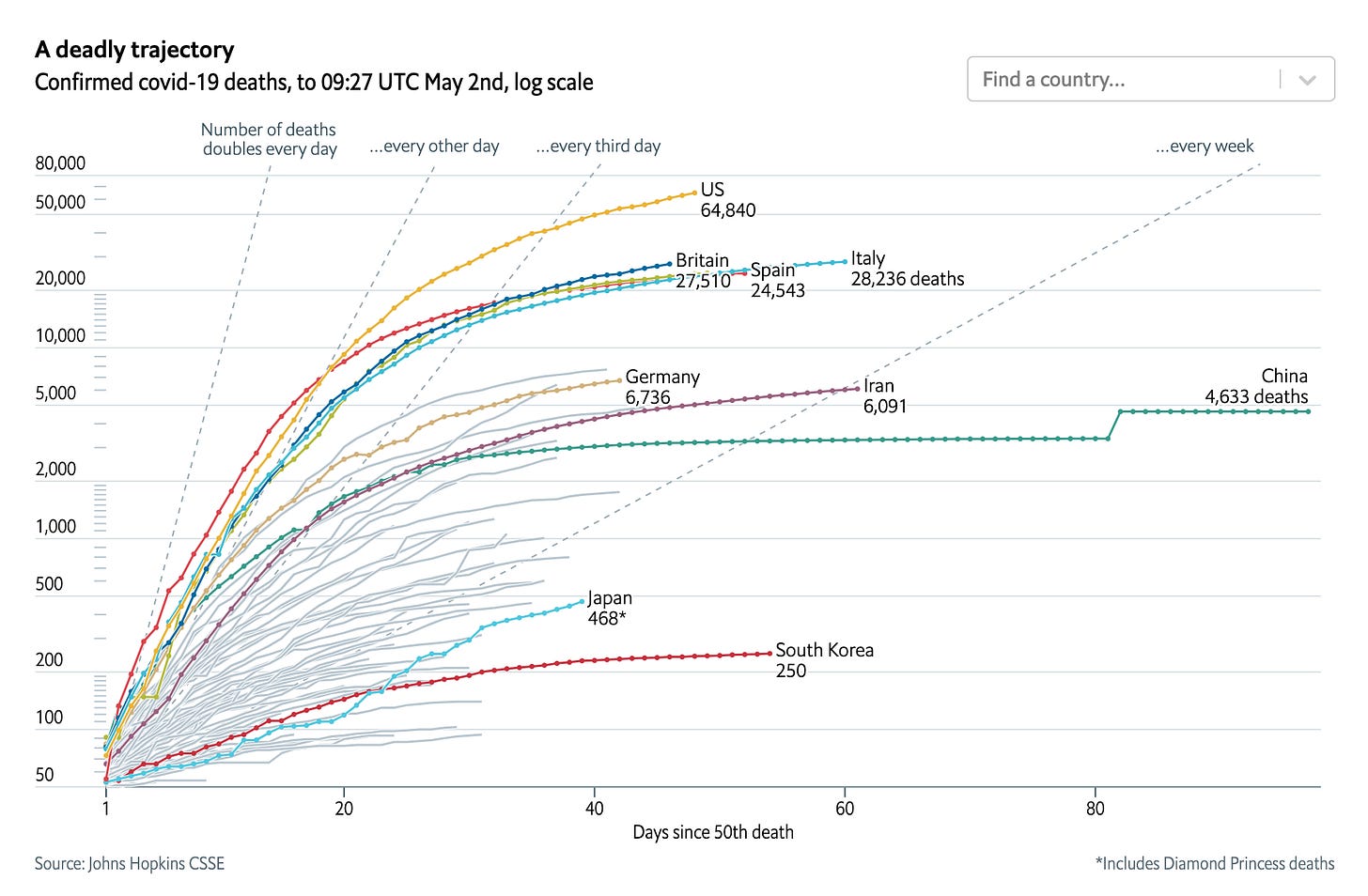 The number of affected countries/territories/areas jumped from 29 at the end of February  to 209 today. Although early reports tied the outbreak to a seafood ("wet") market in Wuhan, China, analyses of genomic data suggest that the virus may have developed elsewhere.
⓷ Politics, economics and COVID-19
What is understood as "political" by newspapers and TV stations: the minority who are storming state capitols. Reminder: these "movements" are the result of conservative political operatives, particularly those organized around the second amendment.
▪️White House blocks Dr. Fauci from testifying before Congress.
▪️The Office of the Director of National Intelligence (ODNI) released a statement saying that there is no indication that the virus was "manmade or genetically modified" and that this conformed with "widespread scientific consensus." Nevertheless, they want to investigate a lab in Wuhan to see if the virus escaped from there. Need I remind you that it's impossible to prove a negative.
The intelligence statement was released hours after a report in The New York Times that said Trump administration officials were pushing spy agencies to look for evidence on whether a government laboratory in Wuhan was the origin point for the coronavirus. 
▪️Maryland is keeping its stockpile of PPE at an "undisclosed location" because of a fear that it might be confiscated by the federal government.
⓸ Case count
There is a lag between being contagious and showing symptoms, between having a test and getting its results. The virus was not created in a lab.
🌎 
01 May 
Globally: 3 175 207 cases (84 771 - new) with 224 172 deaths (6,403 - new)

The Americas: 1 291 917 cases (45 727 - new) with 69 087 deaths (3,859 - new)
Johns Hopkins interactive dashboard (11.30 pm Pacific)
Global confirmed: 3,344,435 ( 3,257,996 - yesterday)

Total deaths: 238,788 ( 233,429 - yesterday)

Recovered: 1,055,536 ( 1,014,931 - yesterday)
🇺🇸 01 May 
CDC: 1,062,446 (1,031,659) cases and 62,406 (60,057) deaths

Johns Hopkins*: 1,103,781 (1,069,826) cases and 65,068 (63,019) deaths

State data*:  1,095,681 (1,061,101) identified cases and 59,059 (57,266) deaths 

Total tested (US, Johns Hopkins): 6,551,810 (6,231,182)
View infographic and data online: total cases, cases/100,000 and deaths/million.
* Johns Hopkins data, ~11.30 pm Pacific.
State data include DC, Guam, the Northern Mariana Islands, Puerto Rico and the US Virgin Islands
⓹ What you can do
Resources
👓 See COVID-19 resource collection at WiredPen.
📝 Subscribe to Kathy's Daily Memo :: Daily Memo archives
🦠 COVID-19 @ WiredPen.com
🌐 Global news
👏🏻Thank you
 for your time!