30 March 2020 : COVID-19 news
US deaths increase 45% in one day; 250 million Americans now 'staying at home'; Italy extends its lockdown; megachurch leader in Florida arrested for violating limit on gathering size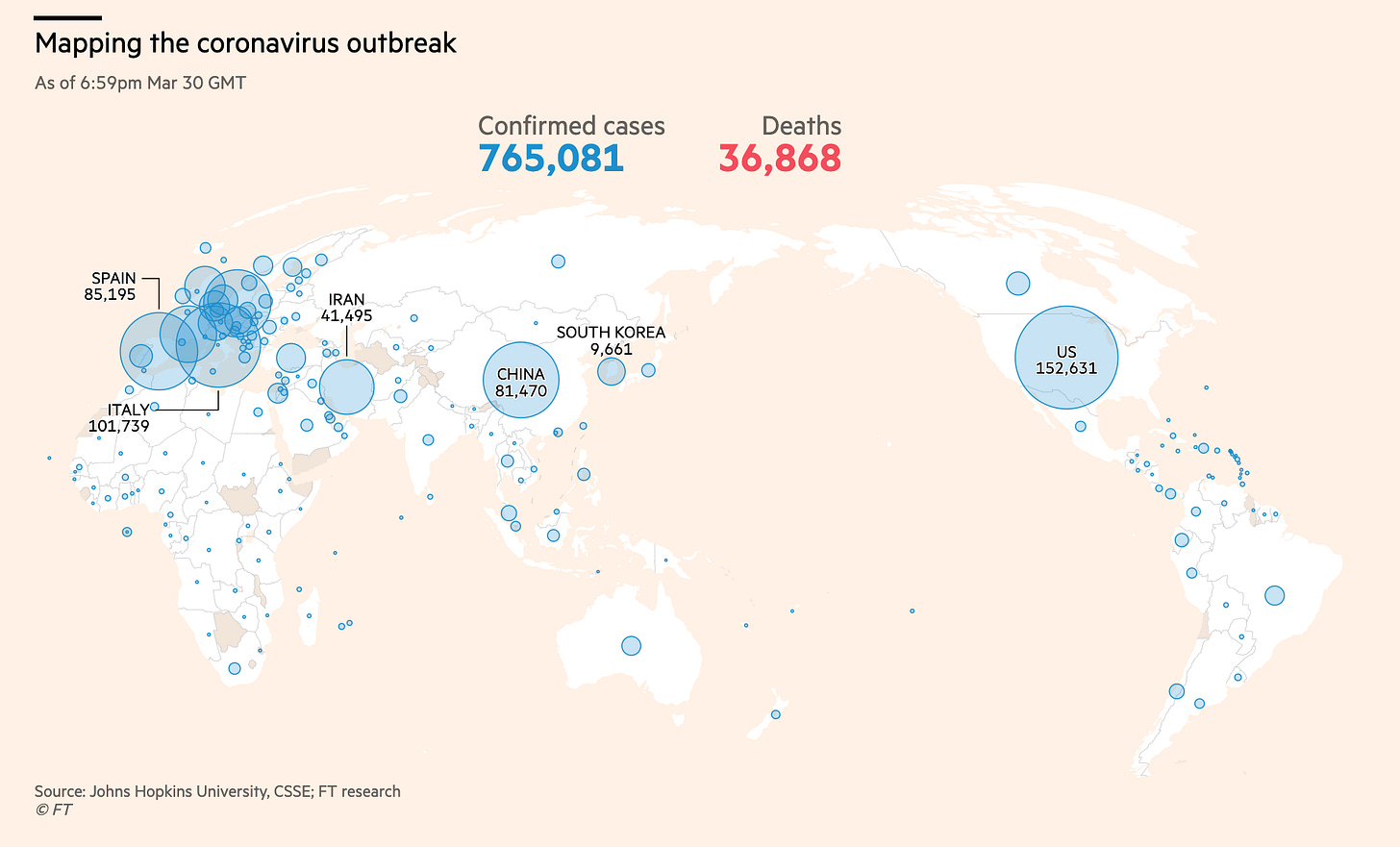 It's day 70 since the first case of coronavirus disease was announced in the United States. And on day 71, Taco Bell will give away free Doritos Locos Tacos (while supplies last, drive-through obviously).
On Monday, Johns Hopkins reported 164,603 (124,464) cases in the US and 3,170 (2,514) deaths, an increase of 32 and 45 percent, respectively, since Sunday. Our reported case rate is 50 per 100,000; our death rate is 9.58 per million.
The epicenter of the disease is in Europe, and in Europe, the epicenter is Italy. The Italian government has extended the national lockdown to at least Easter. It had been slated to end on Friday. Italy seems to have passed the peak growth rate in cases. It is now third in cases per capita, behind Spain and Switzerland. Maintaining physical distancing helps guard against a rebound.
The lag between diagnosis, severe illness and death is such that Italy still has the worst per capita death rate, 178.21 per million. Spain is second at 145.5. It also means that the pressures on Italy's health care system will not abate soon.
In the United States, Axios reported that 250 million Americans are now subject to 'stay at home' orders from 31 state governors (and the mayor of DC). Arizona, Maryland, Virginia and the District of Columbia issued orders Monday. Three Republican governors of populous states are dragging their heels: Florida, Pennsylvania and Texas (43 million). Details below.
In "the near future," China is reportedly going to release the number of people who tested positive but who were not symptomatic.
Recommended reading
Recommended viewing
Around the country
All 50 states, the District of Columbia, Guam, the Northern Mariana Islands, Puerto Rico and the US Virgin Islands have identified COVID-19 cases. Today's 2,981 known deaths are from 48 states plus the District of Columbia, Guam and Puerto Rico. The only two states with no reported deaths are Hawaii and Wyoming.
Stay-at-home orders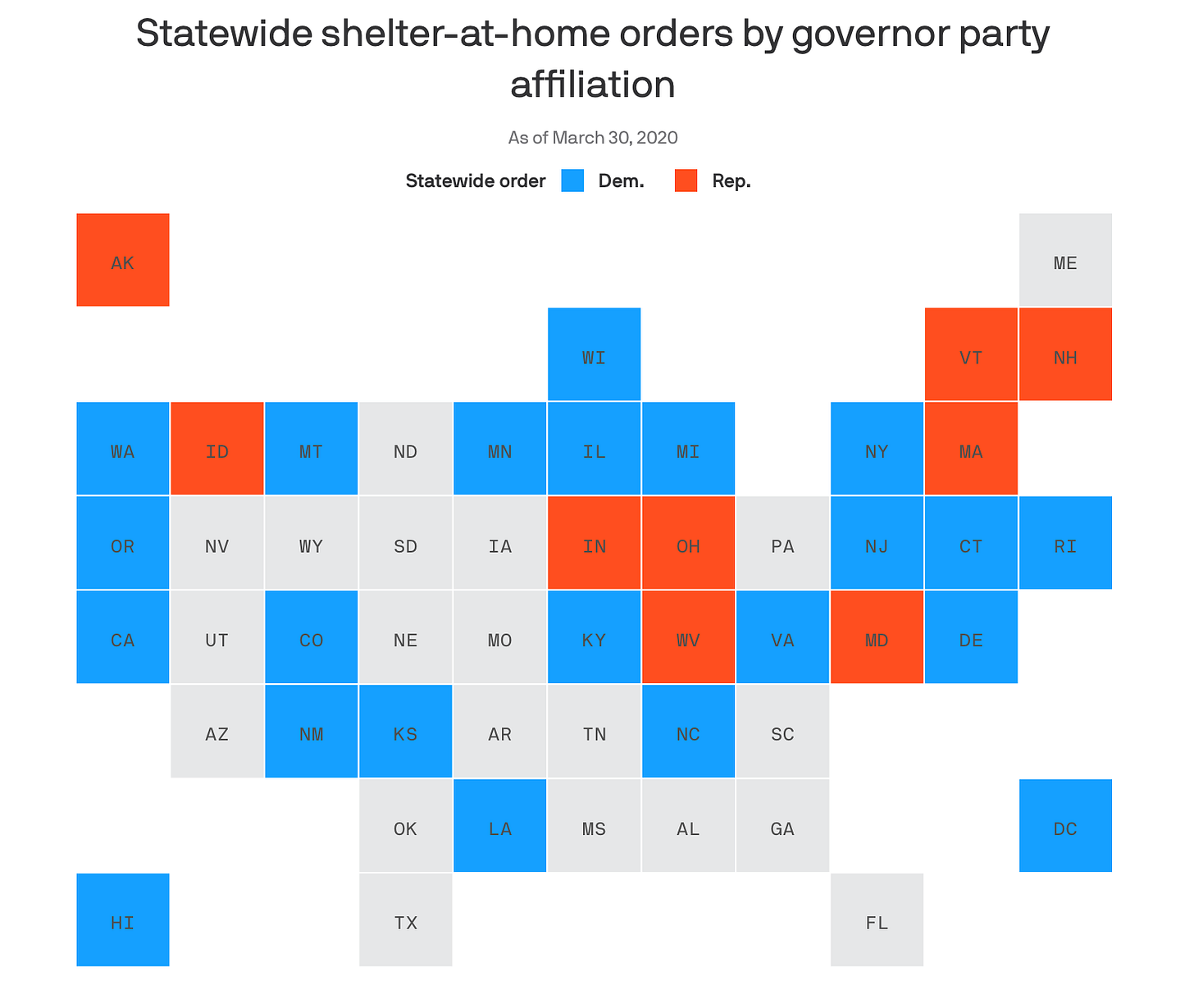 No action: AK, IA, ND, NE, NV, SD
Some action: AL, GA, FL, ME, MS, MO, OK, PA, SC, TN, TX, UT, WY
Arrested
Politics, economics and COVID-19
Why can't there be more businesses like Columbia Sportswear in Oregon?
Columbia Sportswear Company's CEO has essentially eliminated his own salary while regular paychecks continue to go out to employees, including those who work at the company's temporarily shuttered retail stores.
American retailers rely on part-time employees for a reason: no benefits or only those required by law. The New York Times took American business to task on 14 March. A sample:
The vast majority of workers at large restaurant chains report they do not get paid sick leave, except in the minority of states and cities where it is required by law. The list of malefactors includes the giants of fast food, like McDonald's, Subway and Chick-fil-A, as well as sit-down restaurants like Cracker Barrel, Outback Steakhouse and the Cheesecake Factory.

And it's not just restaurants. The data also shows most workers at the supermarket chains Wegmans, Kroger, Meijer and Giant Eagle reported that they did not get paid sick leave. So did workers at retailers including American Eagle, Victoria's Secret and the Gap.
And it's not just big business. More than half of faculty members at colleges and universities in America are part-time. And part-time there also means no benefits.
I'm on an 18-month contract at a major tech firm in Redmond, WA. I have no sick or annual leave until the contract passes the 9-month mark (in hours, not calendar days).
These times, they need disruption.
Global news
The number of affected countries/territories/areas jumped from 29 at the end of February to 198 today (unchanged). Although early reports tied the outbreak to a seafood ("wet") market in Wuhan, China, analyses of genomic data suggest that the virus may have developed elsewhere.
Case count
Tests are becoming much more widely available. There is a lag between being contagious and showing symptoms. The virus was not created in a lab.
30 March, global
Globally: 693,224 confirmed (58,411 new) with 33,106 deaths (3,215 new)

Regions of the Americas: 142,081 confirmed (21,289 new) with 2,457 deaths (484 new)
Global confirmed: 786,228

Total deaths: 37,820

Total recovered: 166,041
Johns Hopkins interactive dashboard (11.00 pm Pacific)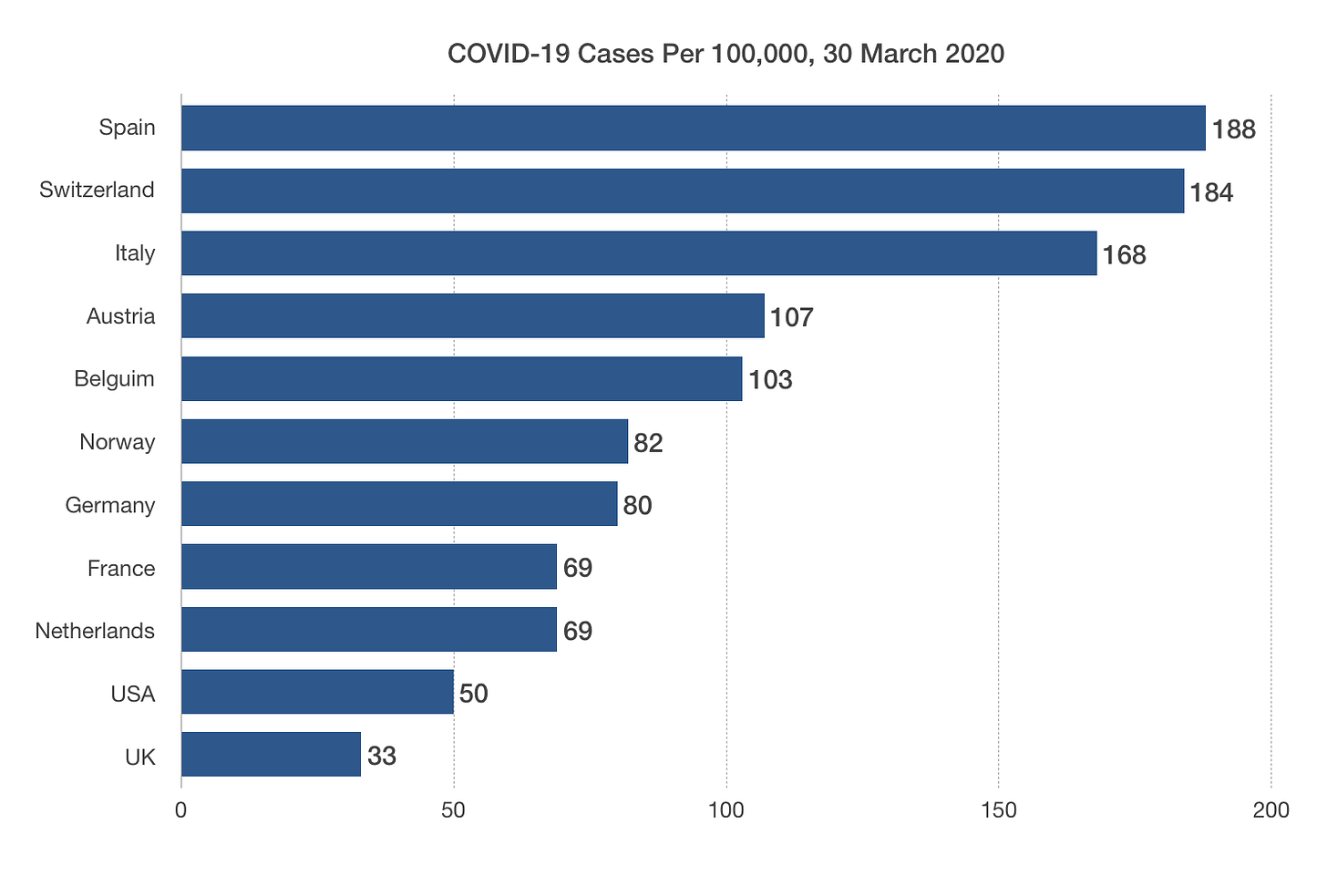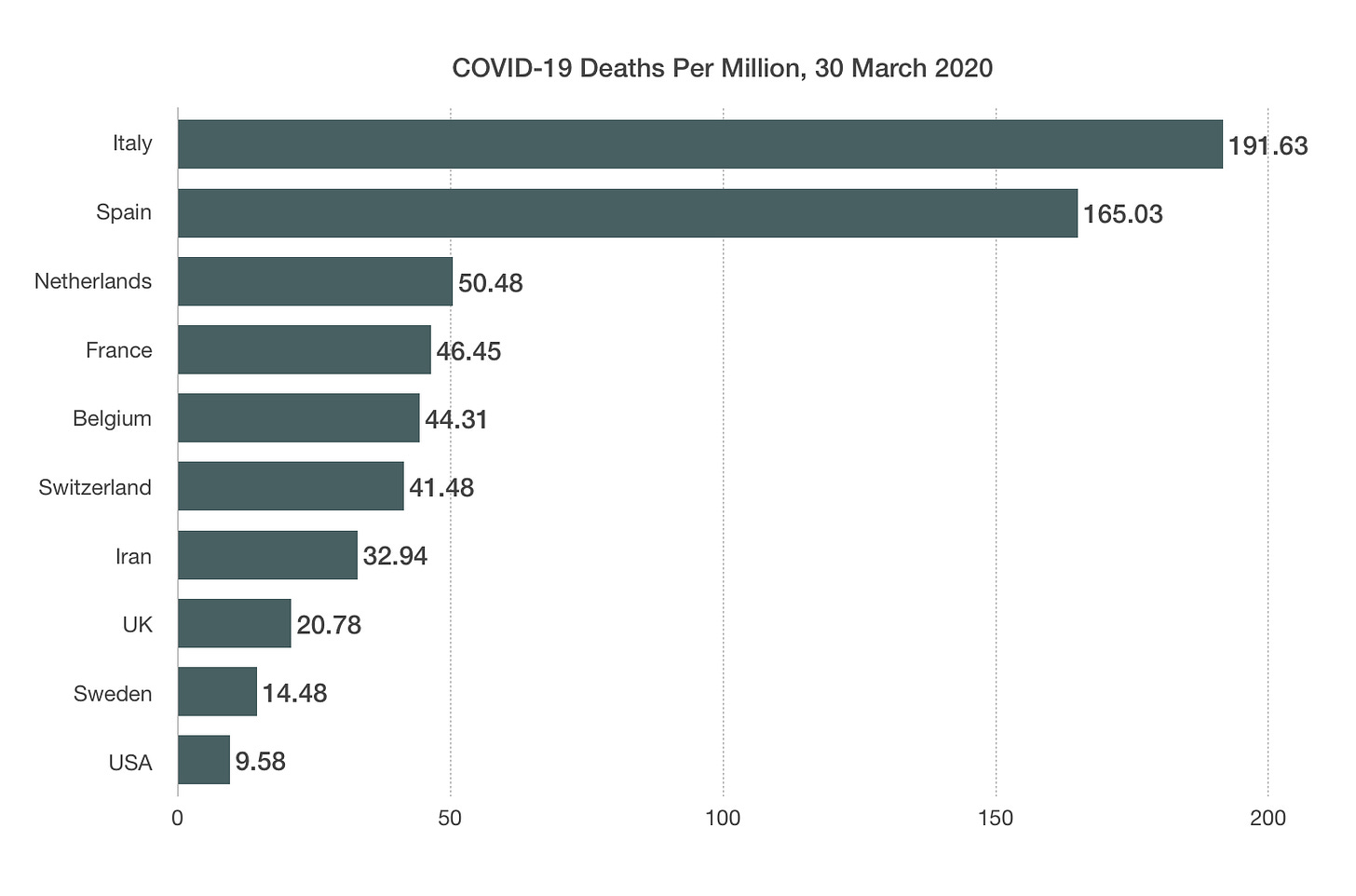 30 March, domestic
Nationally* there are a total of cases and deaths according to the CDC, and (143,025) cases and (2,514) deaths according to Johns Hopkins (11.00 pm, Pacific) All 50 states plus DC are reporting 162,399 identified cases and 2,981 deaths. 
View infographic and data online: total cases and cases/100,000.
*Data include DC, Guam, the Northern Mariana Islands, Puerto Rico and the US Virgin Islands
What you can do
Stay home when sick. 

Stay home as much as possible, period. 

Avoid crowded places.
What do to when you or a loved one feels sick
Digestive problems may be a symptom.
Resources
Subscribe to Kathy's Daily Memo :: Daily Memo archives
COVID-19 @ WiredPen.com