Discover more from ⚡️Memo from a News Hound
Weekly news in context with focus on the pandemic, misinformation, trends.
24 March 2020 : COVID-19 News
US deaths almost double since Sunday; the virus has been detected in 190 of the 195 countries in the world; challenging the "biggest" recovery plan claim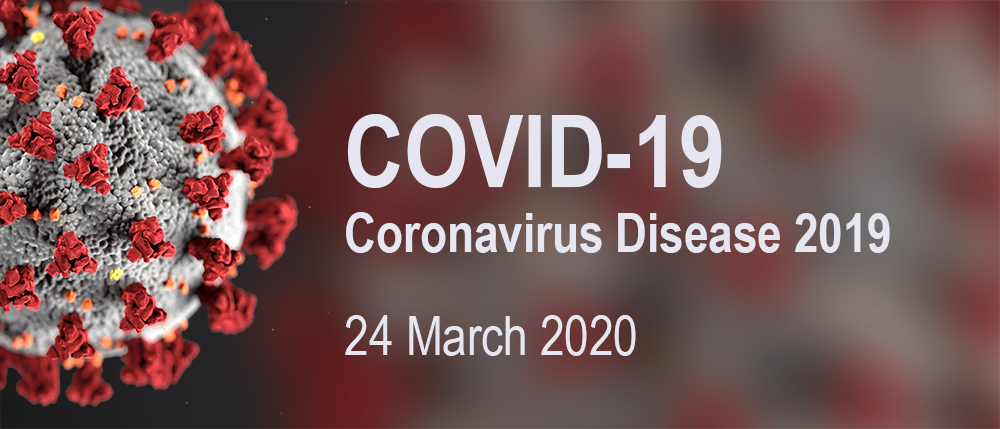 It's day 64 since the first case of coronavirus disease was announced in the United States. Johns Hopkins reports 55,222 (46,332) cases and 797 (610) deaths, an increase of 48 and 91 percent, respectively, since Sunday.
State departments of health report 53,182 identified cases and 724 deaths.
The pandemic in New York, specifically metro New York City, is causing reverberations outside its borders. The Trump administration has asked anyone who has recently left the NYC area to self-quarantine for 14 days. Florida Gov. Ron DeSantis plans to sign an order requiring self-isolation for anyone who flew to Florida from the New York area in the past three weeks. Driving down is apparently OK.
The US remains behind China (81,591) and Italy (69,176) in total identified cases. In Italy, coronavirus deaths have topped 6,800. However, the relevant numbers are these:
Italy: 112.75 deaths/million and 1,144 cases/million
Spain: 63.97 deaths/million and 900 cases/million
Iran: 23.11 deaths/million and 297 cases/million
The Netherlands: 16.17 deaths/million and 326 cases/million
Switzerland: 14.10 deaths/million and 1,141 cases/million
USA: 2.41 deaths/million and 167 cases/million
China: 2.33 deaths/million and 58 cases/million
For comparison, on Sunday the USA data were 1.26 deaths per million and 98.61 cases/million. We are in the early stages of this disease; limiting contact with others will slow the transmission. Eventually, most of us will become infected and the longer we can stretch that timeline the more likely our health system will not collapse.
Recommended reading
Recommended viewing
This week, TED is holding a series of conversations, TED Connects: Community and Hope. Recordings are on the TED website or Facebook.
Monday: Susan David, How to be your best self in a time of crisis

Tuesday: Bill Gates, The healthcare systems we must urgently fix

Wednesday: Gary Lieu, What we can learn from China's response to the coronavirus

Thursday: Seth Berkley, The quest for the coronavirus vaccine

Friday: Priya Parker, How to create meaningful connections while apart
Highlights from the Gates session:
The U.S. is past this opportunity to control (COVID-19) without shutdown. We did not act fast enough to have an ability to avoid the shutdown…

It's very tough to say to people, 'Hey keep going to restaurants, go buy new houses, ignore that pile of bodies over in the corner, we want you to keep spending because there's some politician that thinks GDP growth is what counts.' [emphasis added]
Around the country
All 50 states, the District of Columbia, Guam, Puerto Rico and the US Virgin Islands have identified COVID-19 cases. The 724 known deaths are from 39 states plus the District of Columbia as well as from Guam and Puerto Rico.
New York leads the United States in total deaths (210) with Washington following with 123. However, the relevant numbers are these:
Washington: 16.2 deaths/million and 324 cases/million
Vermont: 11.2 deaths/million and 152.2 cases/million
New York: 10.8 deaths/million and 1,319 cases/million
Both cases and deaths per million are important indicators. Number of cases extrapolates to number of hospital beds needed.
More COVID-19 news from Tuesday.
Politics, economics and COVID-19
Leaders of the House, Senate and White House have agreed upon a $2 trillion "economic stimulus" package.
The spending deal aims to support the economy by sending $1,200 checks to many Americans, creating a $367 billion loan program for small businesses and setting up a $500 billion fund for industries, cities and states. A swift vote in Congress appears likely on Wednesday.
Many have argued that Americans don't need an incentive to spend money (that's what a stimulus package is intended to do - jump start a stalled economy). But is it the "biggest" ever?
At the time, the American Recovery and Reinvestment Act of 2009 was called the country's largest "recovery plan." Its price tag: $1.1 trillion.
Using 2009-adjusted dollars, the Recovery Act cost $2,738 per capita and New Deal programs cost $5,231 per capita.
Should this program cost an even $2 trillion, in 2009 dollars, that's $4,955 per capita. Which means that in context, the New Deal remains the largest recovery plan. However, this is only one bill. Combined state and federal efforts will probably dwarf the New Deal. Let's hope the unemployment rate doesn't.
Global news
The number of affected countries jumped from 29 at the end of February to 190 today. There are 195 countries in the world. Although early reports tied the outbreak to a seafood ("wet") market in Wuhan, China, analyses of genomic data suggest that the virus may have developed elsewhere.
More COVID-19 news from Tuesday.
Case count
Tests are becoming much more widely available. There is a lag between being contagious and showing symptoms. The virus was not created in a lab.
24 March, global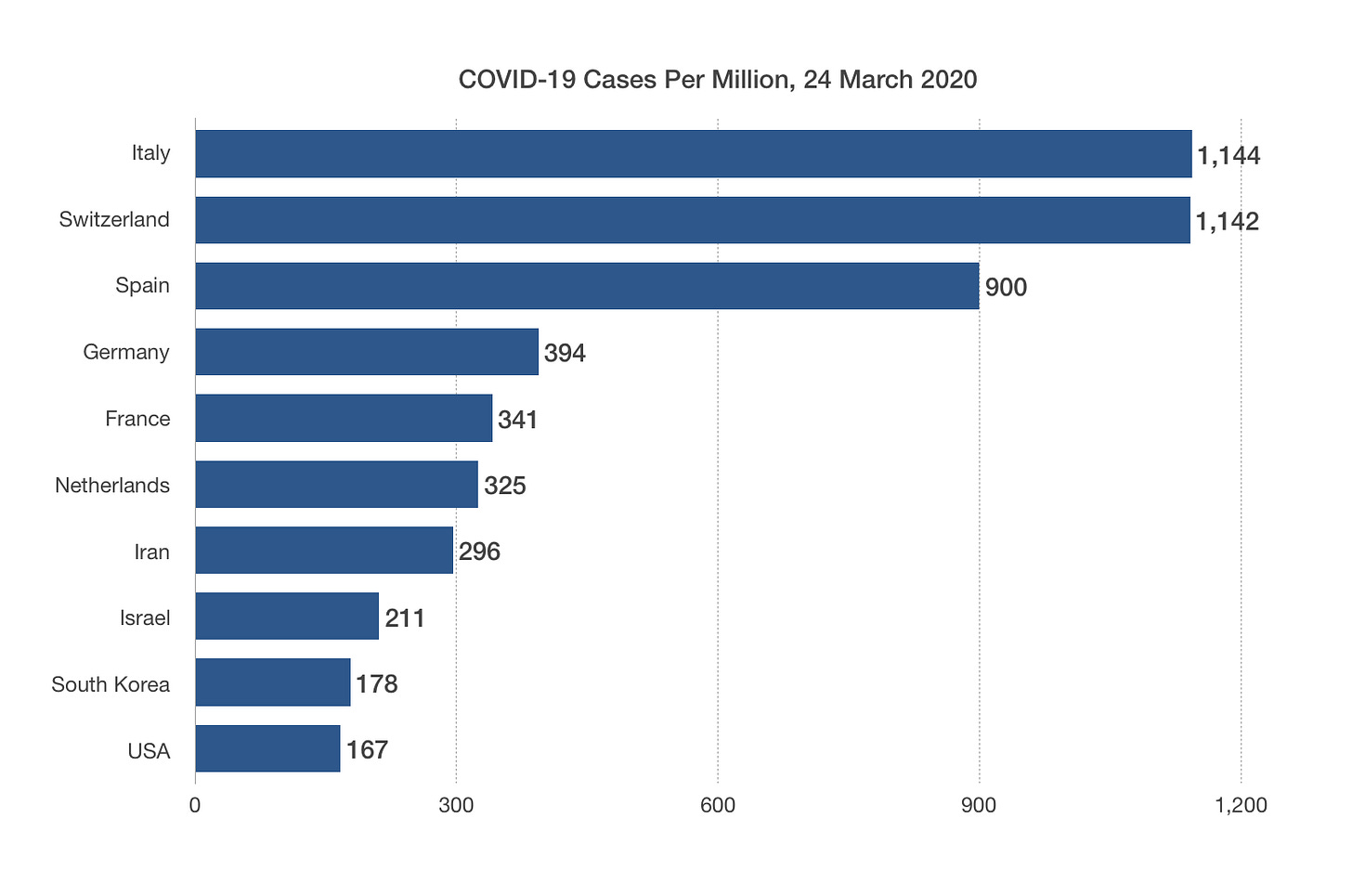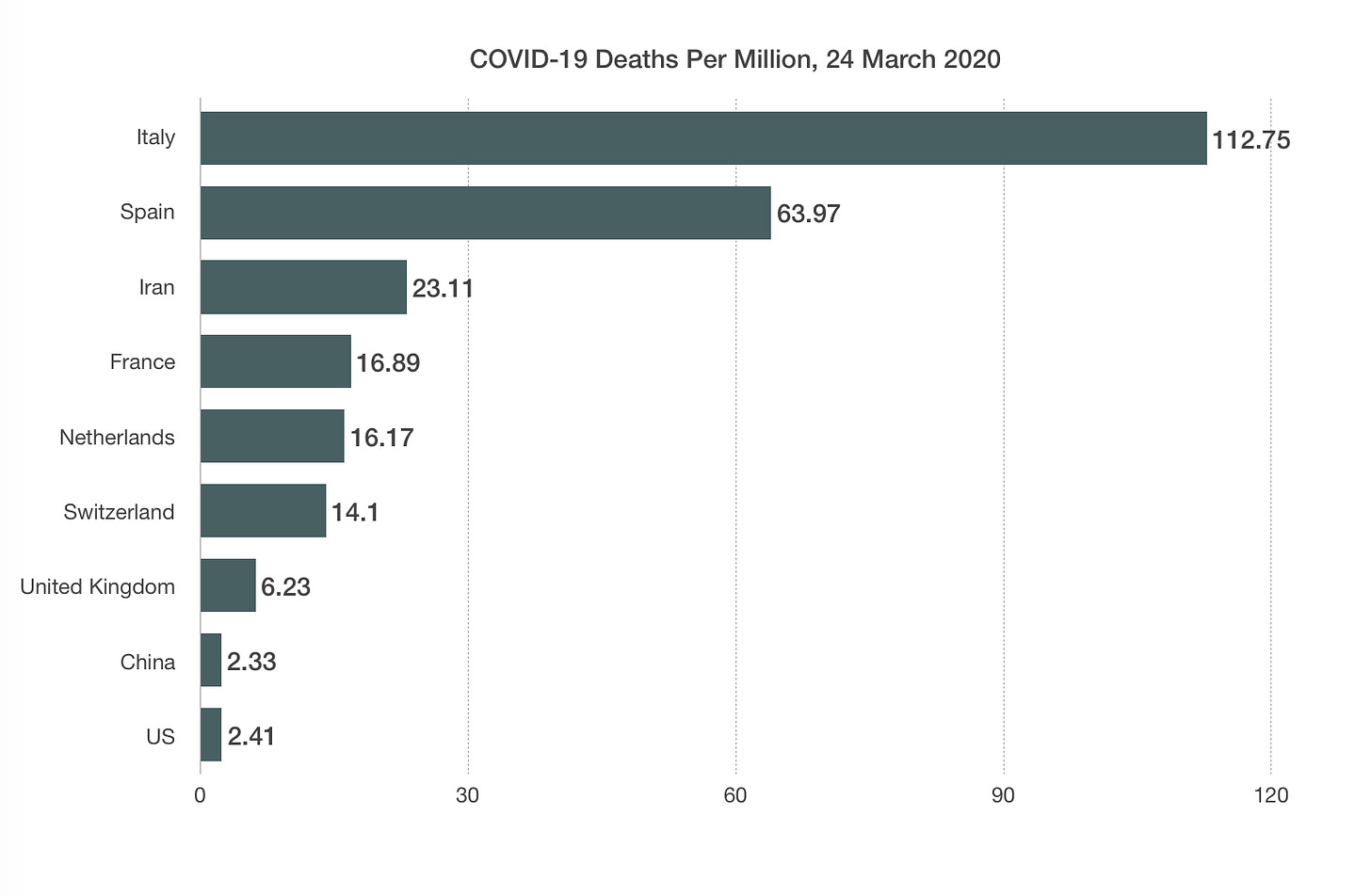 Globally: 372,757 confirmed (39,827) with 16,231 deaths (1,722)

Regions of the Americas: 49,444 confirmed (12,428) with 565 deaths (100)
Global confirmed: 422,989

Total deaths: 18,916

Total recovered: 108,578
Johns Hopkins interactive dashboard (11 pm Pacific)
24 March, domestic
Nationally* there are a total of 44,183 cases and 544 deaths according to the CDC, and 55,222 (46,332) cases and 797 (610) deaths according to Johns Hopkins (11.00 pm, Pacific) All 50 states plus DC are reporting 53,126 (44,710) identified cases. 
*Data include Puerto Rico, Guam, and the US Virgin Islands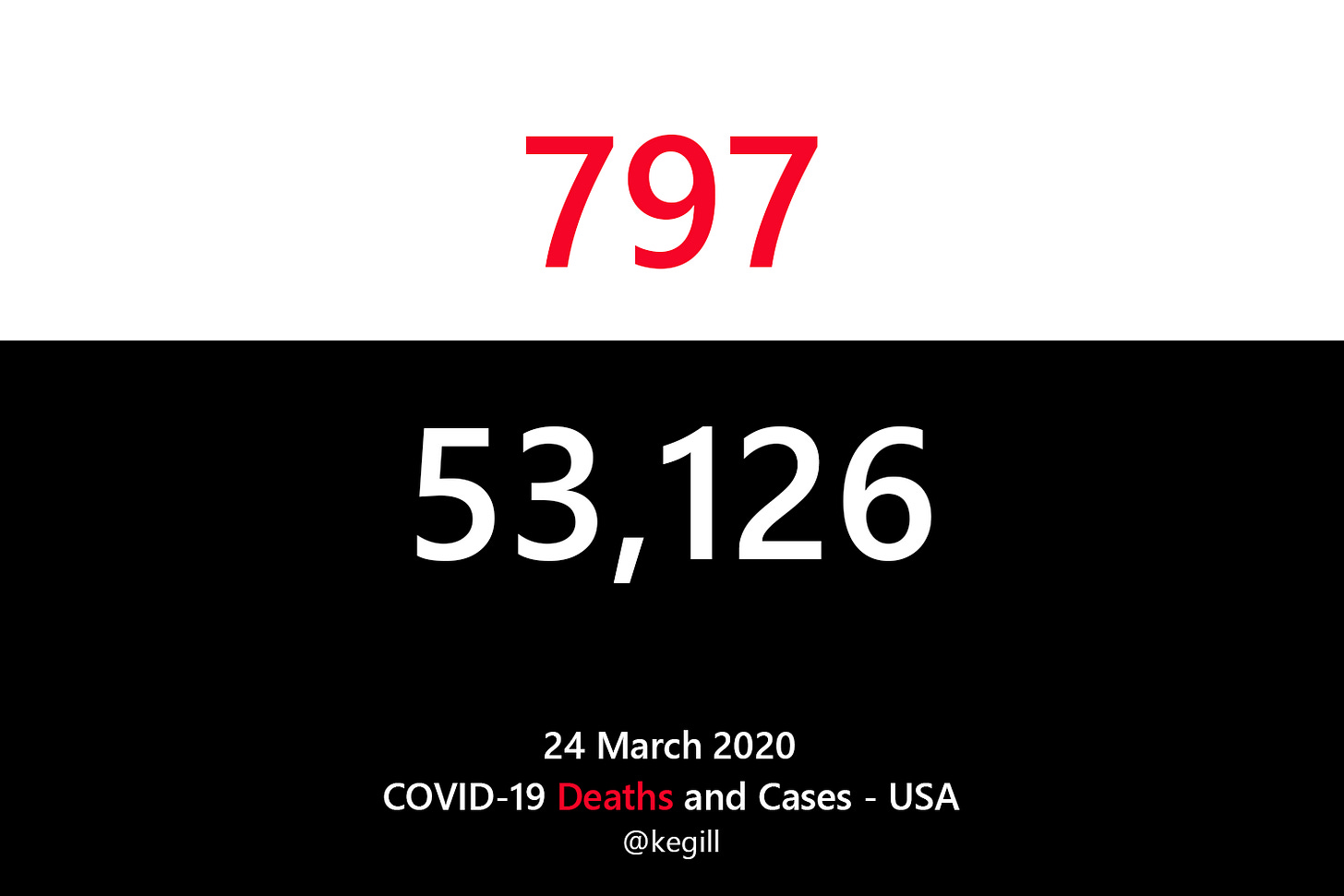 What you can do
Stay home when sick. 

Stay home as much as possible, period. 

Avoid crowded places.
What do to when you or a loved one feels sick
Digestive problems may be a symptom.
Resources
Subscribe to Kathy's Daily Memo :: Daily Memo archives
COVID-19 @ WiredPen.com