Discover more from ⚡️Memo from a News Hound
Weekly news in context with focus on the pandemic, misinformation, trends.
23 March 2020 : COVID-19 News
Per capita case and death data put NY, NJ and WA in the worst-hit states and Italy, Switzerland, Spain and Iran in the worst-hit countries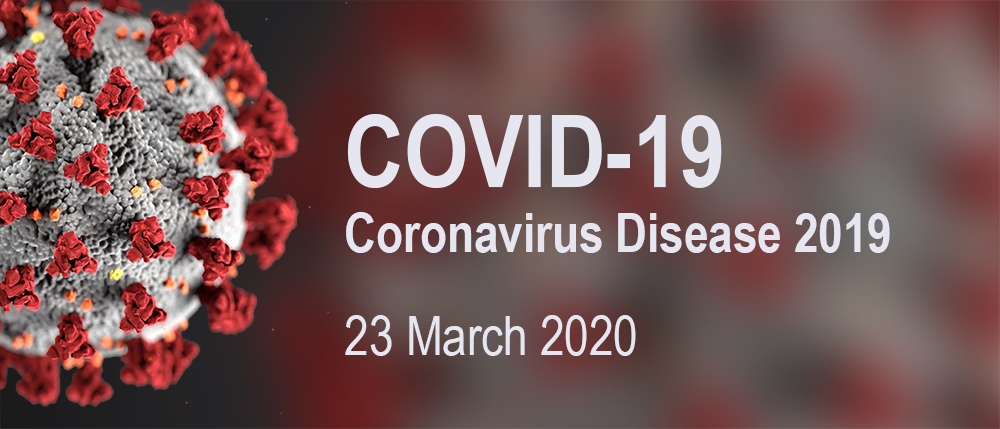 It's day 63 since the first case of coronavirus disease was announced in the United States. Johns Hopkins reports 610 deaths and 46,450 cases; state departments of health report 539 deaths and 44,710 cases.
In Europe, Italy and Spain dominate the headlines. With a health system under pressure, Italy's death toll hit 6,077 on Monday.
News reports focus on absolute numbers, which puts China (81,397) in first place, followed by Italy (59,138) and the U.S. (32,640).
But transform that data into per capita comparisons, and you'll have a dramatically different picture. The same holds true for deaths per capita, and the list of countries is not the same.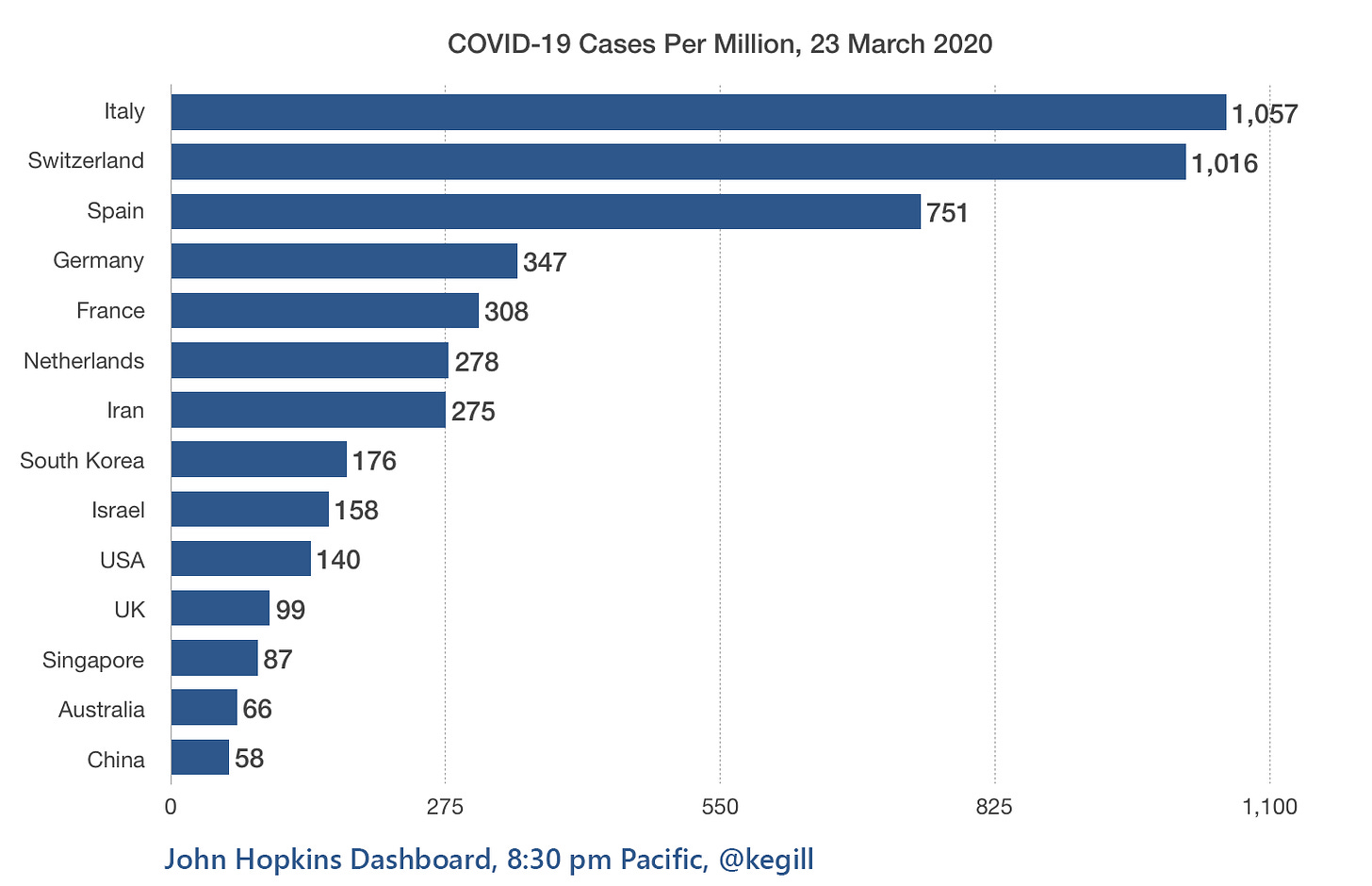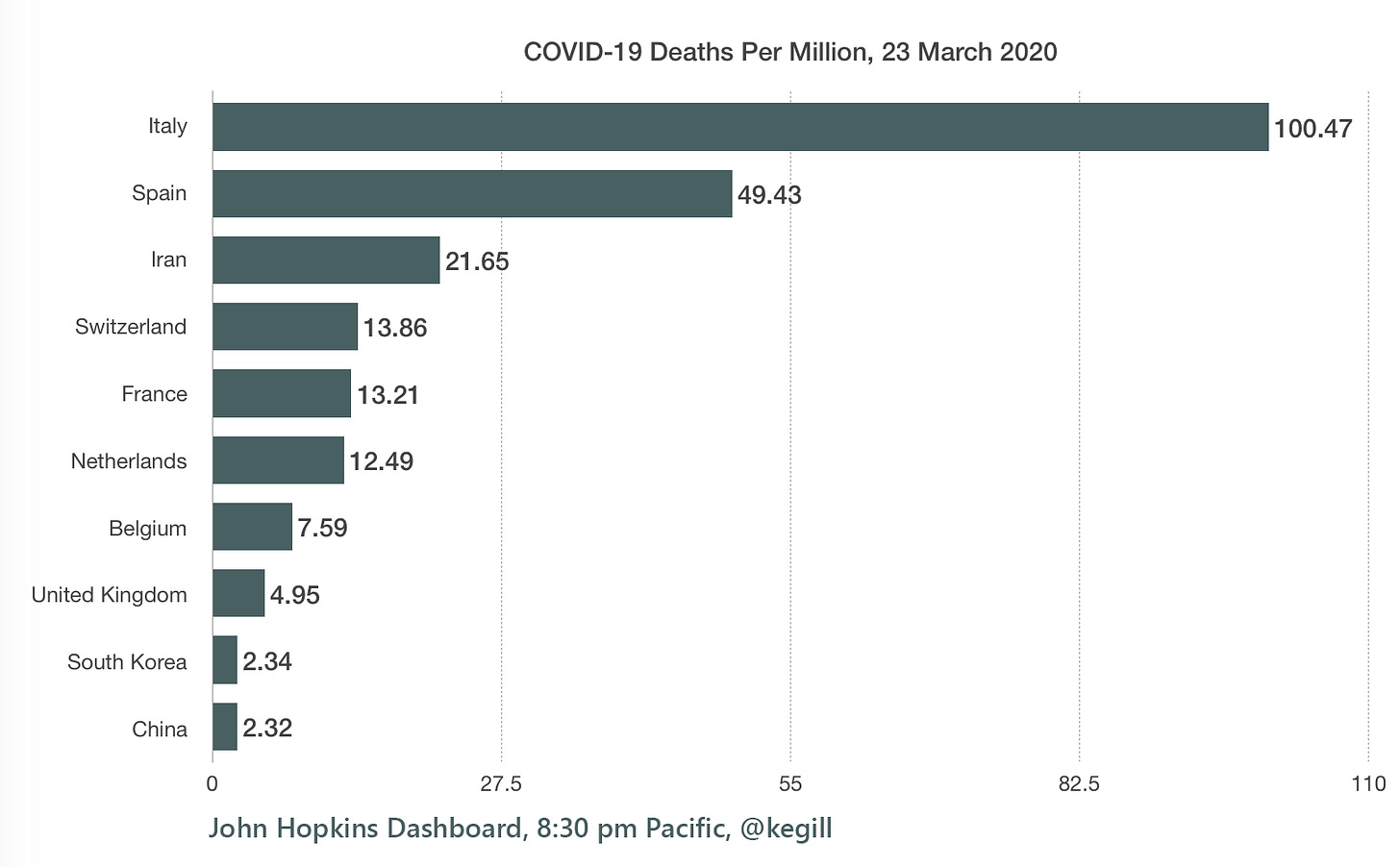 What's clear from these global data is that Switzerland is suffering, as is Iran, somewhat silently at least in terms of US media.
What happens if we take the same approach with US data?
New York mirrors Italy in cases, 1,073.1/million, with 8.1 deaths/million

New Jersey is a distant second, but it did lag on testing: 320.2 cases/million with a death rate of 3.0/million

Washington is third with 291.7 cases/million but has the highest death rate at 14.4/million
The US averages are 6.51 cases/million and 0.48 deaths/million.
See the charts below in the case count.
Add one more less common symptom to the list: an inability to smell or taste may a signal that you have the disease.
Recommended reading
I'm 26. Coronavirus Sent Me to the Hospital. Millennials: If you can't stay at home for others, do it for yourselves. New York Times, 23 March 2020.

I'm 26. I don't have any prior autoimmune or respiratory conditions. I work out six times a week, and abstain from cigarettes. I thought my role in the current health crisis would be as an ally to the elderly and compromised. Then, I was hospitalized for Covid-19.
Keeping the Coronavirus from Infecting Health-Care Workers. What Singapore's and Hong Kong's success is teaching us about the pandemic. New Yorker, 21 March 2020.

Those of us who must go out into the world and have contact with people don't have to panic if we find out that someone with the coronavirus has been in the same room or stood closer than we wanted for a moment. Transmission seems to occur primarily through sustained exposure in the absence of basic protection or through the lack of hand hygiene after contact with secretions.
The coronavirus isn't alive. That's why it's so hard to kill. The science behind what makes this coronavirus so sneaky, deadly and difficult to defeat. Washington Post, 23 March 2020.

Andrew Pekosz, a virologist at Johns Hopkins University, compared viruses to particularly destructive burglars: They break into your home, eat your food and use your furniture and have 10,000 babies. "And then they leave the place trashed," he said.
Recommended viewing
Around the country
All 50 states, the District of Columbia, Guam, Puerto Rico and the US Virgin Islands have identified COVID-19 cases. The 539 known deaths are from 34 states plus the District of Columbia as well as Guam and Puerto Rico.
Governors in Oregon, Michigan, Virginia and Washington locked down their states on Monday. Some mayors in Western Washington are considering more stringent orders.
Today the CDC released analysis of the SARS-CoV-2 outbreaks on the Diamond Princess and the Grand Princess. On the Diamond Princess 712 of 3,711 people (19.2%) were infected by COVID-19. Half (46.5%) of those who tested positive were asymptomatic. On the Grand Princess, 78 cases were link to two separate voyages.
SARS-CoV-2 RNA was identified on a variety of surfaces in cabins of both symptomatic and asymptomatic infected passengers up to 17 days after cabins were vacated on the Diamond Princess but before disinfection procedures had been conducted
As of March 17, at least 25 cruise ships have confirmed COVID-19 cases either during or after the cruise.
In Georgia, a 12-year-old girl is in ICU at Children's Healthcare of Atlanta.
Drive-through testing has opened north of Seattle. The service is available to people experiencing symptoms, such as coughing, a fever of at least 100.4 degrees, sore throat and shortness of breath AND who are in specific categories that present risks: pregnant, age 60 or older, health care workers, people who work in "critical infrastructure" and anyone with an underlying health condition. Reservations are required.
Shared without comment:
nbcnews.to
A man died after ingesting a substance he thought would protect him from coronavirus
The man and his wife thought the ingredient, used to treat sick fish, could prevent the disease.
Politics, economics and COVID-19
President Trump seemed to express impatience when he declared, "We can't let the cure be worse than the problem itself." There was an echo from Texas:
Texas Lt. Gov. Dan Patrick told Fox News on Monday that he would rather perish from the new coronavirus than see the economy destroyed for his grandchildren by overreaction to the disease.
Trump was joined in questioning the shelter-in-place orders (which directly slow the economy) by NY Times columnist Tom Friedman, who amplified a controversial op-ed that ran in StatNews on 17 March. The very next day, StatNews published this rebuttal, which doesn't fit Friedman's narrative.
There are two options for Covid-19 at the moment: long-term social distancing or overwhelmed health care systems.
Science Twitter wasn't happy.
Alaska Airlines is reducing flights, but not by that much: about 15 percent per day for March.
Global news
The number of affected countries jumped from 29 at the end of February to 186 today. There are 195 countries in the world. Although early reports tied the outbreak to a seafood ("wet") market in Wuhan, China, analyses of genomic data suggest that the virus may have developed elsewhere.
WHO has launched a global trial, called SOLIDARITY, to explore four possible coronavirus treatments. About 15% of COVID-19 patients "[suffer] from severe disease" which overwhelms hospitals. To speed up the process for finding treatment, researchers are testing drugs already approved for other diseases. They're also testing at drugs which have performed well in animal studies with two other coronaviruses, one that causes severe acute respiratory syndrome (SARS) and on that causes Middle East respiratory syndrome (MERS).
In Britain, an 18-year-old male has died of coronavirus disease, reportedly the day after testing positive.
Case count
Tests are becoming much more widely available. There is a lag between being contagious and showing symptoms. The virus was not created in a lab.
23 March, global
Globally: 332,930 confirmed (40,788 new) with 14,510 deaths (1,727 new)

Regions of the Americas: 37,016 confirmed (17,331 new) with 465 deaths (213 new)
Global confirmed: 381,293

Total deaths: 16,572

Total recovered: 101,344
Johns Hopkins interactive dashboard (8.30 pm Pacific)
23 March, domestic
Nationally* there are a total of 33,404 cases and 400 deaths according to the CDC, and  46,332 (35,211) cases and 610 (417) deaths according to Johns Hopkins (21.30 pm, Pacific) All 50 states plus DC, Guam, Puerto Rico and the Virgin Islands are reporting 44,710 (32,505) identified cases. View infographic and data online.
*CDC and Johns Hopkins data include Puerto Rico, Guam, and US Virgin Islands
Data are now presented as cases per million.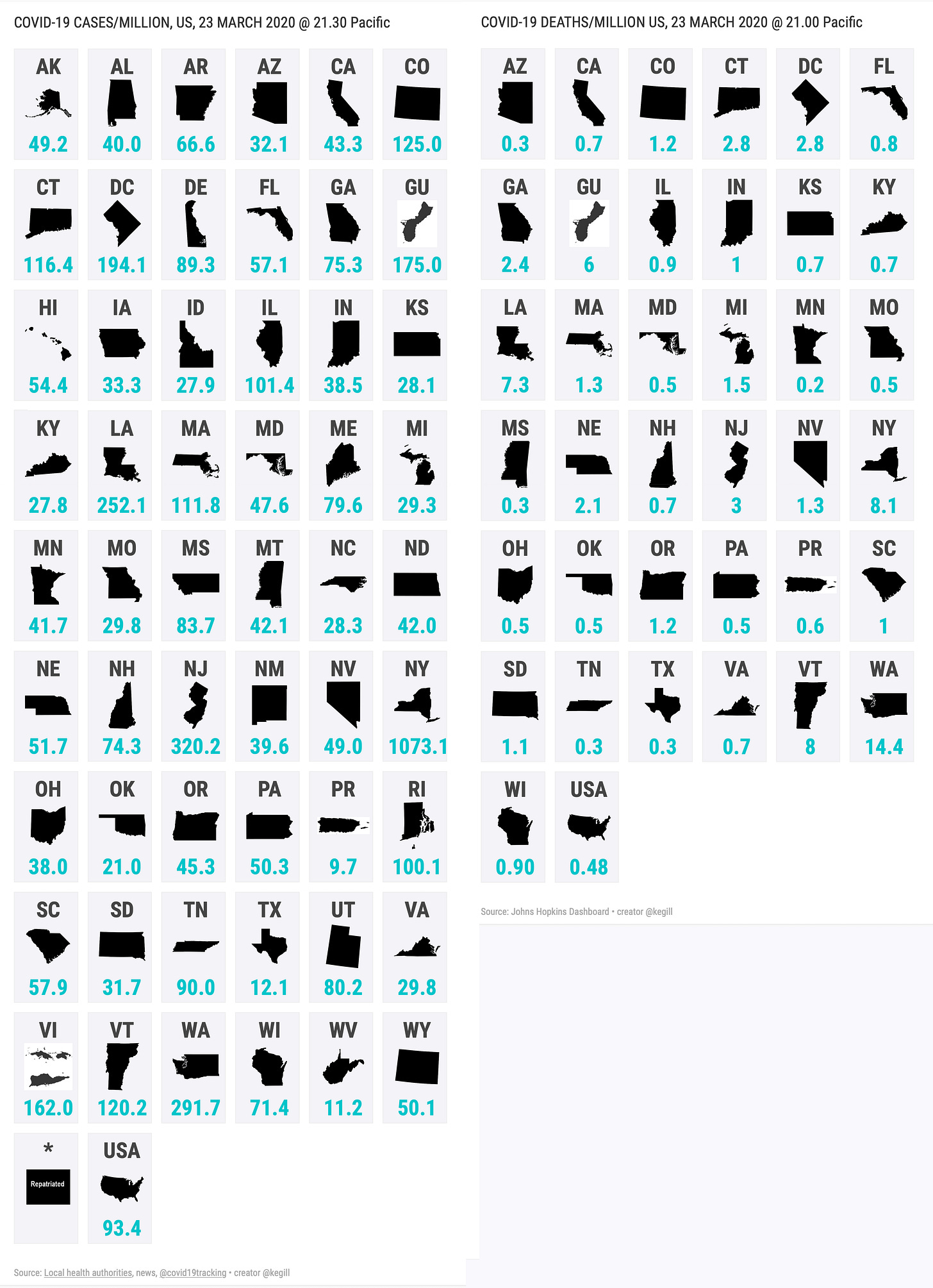 What you can do
Stay home when sick. 

Stay home as much as possible, period. 

Avoid crowded places.
What do to when you or a loved one feels sick
Digestive problems may be a symptom.
Resources
Subscribe to Kathy's Daily Memo :: Daily Memo archives
COVID-19 @ WiredPen.com