Discover more from ⚡️Memo from a News Hound
Weekly news in context with focus on the pandemic, misinformation, trends.
20 March 2020 : COVID-19 News
US deaths are now in 30 states, identified cases approach 20,000; deaths in Italy on Friday increased almost 50% over Thursday; Florida beaches closed; 1-in-5 Americans are staying at home
It's day 60 since the first case of coronavirus disease was announced in the United States. Johns Hopkins reports 260 deaths, an increase of 27 percent from yesterday. Identified cases from state departments of health are 17,510, an increase of 46 percent from yesterday. Testing is beginning to ramp up.
Deaths in Italy continue to climb: 627 deaths were reported on Friday, up from 427. The country cited 9,600 people in one day for violating lockdown.
Please don't call coronavirus the flu or influenza:
SARS-CoV-2 is not the flu. It causes a disease with different symptoms,spreads and kills more readily, and belongs to a completely different family of viruses. 
Recommended reading
Recommended viewing
From 14 years ago, Larry Brilliant "described what the next pandemic" might look like.
"Early detection, early response."
Around the country
All 50 states, the District of Columbia, and the US Virgin Islands have identified COVID-19 cases. The 260 known deaths are from 30 states plus the District of Columbia, with most from Washington.
Governors in three states have told one-in-five Americans to stay home to try to limit the spread of SARS-CoV-2. More than 70 million people in California, Illinois and New York are under some form of shelter-in-place order. The governor of Pennsylvania has shuttered non-essential businesses. Where governors are not acting, some cities are imposing curfews and curtailing dine-in restaurants, for example.
Florida Governor DeSantis bowed to pressure from city governments on Friday and closed state beaches on Friday, as well as bars and restaurants. Earlier in the week he refused to issue an executive order closing the coasts.
In Tennessee, Elvis Presley's Graceland is now closed to the public.  
Misinformation continues to be a problem with a gullible public, according to data from Pew Research.
About half the public (48%) say they've been exposed to at least some made-up news and information related to the virus. And when asked two questions about the virus, substantial portions express belief in claims that are in fact false...

About four-in-ten Americans say COVID-19 came about naturally; about three-in-ten think it was created in a lab. Nearly half say a vaccine will be available in a year or more.
Sen. Tom Cotton (R-AZ) threw some fuel on the man-made theory earlier this week, even though that conspiracy theory has been debunked by genetic testing.
Politics, economics and COVID-19
President Trump has limited non-essential travel between Mexico and the United States via executive order.
Existing federal students loan interest rates are now zero. Anyone holding a federal student loan has the option of suspending payments for the next 60 days without accruing interest. Any payments made during this time will apply to the principle
On Thursday, Trump told "reporters that the federal government is 'not a shipping clerk' in reference to obtaining emergency medical equipment and supplies. "Governors are supposed to be doing a lot of this work."
Massachusetts Governor Charlie Baker told Trump during a video conference on Thursday that his state three times lost out to the federal government on purchases of critical supplies, creating an awkward moment during the made-for-TV event at Federal Emergency Management Agency headquarters in Washington.
A member of Vice President Pence's staff has tested positive for COVID-19; Pence has run the White House task force since late February.
Senate Intelligence Chairman Richard Burr (R-NC) and Sen. Kelly Loeffler (R-GA) are "facing questions about why they were selling stocks last month, before the stock market took a nosedive as the outbreak spread across the US and the Dow Jones Industrial Average lost roughly 30% of its value."
Global news
The number of affected countries jumped from 29 at the end of February to 173 today . Although early reports tied the outbreak to a seafood ("wet") market in Wuhan, China, analyses of genomic data suggest that the virus may have developed elsewhere.
Northwick Park Hospital, a major London hospital, "said it had no critical care capacity left and was contacting neighbouring hospitals about transferring patients who need critical care to other sites."
WHO and Global Citizen launched #TogetherAtHome, a virtual, no-contact concert series to "promote physical distancing and action for global health. Chris Martin, lead singer of Coldplay, kicked it off earlier this week with a performance from his home."
Case count
Tests are becoming more widely available as state, university and commercial labs implement testing. There is a lag between the initial period of contagion and a person showing symptoms.
19 March, global
Globally: 234,073 confirmed (24,247 new) 9,840 with deaths (1,061 new)

Regions of the Americas: 13,271 confirmed (4,104) with 178 deaths (57 new)
Global confirmed: 275,469

Total deaths: 11,402

Total recovered: 88,258
Johns Hopkins interactive dashboard
19 March, domestic
Nationally* there are a total of 15,219 cases and 101 deaths according to the CDC, and 19,624 cases and 260 deaths according to Johns Hopkins (11.30 pm, Pacific) All 50 states plus DC are reporting 11,980 identified cases. View infographic and data online.
*CDC data include Puerto Rico, Guam, and US Virgin Islands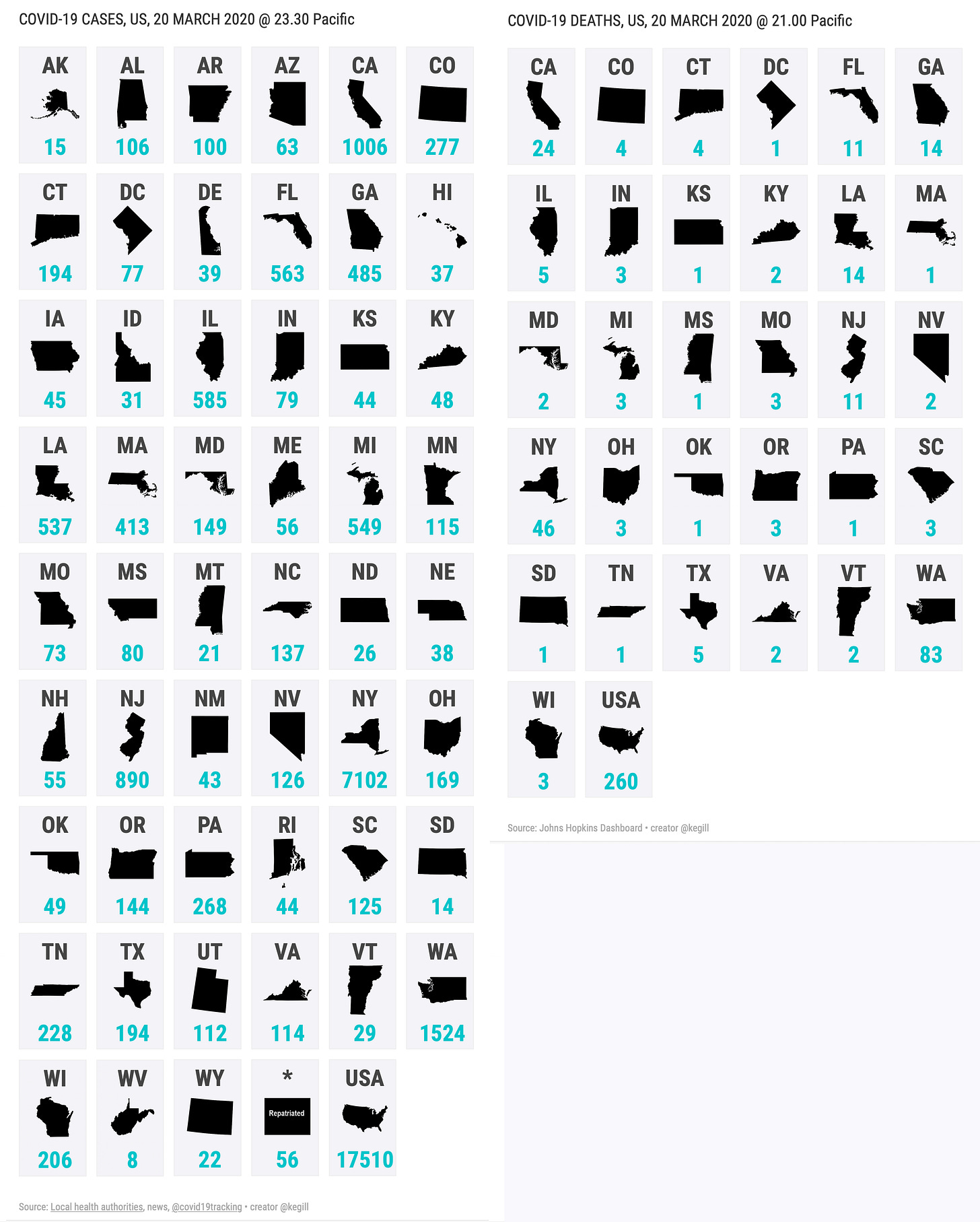 What you can do
Stay home when sick. 

Stay home as much as possible, period. 

Avoid crowded places.
What do to when you or a loved one feels sick
Digestive problems may be a symptom.
Resources
Subscribe to Kathy's Daily Memo :: Daily Memo archives
COVID-19 @ WiredPen.com