Discover more from ⚡️Memo from a News Hound
Weekly news in context with focus on the pandemic, misinformation, trends.
15 March 2020
Cascade of bans on public gatherings of more than 50; Italy sets new high for deaths in 24 hours; COVID-19 growth outside of China now exceeds numbers in-country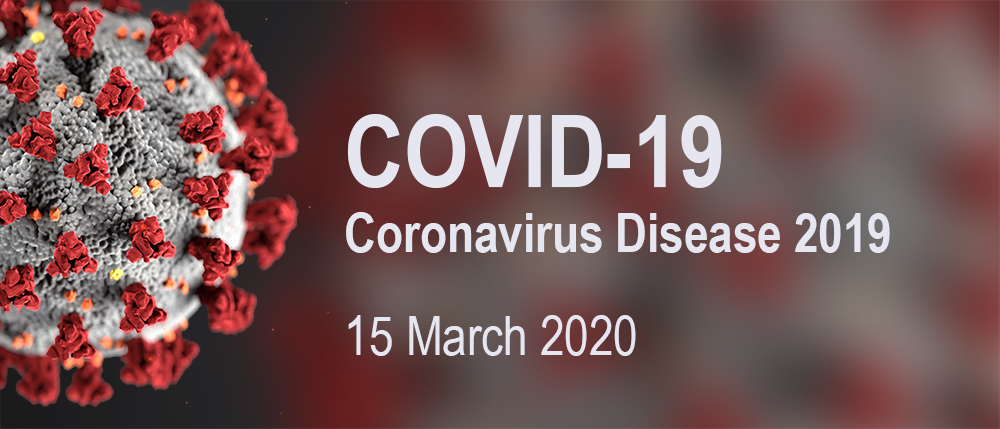 Where to start?
Italy recorded a record number of deaths in a 24-hour period. California Governor Gavin Newsom is closing bars, breweries, wineries and restaurants (except for take-out) and directing those 65+ and those with health condition to stay home. Washington State Governor Jay Inslee is closing restaurants (except for take-out) and bars; limits gatherings to 50; closes gyms and entertainment venues.
Later on Sunday, the CDC recommended that organizers "cancel or postpone in-person events that consist of 50 people or more throughout the United States [emphasis added]."
Events of any size should only be continued if they can be carried out with adherence to guidelines for protecting vulnerable populations, hand hygiene, and social distancing.  When feasible, organizers could modify events to be virtual.

This recommendation does not apply to the day to day operation of organizations such as schools, institutes of higher learning, or businesses. 
The Johns Hopkins dashboard shows that the total number of COVID-19 cases identified outside of China (population 6.1 billion) now exceeds the number identified in China (population 1.4 billion).
Breaking news is happening almost as quickly as the virus is spreading.
And it's hard to not to make comparisons with 1918. This screen capture from 05 October 1918 is featured in a Seattle Times retrospective.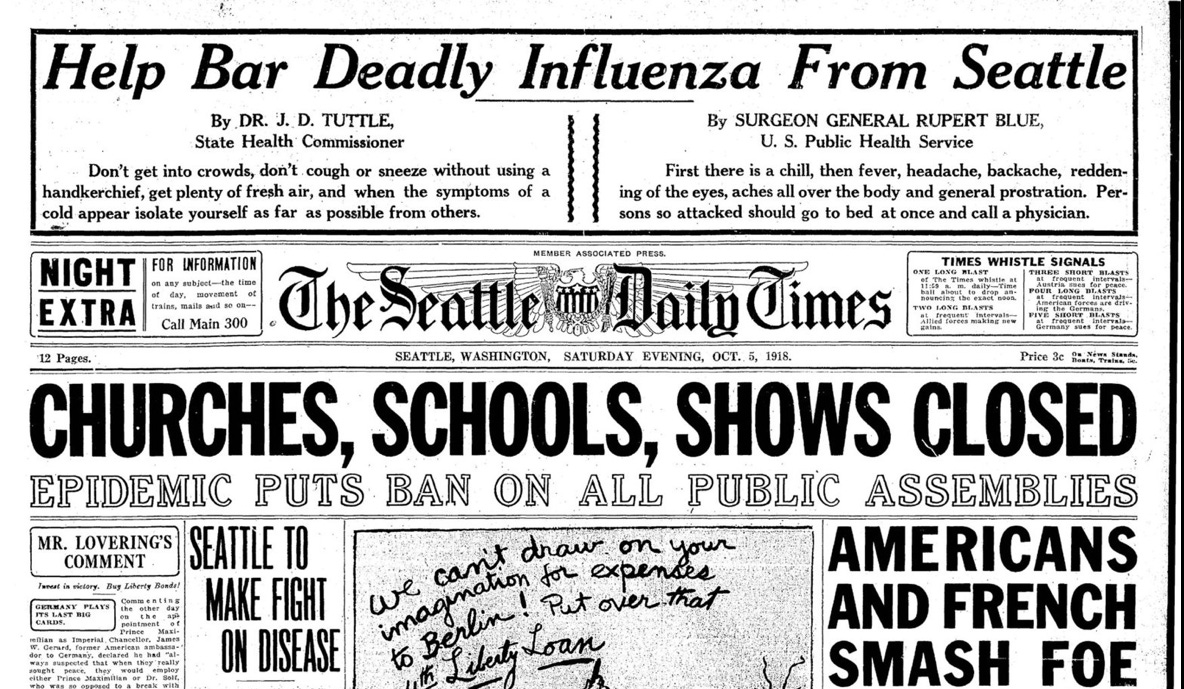 Recommended reading
Recommended viewing
I love music+dance for hand washing! And we all need a laugh!
Around the country
Only one state has not yet identified a COVID-19 infection: West Virginia (77.1/sq mile). The 66 known deaths are from 11 states, with most from Washington. Virginia posted its first death on Saturday.
Other announcements about bans and closures: Illinois; Los Angeles, CA; NYC; Washington, DC.
Epidemiologist Eric Feigl-Ding reports that seasonal flu surveillance testing hit the lowest numbers of the year. Visits to health clinics for influenza-like illnesses, on the other hand, were high. Given the lag in comprehensive testing for COVID-19, Feigl-Ding suggested, "This massive disparity indicates COVID is likely very high" in the US.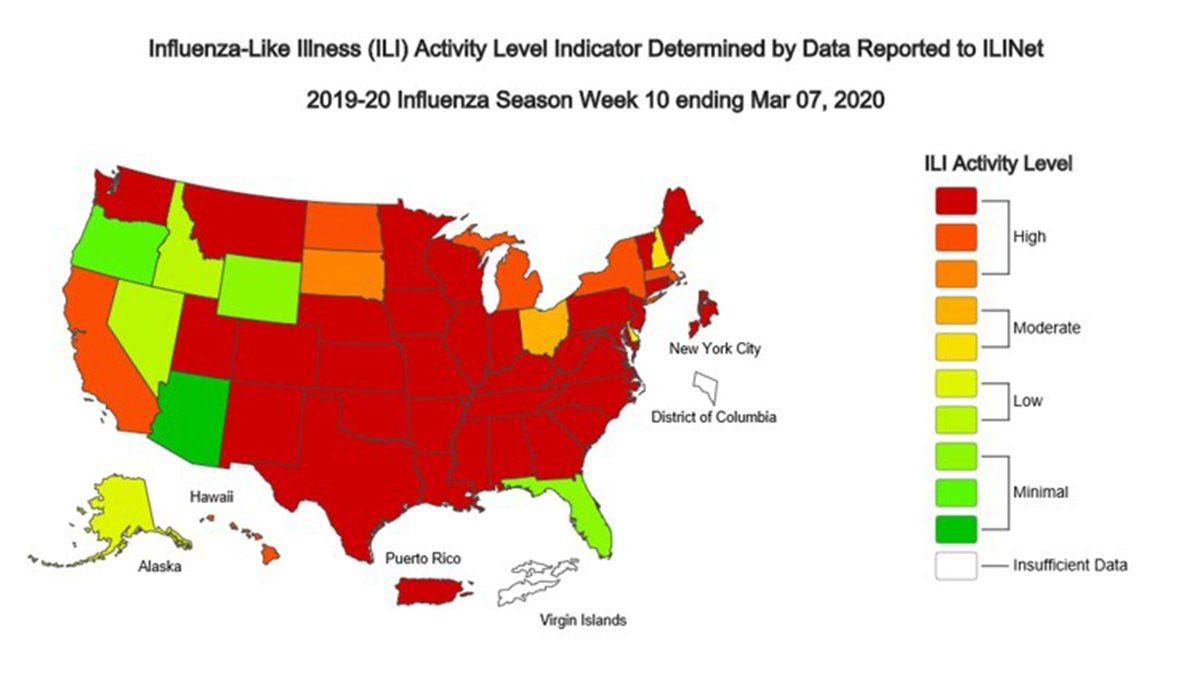 States of emergency
Where governors have issued a state of emergency:
AK, AL, AR, AZ, CA, CO, CT, DE, FL, GA, HI, IA, ID, IL, IN, KS, KY, LA, MA, MD, ME, MI, MN, MO, MS, MT, NE, NC, ND, NH, NJ, NM, NY, NV, OH, OK, OR, PA, RI, SC, SD, TN, TX, UT, VA, VT, WA, WI, WV, WY.
Politics, economics and COVID-19
Community Mitigation Guidelines to Prevent Pandemic Influenza, 2017. Centers for Disease Control, Recommendations and Reports, April 21, 2017, 66(1);1–34.
When a novel influenza A virus with pandemic potential emerges, nonpharmaceutical interventions (NPIs) often are the most readily available interventions to help slow transmission of the virus in communities, which is especially important before a pandemic vaccine becomes widely available. NPIs, also known as community mitigation measures, are actions that persons and communities can take to help slow the spread of respiratory virus infections, including seasonal and pandemic influenza viruses.
Global news
The number of affected countries jumped from 29 at the end of February to 143 today. Although early reports tied the outbreak to a seafood ("wet") market in Wuhan, China, analyses of genomic data suggest that the virus may have developed elsewhere.
In Canada, the number of cases now exceeds 300. The government told its citizens who are abroad that they should return home "or risk getting stuck."
Case count
Tests are becoming more widely available as state, university and commercial labs implement testing. Scientists point out that where there are two confirmed cases or where the first case is severe, there are many more people walking the streets, unaware that they are carriers. There is a lag between the initial period of contagion and a person showing symptoms.
15 March, global
Globally: 153,517 confirmed (10,982 new) with 5,735 deaths (343 new)

China: 81,048 confirmed (27 new) with 3,204 deaths (10 new)

Outside of China: 72,469 confirmed (10,955) 2531 with deaths (333 new) in 143 countries/territories/areas (09 new)
Global confirmed: 169,387

Total deaths: 6,513

Total recovered: 77,257
Johns Hopkins interactive dashboard
15 March, domestic
Nationally there are a total of 1,629 cases and 41 deaths according to the CDC (13 March) and 3,774 cases and 69 deaths according to Johns Hopkins. Forty-nine states plus DC are reporting 3,493 identified cases with 66 deaths. View infographic and data online.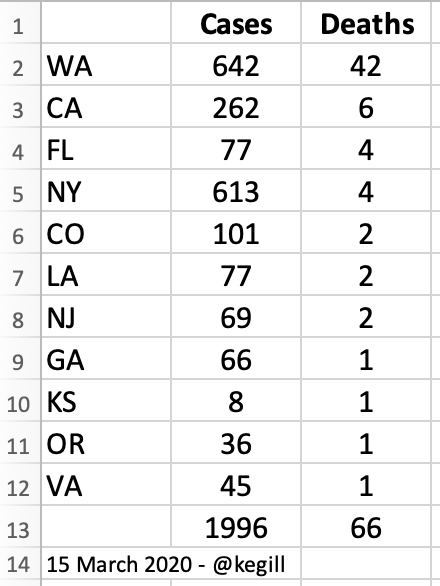 What you can do
Stay home when sick.

Stay home as much as possible, period.

Avoid crowded places.
What do to when you or a loved one feels sick
Resources