Discover more from ⚡️Memo from a News Hound
Weekly news in context with focus on the pandemic, misinformation, trends.
14 March 2020
KC, LA, NY and OR report first COVID-19 deaths; France, Israel, Spain and the UK impose limits on public gatherings; Australia joins New Zealand in requiring visitors to self-quarantine for 14 days.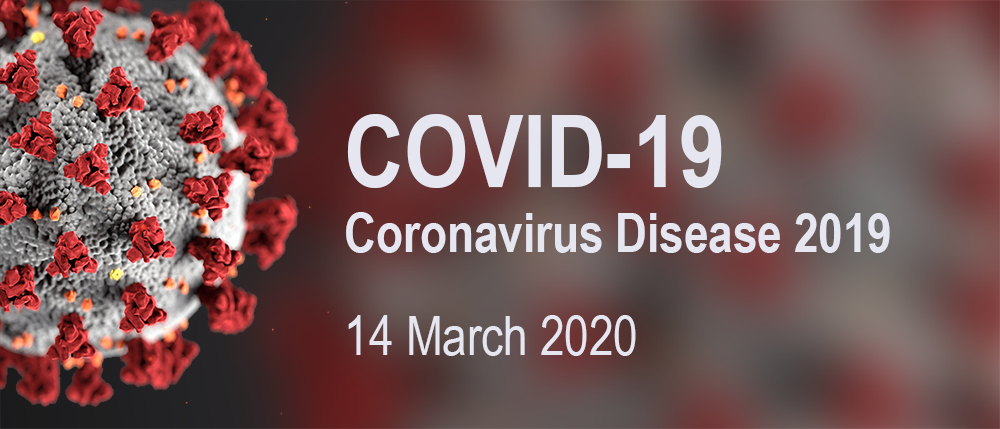 Four new states report deaths from coronavirus disease: Kansas, Louisiana, New York and Oregon. As in Washington, Kansas has an early death in a nursing facility.
Testing continues to expand across the country, and with that expansion comes new cases. The US case load is approaching 3,000 as 14 March comes to a close; when I started writing this on 01 March, there were 37 identified cases (not counting repatriated citizens). On 01 March there were two deaths, both in Washington. Tonight there are 58 deaths in 10 states.
Many of my friends are asking about symptoms, given that tests remain scarce and are being used primarily for patients with serious symptoms. Although the symptoms are similar to those of a cold, the virus can cause more severe symptoms like high fever, severe cough, and shortness of breath.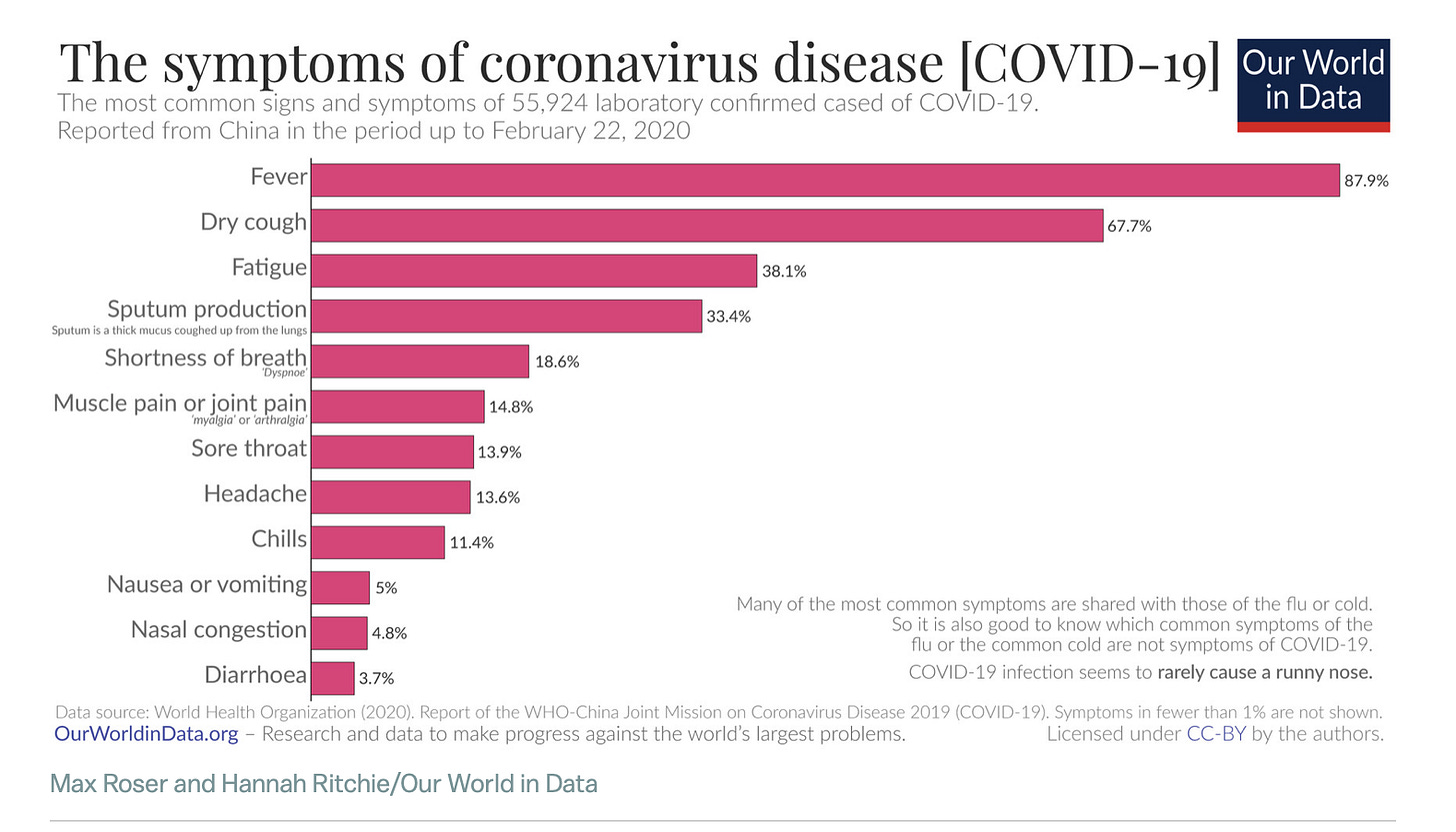 Recommended reading
Another excellent interactive explainer on exponential growth and how social distancing helps the health care system cope with the disease. Making math fun (really!). Washington Post, 14 March 2020.
"As in any war, we have to choose who to treat and who not."
… the Italian society of anesthesiologists published extraordinary new guidelines to help doctors facing ethical dilemmas, making clear that the "first come, first served" criterion that had been used among patients with the same illnesses and level of risk in ordinary times was not appropriate in dealing with the current emergency.
A coronavirus cautionary tale from Italy: Don't do what we did, Boston Globe, 13 March 2020. Mattia Ferraresi is a writer for the Italian newspaper Il Foglio.
Finally, how to protect older people against COVID-19, New York Times, 14 March 2020.
Recommended viewing
What you probably haven't heard about how China corralled coronavirus. Donald McNeil, science and health reporter for the New York Times, talks with Rachel Maddow about how China focused on breaking the chain of transmission and protecting hospitals from being overwhelmed.
And from Italy, a discussion with a doctor in Milan. More medical, less lay audience.
Around the country
Only one state has not yet identified a COVID-19 infection: West Virginia (77.1/sq mile). The 58 known deaths are from 10 states, with most from Washington.
States of emergency
Where governors have issued a state of emergency:
AK, AL, AR, AZ, CA, CO, CT, DE, FL, GA, HI, IA, ID, IL, IN, KS, KY, LA, MA, MD, ME, MI, MN, MO, MS, MT, NE, NC, ND, NH, NJ, NM, NY, NV, OH, OK, OR, PA, RI, SC, SD, TN, TX, UT, VA, VT, WA, WI, WV, WY.
Politics, economics and COVID-19
The four primary elections planned for Tuesday -- Arizona, Florida, Illinois and Ohio -- will go forward as planned according to news reports. However, Georgia is moving its presidential primary from March 24 to May 19. Louisiana announced on Friday that it was postponing its primary.
In a news conference declaring a national emergency on Friday, President Trump stated that Google would soon be providing a national website to help people find testing centers. Not true then, although Google is now partnering with the White House to create a national tool, according to a company announcement on Twitter.
Global news
The number of affected countries jumped from 29 at the end of February to 135 today. Although early reports tied the outbreak to a seafood ("wet") market in Wuhan, China, analyses of genomic data suggest that the virus may have developed elsewhere.
Australia and New Zealand are now requiring anyone entering the country to self-isolate for 14 days.
In France, Prime Minister Edouard Philippe has closed "all non-indispensable locations, notably cafes, restaurants, cinemas, nightclubs and shops." Food stores and pharmacies will not be closed. Almost 4,500 have tested positive for the virus; 91 have died. Population: 65.3 million.
Israeli Prime Minister Benjamin Netanyahu has implemented emergency measures; 200 have tested positive and thousands are in isolation. All educational institutions will close; gatherings are limited to 10 persons. Malls must close but supermarkets, food stores and pharmacies will remain open. Clubs, bars, pubs, and restaurants to close (except takeaways). Leisure venues will also close, from theaters and water parks to event venues. Population: 8.7 million.
Spanish Prime Minister Pedro Sánchez announced a "declaration of emergency" and has told the nations citizens to stay at home and limit trips. Public transportation has been cut in half; 5,700 people have tested positive.
… people will only be allowed to leave their homes to buy food and medicine, commute to work, go to medical centers and banks, or take trips related to the care for the young and the elderly. Those limitations are effective immediately.

Effective immediately, Spain is also closing all restaurants, bars, hotels, schools and universities nationwide, and other non-essential retail outlets, a move some of the hardest-hit communities have already carried out. 
Population: 46.8 million
In the UK, more than 200 scientists have asked the government to introduce stronger social distancing measures which would "dramatically" slow the rate of growth and save thousands of lives. There are 1,140 confirmed cases and 21 deaths; 37,746 people have been tested. Population: 67.9 million.
The goal of these actions are the same abroad as they are in the US: flatten the curve.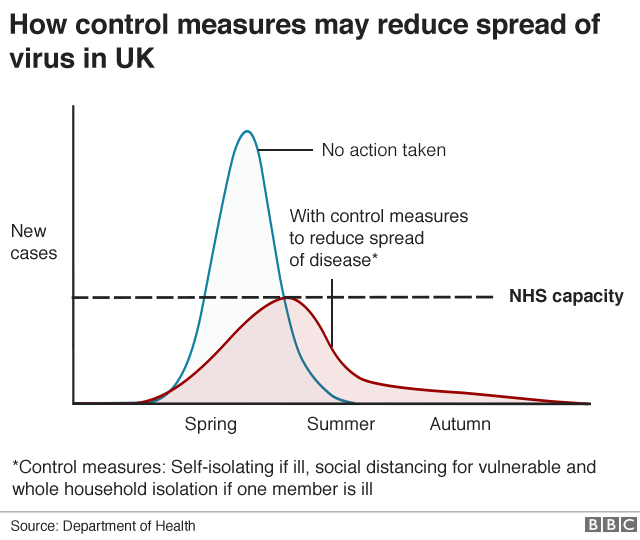 Case count
Tests are becoming more widely available as state, university and commercial labs implement testing. Scientists point out that where there are two confirmed cases or where the first case is severe, there are many more people walking the streets, unaware that they are carriers. There is a lag between the initial period of contagion and a person showing symptoms.
14 March, global
Globally: 142,539 confirmed (9769 new) with 5,393 deaths (438 new)

China: 81,021 confirmed (18 new) with 3,194 deaths (14 new)

Outside of China: 61,518 confirmed (9,751 new) with 2,199 deaths (424 new) in 135 countries/territories/ areas (13 new)
Global confirmed: 156,400

Total deaths: 5,833

Total recovered: 73,968
Johns Hopkins interactive dashboard
14 March, domestic
Nationally there are a total of 1,629 cases and 41 deaths according to the CDC (13 March) and 2,952 cases and 57 deaths according to Johns Hopkins. Forty-nine states plus DC are reporting 2,744 identified cases with 58 deaths. View infographic and data online.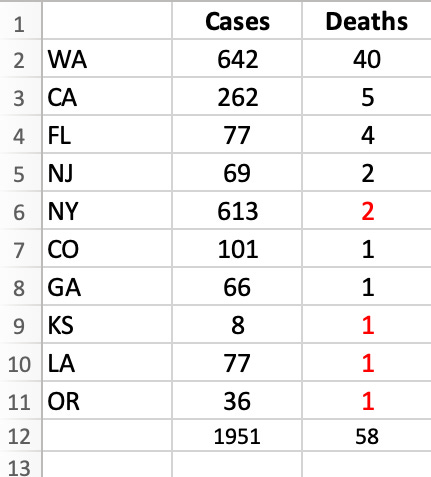 What you can do
Stay home when sick. Stay home as much as possible, period. Avoid crowded places.

Contact a doctor by phone. If you or a family member have symptoms such as a cough, fever, or other respiratory problems, contact your regular doctor by phone for triage. If you do not have a doctor and are concerned that you might have COVID-19, contact your local board of health for advice.

Do not go to the emergency rooms unless essential. Emergency rooms need to be able to serve those with the most critical needs. Also, you may not be sick enough to be tested; triage is essential when resources are limited.

Practice excellent personal hygiene habits, including hand washing, coughing into tissue or elbow, and avoiding touching eyes, nose, or mouth. Soap dissolves the fatty outer layer of the virus, which is why hand washing is so effective. 

Stay away from people who are ill, especially if you are 60 and older or have underlying health conditions such as diabetes, heart disease, lung disease, or a weakened immune system. 

Don't stockpile personal protective equipment (PPE) such as face masks as they are needed by health care staff. When is a mask is needed? When we are unwell and have to go out.
Tips via Seattle-King County Public Health
Resources