10 March 2020
WA Governor expected to announce ban on large gatherings; NY Governor sets up "containment area"; CO begins drive-through testing; 1,400 to disembark from the Grand Princess cruise ship in Oakland, CA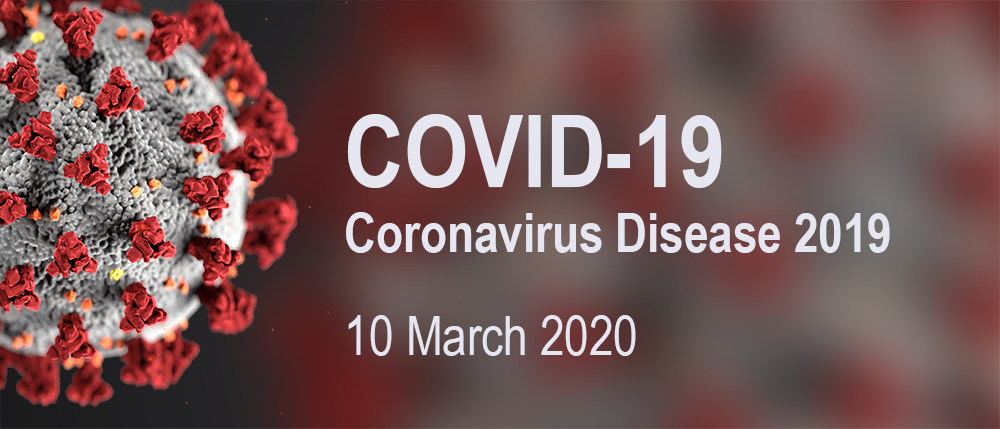 On Wednesday, Washington Governor Jay Inslee is expected to announce a ban on events and social gatherings in Snohomish, King and Pierce counties with attendance of more than 250 people.
As the total number of identified cases of COVID-19 in the US hover around 1,000 (38 states plus DC are reporting 980 cases), New York Governor Andrew Cuomo established a "containment area" in the community of New Rochelle, which is the epicenter of that state's outbreak (173 identified cases at end-of-day Tuesday).
In Washington, King County reported two new deaths: a resident of an Issaquah nursing facility and a resident of an assistive living community in Seattle. The King County Public Health Department is working with 10 long-term care facilities where residents and/or employees have tested positive for COVID-19. A women has died at a assistive living facility in Sacramento County, CA, the state's third death.
In a news conference Tuesday, Inslee noted that if researcher assumptions are correct, and that there are currently 1,000 cases of COVID-19 in the state, the number of cases in Washington could reach to 64,000 by May based on how the virus has affected other countries.
Testing may be further hindered by global demand for chemicals used to run the tests.
CDC Director Robert Redfield told POLITICO on Tuesday that he is not confident that U.S. labs have an adequate stock of the supplies used to extract genetic material from any virus in a patient's sample — a critical step in coronavirus testing.
Recommended reading
The Incubation Period of Coronavirus Disease 2019 (COVID-19) From Publicly Reported Confirmed Cases: Estimation and Application, Annals of Internal Medicine, 10 March 2020.
Researchers estimated the median incubation period for 181 cases ate 5.1 days; 97.5 percent of those who develop symptoms do so between 8.2 and 15.6 days. "Publicly reported cases may overrepresent severe cases, the incubation period for which may differ from that of mild cases." h/t Rebecca Mitchell, public health scientist
What does the coronavirus mean for the U.S. health care system? Some simple math offers alarming answers, Stat News, Liz Specht, 10 March 2020.
We are in the "early stages of an exponential curve as a novel virus tears through an immunologically naïve population." We have a "disproportionate number of severe Covid-19 cases, many requiring hospitalization or weekslong ICU stays…. This threat to the health care system as a whole poses the greatest challenge."
Sections below
Around the country; Politics, economics and COVID-19; Global news; Case count (domestic and global); What you can do; and Resources
Around the country
Politics, economics and COVID-19
American and Delta airlines announced flight reducations on Tuesday.
Delta said Tuesday it would reduce its overall system capacity by 15 percent from its previous summer peak plans. International capacity will be slashed by up to 25 percent and domestic capacity reduced by up to 15 percent.

American, meanwhile, said it would cut domestic flight capacity by 7.5 percent "to match demand" while reducing international capacity for the summer peak by 10 percent, including a 55 percent reduction in its trans-Pacific capacity to Asian destinations that have been affected by the COVID-19 outbreak.

Like American, Delta made its biggest reductions -- 65 percent -- to its trans-Pacific service while reducing its trans-Atlantic service to European destinations by up to 20 percent.
Global news
The number of affected countries jumped up from 29 the end of February to 104 today. Although early reports tied the outbreak to a seafood ("wet") market in Wuhan, China, analyses of genomic data suggest that the virus may have developed elsewhere.
A UK minister has been diagnosed with COVID-19, and Coachella has been postponed.
France's culture minister has tested positive.
Iran has now reported 8,042 cases, of which 291 were fatal.
Italy has reported 10,149 cases, of which 631 were fatal. Three neighboring countries—Slovenia, Malta, and Austria—have closed their borders.
Vaccine news: The COVID-19 Therapeutics Accelerator will coordinate research efforts and remove barriers to drug development with funding from the Bill and Melinda Gates Foundation, Wellcome and the MasterCard Impact Fund.
Case count
Tests are becoming more widely available as state and university labs implement testing. Scientists point out that where there are two confirmed cases or where the first case is severe, there are many more people walking the streets, unaware that they are carriers. There is a lag between the period of contagion and a patient showing symptoms.
10 March, global
Globally: 109,577 confirmed (3,993 new) with 3,809 deaths (225 new)

China: 80,904 confirmed (45 new) with 3,123 deaths (23 new)

Outside of China: 28,673 confirmed (3948 new) with 686 deaths (202 new) in
104 countries/territories/areas (3 new)
Global confirmed: 119,132

Total deaths: 4,284

Total recovered: 65,776
Johns Hopkins interactive dashboard
10 March, domestic
Nationally there are a total of 647 cases according to the CDC and 1,037 cases according to Johns Hopkins. Thirty-eight states plus DC are reporting 980 cases. Links are to news stories or official government websites; view infographic and data online.