09 March 2020
Italy extends the quarantine to the entire country; three more GOP politicians self-quarantine; NY Governor pledges to act on sick leave; Pearl Jam postpones tour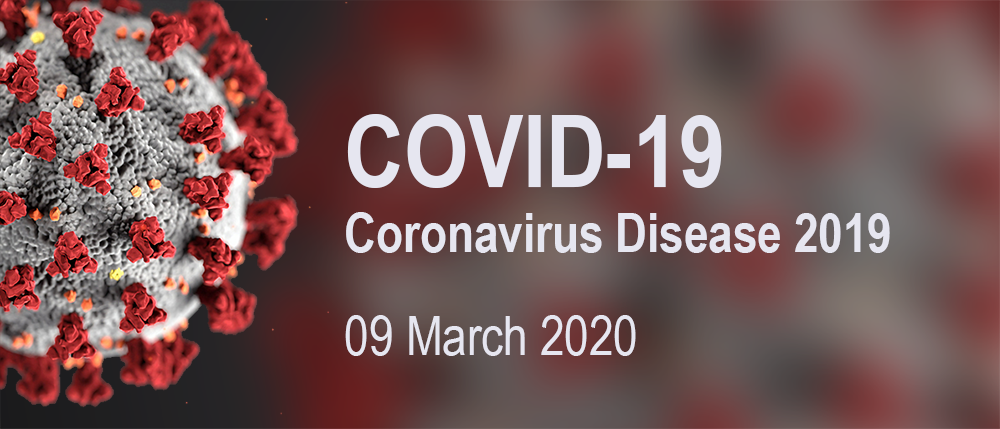 11:59 pm 09 March 2020 (Pacific)

[Updated] The total number of COVID-19 cases in 36 states and the DC were around 700 (the totals vary) as Monday drew to a close. Italy extended the quarantine announced Sunday to the entire country as its death toll hit 463 on Monday. Italy is the worst-hit country after China.
Unlike other high-income countries, the US does not mandate sick leave. With the specter of widespread mandatory quarantines, society is placing a burden on workers with the least flexibility. We need to address this soon; a CDC official said Monday that most Americans will be exposed to COVID-19 in either 2020 or 2021. Most people will not need hospitalization.
"Mildly ill patients should be encouraged to stay home and contact their healthcare provider by phone for guidance about clinical management," the CDC said. "Patients who have severe symptoms, such as difficulty breathing, should seek care immediately. Older patients and individuals who have underlying medical conditions or are immunocompromised should contact their physician early in the course of even mild illness."
New York Governor Cuomo pledged on Monday to send a bill to the legislature "to provide paid sick leave to working New Yorkers and specifically protect those who are required to stay home from work because they are being isolated or quarantined as a result of the novel coronavirus."
Only about 1-in-3 US workers the option to work from home. And less than 1-in-3 of private sector workers have access to paid sick leave. Sometimes that access comes with long strings. I have to work 50% of an 18-month contract before accruing any sick leave as I work from home for Microsoft.
"The recommendations on what people should be doing to protect themselves really gives a sharp indication of the divide between white collar and blue collar workers," said Shannon Liss-Reardon, a workers rights attorney in Boston. 
Recommended reading
Seattle's Patient Zero Spread Coronavirus Despite Ebola-Style Lockdown, Bloomberg, 9 March 2020
County health officials located more than 60 people who'd come in contact with him, and none developed the virus in the following weeks. By Feb. 21, he was deemed fully recovered. Somehow, someone was missed.
Susan Desmond-Hellmann: The coronavirus is alarming. Here's why you should not panic, State News, 6 March 2020
I still have a big question about young people. Are kids somehow more immune or are they just not at all getting sick? Are they transmitting the infection? But with regard to the high mortality rate in folks with underlying medical conditions, or who are over 60: Those numbers, I think, we need to believe. 
What's your risk of dying of COVID-19 - or inadvertently allowing the death of someone in your community?, Scott Leibrand and Dana M. Lewis, 6 March 2020
… anything you can do as an individual to reduce that risk has a social value of at least $350/day (doubling every week), and canceling large gatherings presents an opportunity to save multiple lives, even for fairly small groups.
Sections below
Around the country; Politics, economics and COVID-19; Global news; Case count (domestic and global); What you can do; and Resources
Around the country
The CDC's persons under investigations (PUI) criteria, which offer guidance on who to test for COVID-19, were last updated on March 4, 2020.
Lack of testing remains a challenge to in the United States. By 4 pm eastern, The Atlantic reported that only 4,384 people have been tested for COVID-19.
By this point in its outbreak, South Korea had tested more than 100,000 people for the disease, and it was testing roughly 15,000 people every day. The United Kingdom, where three people have died of COVID-19, has already tested more than 24,900 people…

The testing situation is so bad that Marc Lipsitch, an epidemiology professor at Harvard, says that health officials and journalists should stop reporting the number of positive cases in the United States as "new cases." Instead, he wrote by email, "they should refer to them as 'newly discovered cases,' in order to remove the impression that the number of cases reported has any bearing on the actual number."
Pearl Jam postpones North American Tour.
… we are being told that being part of large gatherings is high on the list of things to avoid as this global health crisis is now beginning to affect all of our lives…We have and will always keep the safety and well-being of our supporters as top priority.

So it is with deep frustration and regret that we are forced to make this most unfortunate of announcements... This scheduled first leg of our PJ/Gigaton tour will need to be postponed and shows rescheduled for a later date.
Politics, economics and COVID-19
Sunday, two GOP politicians - Ted Cruz and Paul Gosar (R-TX) - announced they were putting themselves into quarantine after coming into contact with someone at the Conservative Political Action Conference (CPAC) who has tested positive.
On Monday, Mark Meadows (R-NC), who is taking over as Trump's new chief of staff; and Matt Gaetz (R-FL); and Doug Collins (R-GA) announced that they, too, had entered self-imposed quarantine.
Global news
The number of affected countries jumped up from 29 the end of February to 104 today. Although early reports tied the outbreak to a seafood ("wet") market in Wuhan, China, analyses of genomic data suggest that the virus may have developed elsewhere.
Since the beginning of the outbreak, WHO Operations Supply and Logistics (OSL) has shipped more than 620,000 gloves; 584,000 surgical masks; 72,000 gowns; 47,000 N95 masks; and 11,000 goggles to 57 countries. OSL has also shipped laboratory tests to more than 120 countries to facilitate COVID-19 testing.
Case count
Tests are becoming more widely available as state and university labs implement testing. Scientists point out that where there are two confirmed cases or where the first case is severe, there are many more people walking the streets, unaware that they are carriers. There is a lag between the period of contagion and a patient showing symptoms.
09 March, global
Globally: 109,577 confirmed (3,993 new) with 3,809 deaths (225 new)

China: 80,904 confirmed (45 new) with 3,123 deaths (23 new)

Outside of China: 28,673 confirmed (3948 new) with 686 deaths (202 new) in
104 countries/territories/areas (3 new)
Global confirmed: 113,773

Total deaths: 4,009

Total recovered: 63,821
Johns Hopkins interactive dashboard
09 March, domestic
Nationally there are a total of 423 cases according to the CDC and 752 cases according to Johns Hopkins. Thirty-six states plus DC are reporting 680 cases. Links are to news stories or official government websites; view infographic.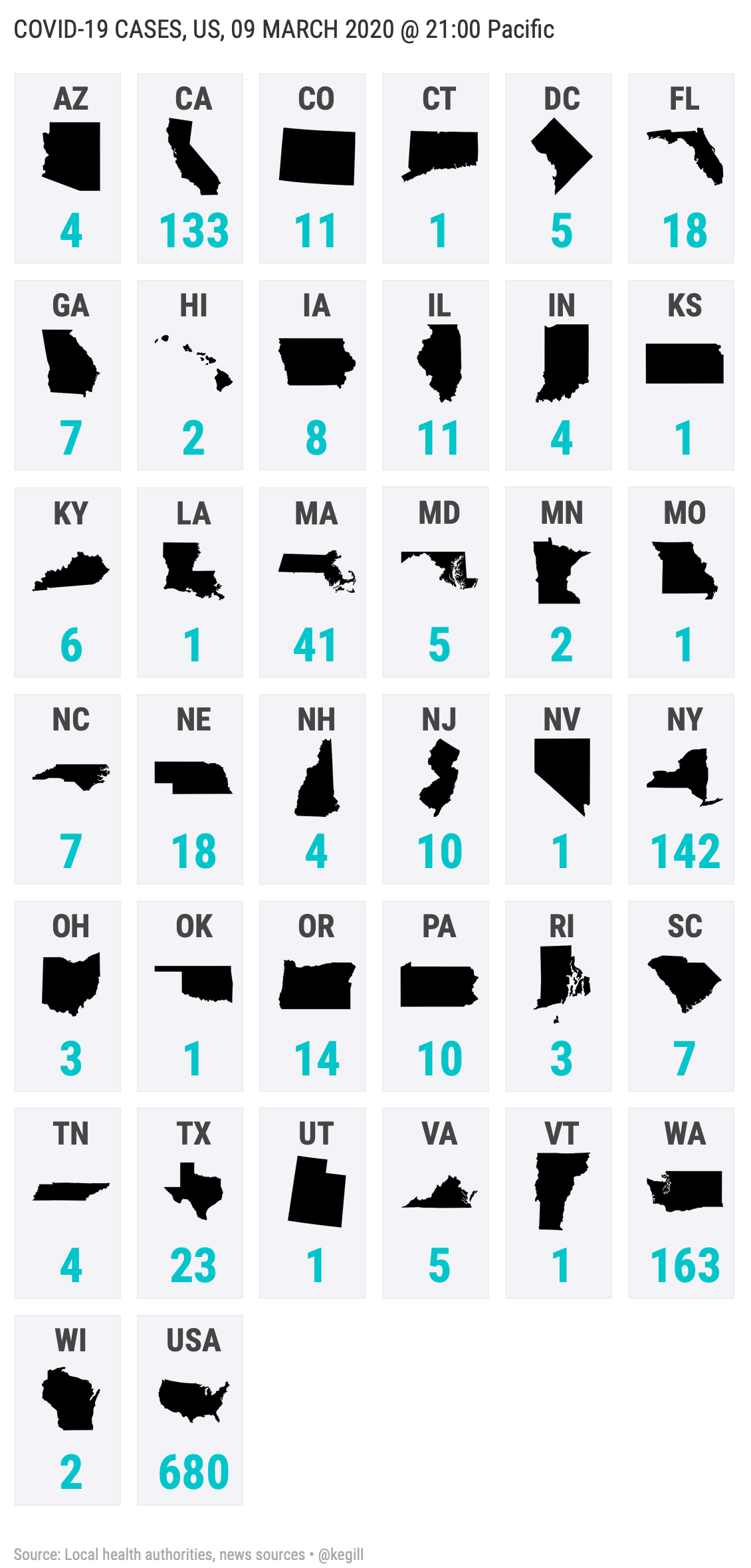 What you can do
Do not go to the emergency room unless essential. Emergency rooms need to be able to serve those with the most critical needs. If you have symptoms like cough, fever, or other respiratory problems, contact your regular doctor first. 

Stay home when sick.

Practice excellent personal hygiene habits, including handwashing, coughing into tissue or elbow, and avoiding touching eyes, nose, or mouth. 

Stay away from people who are ill, especially if you are 60 and older or have underlying health conditions such as diabetes, heart disease, lung disease, or a weakened immune system. 

Don't stockpile personal protective equipment (PPE) such as face masks as they are needed by health care staff. When is a mask is needed? When we are unwell and have to go out.
Tips via Seattle-King County Public Health
Resources