Discover more from ⚡️Memo from a News Hound
Weekly news in context with focus on the pandemic, misinformation, trends.
08 March 2020
An elementary school child has tested positive in IN; US advises Americans to avoid travel by cruise ship; two Congressmen in self-quarantine; Missouri family breaks quarantine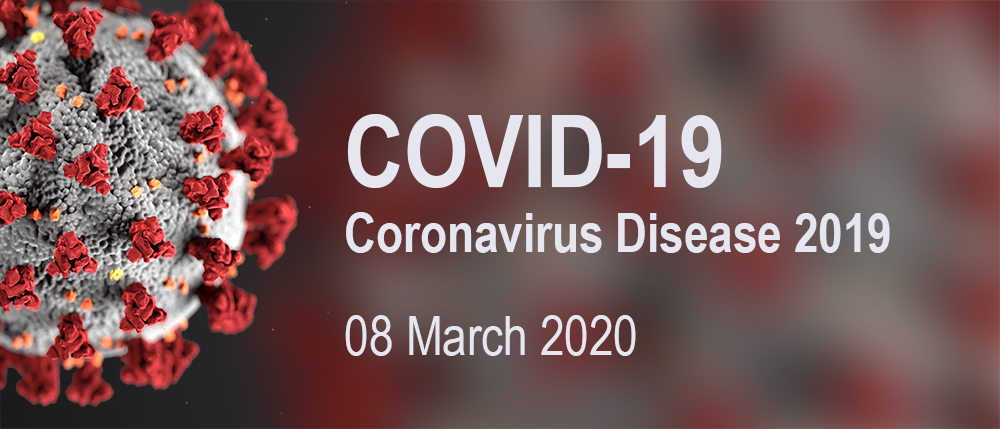 11:59 pm 08 March 2020 (Pacific)
An Avon, IN elementary school has announced that one of its students has tested positive for COVID-19. The school will conduct classes online Monday.

The federal government has provided its strongest warning about travel to-date.
"U.S. citizens, particularly travelers with underlying health conditions, should not travel by cruise ship," according to the State Department. In addition, older adults and travelers with underlying health issues should avoid "crowded places" as well as "non-essential travel such as long plane trips."
Older people with health issues "should start to distance yourself from the risk, crowds, getting on a plane, on a long plane trip, and, above all, don't get on a cruise ship," according to Anthony Fauci, director of the National Institute of Allergy and Infectious Diseases. Surgeon General Jerome Adams "suggested the epidemic was entering a new phase that would be more disruptive to daily life."
The shadow of COVID-19 now hangs over the Capitol.
Late Sunday, Rep. Ted Cruz (R-TX) and Rep. Paul Gosar (R-AZ) announced that they would be entering self-quarantine "after coming into contact with someone at the Conservative Political Action Conference (CPAC) who has tested positive. "The attendee is in quarantine and under medical care in New Jersey after returning a positive result on Saturday." President Trump also attended the event, which was held in Maryland.
Disruption is occurring and will continue escalate. More school closures will occur. More mandatory work-from-home policies. But what will happen with manufacturing jobs? Reduced travel and tourism will negatively affect hotels, airlines, restaurants, bars and conference centers as well as all that they employ. What about baseball? The Kentucky Derby? The Olympics?
Honoring public health official pleas to stay at home and minimize risk of exposure - either on the giving or receiving end - is absolutely key to minimizing a spike in COVID-19 cases that could swamp hospitals.
Recommended reading
Sections below
Around the country; Politics, economics and COVID-19; Global news; Case count (domestic and global); What you can do; and Resources
Around the country
The family of Missouri's first confirmed case of COVID-19 has broken quarantine, officials stated Sunday night.
… the father and sister of the infected patient attended a school father-daughter dance Saturday night at the Ritz-Carlton in Clayton. They also apparently attended a pre-dance gathering at the house of a Villa student…. St. Louis County Executive Sam Page said Sunday that the patient's family had been told on Thursday to self quarantine at their home in Ladue. Page said the patient's father had not followed health department instructions. 
As a result of the family breaking quarantine, two St. Louis County schools will be closed on Monday. Officials said that they would issue a legal quarantine order if the family fails to comply again.
In New Hampshire, when the state's first COVID-19 patient broke quarantine and attended a gathering in at Dartmouth in Vermont, the state issued a legal order of isolation.
Neither the District of Columbia or the Maryland Departments of Health have updated their websites. Virginia has reported its first cases and the combination means nine cases in the Washington, DC region:
The number of known coronavirus cases in the Washington region reached nine as local public health authorities moved to increase their testing capabilities and contain the spread of the illness. A D.C. high school will be closed Monday after a staff member came into contact with someone who has tested positive for the virus.
Three attendees at the pro-Israel lobby's AIPAC Policy Conference in Washington have been diagnosed with COVID-19.
Cambridge-based drug company Biogen has asked employees to work for home for the next two weeks. Three top executives attended at a meeting in Boston that was also attended by eight people who subsequently tested positive for COVID-19.
Politics, economics and COVID-19
An oil price war has broken out between Russia and Saudi Arabia, causing oil markets to drop more than 30 percent. As a result, the Dow futures suggest an opening dropp of 1,300 points.
Global news
The number of affected countries jumped up from 29 last week to 101 today. Although early reports tied the outbreak to a seafood ("wet") market in Wuhan, China, analyses of genomic data suggest that the virus may have developed elsewhere.
More about Italy's decision to limit travel in the north:
In this area of 16 million people, the coronavirus's European epicenter, where the number of cases has been rising rapidly, Italy banned all public gatherings—no weddings, funerals, concerts, sporting events, discos, bingo games, video arcades, or Mass—until April 3…

Nationwide, the government ordered the closure of all cinemas, theaters, concert halls, libraries, and museums, as well as the quarantine of anyone with a fever above 37.5 degrees Celsius (99.5 degrees Fahrenheit), and anyone who's tested positive for the virus. Last week, Italy closed all schools, day-care facilities, and universities, until mid-March at the earliest.  
Japan's Nippon Professional Baseball league to postpone season opening

South Korea reports 96 additional cases; total now at 7,478.
Case count
Tests are becoming more widely available as states labs implement testing. Scientists point out that where there are two confirmed cases or where the first case is severe, there are many more people walking the streets, unaware that they are carriers. There is a lag between the period of contagion and a patient showing symptoms.
08 March, domestic
Nationally there are a total of 164 cases according to the CDC and 554 cases according to Johns Hopkins. Thirty-two states plus DC are reporting 530 cases. Links are to news stories or official government websites; view infographic.
08 March, global
Globally: 105,586 confirmed (3656 new)

China: 80,859 confirmed (46 new) with 3100 deaths (27 new)

Outside of China: 24,727 confirmed (3,610 new) with 484 deaths (71 new) in 101 Countries/territories/areas (8 new)
Global confirmed: 110,041

Total deaths: 3,825

Total recovered: 62,000
Johns Hopkins interactive dashboard
What you can do
Do not go to the emergency room unless essential. Emergency rooms need to be able to serve those with the most critical needs. If you have symptoms like cough, fever, or other respiratory problems, contact your regular doctor first. 

Stay home when sick.

Practice excellent personal hygiene habits, including handwashing, coughing into tissue or elbow, and avoiding touching eyes, nose, or mouth. 

Stay away from people who are ill, especially if you are 60 and older or have underlying health conditions such as diabetes, heart disease, lung disease, or a weakened immune system. 

Don't stockpile personal protective equipment (PPE) such as face masks as they are needed by health care staff. When is a mask is needed? When we are unwell and have to go out.
Tips via Seattle-King County Public Health
Resources