03 March 2020
COVID-19 death toll in the US reaches nine; all in Washington State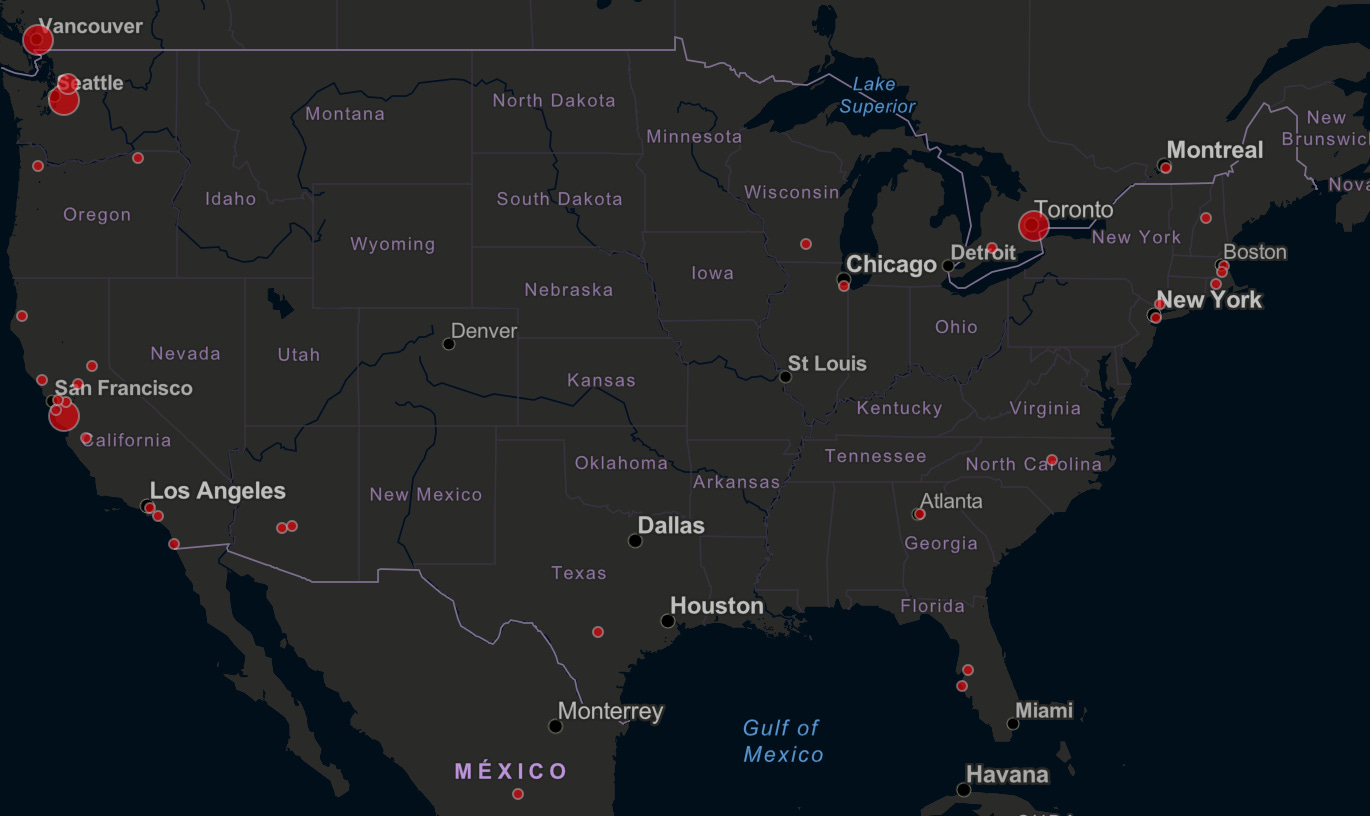 After the close of business on Tuesday, Geekwire reported that an Amazon employee in the Seattle office had been diagnosed with COVID-19. Earlier in the morning, Seattle-King County announced that there are now nine deaths and 21 confirmed cases in King County. There are six cases in Snohomish County.
Washington is home to patient zero for COVID-19 in the United States, and all US deaths to date are here. No one who was evacuated from China or from the Diamond Princess Cruise ship has died.
Scientist and professor Trevor Bedford announced on Twitter late Tuesday that "there are at least two #COVID19 transmission chains circulating in the greater Seattle area." Bedford was responding to results of the third SARS-CoV-2 genome that had been sampled on Thursday, 27 February.
The number of people under supervision in western Washington: 231. Nationally there are 60 cases according to the CDC and 125 cases according to Johns Hopkins in 12 states.
Five of the people who have died in Washington were residents of Life Care Center, a nursing facility in Kirkland. Dr. Tom Frieden, former director of the CDC, wrote that nursing home patients are at risk and that the "deaths in Seattle are sentinel health event." He pointed out that seasonal flu "hits nursing homes hard" even with vaccines and treatment.
Closures and postponements
Trump Administration and COVID-19
The Federal Reserve cut the benchmark U.S. interest rate by half a percentage point on Tuesday, the largest such cut since 2008 after Lehman Brothers collapsed.
During a White House meeting on Monday with pharmaceutical executives and public health officials, President Trump pushed for a vaccine before the November election: "I mean, I like the sound of a couple months better, if I must be honest."
"So you have a medicine that's already involved with the coronaviruses, and now you have to see if it's specifically for this. You can know that tomorrow, can't you?" he said.
Further illustrating his lack of understanding about how vaccines work:
"You take a solid flu vaccine, you don't think that could have an impact, or much of an impact, on corona?"

"No," someone at the table replied.
Around the country
"You may need to take a break from your normal daily routine for two weeks," Dr. Nancy Messonnier, director of the CDC's National Center for Immunization and Respiratory Diseases. Dr. Messonnier urged Americans to contact their doctor by phone should they have COVID-19 symptoms: fever, dry cough, and trouble breathing.
Global news
The number of affected countries jumped up from 29 last week to 61 yesterday. 
Pope Francis tested negative for COVID-19. However, Italy continues to be the hardest hit European country with 2,502 cases and 79 deaths, according to the Johns Hopkins dashboard.
Fifteen Italian citizens in India have tested positive for COVID-19.
Iran temporarily released more than 54,000 prisoners to avoid the spread in prisons. On Tuesday, Iran announced 2,336 confirmed infections and 77 deaths.
Protective medical supplies are in short-supply around the world, as well as the US.
The UK government has warned that up to a fifth of the UK workforce could be sick at the same time.
Thousands in South Korea wait for hospital beds; there were reportedly 516 new coronavirus cases in a 24-hour period.
The WHO-China Joint Mission released an analysis of how SARS-CoV-2 has affected Chinese citizens:
… about 80% of infected people had mild to moderate disease, 13.8% had severe symptoms, and 6.1% had life-threatening episodes of respiratory failure, septic shock, or organ failure. The case fatality rate was highest for people over age 80 (21.9%), and people who had heart disease, diabetes, or hypertension. Fever and dry cough were the most common symptoms. Surprisingly, only 4.8% of infected people had runny noses. Children made up a mere 2.4% of the cases, and almost none was severely ill. For the mild and moderate cases, it took 2 weeks on average to recover.
If the disease truly is under control (reported numbers are dropping), it rests on intrusive government action into the life of its citizens, along with big data, to enforce social distancing. Lawrence Gostin, a global health law scholar at Georgetown University, noted that "intrusive surveillance [is] not a good model for other countries." 
Case count
03 March, domestic
Arizona: 2 cases

California: 43 cases (24 are from repatriation flights)

Florida: 2 cases

Georgia: 2 cases

Illinois: 4 cases

New York: 2 cases

Massachusetts: 1 case

Oregon: 3 cases

Rhode Island: 2 cases

Texas: 11 cases (all from repatriation flights)

Washington: 27 cases

Wisconsin: 1 case
03 March, global
Globally: 90,870 confirmed (1,922 new)

China: 80,304 confirmed (130 new) with 2,946 deaths (31 new)

Outside of China: 10,566 confirmed (1,792 new) in 72 countries (8 new) with 166 deaths (38 new)
Global confirmed: 93,158

Total deaths: 3,198

Total recovered: 50,690
Johns Hopkins interactive dashboard
What you can do
Do not go to the emergency room unless essential. Emergency rooms need to be able to serve those with the most critical needs. If you have symptoms like cough, fever, or other respiratory problems, contact your regular doctor first. 

Stay home when sick.

Practice excellent personal hygiene habits, including handwashing, coughing into tissue or elbow, and avoiding touching eyes, nose, or mouth. 

Stay away from people who are ill, especially if you are 60 and older or have underlying health conditions such as diabetes, heart disease, lung disease, or a weakened immune system. 

Don't stockpile personal protective equipment (PPE) such as face masks as they are needed by health care staff. When is a mask is needed? When we are unwell and have to go out.
Tips via Seattle-King County Public Health
Resources